Before and After Bookcase Makeover | Inspired by Nature
Have an old bookcase in need of a makeover? Here's how to give it a new life in a nature-inspired transformation.
Plain solid wood bookshelves can be beautiful when the condition is perfect. But once there's wear and tear, a splash of paint can go a long way.
I like to mix up the projects I work on but my last bookshelf sold so quickly, it was too good of an opportunity to miss.
A new lease of life for an old bookshelf
Like the other bookshelf makeover last year, this simple bookcase was also my favourite price, free! I found it on Facebook Marketplace.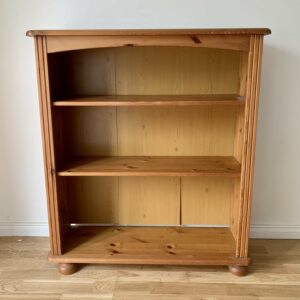 This post may include affiliate links so you can easily find the products I love and use myself. If you purchase these products, I may earn a small commission at no extra cost to you.
A free or cheap bookcase is a great way to dip your toes into upcycling furniture.
For DIY projects, the price means that it's low risk. They often have simple shapes so are easier to paint. And are useful pieces of furniture for storing your book collection or knick-knacks.
Do you also like finding free furniture? Here are my tips on a great place to look!
It was in pretty reasonable condition. There were some dings on the top lip and base but nothing that wasn't easily solved.
I can only assume that the back of the bookcase was shoddily replaced at some point because it didn't fit all the way to the bottom.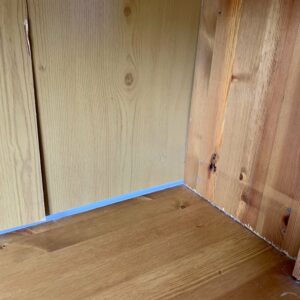 So, the first thing I did was buy some hardboard to replace it. It was lucky that I got the back panel home at all. It involved quite the Tetris yoga situation to get it into my car.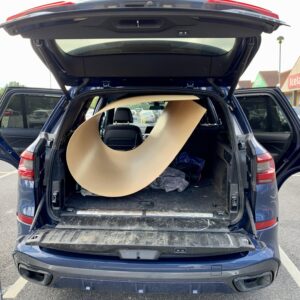 Fortunately, the hardboard I bought was long enough to use for a sideboard which also needed the backing replacing. So it's an extra cost of materials of about £6 each.
Step-by-step directions on prepping old furniture to paint
When real wood furniture pieces have scratches, you can choose to use wood filler to hide them or sand them out.
I used Dixie Belle's Mud wood filler to cover the various gauges. It's easy to get carried away and fill every little ding which wouldn't be noticeable when painted over. But it's also quite therapeutic to use.
By adding filler above the surface, there's a smooth finish when it's sanded back. If you can still see the lip of the ding, then it will need a second fill once dry.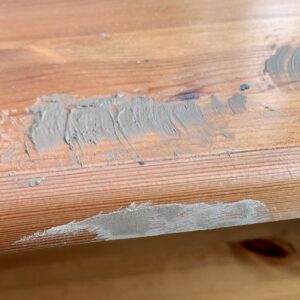 The original back of the bookshelf broke easily with a bit of force as it was made up of thin planks. The piece was a lot less stable without the back of the shelves holding it straight, so it tended to wobble.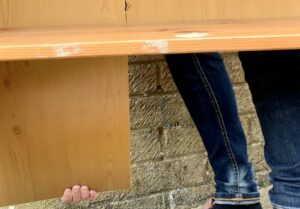 With the more fun prep stages out of the way, it was time to clean.
This piece has grooves down the side of the front. The cloth shows just how much dirt was in them. This photo was from about swipe seven of one groove, it was that dirty.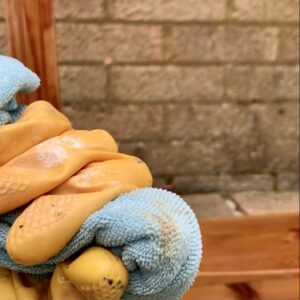 With any old piece of furniture, it's important to give it a thorough clean before refinishing. This could have been in a shed or had years of furniture polish built up on it.
The once clean water was suddenly less so… I washed it with diluted sugar soap and then rinsed it with clean water and a damp cloth to get rid of any leftover soap.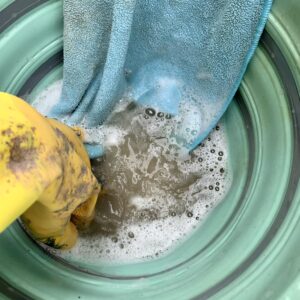 It's important to get the entire thing clean but you don't want solid wood swimming in water. That would take a long time to dry and could damage the wood.
Sanding an old bookshelf before painting
By sanding with power tools and coarse grit sandpaper, you cut through the existing finish quickly. But you then need to continue to sand with higher grit papers. Then finish when the surface is smooth to the touch.
I started with 80 grit to get rid of the varnish and finished with 220 grit.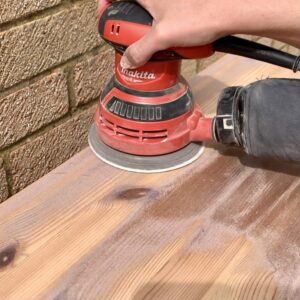 Progressing through the grits is boring but the only way to effectively get an even surface. I hand-sanded after the initial 80 grit pass. It's less noisy and makes for happier neighbours!
If you aren't trying to take the wood back to raw wood, you only need to remove the shine of the existing finish.
Applying stain to bookshelves for a new clean look
When you find a product you love, it's so tempting to use it on everything. I didn't resist that temptation.
For the top and shelves, I went back to my trusty Cappuccino Stain and Finishing Oil by Fusion. This was after one coat.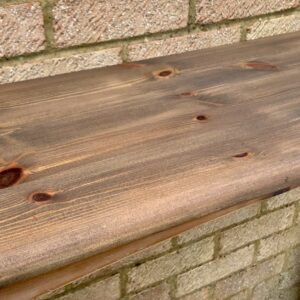 Unlike some stains, Stain and Finishing Oil both add colour and sealing oil at the same time. So it's the best option for changing the colour of the piece and sealing the whole thing in one go.
You can also see how I used Cappuccino in my handmade gift DIY.
Evidently, I forgot to take any photos of the new paint being applied. Minor detail! I did a fresh coat of paint in the colour Lichen by Fusion Mineral Paint.
I needed three coats of paint on the outer sides of the entire piece, which are the most likely to get bumped.
The green is so lovely. It's such a fresh colour and instantly breathed new life into this piece. The wonders of a little paint!
Fusion doesn't require a sealer and is rock solid after 30 days of curing. It's similar to the Silk line of mineral paint, which is some of the best paint I've found.
Having said that, accidents, pets and crayons do happen. I always give my customers a small pot of paint so they can touch it up if need be.
Choosing wall paper to decoupage an old bookshelf
I found this beautiful wallpaper, Elderwood Natural by Laura Ashley during their closing-down sale. It was £6 for each roll instead of £40. Sale items are a great way to get high quality more affordably.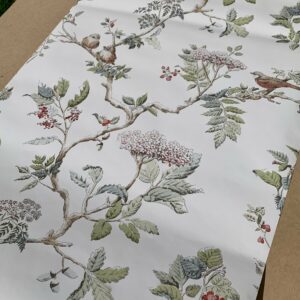 I didn't have a plan for it but knew a project would come along that it would be right for.
If you like the nature theme, you might also enjoy reading the project with the bird transfer!
Simple steps to decoupage on a DIY bookcase makeover
Wallpaper is the easiest way to decoupage as it is thick and strong. You don't have as many issues with the paper tearing as with more delicate decoupage materials such as napkins.
I lined up the first panel of paper before cutting it. Making sure to pattern match along the line in the middle.
It was wide enough to need two pieces to cover the backboard. I placed the wallpaper underneath the backboard and used an exacto knife to cut along the edge.
To match the pattern, I placed the second piece of wallpaper on top of the backboard and made two small cuts at the top and bottom to line it up along the straight edge.
As wallpaper is heavy paper, I used wallpaper paste rather than decoupage glue to make sure it stuck well.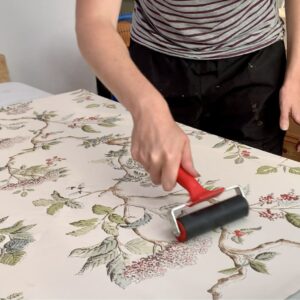 I then used a brayer to roll out any air bubbles or creases, starting from the middle and moving towards the edges.
For a wallpaper project, I find this style the easiest wallpaper to apply. But if you needed a temporary makeover, removable wallpaper would be a great option.
Wood bookcase makeover – the finishing touches
I staple-gunned the backboard back into place and it finally stabilised the unit again.
It also needed a wobbly foot glueing back on which I did with wood glue. Then the last thing I did was to stain the bun feet to create a nice balance of the cappuccino brown at the top, middle and bottom.
The nature-inspired colours of the paint and stain really complement the colours in the wallpaper.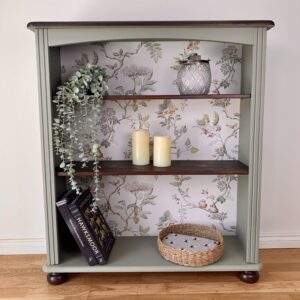 What an end result. It has a whole new look for this DIY bookshelf makeover. To me, it feels like a brand new bookcase, with so much character.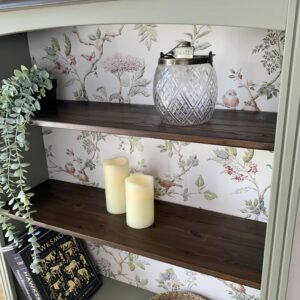 What do you think of this inexpensive bookcase makeover? We'll see if this one flies off the shelves (ba bum tsh) as quickly as the last one… (note from the future, it did, even faster actually!).
One of the coolest things is to see furniture makeovers come to life. Check out this bookshelf makeover video tutorial using chalk paint.
If you enjoyed this fresh new look and want more inspiration? Here are four more beautiful bookshelf ideas.
Pin it for later – Before and After Bookcase Makeover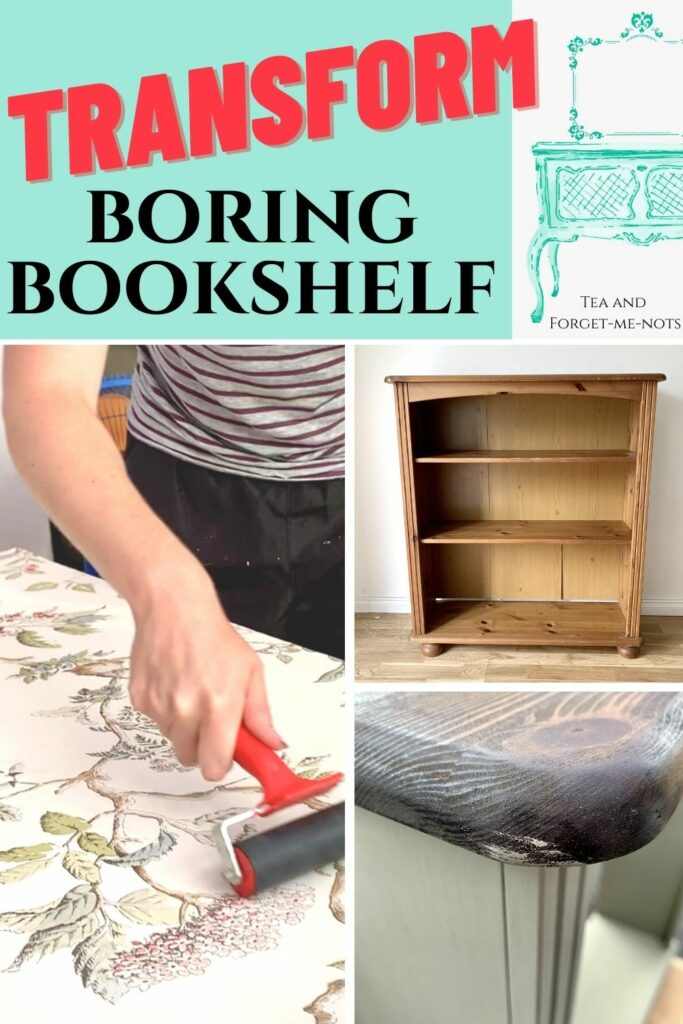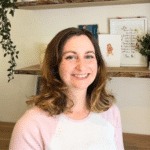 Hi there! I'm Rachel Bowyer, a passionate DIY enthusiast with a knack for transforming the old into something beautifully new. With a deep love for furniture painting, refinishing, and the art of crafting. I've been documenting my DIY projects and restoration journey since 2018. I specialise in techniques like decoupage, stencilling, and decor transfers. Join me as we explore the world of creativity and home improvement, one project at a time.