5 unique ways to paint a bookshelf
Have a bookshelf and want to see how it will look in different styles? Here's some inspiration for 5 unique ways to paint a bookshelf…
I love a good bookshelf makeover. They're often affordable to pick up, a simple shape to paint, and a useful piece of furniture.
All good reasons to give painting one a go.
So, here I have the same bookcase* with 5 unique ways to paint a bookshelf.
*Ok, almost the same. One of them has three shelves, but otherwise, they're basically identical. Which is great for a style comparison.
This post includes gifted products and affiliate links so you can easily find the products I use myself and recommend to friends. If you purchase these products, I may earn a small commission at no extra cost to you.
5 unique ways to paint a bookshelf
Number 1 – decoupage bookshelves
Number 1 because this is one of my most-viewed blog posts ever. Something about this nature-inspired makeover caught people's eye.
This piece was free and in reasonable condition.
As usual with pine, it's common to get dings and dents as it's a soft wood. They sand out easily enough with a bit of time though.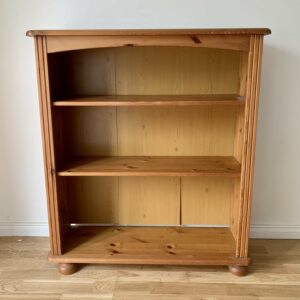 Strangely, the backboard didn't fit. I guess it was replaced at some stage and they used what they had to hand. But it left a gap at the bottom.
Hence some yoga-like flexibility of the new hardboard I picked up to replace it. It almost didn't get in the car at all. I wasn't expecting that!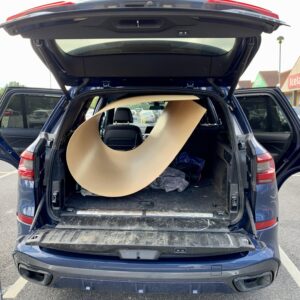 I painted the outer bookcase in a lovely green called Lichen, by Fusion Mineral Paint.
Then, I decoupaged the new hardboard with wallpaper from Laura Ashley. The greens and browns in the design match so well with the colours of the bookshelf.
For the shelves, I stained them in Cappuccino. Which really set off the wallpaper behind it.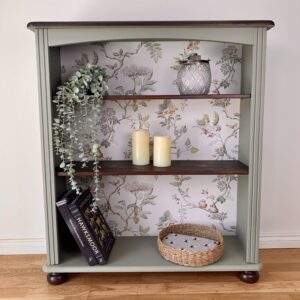 This is also one of my fastest-ever selling pieces. That tends to happen when you love a piece, others who like your style, do too.
If you'd like to see all the steps, have a look!
Number 2 – paint over a bad paint job
This was another free piece. And probably its price was deserved.
You can see in the post a close-up of the paint job. I suspect they were aiming for a distressed, rustic look. As long as they were happy with it, that's the main thing.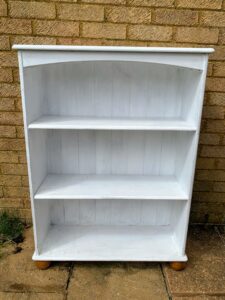 But it took a while to get the thick paint sanded nice and smooth.
This is when free isn't always better. When the time you spend getting the piece ready might be more than the cost of buying an unpainted one.
It's always a balance.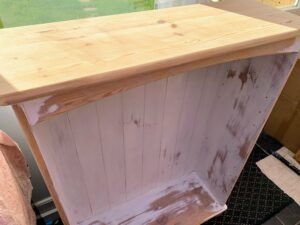 My original plan was to decorate the back of the shelves. Possibly with a gold or white mandala stencil.
But my plan changed and I love the result.
This colour is Fusion Mineral Paint's Midnight Blue. It's such a popular colour at the moment.
Again, coupled with Cappuccino Stain and Finishing Oil, for the top and shelves.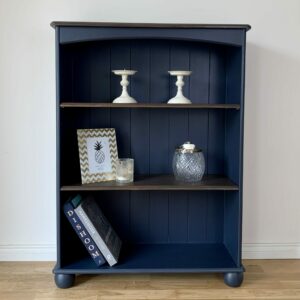 It also sold fast, which is a great bonus.
Find out about the transformation, here.
Number 3 – add a stencil to a bookcase
This was a commission piece, so I can't claim the credit for the design. This was the brainchild of my tweenage (10-year-old) customer.
The bookcase cost about £30 and was in great condition. Always a good start.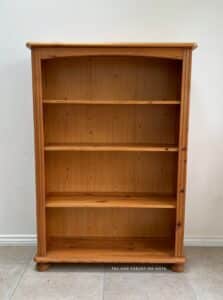 I had one requirement given to me by the tweenager's parents, not to use any of my "luminous pinks". Funnily enough, my bright pinks usually sell quickly, but I accepted the restriction.
My customer chose the lovely, muted pink chalk paint, Tea Rose.
Then for the glam part, they asked for 50 stars across the top and cascading down the sides.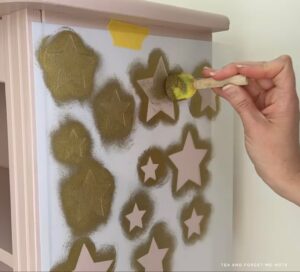 I love gold and a stencil, so they spoke to my heart! They were thrilled with how it turned out.
A great bookshelf into their early teenage years.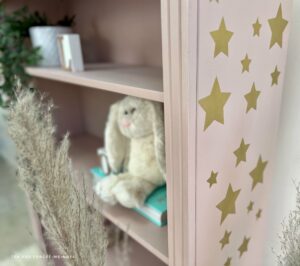 Here's how I made it, including the YouTube tutorial.
Number 4 – how to paint bookshelves
No fancy embellishments, stencils, decoupage or stain on this one. A simple way to paint a bookcase.
This bookcase cost £15 and was in good condition.
Once you've done a few of these, it's usually a quick process to refinish them.
You get into a rhythm.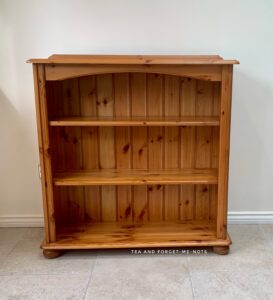 Alas, this one didn't want to play ball.
I had dreams of whitewashed pine. But after several attempts, I had to admit defeat. Sometimes, the universe tells you it's not meant to be.
So, I painted the bookshelf with a light pink, Conch. And the shelves in Salt Water.
Both of these colours are from the Silk paint range by Dixie Belle. This means that they also have a built-in primer and top coat.
So, I saved some time there at least!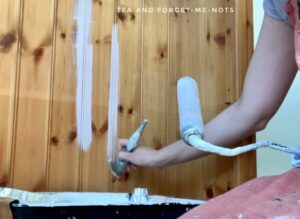 I liked the finished look.
To be fair, I don't tend to stop unless I like it. Otherwise, it niggles at me.
I pictured this in a child's bedroom. Someone even told me that it would suit their kitchen.
But, it didn't ever sell! Pink can take a while to sell, but I had to give up on this one. This leads up to number 5 – the repaint!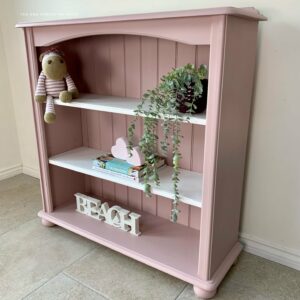 If you like the look and want to see how it came together. Here it is, plus the YouTube tutorial.
Number 5 – repaint a bookcase
So, how to repaint a bookcase? Fortunately, not one that was badly painted this time.
The advantage of painting over my own work is that I know what materials I used.
Also, my blogs are a great reminder when I forget!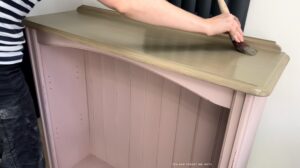 You'll see that it looks quite a lot like the decoupage bookcase from project one.
I used different products but the feel is the same.
This green paint is the super popular, Hampton Olive. It's a lovely, earthy, muted green. And the shelves were stained with No Pain Gel Stain, in Walnut.
And as the piece is back up for sale just before autumn, it's the perfect colour combination.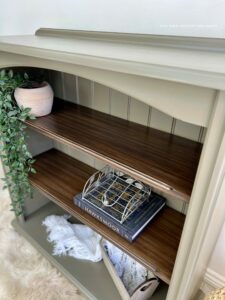 We'll just have to see if customers agree when they come back from their summer holidays!
Here's how it came together, for the second time! Plus the YouTube tutorial.
I hope you enjoyed this whizz through 5 unique ways to paint a bookshelf. From light pink to navy, stencils and decoupage, I love the variety.
It's what keeps the creativity flowing.
More about upcycling and refinishing furniture.
Pin it for later – 5 unique ways to paint a bookshelf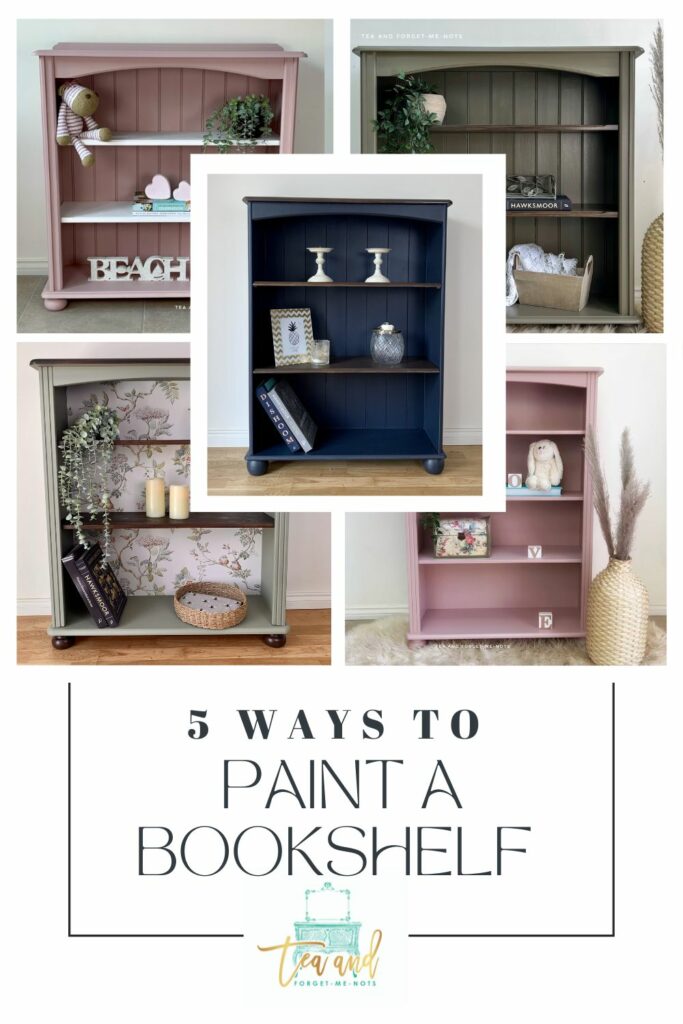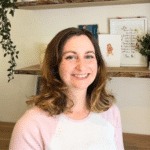 Rachel started painting furniture in 2018. She created this site to share her favourite transformations and the many tips she has learned along the way.