Painted furniture not selling? How to solve the problem.
Is your painted furniture not selling? Here are a few ways to solve the problem.
I'm talking about something you might think is embarrassing to admit and that is when a piece of furniture doesn't sell.
But I want to reassure newer upcyclers that it's normal if things don't sell for a while. There are a few different things you can do about solving it.
I sell my pieces in a local barn shop. I've had a bookshelf there for about 6 months which hasn't sold. 6 months is quite a long time to have the same piece in a booth. Because the same customers will see it again and again and it doesn't help the space look fresh.
So before we get to what I did to change up the bookshelf. What could you do if you have a piece of furniture that doesn't sell?
Thank you to Dixie Belle Paint for sponsoring this post.
This post includes gifted products and affiliate links so you can easily find the products I use myself and recommend to friends. If you purchase these products, I may earn a small commission at no extra cost to you.
Painted furniture not selling? How to solve the problem.
Firstly, of course, you can lower the price. If you're thinking of repainting it then you can lower the price by the cost of the paint and materials you would use. It might sell at that price and you've saved yourself the time of doing the work again.
Secondly, you can take the furniture off of the market until it is a better time of the year to sell. For me, spring and autumn are better times for furniture sales.
If you have a physical space like a booth, you can move the piece around, stage it with new items and generally make it look different. It's amazing how often people think something is new in the shop when it has just been moved around.
Here are some more tips on how to design your booth space, if you have one.
Alternatively, it might be as simple as offering free delivery or promoting it in more places than you currently are.
Finally, and what I'm doing for this bookshelf, is repainting it.
Can I paint over old painted furniture?
I painted this bookshelf about six months ago in Dixie Belle's Conch and Salt Water.
Here's the tutorial if you'd like to see how it started out.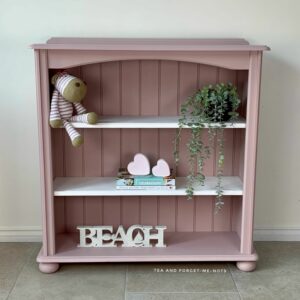 I liked this makeover. I can picture it in a child's bedroom and someone even told me that it would look good in their kitchen.
So I think as a piece, it works. But, of course, painting bright colours is not going to appeal to everyone. It narrows the customer base much more than if it had been neutral.
So, I'm going to have another go.
Fortunately, as I'd already worked on it, I know the products that were used. So, I didn't have to worry about the condition or quality of the paint.
Do you have to sand painted furniture before repainting?
To start, I used sandpaper to take the shine off of the original topcoat. It was a little bit sad undoing my hard work but I think that it was the right thing to do.
After that, I used a wet cloth to remove the sanding dust and start from a clean surface.
Now for the colour change. I chose the green, Hampton Olive. It's a lovely, earthy, muted green. And as the piece will be back for sale just before autumn, it's the perfect colour.
It's a similar colour to my fastest-selling bookshelf, so fingers crossed this time!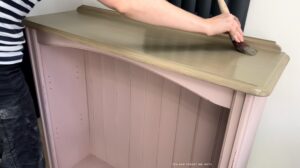 My painting technique is generally to get the paint on quickly and then go back and smooth it out. So it can look a bit messy while doing it but as long as you work quickly enough, it's a good strategy.
Hampton Olive is a self-levelling paint. This means that it evens itself out across the surface while it dries. That reduces brushstrokes for a clean, smooth finish.
I needed three coats of Hampton Olive for the perfect coverage.
In between each coat, I used fine sandpaper to remove any paint nibs or fluff. The brushes I use rarely shed any bristles.
But I do have a cat who likes to watch me work. So, it's good to check for fluff between coats. You don't want to get three coats in and find fluff underneath them!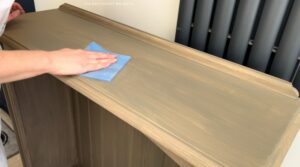 Do you need to paint the back of furniture?
My golden rule is to ask myself what would the customer think when they saw it. Would they think that it was unnecessary to paint it or lazy not to?
More often than not I will paint the back and bottom. Especially if it feels incomplete.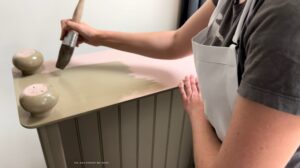 I didn't have a choice with this one. As I painted them the first time it would have been a very strange green bookshelf with a pink back and bottom!
To paint the bottom of furniture, I put a towel on my furniture wheels and turn the piece upside down. As the wheels rotate, it makes the piece easy to manoeuvre. It is also a good angle for checking that I've painted everywhere.
Want to know 23 great DIY tools? Get the list!
The shelves were originally painted white. Unfortunately, the technology gremlins didn't keep the footage of staining these shelves.
However, if you would like to see that process, I recently did a post on how to stain a cabinet door. I turned it into a beautiful sign.
For the shelves, I used No Pain Gel Stain in Walnut. The beauty of a gel stain is that it doesn't sink in, so it doesn't need to be used on raw wood. So my previously painted shelves were perfect.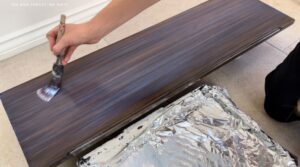 I did three coats to get to a colour that I loved. But each coat needs 6 hours to dry. And I did three coats on both the top and bottom of the shelves.
So between that and the two coats of sealer I did. These two shelves took about 10 days to finish!
It's just as well that I was able to finish the main part of the bookshelf in the meantime.
To finish, I did two coats of Clear Coat in Satin.
Do you need to seal Dixie Belle Silk paint?
Hampton Olive is in Dixie Belle's Silk range, which has a built-in top coat. I've been asked before why I do extra layers of topcoat, as this is the case.
It's a fair question. It's partly habit. But mostly for reassurance of having maximum protection.
After all the hours of work I've put into this piece, (twice!), I don't want to risk the paint chipping.
The paint will be cured, or fully hardened, in about 3 to 4 weeks. Perfect timing for when customers are coming back from the summer holidays.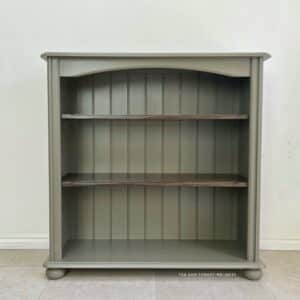 It just goes to show what a difference paint can make. This piece feels completely changed.
I liked the original pink, it had a fun, summery feel to it. But the green is really beautiful, cosy and warm. It will be great for the barn shop in autumn.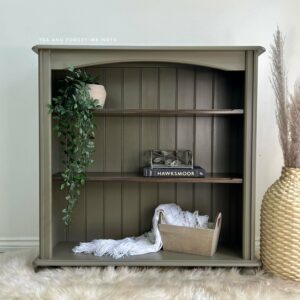 I'm happy that I've made the change and hopefully someone else will love it too.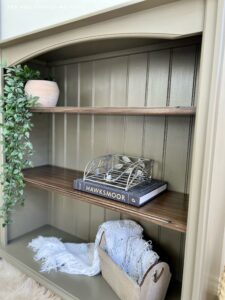 Are you team pink or team green? Have you had an issue with painted furniture not selling? Let me know in the comments!
Watch the transformation on YouTube!
If you enjoyed this post, you might like to see this pink bookshelf makeover which does have a forever home.
Pin it for later – how to solve painted furniture not selling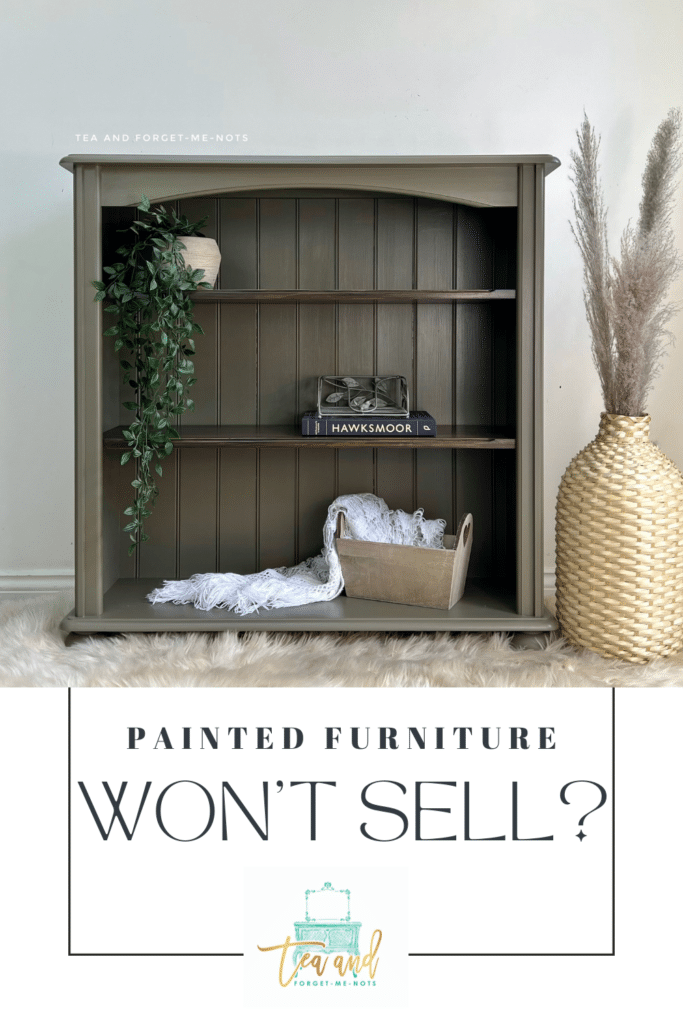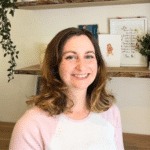 Hi there! I'm Rachel Bowyer, a passionate DIY enthusiast with a knack for transforming the old into something beautifully new. With a deep love for furniture painting, refinishing, and the art of crafting. I've been documenting my DIY projects and restoration journey since 2018. I specialise in techniques like decoupage, stencilling, and decor transfers. Join me as we explore the world of creativity and home improvement, one project at a time.