How and where to find free furniture to upcycle
There's no need to spend money before looking for quality free furniture. Here are 5 places and simple tools to find free furniture to upcycle.
If you're starting upcycling, free pieces of furniture are a great way to do a test run. Not the family heirloom.
The upcycling movement has kicked up a notch as people are spending more time in their own homes. That means there's more competition to find great deals.
So whether it's an old dresser that needs a fresh coat of paint or needs of a whole new look. Once you have the furniture, your creative ideas and DIY projects can follow.
Is free furniture worth it?
Why things are free:
They're worthless.
They are worth something but the owner can't be bothered to sell them.
They're worth something and the owner doesn't know.
Not all free furniture is worth something. Old furniture often comes at the cost of repairs. Or they're made from poor materials which won't ever be valuable, however beautiful you make them.
But there are lots of reasons why free doesn't mean worthless.
People get rid of specific items for free because they aren't in style. Or they're moving house and don't have the space. Or they could be an unwanted hand-me-down.
It was free? Keep it secret!
I've had people tell me that they're surprised I say when pieces were free. They think it could devalue how others view the finished pieces.
It was free therefore it's still worthless, no? Well, that depends on the value you put on the finished piece I've created. The steps I show and hours of hard work put in.
Did it have value before? No. Does it have value now? Yes. I know because people buy them.
The upcycling movement has kicked up a notch as people are spending more time in their own homes. That means there's more competition to find great deals.
So whether it's an old dresser that needs a fresh coat of paint or needs of a whole new look. Once you have the furniture, your creative ideas and DIY projects can follow.
Find Free Furniture with Social Media
Facebook Marketplace
The first great place to find free treasure (actual or ones with potential) is on Facebook Marketplace.
Here's how…
Firstly, the easy way, you can search Marketplace and look for the listings priced as free. Simple. This is the broadest way of searching Marketplace. So, you might have to scroll far before you find something free that you would like.
2. Alternatively, select the 'Free stuff' category from the menu on the left.
This reduces the search to all free things. But it doesn't narrow it down any further than that. So, you still have to scroll through everything Marketplace has to offer for free.
But if you don't know what you're looking for, it's the best free, broadest option.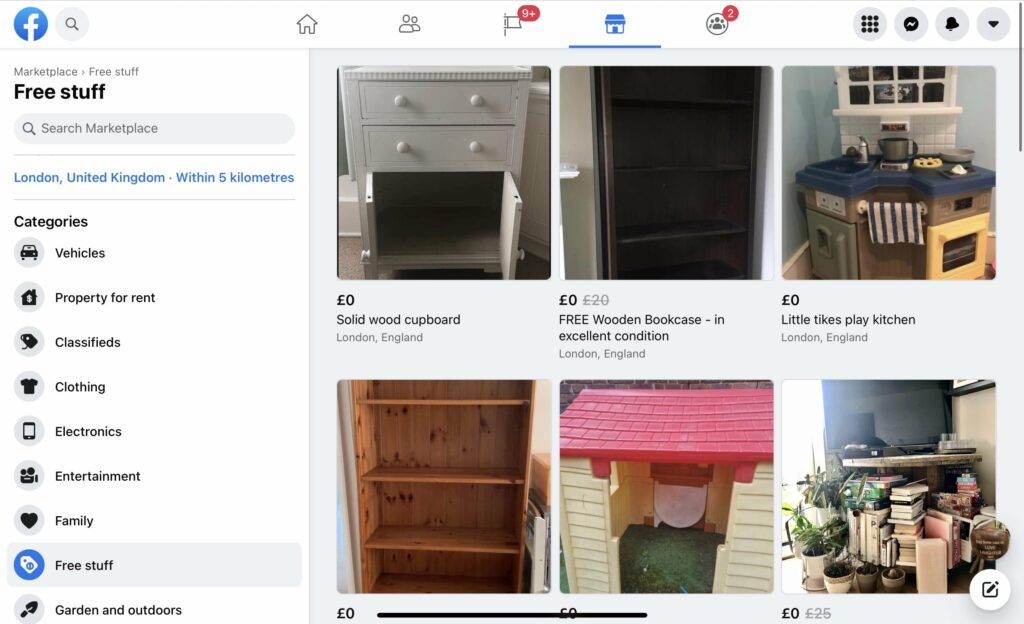 3. Lastly, for the most specific search option, use the filters.
Search for the item you would like and then go to the filters button. Set the maximum price as £0.
This gives you both the item you want and the price you want.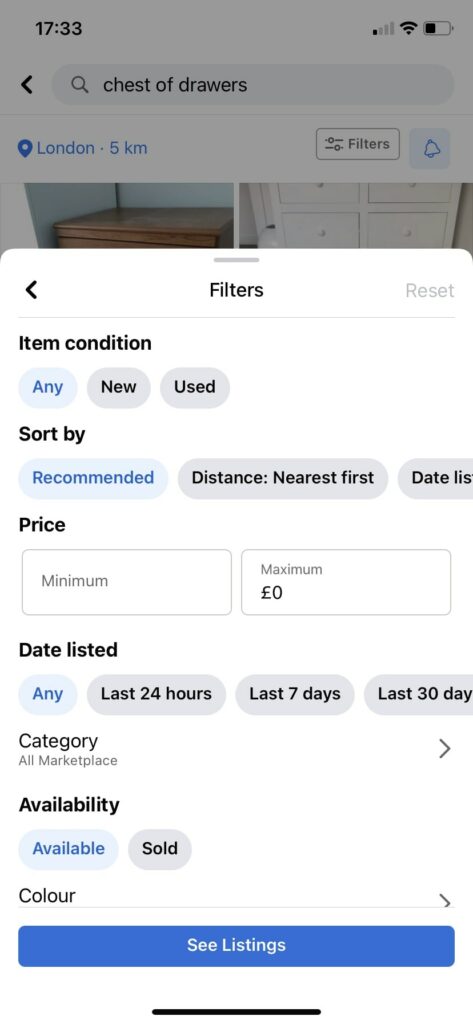 And for the killer move? Be the first to know about it too!
4. Create a notification when something you are looking for is posted. That's the bell icon next to the filters.
You don't need to specify an item such as a chest of drawers. You can put in 'solid wood' or 'antique' and be notified when someone lists something that matches your keywords.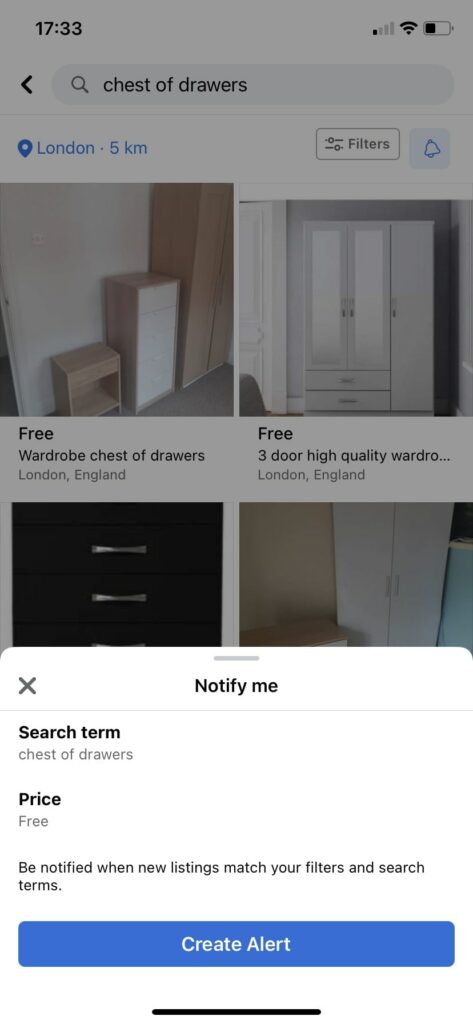 The larger the search area you choose, the more items you'll be notified about. But then equally the competition as to who can get it first increases also.
These old drawers are one of my free Facebook Marketplace finds. In pretty good condition for a free furniture item. Did you see its recent transformation?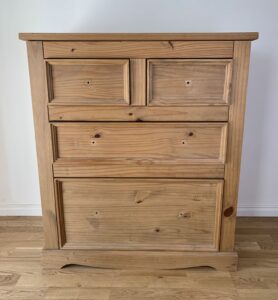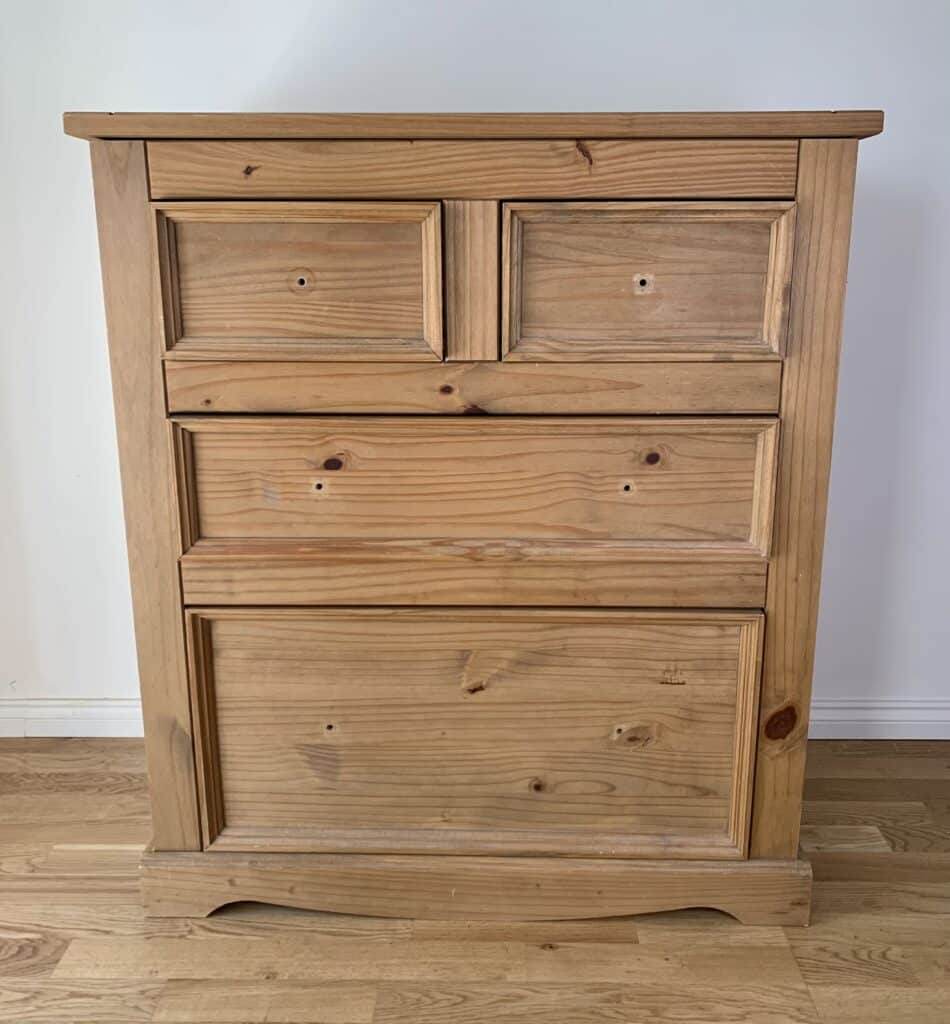 Garage sales or a yard sale might also be posted on your local Facebook group. That's how I found this hideaway coffee table set.
Freecycle is made up of local community groups where members post their unwanted items for free. It's non-profit and run by local volunteers.
I have taken items, given items and requested an item. So, have experienced each part of their service.
Simply sign up to a group local to you and browse the items available.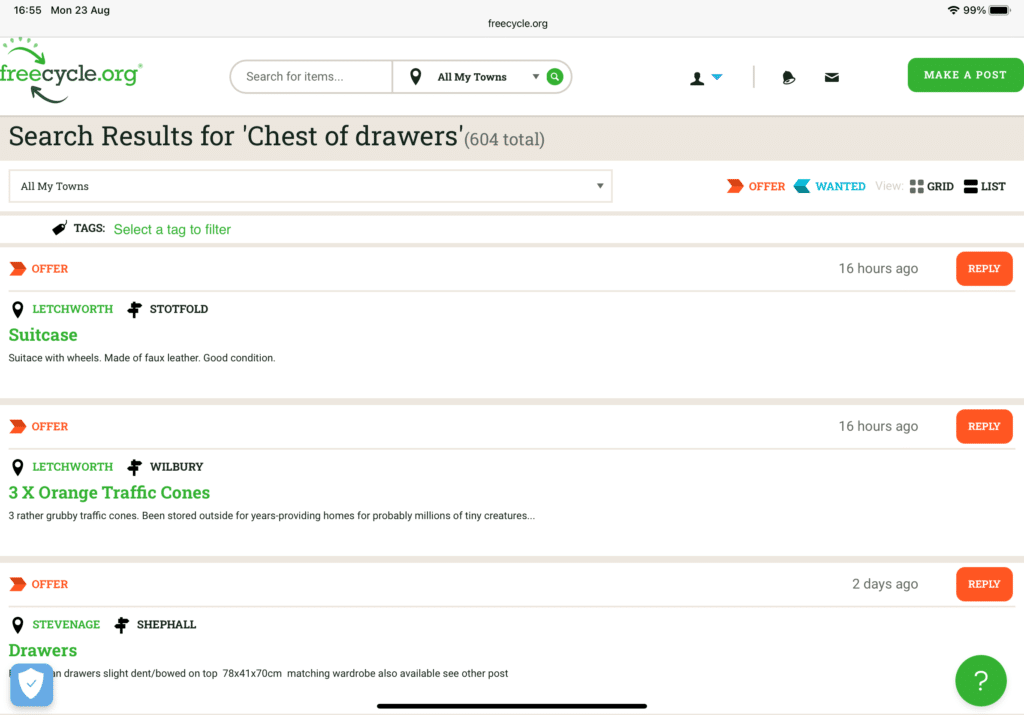 This is one of those lucky finds!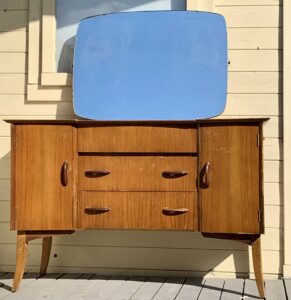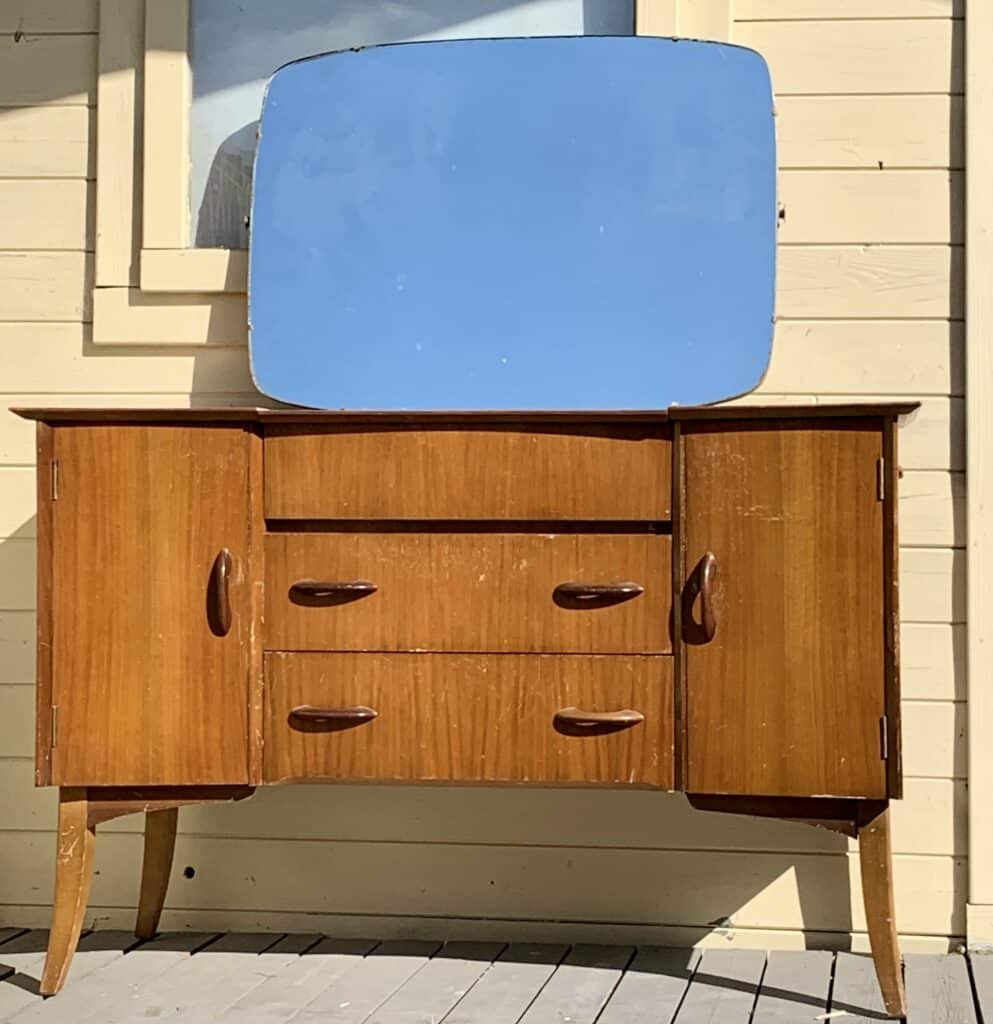 You can also request items by making a 'wanted' post. But of course, there's no guarantee you'll get it.
I was looking for a specific item and wrote a polite ad asking if anyone had one they no longer needed. A few weeks later a woman got in touch and offered me a beautiful solid wood piece. What a stroke of luck!
Want to know 23 great DIY tools? Get the list!
Freegle is very similar to Freecycle but was started in the UK.
They cutely describe how it benefits others by giving them the gift of free space! And it's good for your community and the environment too…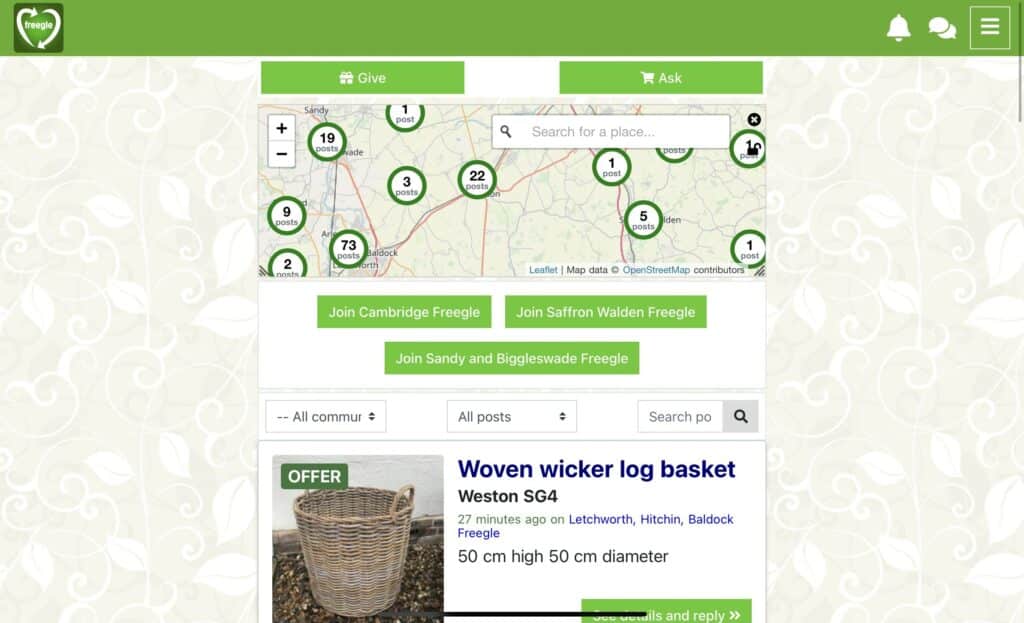 Friends and family
Tell everyone who'll listen what you do (or want to do!). This is only an obvious place to find old wooden furniture if people know you want it.
A lot of people have furniture they are happy to pass on. Either when they're updating their home or moving. The more people who know you're interested in furniture, the more offers for free things you'll get.
I got this desk from the previous owners of my house. It was kind of them to leave it for me. And here's what I did with it!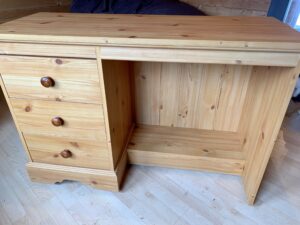 This gold mirror was another piece that I was given by a friend before I transformed it.
But that doesn't mean you should say yes to everything.
If it's worthless to them because it actually is, don't feel obliged to take it. Having to throw it away yourself to avoid feeling awkward by saying no, is a waste of time.
How to say no:
"No. Thank you for thinking of me."
2. "No, thanks. I don't have the space."
3. "No, thanks. I don't have the time."
Side of the road
I really wanted this one to start with F too. Facebook, Freecycle, Freegle, Friends and Family… and the side of the road. Shame.
This is the unwanted furniture that is left outside for others to take. Usually with a sign saying FREE or TAKE ME. Or sometimes it might just be abandoned furniture.
Here are some pieces from near my house. Naturally, I jumped at the solid wood items.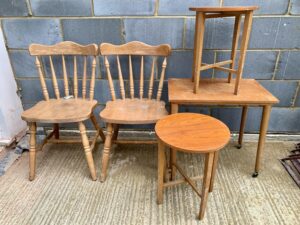 One of those chairs is one of my most popular updates ever. I sanded off the varnish over many hours.
You can't plan for these. It's a case of being in the right place at the right time. And with the right size car to load them up!
---
Here are two bonus suggestions. This isn't where to find free furniture because they aren't free. But can still be affordable.
Charity shops and thrift stores
I found this in a British Heart Foundation Home Store. They're the dedicated furniture shops for the charity.
The cabinet was £10, reduced from £35!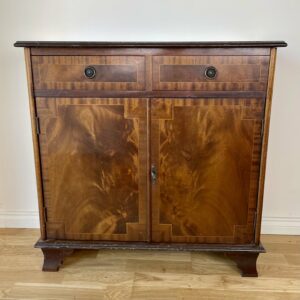 And I found this piece of furniture at a general charity shop for £15. I love the little ornate drawers.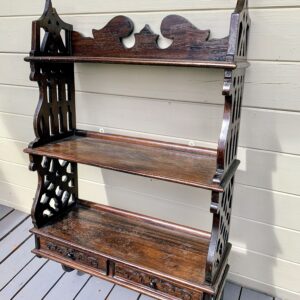 And here it is after I gave it a new life. I used Annie Sloan chalk paint in Aubusson and added copper highlights.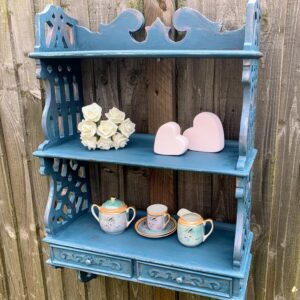 So yes, you will pay something when buying from a charity. Which is already money for a good cause. But there's also the benefit and reassurance of it having been through a check that the piece is good enough to sell.
Car Boot Sale and Flea Markets
Old pieces are easy to find but the shop owners are often owners of the pieces themselves. You can still find bargains but you might need to negotiate for them. It's a different way to approach getting second hand furniture.
But unlike on social media, you can see in person if the furniture is in excellent condition. You might even hear a unique story about the best pieces. Although the price range could vary a lot more than typical furniture stores or on the high street.
---
I hope you found these examples helpful. Possibly some new places to search for freebies or new ways to find them on sites you already use.
Where do you find free furniture pieces for furniture makeovers? What has your best free piece been? Please share in the comments!
If you enjoyed this post, you might also one of my favourite upcycled furniture ideas.
Also on the blog: all you need to know about choosing paint brushes.
Pin it for later – where to find free furniture to upcycle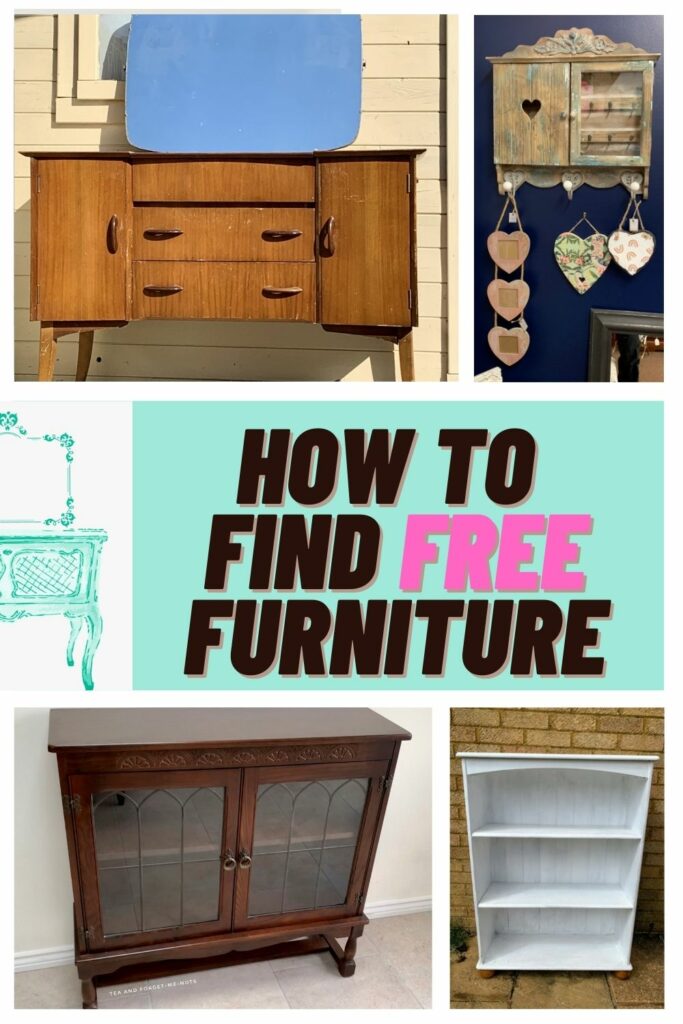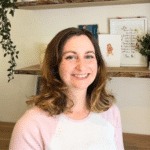 Hi there! I'm Rachel Bowyer, a passionate DIY enthusiast with a knack for transforming the old into something beautifully new. With a deep love for furniture painting, refinishing, and the art of crafting. I've been documenting my DIY projects and restoration journey since 2018. I specialise in techniques like decoupage, stencilling, and decor transfers. Join me as we explore the world of creativity and home improvement, one project at a time.