Paint Touch Up Kit for Painted Furniture Refinishers
Are you a furniture refinisher? If so, do you give a paint touch up kit for painted furniture to your customers, when you sell your laminate or wood furniture pieces?
I do. Often other refinishers ask about what's included in my paint touch-up care pack. So, here I'll share what I offer.
It's quite simple as to why I give spare paint with my furniture. Because accidents happen. Whether that be pet scratches, chips when moving pieces around or an over-enthusiastic toddler making mischief.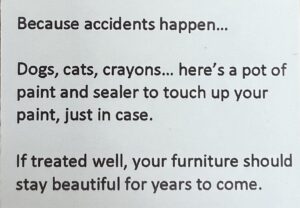 With life happening in your home, it's possible that you might need touch ups for a small spot on your painted surface at some point.
This post may include affiliate links so you can easily find the products I love and use myself. If you purchase these products, I may earn a small commission at no extra cost to you.
Love a good tool? Here are 7 useful DIY products to make upcycling easier.
What's in my Paint Touch-Up Kit Video
Care card and paint touch up kit for painted furniture refinishers
Firstly, I give a pot of the original paint colours I used on the piece.
Along with excess paint, I also offer sealer. Assuming you have a top coat on the piece then this is an important factor.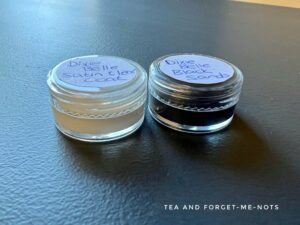 Just as you seal a piece after painting it. For the best results, you need to seal the repaired area.
There's no point offering only the paint if you can't create an exact match on the finish. A touched-up spot that doesn't have the same paint sheen, such as satin or gloss, will stand out.
Easy way to store paint for touch ups
For both the paint and sealer, I put a little bit of the paint sample in a 5ml screw-top pot. 
I decant small amounts of both the paint and protective coatings into these pots. Or multiple pots depending on how many colours the piece is painted.
This is especially important for new paint blends. When you create a unique colour and can't purchase an exact match.
In addition, I label these pots with the brand name and paint name. This is so that if the customer wants to paint something as a perfect match to the piece, they can find the paint themselves.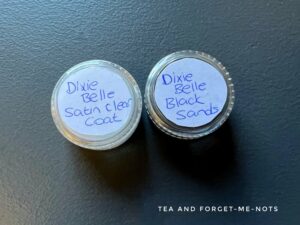 It's important to include the brand name. Sometimes paint companies use the same paint names for colours. One company's 'Onyx' will be a different shade of black than another's. So this is the best bet to ensure an exactly matching paint.
I place both the paint and sealer in a drawstring bag. That means that customers can keep it somewhere safe and not lose the small pots. 
Thinking about getting a retail booth? Here's how to design a retail booth for maximum impact.
Care card – how to look after your painted furniture
Alongside the extra paint, it's a good idea to provide care instructions for the newly painted furniture.
This explains the curing process. Which is to be careful with the piece until 4 weeks after it was finished. This is the wait time when the paint is fully hardened and is as durable as it will be.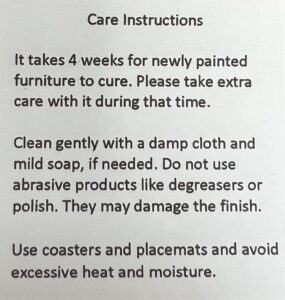 You could write the date when that curing period will be up so the customer knows exactly when that is. I try not to make pieces available to buy until the curing period is up, though.
Additionally, you could include a small brush for the customer to do simple paint touch-ups. I personally would rather recommend a quality brush for the customer only if they needed it for the touch-up area.
Here are 7 ways to paint better with items in your home.
How to clean painted furniture
I also share the best way to clean the furniture. Harsh chemicals and traditional cleaners such as polish can damage a painted finish. So, I advise you to use just water and a damp cloth to wipe the marks off. And at most, use a mild soap.
There's every chance that the furniture will look beautiful for years to come if you care for it. Therefore using coasters and avoiding heat and moisture is also something I mention.
These points are important because they're different to what you expect when buying something finished in a factory. But a quick explanation gives everyone the chance to make the most of their items.
How to get in touch for support
The last thing I attach is my business card to the drawstring bag. This is for a couple of reasons.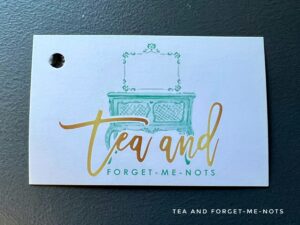 Firstly, customers can contact me by email or on social media if they have any questions. And secondly, I've had customers who request commission work based on having bought one of my pieces first.
Even the best furniture can get deep scratches and pesky dings on it. If so, the damaged area might need wood filler to get an even surface texture first.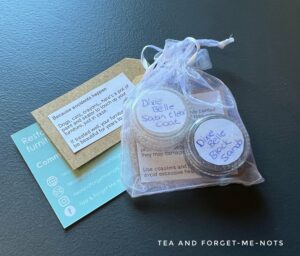 It's best if the customer is able to reach you to be able to offer advice on the right tools for this.
I've had lots of lovely compliments about the care pack that I provide. It's a small thing but helps to reassure customers that the prolonged life of their piece is important to me.
If you sell painted furniture, do you provide a care pack? Or would you do it in the future?
Or do you sometimes struggle to sell your painted pieces? Here's what I recommend.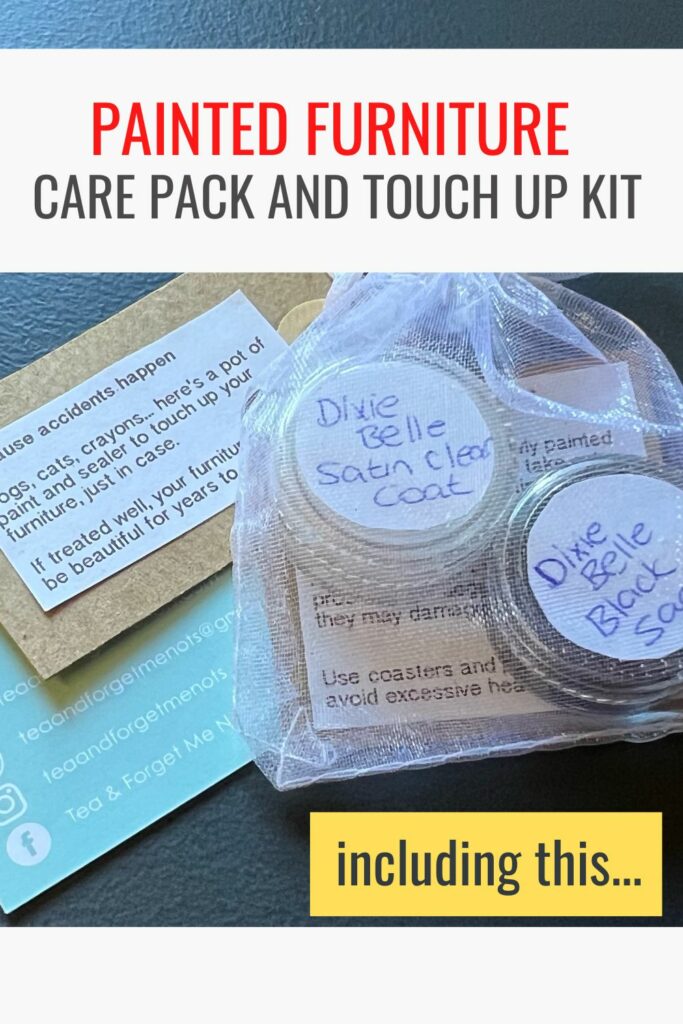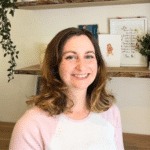 Rachel started painting furniture in 2018. She created this site to share her favourite transformations and the many tips she has learned along the way.