7 useful DIY products to make upcycling easier
What tools do you need to do your job better? This is a list of 7 useful DIY products that I've discovered and help make upcycling easier.
I stand by my original list of 5 must-haves under £15. These aren't tools like saws and drills but tools that assist you.
They're all products that I've bought myself or been gifted by family and am very happy to have them in my collection.
Which ones do you have?
This post includes affiliate links so you can easily find the products I use myself and recommend to friends. If you purchase these products, I may earn a small commission at no extra cost to you.
7 useful DIY products to make upcycling easier
DIY product 1 – corner painter
This is called a corner painter or delta brush. Whether you're painting the corner of a wall or a cabinet, it's a great tool. It's a triangular-shaped sponge that easily paints corners.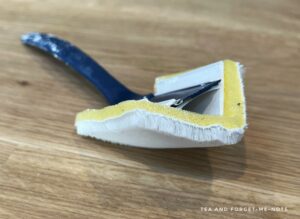 I bought it for painting my kitchen walls and it's so convenient. My previous process was:
Paint the corner with a brush (and hope for no excess paint build up on the edge)
Use a roller on the rest of the wall
Use the brush again to fill the gap where the roller didn't get close enough to the corner paint.
A little bit painful. But maybe that was just me!
So, this tool gets the corner and both walls in one stroke. It's really fast. If you've ever struggled with filling corners quickly or efficiently, this is for you.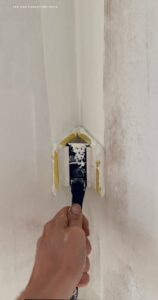 DIY product 2 – moving wheels
If you often work by yourself, furniture wheels are brilliant to move furniture around easily.
I have two sets of furniture moving wheels. The first is part of my 5 must-have products for DIYing and I still use them daily.
These moving wheels are brilliant in a different way. You can use them to help move the piece around when working on it or when transporting it. But be aware that these don't have breaks.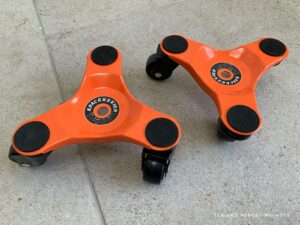 They come as a set of four. The nice thing about them is that they have a circular insert which means that they work for furniture both with a leg or a flat edge.
If you have a stash of furniture that resembles a game of Tetris, these could be very convenient. They're also small to store when not in use.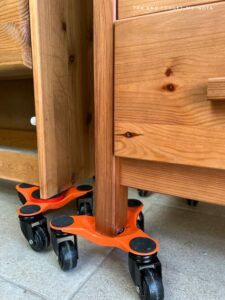 DIY product 3 – spray tent
This is technically a beach tent rather than a spray tent. But at half the price of a lot of spray tents, it does a great job.
If you've ever accidentally spray-painted grass. Or tried to paint and had it blown away by the wind. Then this will help.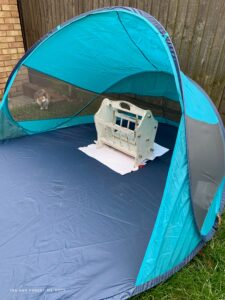 The canopy keeps the wind away and the floor stops paint from going on the ground. Naturally, it does get the tent messy, so it will need to be a dedicated spray tent rather than going to the beach too.
Want to know 23 great DIY tools? Get the list!
DIY product 4 – long angled brush
This long angled paintbrush has two benefits in one. I feel the name might have given those benefits away.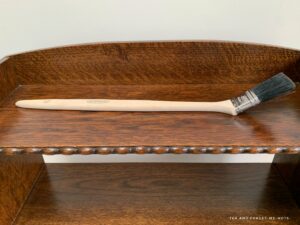 The advantage of having a long brush is that you don't have to stretch as much to get to hard to reach places. Such as ceilings or the back of a deep cabinet.
Having an angle on it helps to get to difficult areas such as the underside of a table.
I needed this when I painted a table with a ridge that a straight brush couldn't get to. I applied paint with my fingers as the solution but the angled brush would have worked perfectly.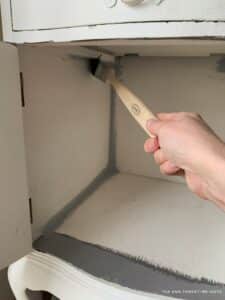 It's the sort of tool that you might not see how it would be useful until the time comes that you need it, and then it's brilliant.
DIY product 5 – carbide scraper
If sanding is not one of your preferred tasks, this paint scraper helps shorten the process.
This was recommended by Cindy from It's So Chic Interiors as something upcyclers should treat themselves to for Christmas. It was the only other upcycler gift recommendation I saw other than my own list of 21 items! So naturally, I had to try it.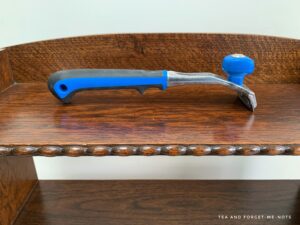 Here I used it to remove the paint after a coat of paint stripper. And you can see how cleanly the paint came off. However you can also use it without paint stripper, as the scraper is that strong.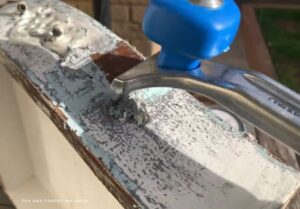 Definitely worth a look if you regularly need to remove old paint.
DIY product 6 – small hammer
The only item on this list that is a classic DIY tool, is a hammer. But the great thing about this one is that it's small!
If you find normal hammers heavy or difficult to use accurately, this could be the one for you. It's smaller and therefore lighter, so easier to control. I hit nails much more accurately than before and feel safer doing so.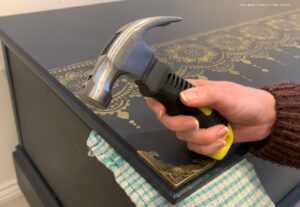 I was given this as a gift and it makes me wonder how many other tools there are which might have smaller versions that would suit me better.
DIY product 7 – rolling stool
A rolling stool is as you would imagine, to sit on when working. If the furniture has wheels, then why can't I have them too?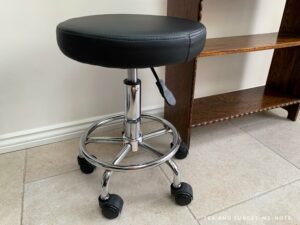 But why is it particularly useful? Well, for comfort mostly. I used to paint when standing or kneeling and neither are good for long term health. It's great to have the option to change positions so you don't put too much stress on any one area.
This stool makes working more comfortable and as it has wheels, more convenient moving around and also more fun!
---
I'm a big fan of trying to get things done simply and conveniently. I should probably also make a list of things that weren't worth spending money on…
I hope you found some useful DIY products that might make your life easier. Or if I missed something, please let me know in the comments.
If you liked this post, you might also enjoy the gift recommendations for upcyclers.
Pin it for later – 7 useful DIY products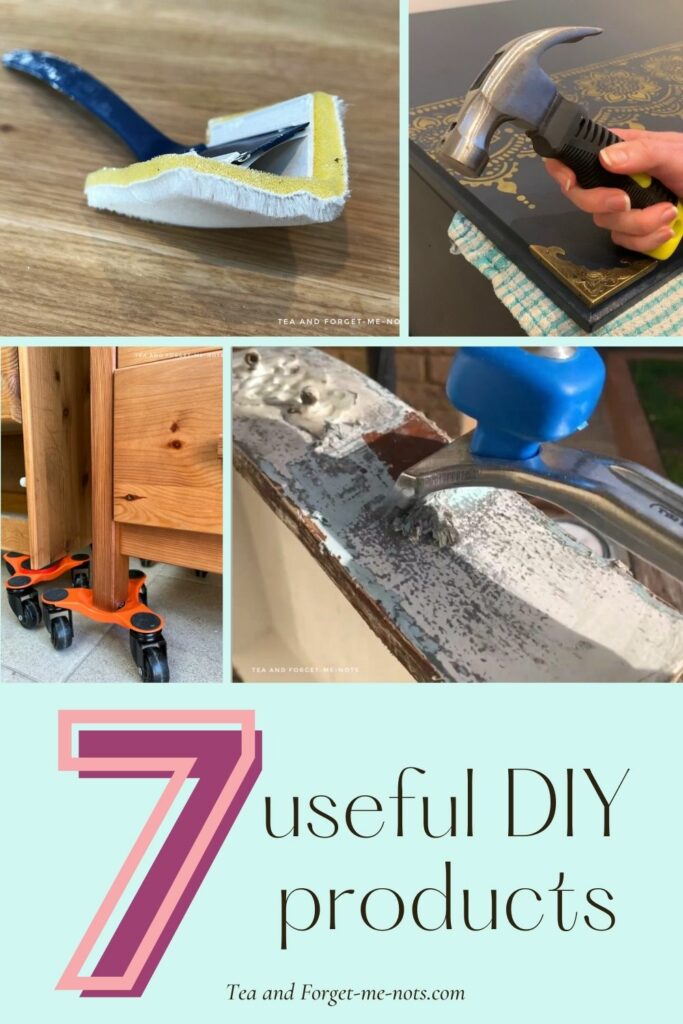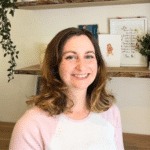 Rachel started painting furniture in 2018. She created this site to share her favourite transformations and the many tips she has learned along the way.