Five tools under £15 to make your life easier
Here are the five best tools under £15. They will make your upcycling life easier, with no power required!
If you have the right tool for the job, you're halfway there.
Five tools under £15 to make your life easier
£7
These pyramids are surprisingly strong little things that keep your furniture off of the floor.
The advantage is that it allows you to paint to the bottom of a piece without painting the floor and get a smooth finish right to the edge.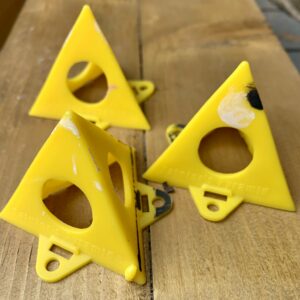 Similar items (well, probably the same just under a different name), claim that they can take the weight of 90kg/200lbs. They hold up this four drawer chest of drawers without a problem.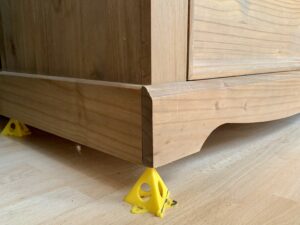 Because the pyramids come to a point at the top, they fit even skinny corners on top of them. And due to their shape, they stack on top of each other for saving space when storing them.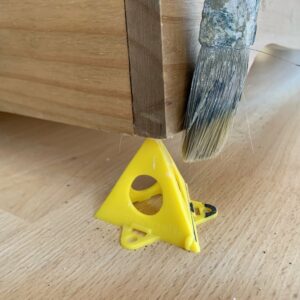 These are probably my most-used item on this list. As you can see by the fact that I didn't have any without paint on to photograph!
The only downside is that you might forget they're there and cut into them when sanding, as I did on the grey chest of drawers makeover!
This post may include affiliate links so you can easily find the products I love and use myself. If you purchase these products, I may earn a small commission at no extra cost to you.
£11
A Lazy Susan is a circular disc that rotates by hand. You may know them from restaurants as a convenient way to share food around a table.
But why would you want one in the DIY world?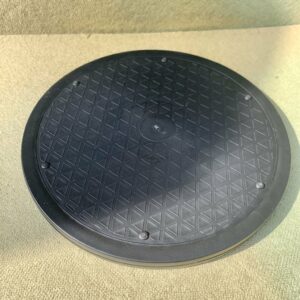 If the furniture moves, you don't have to! By the furniture moving rather than you, you're in a better position to keep smooth, consistent brushstrokes.
I recently stained the trim on this circular table without using a Lazy Susan and it was hard to get even brushstrokes without the occasional wiggle as I moved.
You hold the disc with one hand and rotate it gently. Whether you're using a brush or spray paint, the angle is more consistent, giving a more even application.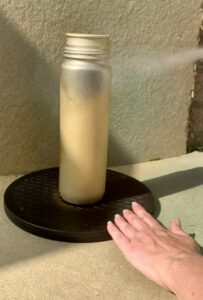 What I like about this one is that it has a textured, rubber base so things are less likely to move on it.
It can handle 25kg/55lbs of weight. As someone who rarely needs to know the weight of furniture, I can only compare that to holiday luggage, but it seems like a good amount.
So, a good tool for keeping a consistent stroke or even spray, on either a round piece or a small item you need to work on from different sides.
£12
This hardware hole drilling tool takes the wonky placement out of adding new handles to a piece.
By measuring the drawer, handle and hole distance, you can accurately plan out the hole location(s) before drilling.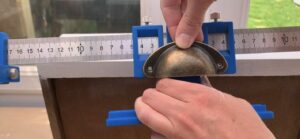 First, measure the size of the drawer and work out the mid-point of where the handle will be. From there, line up the adjustable guides to see where the holes would go.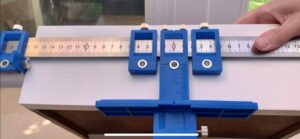 Depending on the size of the drill bit, you can drill straight through the template into the drawer or leave a mark to drill without the template in place.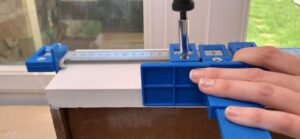 I used this tool for the first time on this white cabinet. After initially mismeasuring (before drilling, thankfully), I realised that the handle holes were not in the centre of the handle vertically and I needed to adjust for that.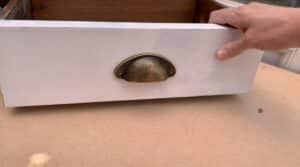 Measure twice, cut once is the wisdom. If you use this tool right, you can measure once, check once and cut once. Job done.
£6
This is my most recent purchase so the one least tested but I already know it's a good'un.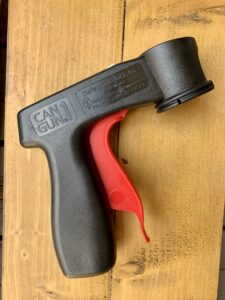 When spraying a piece that takes a reasonable length of time, holding the nozzle down can be uncomfortable.
This is a handle that you attach to a spray paint can. The trigger grip gives you the whole handle to squeeze instead of just the nozzle.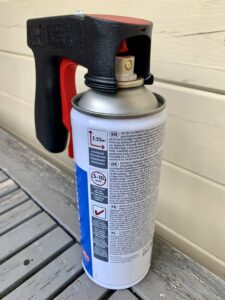 It sprays like normal but without the pressure on one finger and feels like you have more control too.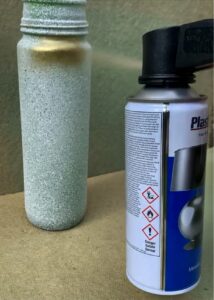 A great little item, pops on and off, no drippy painted finger mess and added comfort. Lovely.
£11 (plus MDF)
Arguably slightly cheating on the under £15 one here, depending on how much a 1m x 0.5m MDF would cost you. I had some spare so between the wheels and what the offcut would roughly cost, £15 is about right.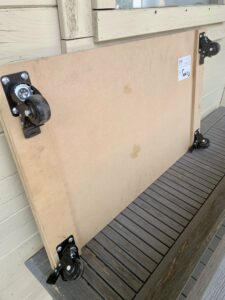 You can buy a furniture mover or furniture wheels ready built which is the simpler option. But something like this one is a similar price but a third of the size.
It depends on what is most convenient for you.
But the principle is the same. This set of wheels allows you to move heavy furniture around easily. This helps both when working on a piece and transporting it.
The wheels lock into place to give reassurance that it won't move when working on something or roll down the road…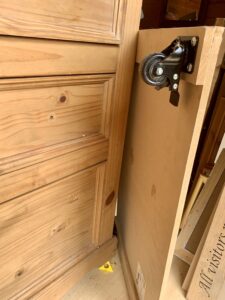 As most of the tools on this list seem to be about load-bearing capability, I can confirm that my wheels have taken the weight of a washing machine and lived to tell the tale.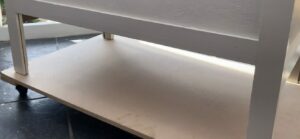 I've found these especially useful when working alone without a spare pair of hands to help me move furniture around.
They're also ideal when delivering items and are probably safer physically than lifting items regularly.
Whether you make your own or buy one, a set of furniture moving wheels are a great investment to make your life easier when upcycling.
Are there any tools under £15 that you think should be on this list? Please share them below so we can all benefit.
Have everything on this list? What about the items on my gift guide recommendations
Pin in for later – best tools under £15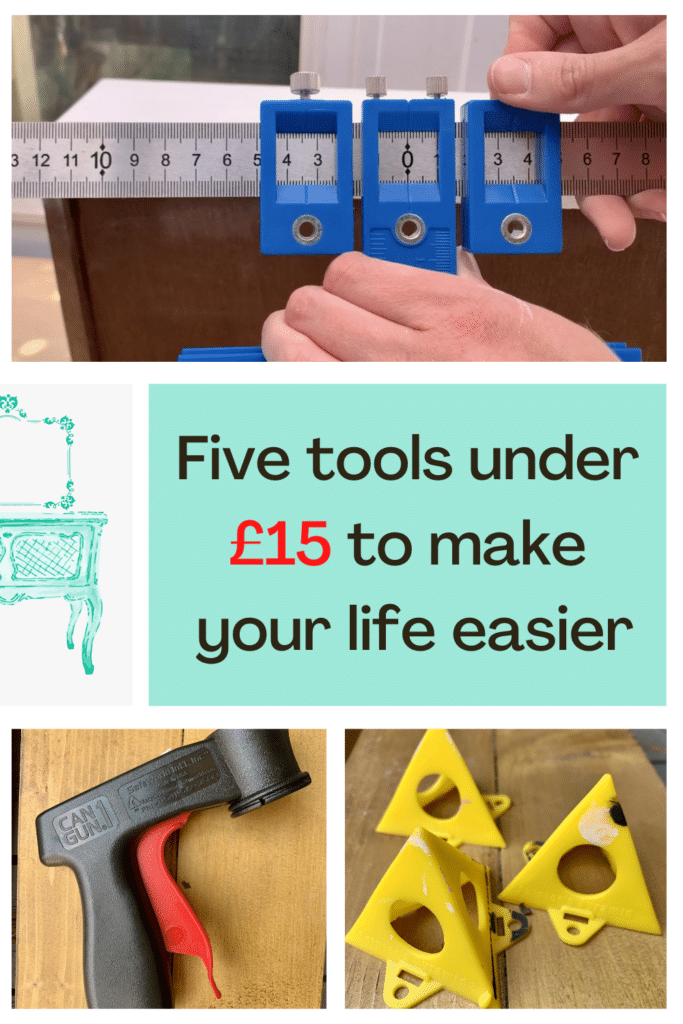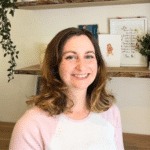 Hi there! I'm Rachel Bowyer, a passionate DIY enthusiast with a knack for transforming the old into something beautifully new. With a deep love for furniture painting, refinishing, and the art of crafting. I've been documenting my DIY projects and restoration journey since 2018. I specialise in techniques like decoupage, stencilling, and decor transfers. Join me as we explore the world of creativity and home improvement, one project at a time.