A guide on how to create a beautiful floral chest of drawers using a transfer. It's all about the piece, the prep, and sometimes problems.
Beautiful beginnings
Refinishing furniture can take a long time. If you start with a quality piece then you have a solid foundation on which to create something beautiful.
I bought these drawers on Facebook Marketplace for £15. Similar restored items sell for hundreds of pounds and you can see why. My goal was to keep the character of the piece while turning it into something special that someone would love.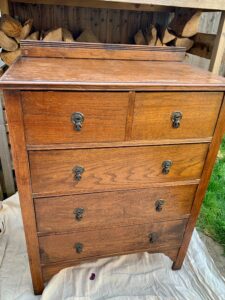 This post may include affiliate links so you can easily find the products I love and use myself. If you purchase these products, I may earn a small commission at no extra cost to you.
All in the prep
Preparation of furniture is the most important step. If the piece is dirty then the paint won't stick (it will stick to the dirt and then fall off). If there are holes or dents, the paint won't hide them. So whilst I always want to rush on to the fun stuff, prep work must get done.
I chose to remove the ornate backing piece from the top as I think it has cleaner silhouette without it and it didn't add much to the character. Fortunately it just slotted off and I only had to fill the holes with wood filler.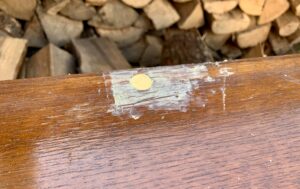 Sanding and priming
Next I cleaned and sanded it down. It's best to clean before sanding as sanding can push dirt and grease further into the wood. Sanding lightly scuffs up the surface to help give the paint something to grab on to. This sandpaper is lovely stuff! It was recommended by Laura and has foam padding.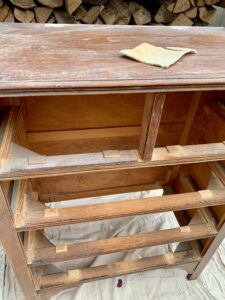 The piece was in great condition although there was some staining in one of the drawers. If this hadn't been there I would have left the wood natural because I think the original features add to the charm. However no one wants to store their clean clothes on mystery stains.
I used Zinsser Bin primer which is a stain blocker.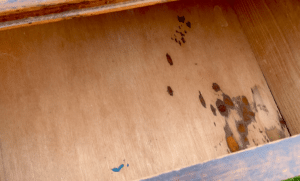 I primed all of the frame because often with darker wood pieces, the colour can bleed through after painting. You don't want to prep, paint and seal and then have stains show up. The only solution would be to sand it back to the wood and start again. Bin Zinsser is brilliant for avoiding bleed through and worth the initial effort.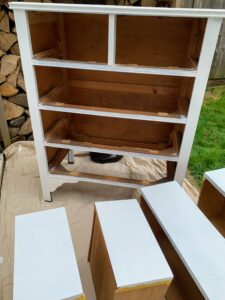 After two coats of primer, I painted the piece and inside the drawers in Raw Silk by Fusion Mineral Paint. Two coats and a few touch ups used one can and a bit. I buy Fusion Mineral Paint from my local vintage furniture shop.
The original handles are beautiful. They were nailed on and had a maker's mark cast on the back showing there's some real history there. To bring them back to life a little, I used Rub N Buff in Gold Leaf.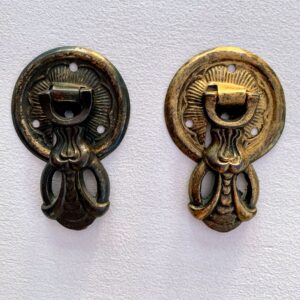 Applying the transfer
This transfer is Peony Fields by Hokus Pokus. It comes in three sections so to make sure it was centered I did the middle first.
If you want a perfectly applied transfer then you'll need a completely flat piece of furniture. Mine has ridges so I didn't try to make it perfect as the transfer already had a slightly distressed style (see the white patch on the pink flower).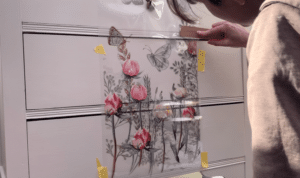 It's an easy but time consuming process. All you do is rub over the transfer with a flat object and pull pack the plastic to check that it has applied to the piece. If there is transfer left on the plastic just place it back and rub over it some more. Believe it or not, this whole transfer took about six hours to apply!
This close up is of the transfer part-way through being applied. The top left of the purple wing is a lighter colour which shows that it has transferred.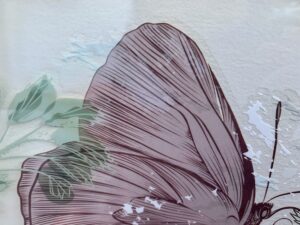 You can see the texture of the drawers which makes the transfer harder to apply as it has grooves and bumps to work around. It would be faster to apply to a completely smooth surface of something with a factory finish. Maybe not as beautiful in the end though.
The oops-a-daisy
I learn from every piece I make. Whether it's a mistake or way to do something better. I think it's important to show that mistakes happen and as long as you learn from it, it's ok.
Can you spot the mistake here?
As the drawers are vintage they don't have runners. Without handles attached, they would push back quite easily with the pressure of applying the transfer.
So, I attached a handle to be able to move them. Except I attached just one. To the middle. Of a drawer which has two handles. I didn't even notice my mistake until about an hour later. Not the end of the world but a waste of time fixing it. So, after completing the transfer I removed the one handle, filled the holes, repainted and sealed it. C'est la vie.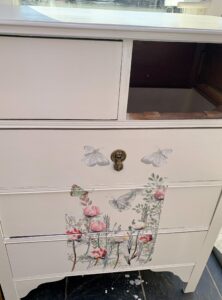 The handle in the right place. Doesn't the gold look beautiful amongst the flowers?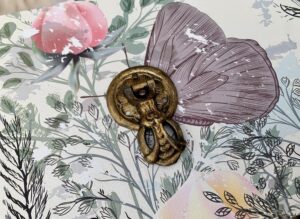 The finished piece
And there is it. The finished piece. I'm really pleased with how it turned out.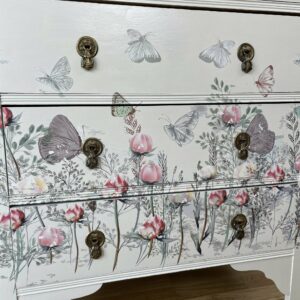 It helps to have had a quality piece to start with and a lovely transfer to draw the eye. I think it's charming and elegant. It's not for everyone but it would be a boring world to live in if it was.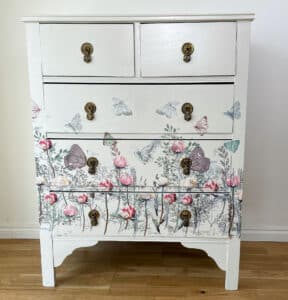 Have you had any oops-a-daisies like me? Pop a message below, I'd love to hear about it.
---
If you liked this post, you might also enjoy this one…
Subscribe for weekly DIYs, tips and the 5 tools under £15 that will make your life easier.