How to Paint Wooden Chairs (blending with clay paint)
How to paint wooden chairs with a blended finish? Clay paint gives you the flexibility to get creative when painting furniture, with stunning results.
Clay paint is similar to chalk paint because it's great for blending. So you can make all sorts of beautiful colour blends.
It is different to chalk paint because it is reactivated by water, if it isn't sealed.
Chalk paint hardens. But clay paint stays pliable and blendable forever. Which gives you the freedom to take your time and play around.
How to Paint Wooden Chairs
I got this wooden chair for free from a local garage sale. It was part of a pair. The first chair I sanded back to raw wood and added a beautiful transfer to it.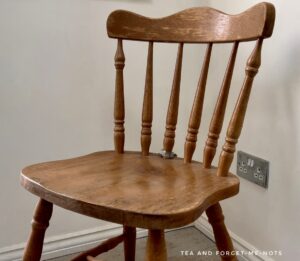 This furniture makeover is going in the opposite direction. Paint and lots of it.
Thank you to Dixie Belle Paint for sponsoring this post.
Paint a Dining Chair with Clay Paint Video
This post includes gifted products and affiliate links so you can easily find the products I use myself and recommend to friends. If you purchase these products, I may earn a small commission at no extra cost to you.
Prep work for painting a chair
To prepare the chair for painting, I started by cleaning it thoroughly. It had lived in my shed for about a year by the time I had a plan for it.
Although it was in good condition structurally, it was a bit dirty.
I sprayed the chair with White Lightning, which is a TSP cleaner. It's highly recommended as a cleaner before painting. As it cuts through grease and stains.
There is a dedicated cleaner that comes with Terra Clay Paint called Terra Clean, so that's another good option.
Secondly, I used a fresh cloth and clean water to wipe off any residue left by the White Lightning. That's the best way to start with a clean slate.
---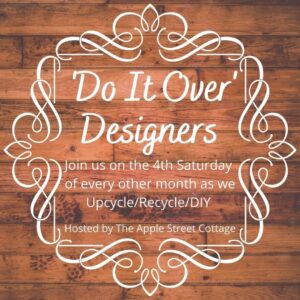 And this is where it comes to the Do It Over blog hop.
Do It Over' Designers is a group of talented bloggers who love to recycle, upcycle and DIY. It's about taking something old or unused and 'doing it over' into something new.
Check out all the 'Do It Over Designers' at the bottom to see their lovely do-overs too!
---
With clay paint, sanding isn't essential. But the extra effort usually pays off. So, for the next step, I did a scuff sand with 180 grit sandpaper.
I paid particular attention to the grooves in the spindles and chair legs. I sanded more forcefully on the back of the chair as it had flakey varnish. So, I removed that for a smooth finish and a better result.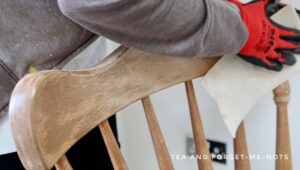 Then I used a damp cloth to wipe up the sanding dust. You can also use a tack cloth for this step if it doesn't have silicone in it. Silicone can cause issues with paint adhering later on.
How to choose paint colours to blend
I knew I wanted a blended finish of several paints for this painted chair. I chose white paint, three blues and a purple from the Terra clay paint line. There are 18 colours in the range and I chose ones in a similar colour family to make the blending transitions easier.
I used the same colours when I painted these mermaid-galaxy-coloured shutter doors.
I started by applying a base coat of each colour to the chair seat. The base coat is essential when blending paint. As blending moves the paint around, if the underneath is wood furniture, that wood colour will show through.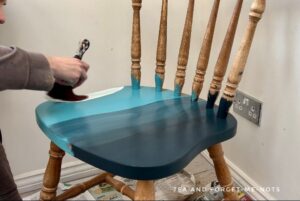 I did one full coat of the 5 colours. with unblended, harsh edges between each colour. The colours I used were Prairie Dawn, Cerulean Blue, London Blue, Galaxy, and Elderberry.
The brush you use will make a big difference to the finish you get. A chip brush or one with rough bristles will give more texture and more visible brush strokes.
It's a very well-pigmented paint. It would have been enough for full coverage with just one coat if I wasn't blending too.
If you're doing multiple coats, you should leave 2 hours between coats of this clay paint.
I waited a day to do the next coat of paint.
How to blend with clay paint
To blend a section, I loaded up a brush with one colour of paint and recovered the basecoat of that colour. And did the same for the next colour along.
Then with a dry brush, I lightly brushed between the two colours. Going back and forth until I was happy with the transition. This is easier to do with colours more similar to each other like purple and dark blue.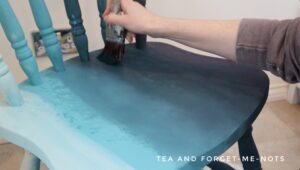 For the best results, you will likely need to have a mister bottle to help keep the paint wet. Which helps move it around.
I used a separate good quality paint brush for each colour. And then kept a dry paintbrush for each transition area. These were all synthetic brushes to give a blended, beautiful finish.
It's personal preference how much or little you blend the colours into each other. I stopped when there was a decent crossover.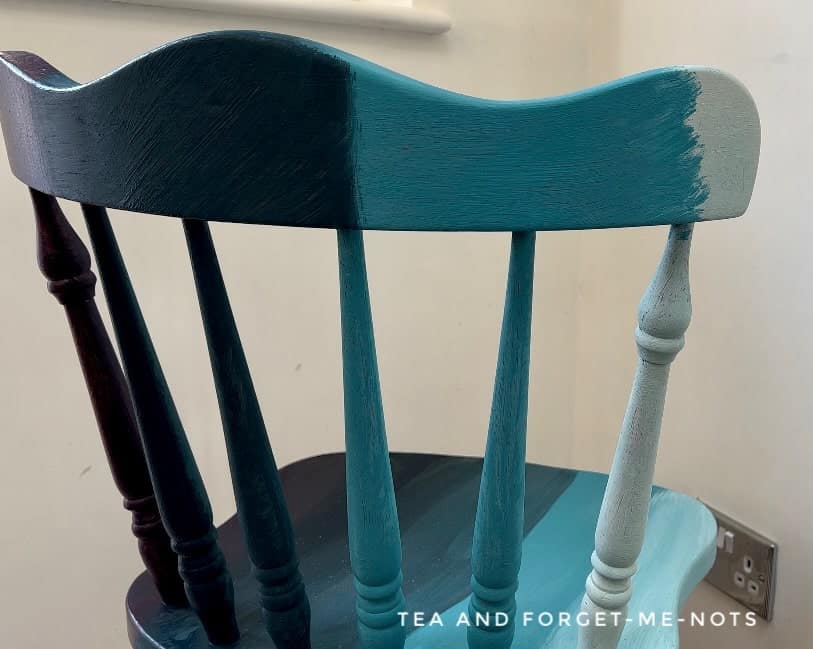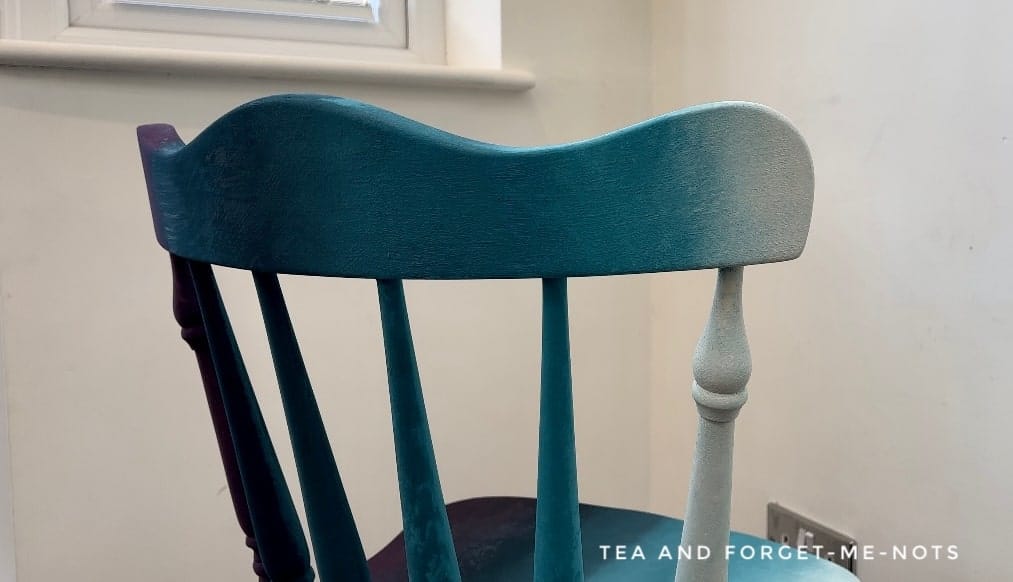 The two halves of the chair feel like daytime and nighttime to me. You could make this transition more subtle by staying only within shades of blue and taking out the white and purple extremes at the ends.
For good results, it's helpful to have a round brush for painting the spindles. As you'll be rotating the chair often to get to the different sides, the easiest way is to have it movable on furniture wheels.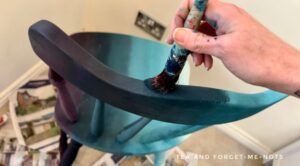 The paint dries with a matte finish and a shade lighter than you apply it. But after you seal it, the vibrancy of the colours comes back.
The beauty of the flexibility of this water-based paint is also something to be aware of when blending. By using water in a spray bottle to help the blended coat move around, it's also easy to pull up the base coat. I had one small area where the wood became slightly visible.
Do you need to seal clay paint?
It's essential to seal Terra clay paint. Otherwise, the paint can be removed easily.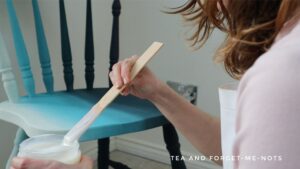 If you like the distressed look, you don't need to sand clay paint to create that. You can use a damp cloth and wipe over it to remove some of the colour.
Because of this, it's a good idea not to do the scratch test either. That's where you scratch the paint with something sharp like a nail to see if the paint has adhered well.
But for a functional chair, this one needed sealing. There are a few sealing options for this range, Terra Seal, Terra Tuff and Terra Wax.
I used Terra Tuff which is a clear coat, resistant to water, UV light, and heat and is non-yellowing. Terra Wax is oil-based and therefore a good option as a clear wax.
I applied two light coats with a brush. It takes 48 hours to dry but is a very durable top coat. It's important to be gentle when applying any water-based top coats as they can pull up the paint.
You could use a foam brush or sponge as other good options. As always, the right tools make everything easier.
A wooden chair with a fresh coat of paint
I'm so pleased with this chair. It's much more fun and quirky with its blended colour scheme.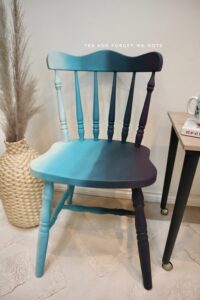 And if you want just one solid colour, then a beginner-friendly paint job project too.
If you're painting an entire set of kitchen chairs, you might plan on sticking to one solid surface colour. But as this is a one-coat type of paint, it doesn't have to take a very long time.
A little bit of hard work can go a long way in transforming old dining chairs.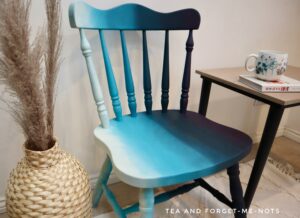 Think you'd like to paint furniture with clay paint? It really is the best paint to play around with and give something a new life.
Key things to remember about how to paint wooden chairs or a piece of furniture with clay paint:
clean the surface
stir well and brush on the paint
seal with a recommended top coat
If you liked this clay paint makeover, this one includes working with a stencil too.
---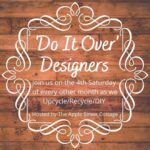 ---
Pin it for later – How to Paint Wooden Chairs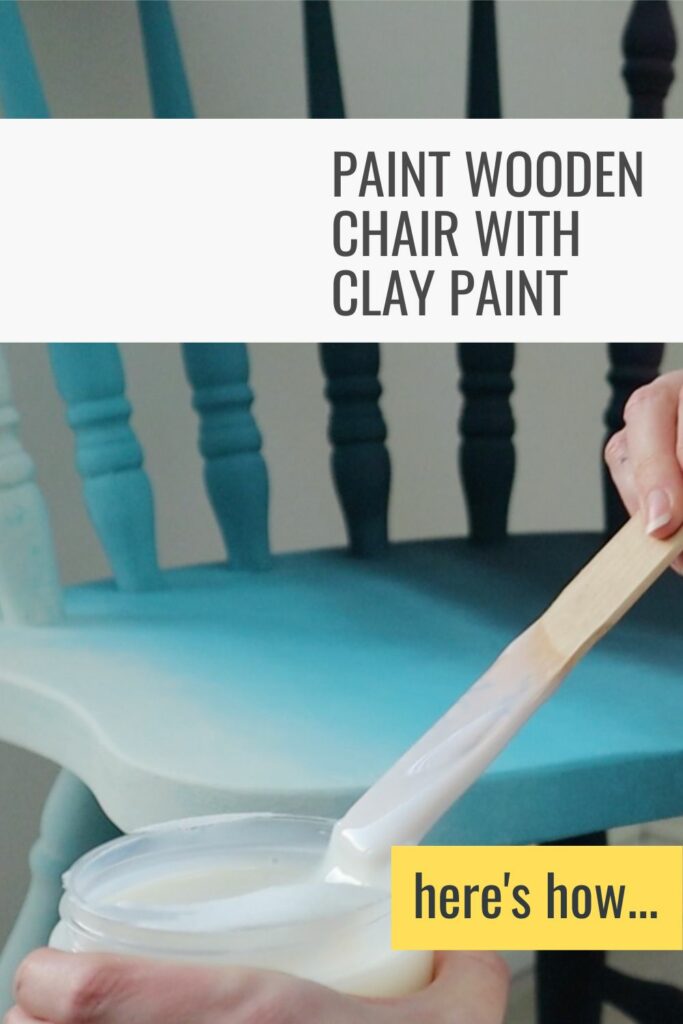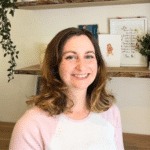 Rachel started painting furniture in 2018. She created this site to share her favourite transformations and the many tips she has learned along the way.