Guide to an easy handmade gift idea for Father's Day
Looking for a handmade gift for Father's Day? Here's a guide to an easy and personalised tool hook project that you can DIY in under 2 hours.
This project took 1-2 hours, so there's time left if you're looking for a handmade gift before Father's Day.
---
My neighbour was throwing away old wooden beams from their house and I asked if I could have them. So, I've had quite a lot of spare wood to use for a while. This is a great project to use them on as they suit a rustic look and no one is going to be eating their dinner off of them.
Guide to an easy handmade gift idea for Father's Day
Preparation
I used a mitre saw to cut the wood to even lengths of about 60cm. The most time-consuming part of this whole project was sanding them smooth with 120 grit sandpaper. While they wouldn't be handled much once they were hung up, they do still need to not maim the recipient.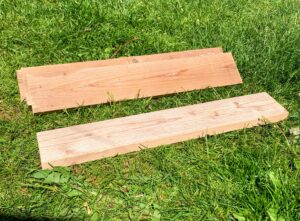 Initially I thought I would leave the wood its natural colour but after sanding it looked a bit pale and lifeless. So I used my recent new love, Cappuccino SFO by Fusion for a quick colour boost. All three designs used Cappuccino and you can see later how the stain saturated to different levels.
This post may include affiliate links so you can easily find the products I love and use myself. If you purchase these products, I may earn a small commission at no extra cost to you.
The stencil
I used my Cricut Explore Air 2 to create my stencil. Creating stencils is actually the thing I use my Cricut for most, despite it being able to do so many things.
The advantage of having a template built for me, is that it aligned the second line of text with the first, so I knew it was evenly spaced.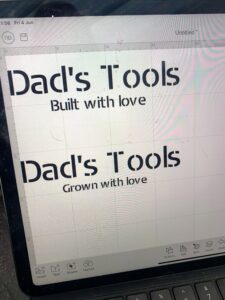 Of course you can freehand your own message or use a stencil book too. I just don't have enough faith in my ability to line things up well.
Want to know 23 great DIY tools? Get the list!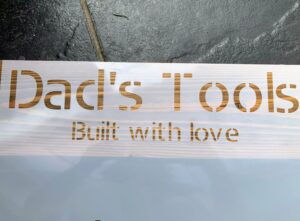 I used Autentico's Ivory chalk paint to dab on the paint, using the technique I explained here. As chalk paint needs protecting, I sprayed one coat of Rust-Oleum's Crystal Clear sealer. It isn't a heavy traffic item like a table but this gives added reassurance that it won't come off.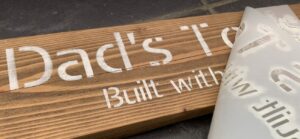 To line up the nails, I used frog tape to create a straight line across the piece. Frog tape is perfect as it avoids pulling up the fresh paint.
I then marked out on the tape where I wanted the nails to go. Between the three designs, the nails were placed either evenly split at the sides or along the bottom.
I did struggle with one nail which was hammered into a knot in the wood but it got there eventually.
The finished designs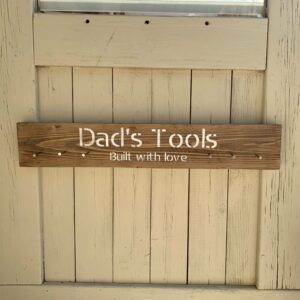 I bought nails which were 50mm. The wood was about 3cm thick and the nail needed to stick out enough to hold something but not be so long that it would bend with the weight.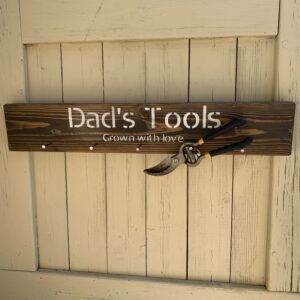 I created both 'dad' and 'grandad' tool hooks and the words 'grown with love', 'built with love' and 'made with love'. These capture dads and grandads who like DIY or gardening but you could make it even more personalised depending on the person you know.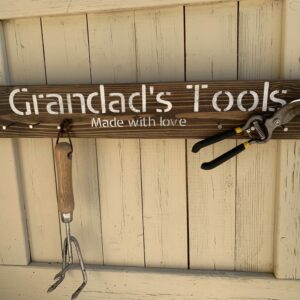 Happy Father's Day to all those hardworking and loving fathers out there.
Who would you make this tool hook for? And what would it say? Let me know in the comments!
If you liked this post, you might also enjoy this stencil project…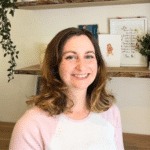 Rachel started painting furniture in 2018. She created this site to share her favourite transformations and the many tips she has learned along the way.