Ultimate Guide To Dixie Belle Patina Paint Collection
Here's a guide to the Dixie Belle Patina Paint Collection. A versatile collection of patina products so you can give a faux patina finish to almost anything.
Suitable for indoor decor, outdoor decor, furniture or accessories.
Patina paints create a naturally weathered look. A rusted finish is a great way to add character to furniture and decor.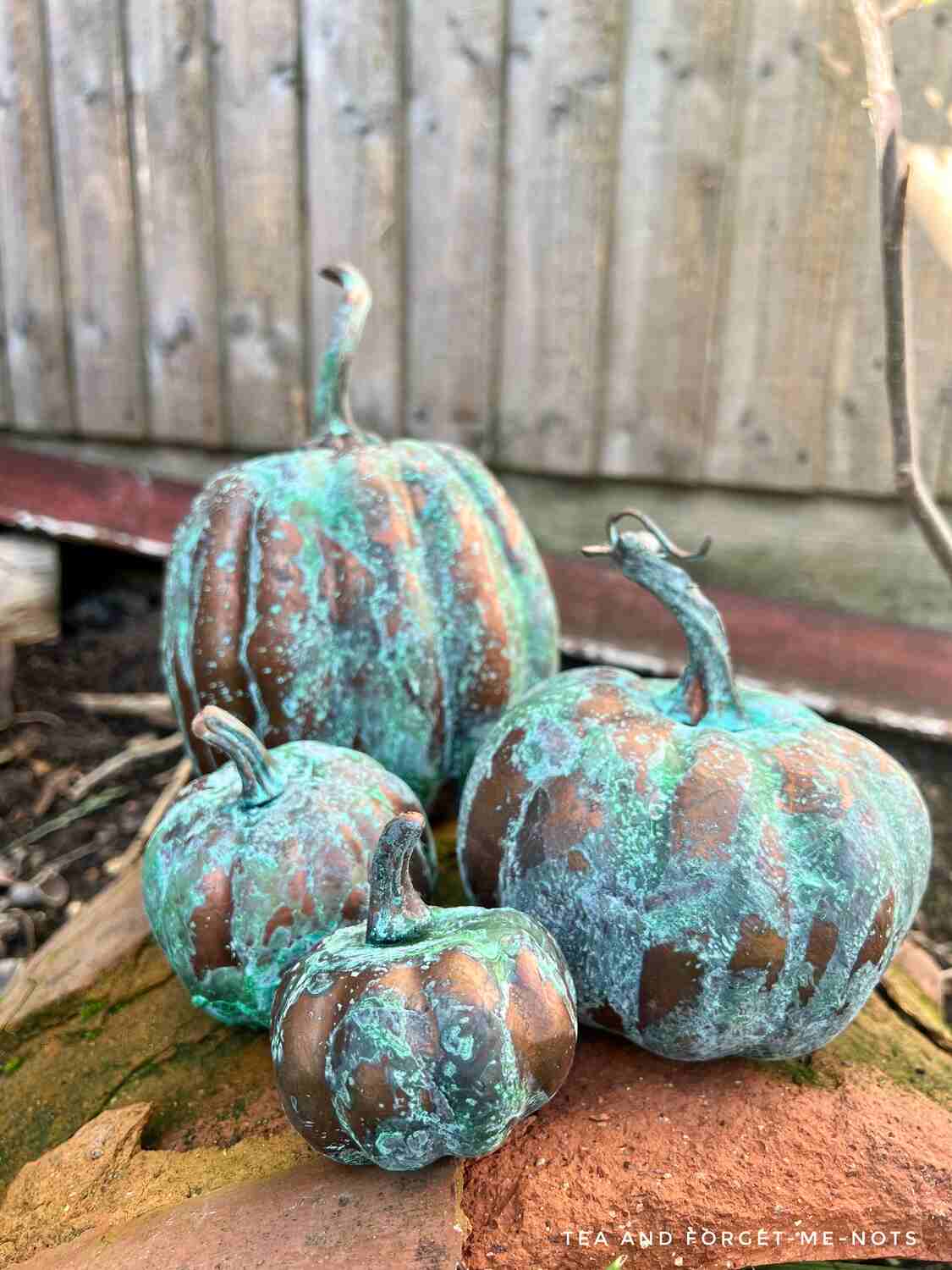 Whether that's taking something cheap and making it look old and interesting. Or just giving a new look to something plain.
It can disguise blemishes or plasticky finishes. And give different results every time.
If you don't mind not having complete control over the result, Dixie Belle's patina paint collection is worth a try.
This post includes gifted products and affiliate links so you can easily find the products I use myself and recommend to friends. If you purchase these products, I may earn a small commission at no extra cost to you.
Learn How To Use Dixie Belle Patina Paint
What is Patina Paint?
You can create a rustic rust finish with Iron, Bronze or Copper patina paint. These paints have actual metal flakes in them.
So when combined with a patina spray, the chemical reaction is real. And the result, therefore unique each time.
Materials for Working with Patina Paint
There are two essential products you need to create a faux patina paint finish. Firstly, the patina paint in your chosen colour. Then the patina spray which creates a crusty metal finish.
Materials you'll need
Materials you may need
There are other products that you may need, depending on the surface you're painting on. And whether you need to seal your piece of furniture or decor.
See the full step-by-step video tutorial on patina paint
Step-by-Step Instructions
Necessary tools and process for successful application
It's a good idea to use cheaper, chip brushes when using patina paints. Rough brush strokes often add to the texture and character of the look.
First things first, it's important to wear PPE (protective clothing) throughout this process. This includes wearing gloves, goggles and a mask.
​You can use the products inside in a well-ventilated area.
Steps for Proper Cleaning
As with most projects using Dixie Belle Paint Company products, you should clean the surface with White Lightning. White Lightning is a TSP cleaner. It removes dirt and grease and gives you the best prep to get started.
​You should wipe the surface with a mix of White Lightning and warm water and a cloth. Then do a second clean with just water to remove any cleaning residue.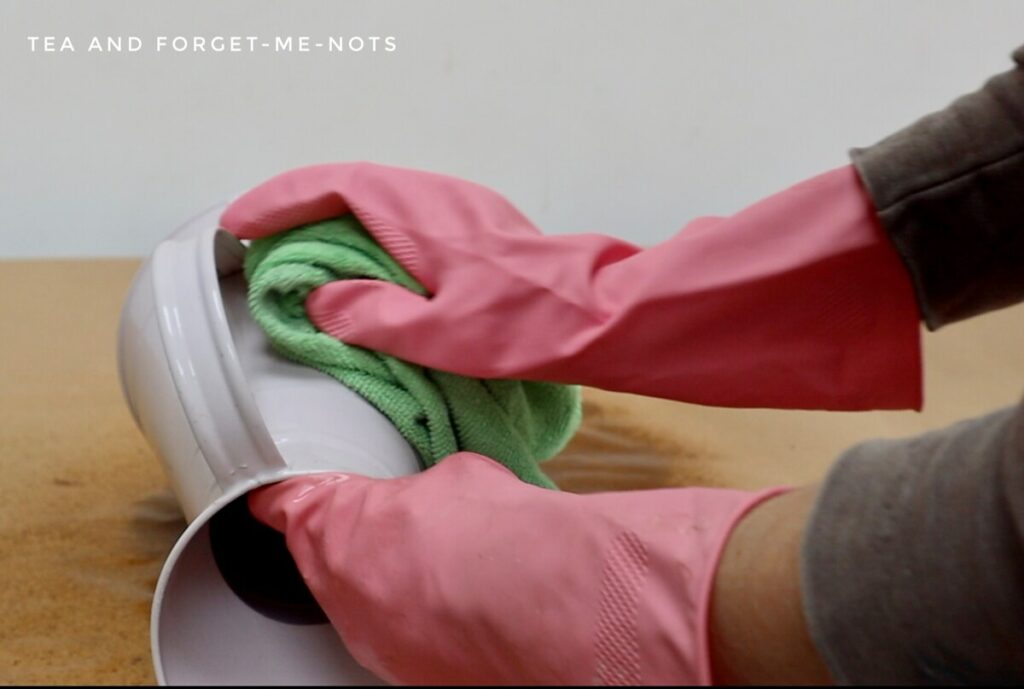 The Importance of Priming
Firstly, if you're painting a metal object, you may need Prime Start.
Prime Start stops the metal from rusting. If you're painting an outdoor planter for example and real rust isn't a concern, then you don't need Prime Start.
But if you're refinishing everyday pieces in your home, then Prime Start gives the metal protection from the chemicals in the patina spray.
You apply two coats of Prime Start. Let the first coat dry for 24 hours before applying the second coat.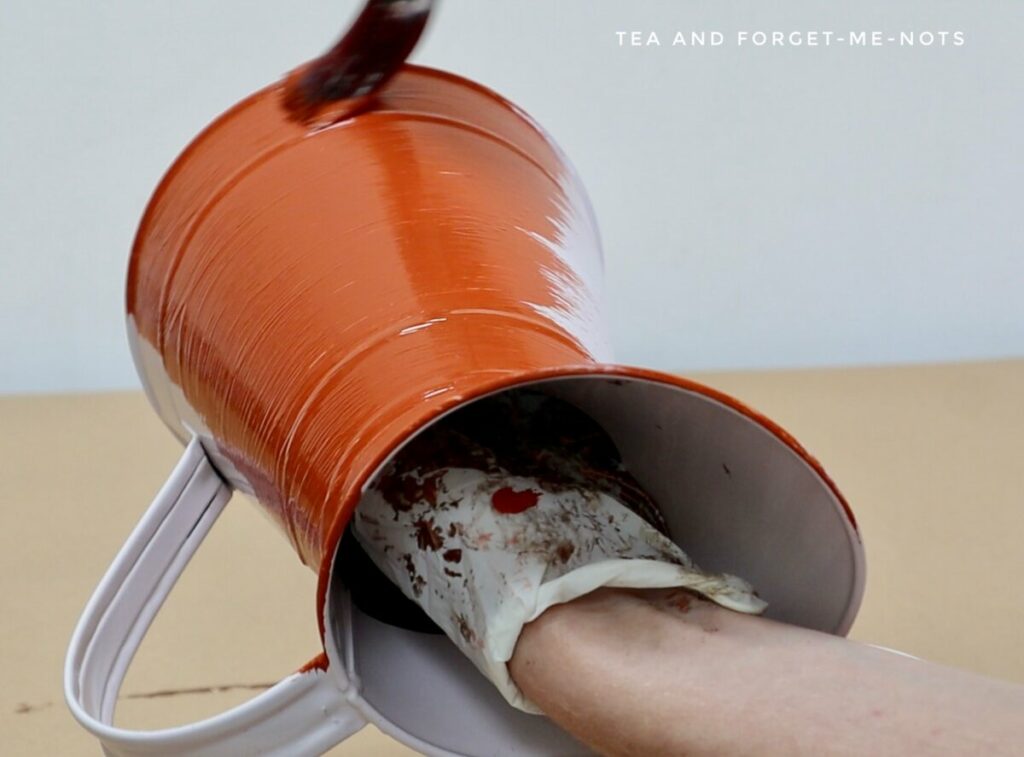 How to Prime Non-Metal Objects For Patina Paint
You can use patina paints on many surfaces, such as glass, plastic and resin. There are two ways to prepare for these different surfaces, with Slick Stick or Dixie Belle chalk paint.
For shiny surfaces and glass, two coats of Slick Stick will give you the adhesion you need. This creates a matte finish which allows you to paint on top, like normal. You then follow the process of applying the patina paint layers as with a metal object.
For any other object, such as plastic, you do one coat of Dixie Belle paint. This is all you need before doing a first coat of patina paint.
I recommend a dark brown paint such as Coffee Bean. Dark paint helps to mask any gaps in the patina top coat.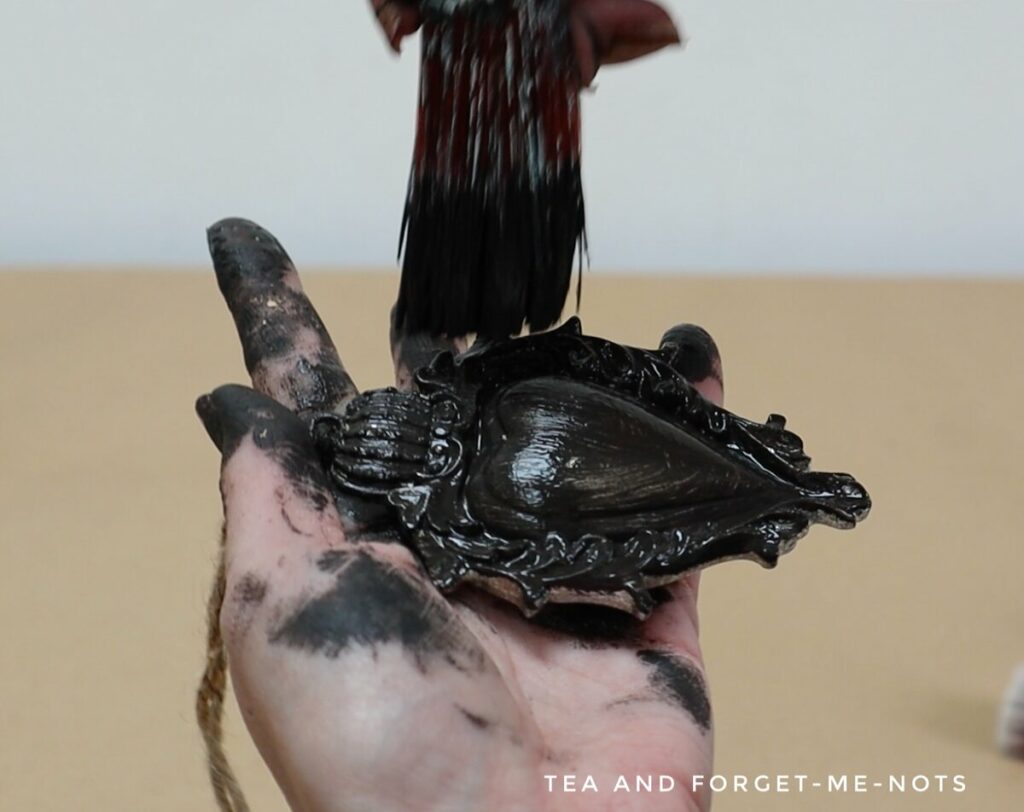 Step-by-step Guide for Applying the Dixie Belle Patina Paint Collection
After priming, the process for applying patina paint to metal and non-metal surfaces is the same.
The first thing to do is to shake and stir the patina paint. This is to stir up the real metal flakes within the paint.
Start by painting one coat of copper, bronze or iron patina paint. You want to let the paint fully dry for up to 24 hours before going to the next step.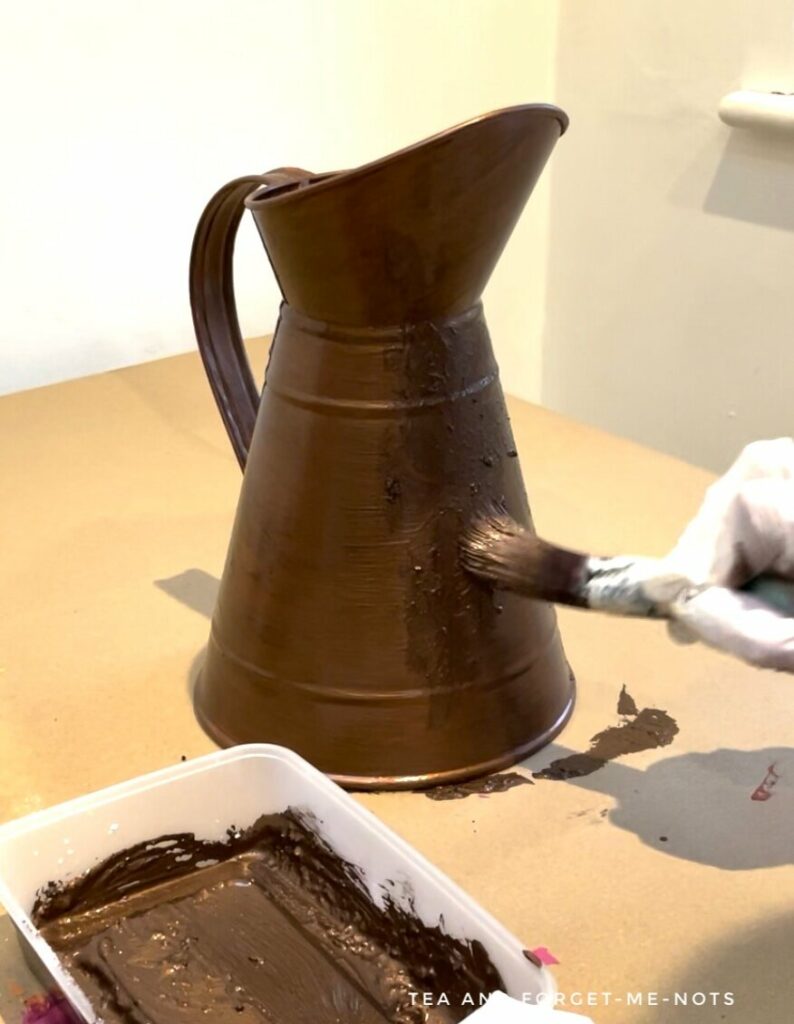 Next is to apply a second coat of patina paint. You apply this in the same way you did the first coat. If you used bronze patina paint, then you can do a second coat of the same.
If you used a variation of colours, you can try and match the colour you created underneath.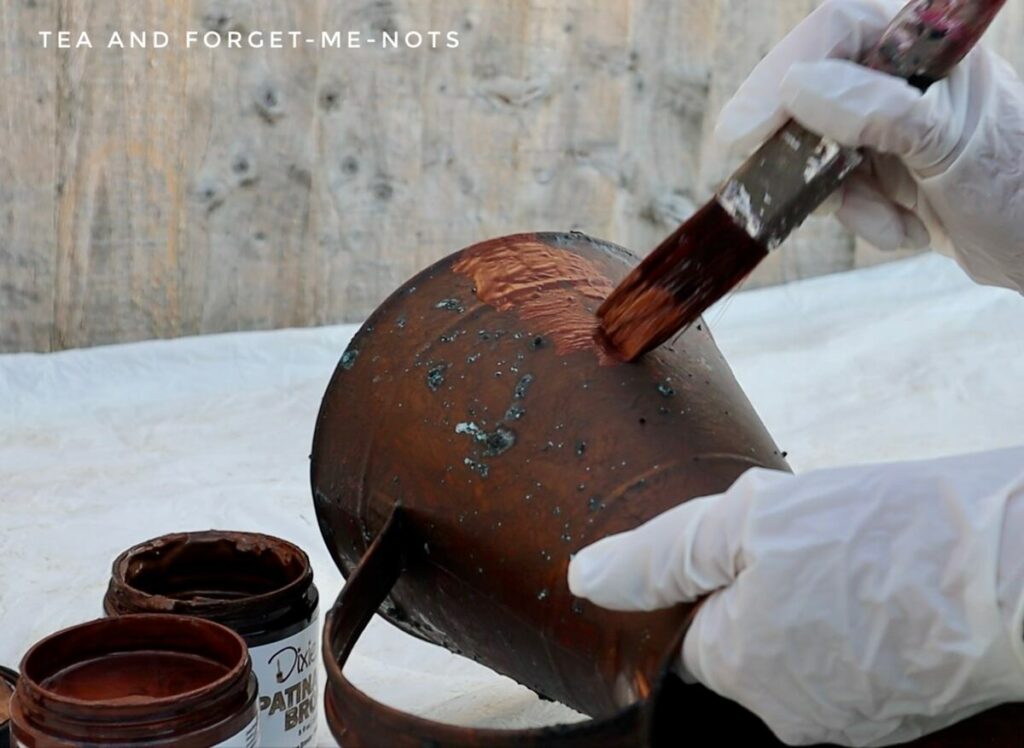 Then you use the patina spray. You do this while the second coat of patina paint is still wet. If you let it dry then the reaction won't take place, so will need another coat of wet paint.
Firstly shake the spray to get it ready to use.
Then simply spray it directly onto the surface.
The patina spray has a nozzle with a single jet of spray. It gives a sharp impact and therefore can leave harsh lines and drips. To avoid drips you can use paper to dab at them and lessen the effect.
Then watch the transformation unfold as the chemical reaction begins.
Once you have sprayed the piece, leave it to dry. The final results may not be clear for several hours as the process continues.
If you want to be cautious about how much to use, you can start with a few light sprays and add more later, if desired.
tip
You should remove the nozzle from the patina spray when not in use. The patina spray bottle comes with a screw cap for storing it. If you leave the nozzle inside, the metal parts inside it will eventually corrode.
Then if you want to embellish the finish even further, you could add gilding wax. Waxes such as gold add a final shimmer to the result to look like natural highlights.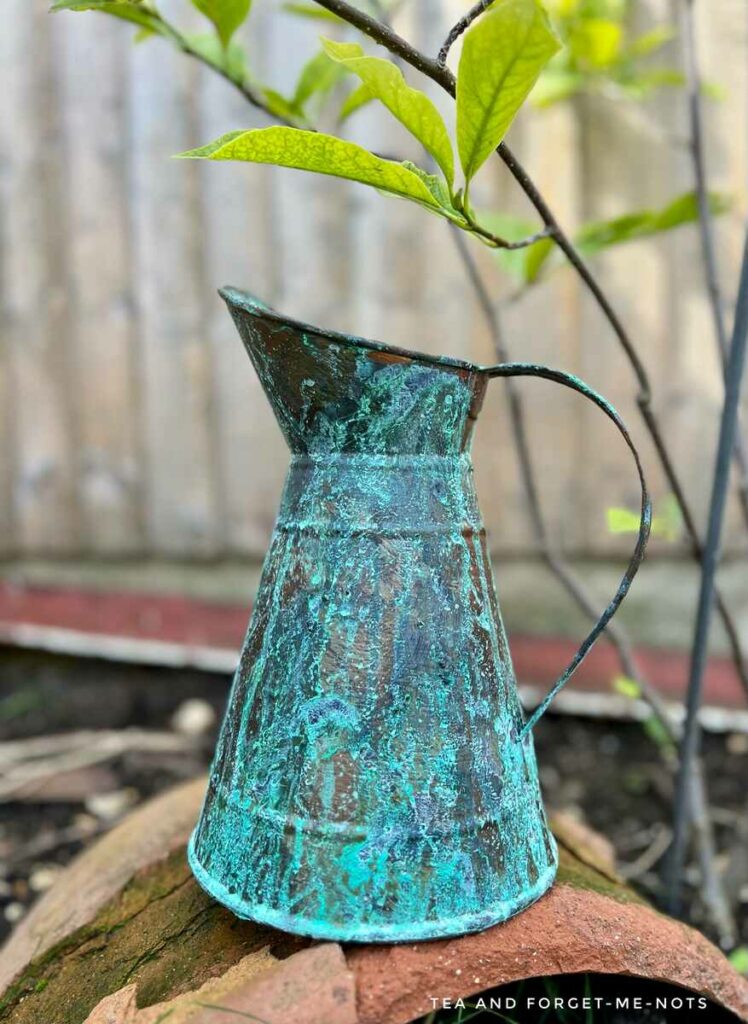 Importance of Sealing Patina Paint to Protect the Finish
You don't need to seal the patina paint. But as with all painting projects, it may impact the durability of the finish.
There is a specific sealer in the patina paint collection called Patina Guard. Patina Guard stops the rusting process and keeps the piece in the condition it was in when applied.
However, it is not available for shipping internationally (from the US) or to Hawaii or Alaska.
If you want to top coat it with a more easy-to-access product, you have a couple of choices. You can use Dixie Belle Clear Coat or Gator Hide. Gator Hide is water repellent and a good choice for protecting outdoor or highly used pieces.
However you protect the patina paint, it's likely to darken the patina finish. This is the case for most sealers on top of paints.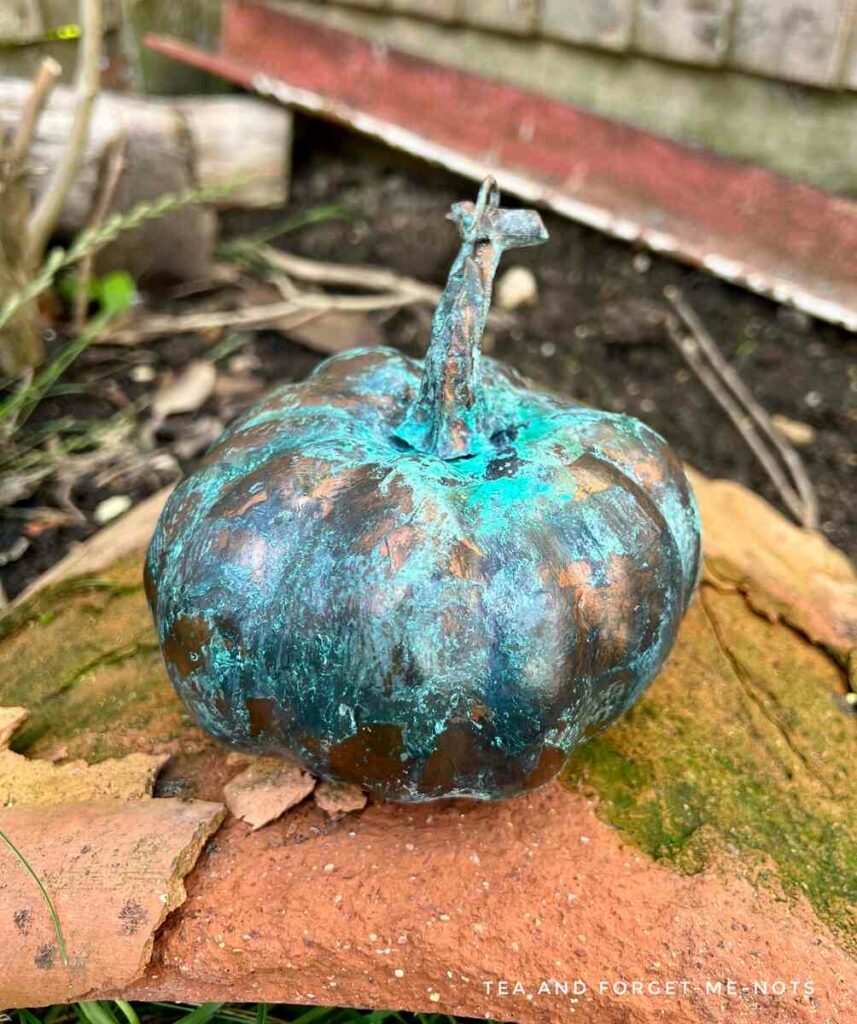 Tips for Achieving Desired Results
See a lot of white powder on the surface? This is a result of the chemical reaction. If it's more than you like the look of, you can wipe it away with a damp cloth.
If you don't like the look using the patina spray bottle, you can decant the liquid into a mister bottle. A mister bottle gives a more gentle and even spread of patina spray. Which results in a very different patina effect.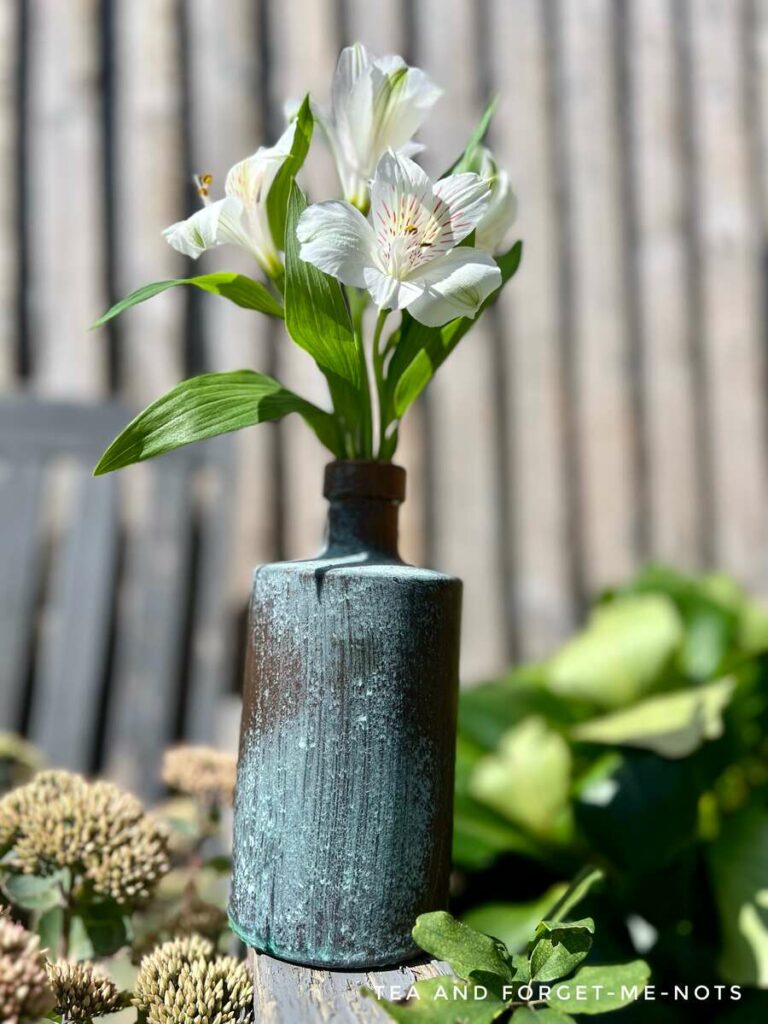 If you use too much patina spray and don't like the result? You can simply add more paint on top of it and lessen how much is visible.
If you really don't like the result you created, you can completely re-coat the surface with patina paint and go again.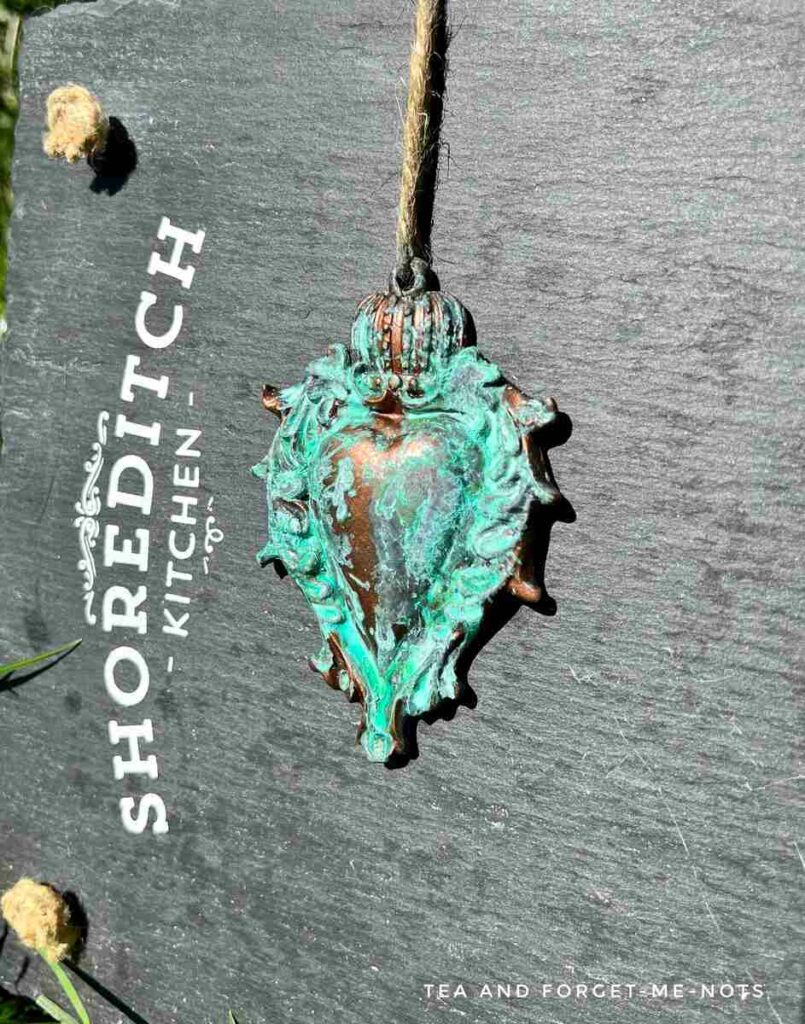 Between the different colours of paint, patina spray and types of surfaces you can paint, there's a whole world of looks you could create with patina paint.
There are green, blue and yellow patina sprays in the Dixie Belle patina paint collection. Each gives a different result.
It's a great way to get creative. Especially if you don't have an exact end result in mind. It favours those who like a more random, rustic aesthetic.
It's an unusual painting process. Definitely more interesting than a piece painted a single, crisp colour.
But it's not for everyone. If you like the look of it, jump in, it's a whole lot of fun!
Answers to questions about using patina paint
How to layer patina paint for a more aged appearance?
For a more layered appearance, you can also use a texture additive such as Sea Spray. You mix this into the patina paint on your first or second coats to create more dimension. Just as rust is naturally flakey, the lumps in Sea Spray give a rougher finish.
What materials can you use Dixie Belle patina paint on?
You can use patina paint on any surface. The important part is how to prep the surface before using the patina paint.
Is Dixie Belle Patina Paint available in the UK?
Dixie Belle patina paint, Prime Start and the green and yellow patina sprays are available internationally (sent from the US). The blue patina spray and Patina Guard cannot be shipped internationally or to Alaska and Hawaii.
What is verdigris?
Verdigris is a natural patina with an aged-copper look. The best example of this is the Statue of Liberty. To attempt a similar look, you could use the green spray on top of the copper patina paint.
Pin it for later – Guide to Dixie Belle Patina Paint Collection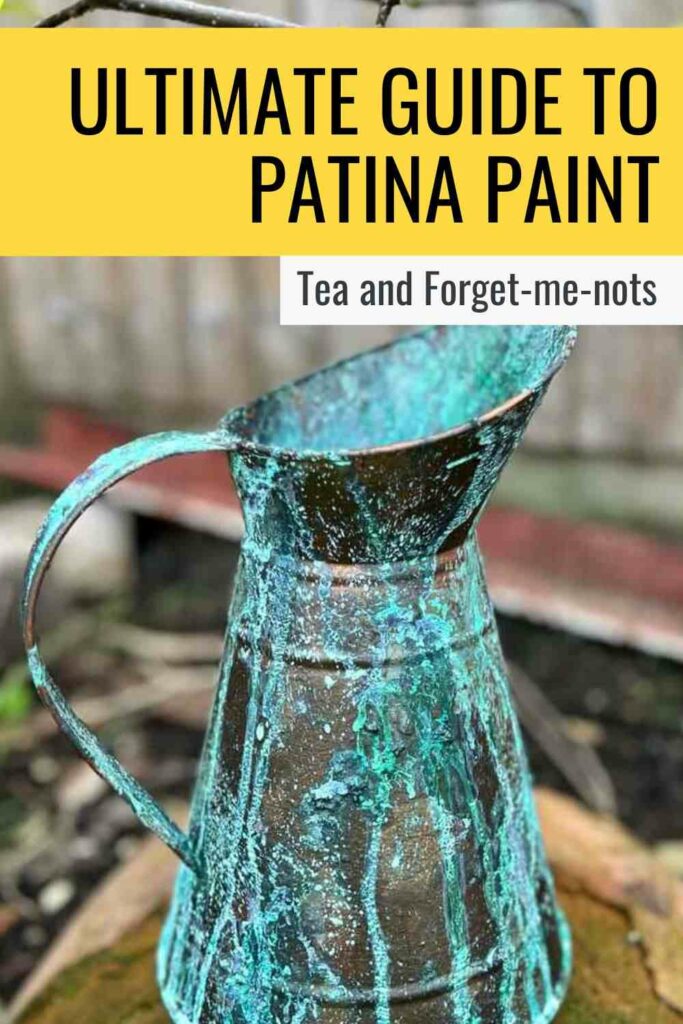 If you found this guide to dixie belle patina paint collection useful, you'll love these too: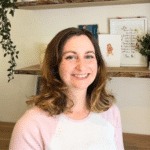 Rachel started painting furniture in 2018. She created this site to share her favourite transformations and the many tips she has learned along the way.