Easy Mothers Day Wooden Craft Ideas and DIY Projects
DIY Mother's Day gifts are one of the best presents you can give to a loved one. Handmade gifts or homemade craft projects show how much love and care you have put into them.
Here are some of the best ideas for an easy Mother's Day craft. Some you can do in a day, others you'll need to prep in advance for.
Either way, with Mother's Day coming up, here are my favourite mother's day craft ideas.
Easy Mothers Day Wooden Craft Ideas and DIY Projects
Does your mother love flowers? What better way to enjoy them for longer than by preserving them in a useful tray?
This DIY shares how to preserve flowers by sealing them with resin into a wooden tray. You could use special flowers gifted on Mother's Day and add this beautiful gift a few weeks later.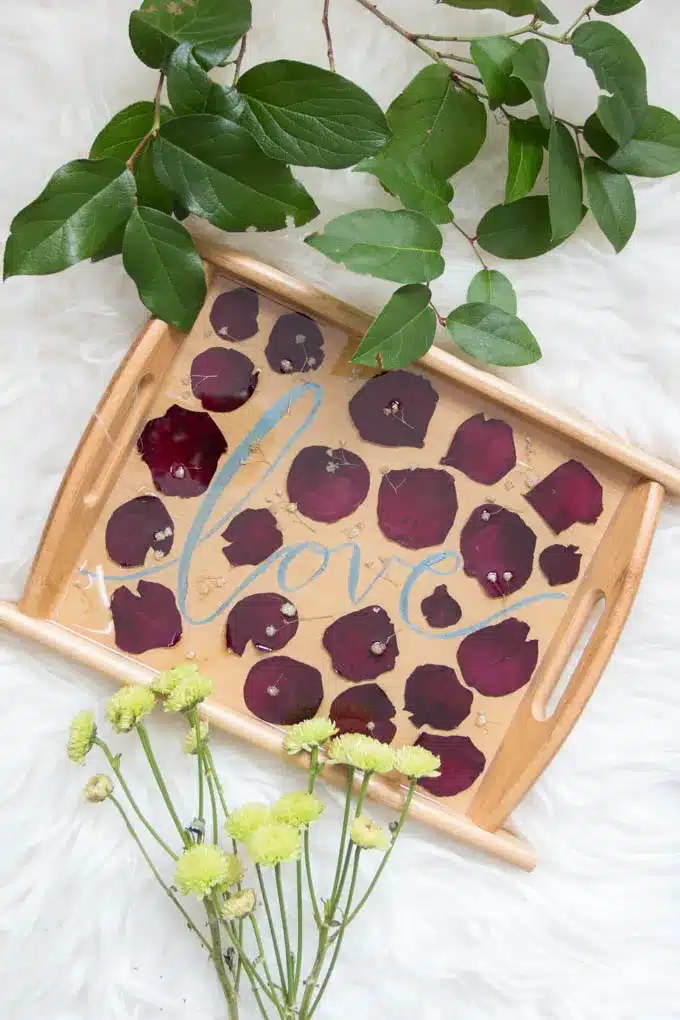 Or save flowers from Valentine's Day or another special day to incorporate them into a Mother's Day gift for a personal touch. You can also add sweet messages on the base of the tray.
Here's how to create this great gift idea for the flower appreciator.
Would your mother love some personalised wall art? This DIY uses simple materials and can be done in one day for a last-minute gift idea.
For string art, you create a shape or design that is special to you. It could be a simple heart shape or something more personal like a state or name.
The best part is that for more complicated designs you can print out the design. Then simply follow the outline from the piece of paper.
This is one of those DIY Mother's Day crafts that says homemade with love.
Here's how you make a simple craft with string art.
Does your mother need a special place to display her jewellery? What's better than a handmade jewellery holder make from spare wood? This one was even repurposed from a CD rack.
You can personalise this as the perfect gift by using your mother's favourite colour of paint. Or decorate it with paper flowers that will remind her of you.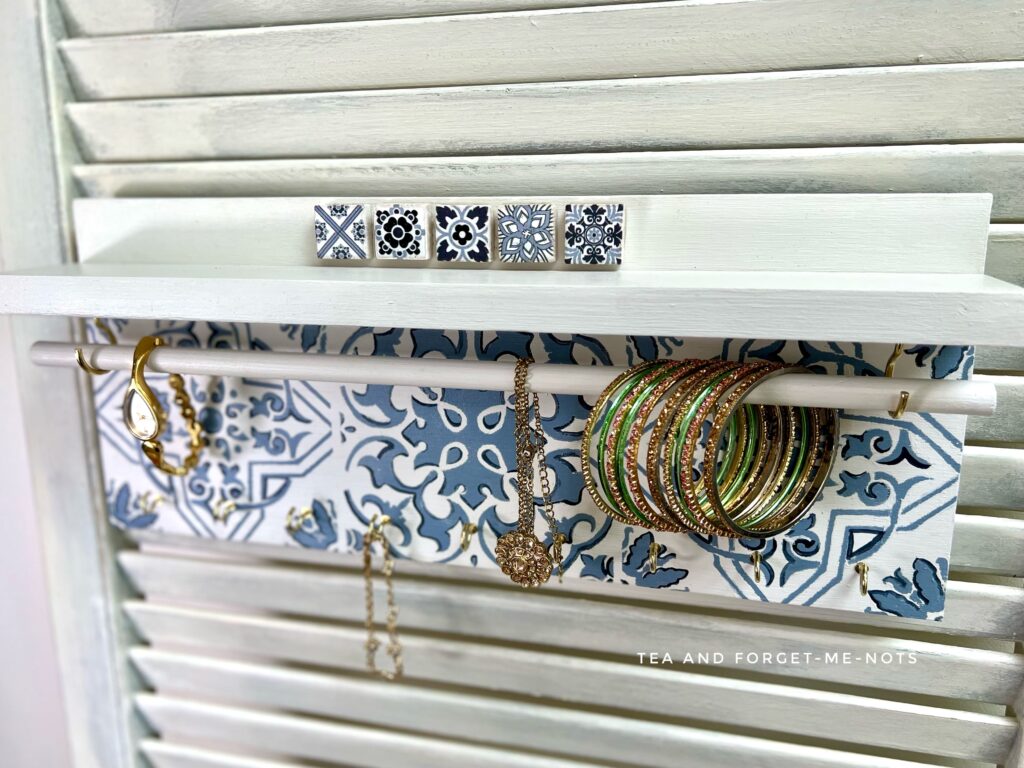 Importantly you can design this woodworking project to suit her use. Does she wear lots of necklaces? Add more hooks. Does she love earrings? Add a mesh display area.
This is both a useful gift and one that would be a great pleasure to have in her bedroom.
Here's how to create a simple display for jewellery for the person in your life who loves sparkle.
Is your mother a person who doesn't have a special place for her keepsakes? This sweet gift is one of those easy mother's day craft ideas that will be treasured for years.
You can make a memento box from almost anything. And you can make it special with creative ideas to suit the person you're gifting it to.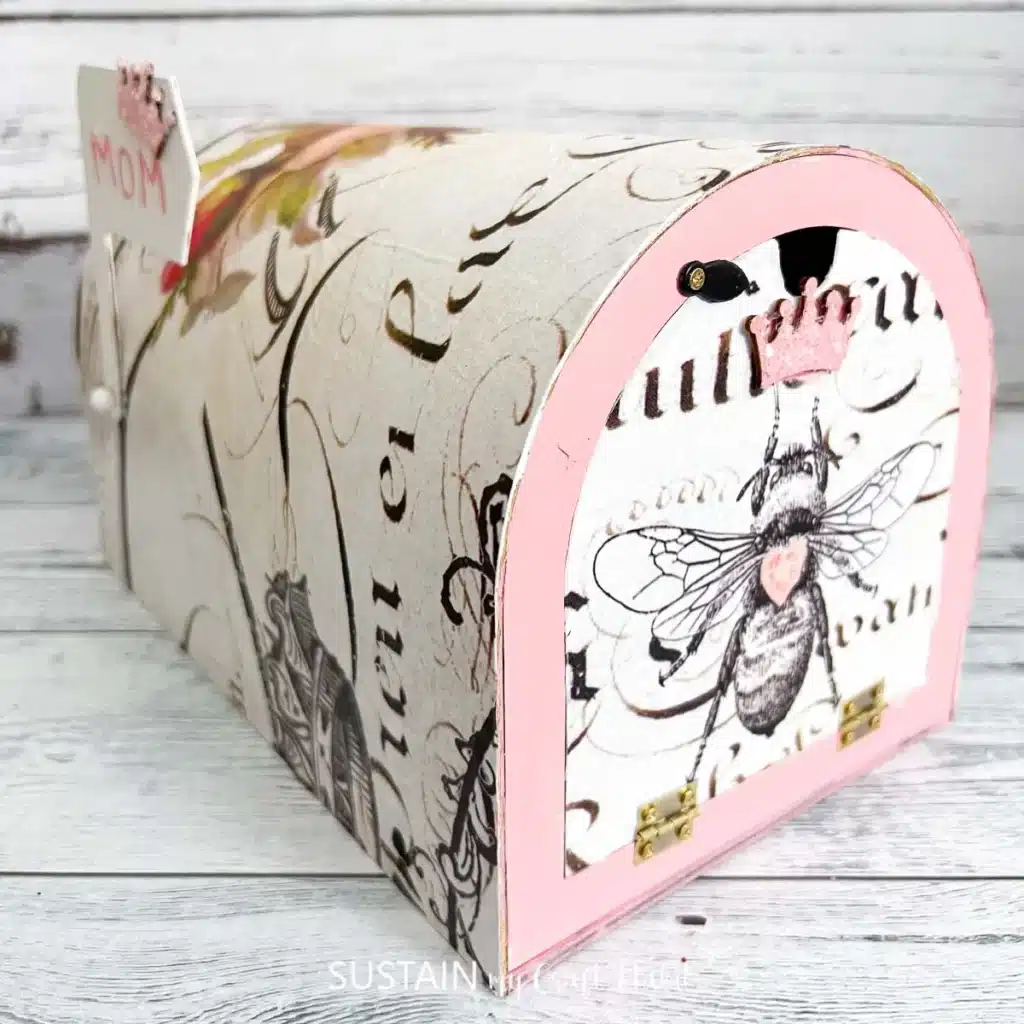 Decorate a box with craft paper and drawings, decorative tissue paper or handwritten notes.
Here's the best way to make a memory mailbox that doesn't take a lot of time.
Looking for a classy and useful home decor gift? The best gift is one that fulfils a need. Has your mother never had the right place to store her keys? Or a handy shelf to avoid clutter on the table?
This guide is on how to create a mail and key ring holder to hang on your wall. This design uses teak wood and with the little extra effort of adding a shelf, makes it the perfect craft.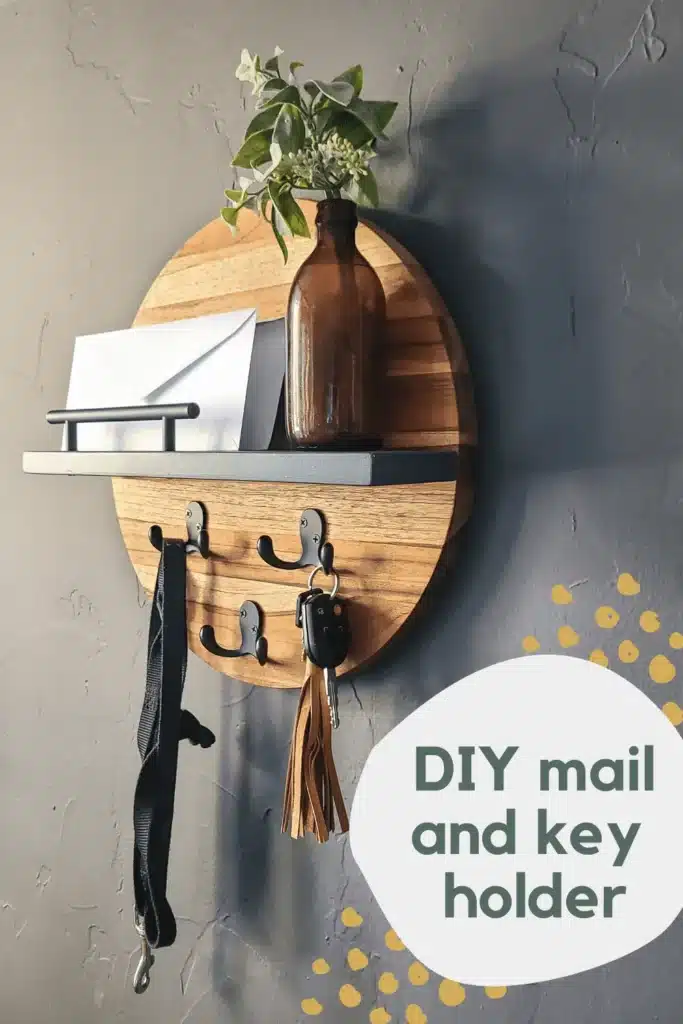 It's a beginner-friendly project, perfect for a home office or entryway.
Here's how to do it yourself, including free woodworking plans.
An easy DIY centrepiece is a lovely thoughtful gift that can be made in a couple of hours.
This design uses a thrifted crate, painted and stencilled. You can create any message or wording you like. Either suited to mother's day ideas or something your mother personally likes.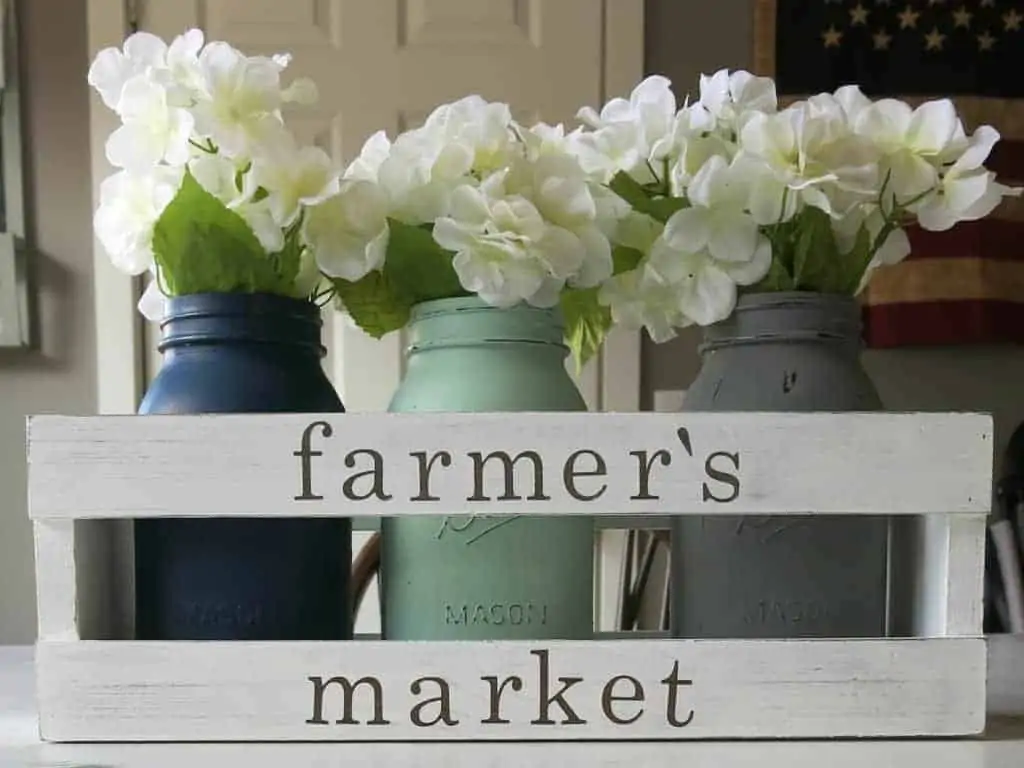 Then you can decorate it with flowers or plants.
Whether you're celebrating Mother's Day in March or May, like most countries, Spring florals will be appropriate around that time.
Here's how to make an adorable wooden crate centrepiece with a mason jar.
Is your mother figure a fan of cooking? A homemade cookbook stand might be the perfect gift. This one is something that a fan of cooking and being in the kitchen will treasure.
Somewhere to keep their cookbook clean while cooking and a useful and lovingly hand-crafted DIY project.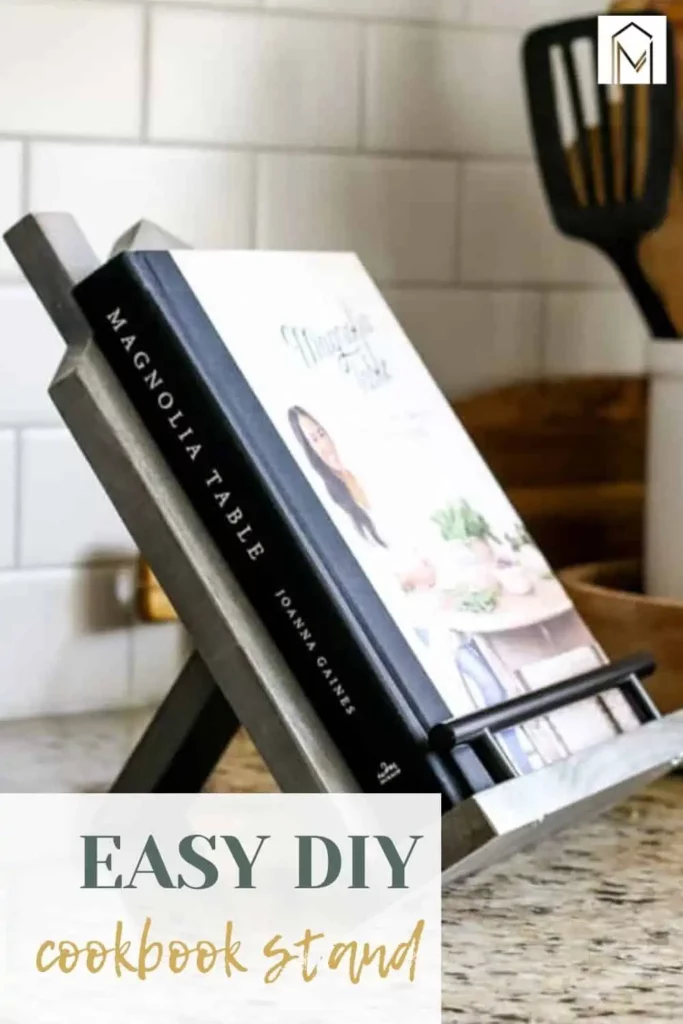 This cookbook stand was created using a saw but if you have a spare wooden board already to hand, it's an even more simple DIY present. This guide also includes the woodworking plans you'll need.
Find out how to create the perfect handmade gift for the cook in your life.
What's more special than telling someone the qualities you love most about them? This personalised plaque uses an acrostic poem design with the word Mother as the word running down the centre.
For this, you would choose words that describe the person you're gifting it to. Strong, supportive, humble or caring would be good words to use.

This plaque was created by using a saw to cut out the letters of the word Mother. Then backed with felt to highlight the shapes.
You could also hand paint the whole piece if you'd like to avoid woodworking.
You could also use the same design to create a heartfelt card instead of this piece of home decor.
Here's how to create a personalised plaque.
Know a home decor fan who loves one-off pieces? How about creating wooden candlestick holders with a Mid-Century Modern feel?
These candlestick holders are made from wooden blocks such as rings and tapered legs.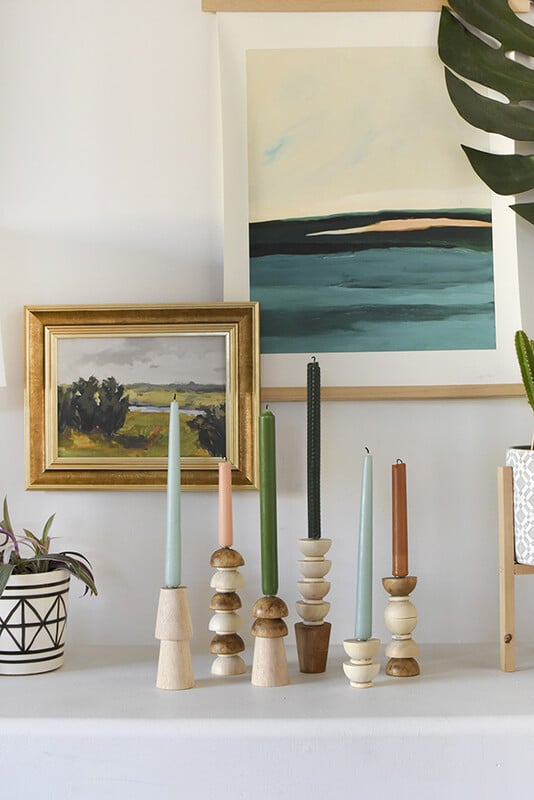 Both homemade gifts and a gift for the home. This is a candle holder with a difference. Simply attach the pieces in the design you like with hot glue.
A simple, fun craft that will elevate the charm of a living room.
Here's how to DIY a gift for a candle lover.
---
Mothers Day Wooden Craft Ideas
Whatever you choose to make, amazing mother's day gifts are the ones made with thought and love.
They can be easy crafts or showcase impressive woodworking but show the care that has gone into them. I hope you found some useful Mothers Day wooden craft ideas for your next gift.
Happy Mother's Day!
Pin it for later – Easy Mothers Day Wooden Craft Ideas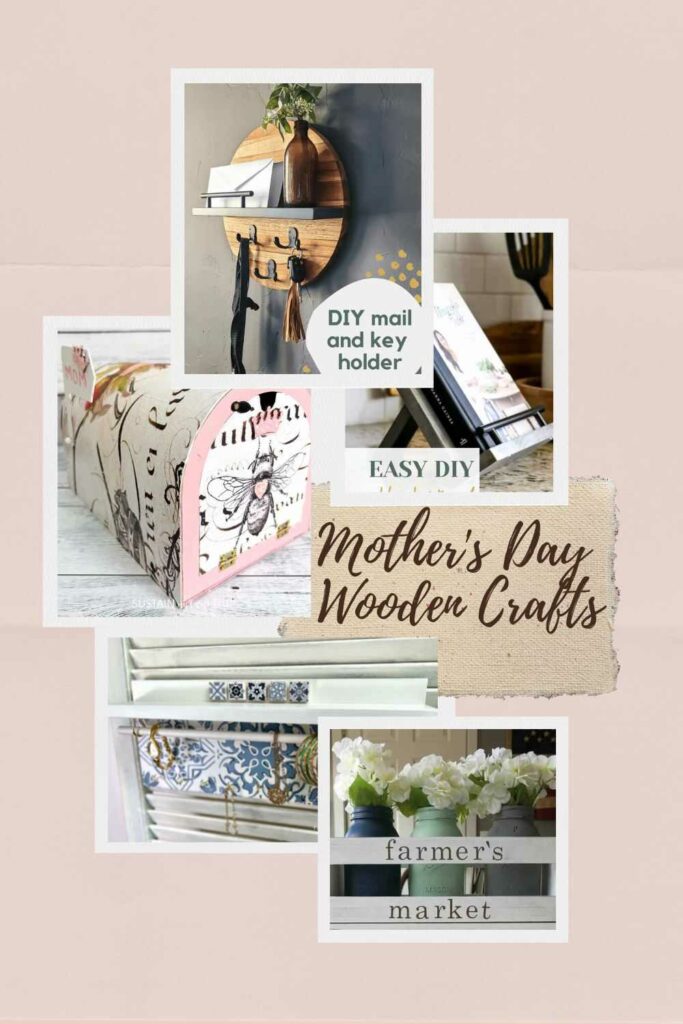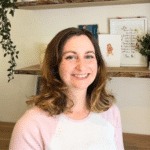 Rachel started painting furniture in 2018. She created this site to share her favourite transformations and the many tips she has learned along the way.