Make an Easy DIY Easter Garland (Pretty Spring Craft)
Looking to create a beautiful DIY Easter garland? Here's how to create an easy and cute garland for the Easter season.
This Easter garland is a simple DIY and makes for lovely seasonal decor. And it can be made in just a couple of hours. It's also the perfect festive DIY for beginner crafters.
Easter decorations don't have to be all about eggs, bunnies or pastels.
But having a touch of them within a burlap garland can be a great way to decorate for this time of year.
This post includes gifted products and affiliate links so you can easily find the products I use myself and recommend to friends. If you purchase these products, I may earn a small commission at no extra cost to you.
---
DIY Easter Garland Supplies:
How To Make a DIY Easter Bunny Garland
I started with a burlap garland which I bought for £1.75 in a charity shop.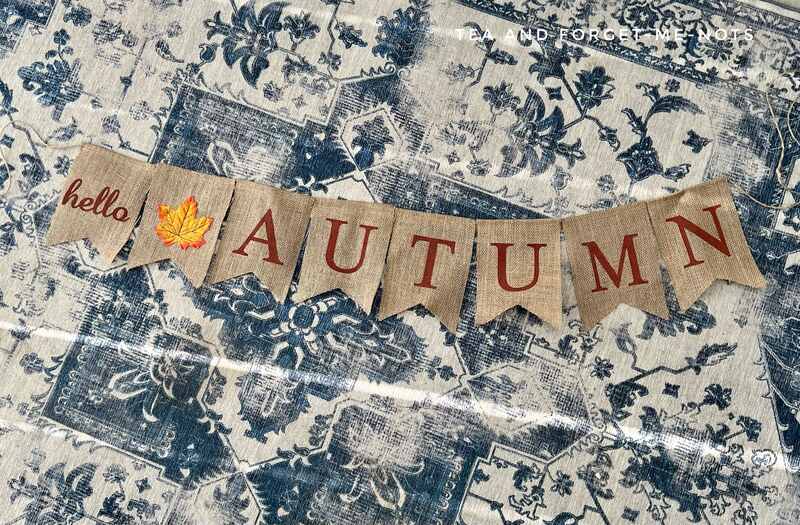 It was helpful to start with a ready-made garland. This meant I could skip the step of creating the bunting.
However, it is an easy process to create bunting.
You could either cut out triangle shapes from card. Or cut out fabric shapes and create a loop at the top for the string.
Firstly, I took the garland apart so I could work on each flag individually. They were kept in place with a stitch but otherwise just slid off of the string.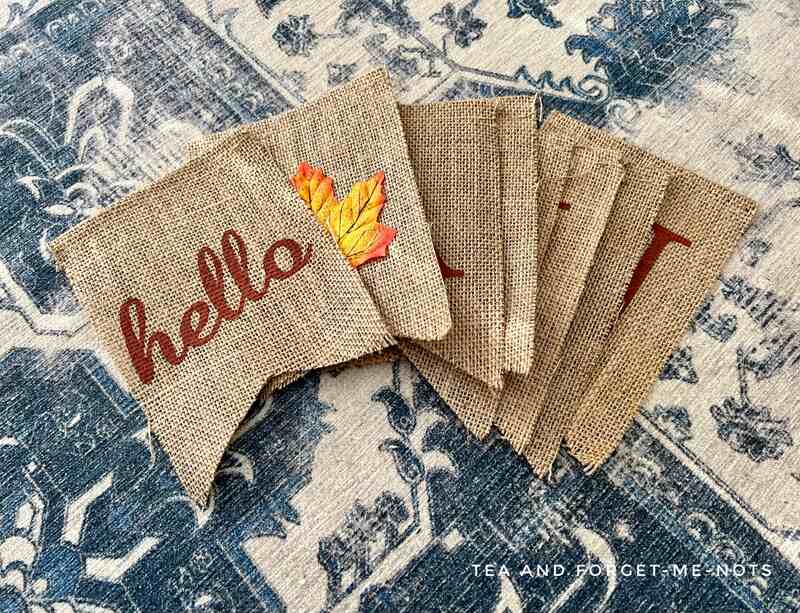 I hand-wrote a stencil for each letter of 'Easter'. I made the shape of the letter contain as much of the top part attached to the string as possible. This was to keep it structurally stable.
After making the first letter stencil, I created the others to be the same size for consistency.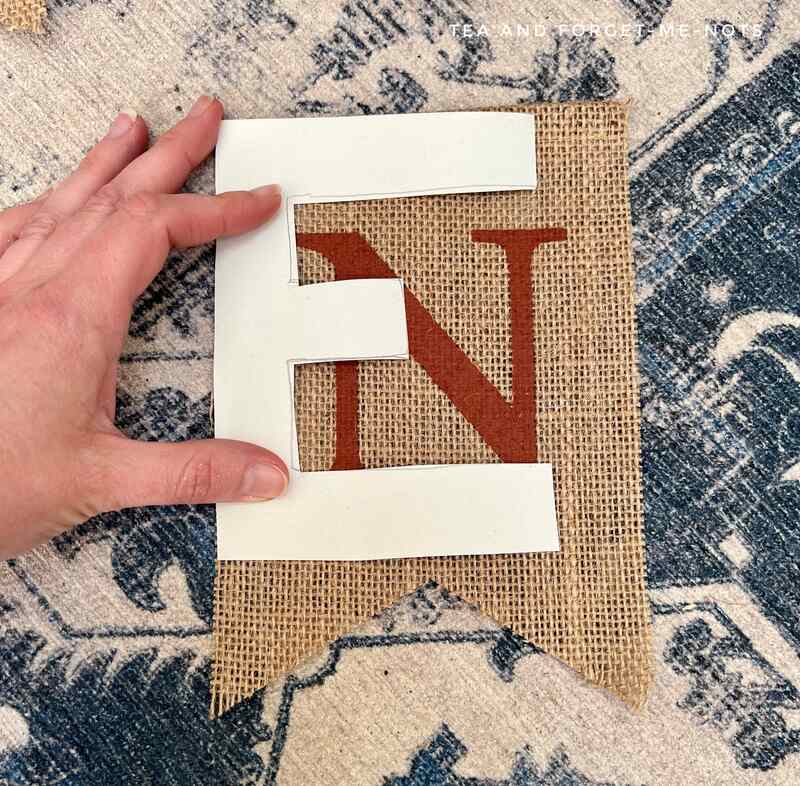 I then cut around each letter on the burlap flag. The fabric was lightweight and flexible so it was easy to cut with craft scissors.
---
Rather than painting over each flag to hide the word 'Autumn', I chose to cover them with floral furniture transfers.
I used the Wildflowers and Butterflies transfer. As I had some leftover after my recent magazine rack makeover.
I placed them over the parts of the original letters of the word Autumn which were still visible.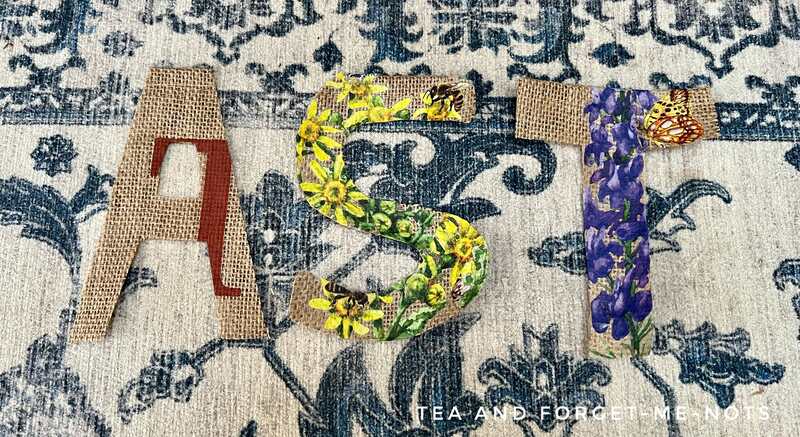 The transfer applied easily over the burlap. I simply pushed it into place with a wooden tool.
I chose which flower to use based on the best matching shape of each letter. Then there were additional bees and butterflies transfers to help create the best overall look.
Creating a Burlap Bunny Garland
On the original Autumn garland, there was a flag with a faux leaf on it. The leaf was attached with a hot glue gun. Fortunately, the leaf and leftover glue peeled off easily.
For that flag, I wanted a hint of Easter bunnies. I used an outline of a bunny shape as the bunny template. I made sure that the ears connected with the top for the string to go through that area.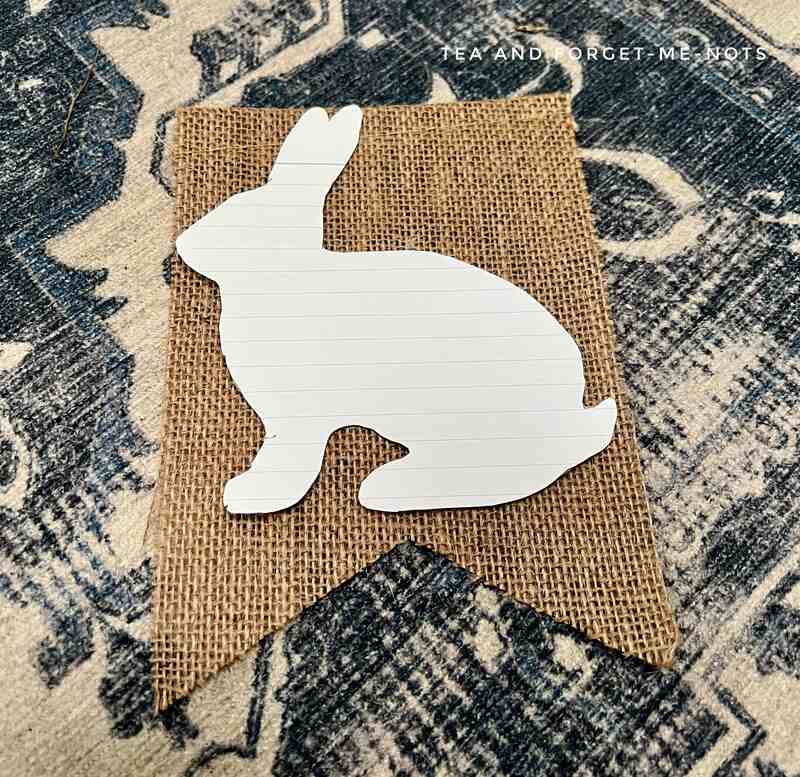 The flower I chose for the bunny naturally fit to the shape of the bunny and its ears.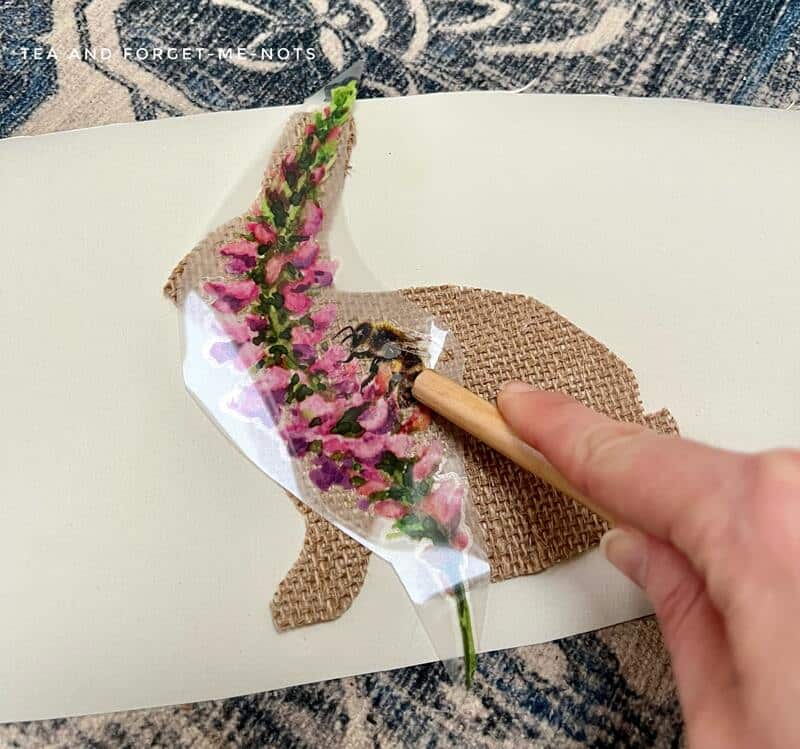 Then for the final flag that said 'hello'. I liked the flag as it was.
It was a cute typeface already. But the red wasn't suited to Spring and Easter.
So, I used a yellow paint called Wheat and painted over the word hello. I only needed one coat of paint and applied it with an artist's brush.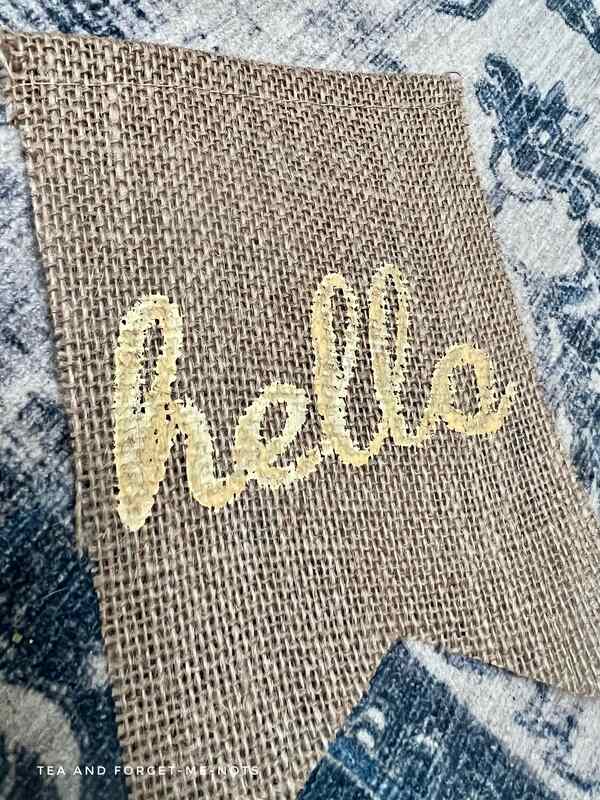 I love how the one coat of paint looks. It gives a beeswax effect over the crisscrossed burlap.
It's important to seal clay-based paint. As it will be reactivated with water if not sealed.
---
How to Stiffen Burlap
Burlap is quite flexible, so I needed to stiffen it slightly. So, lastly, I applied a coat of white glue to the back of each piece of the bunting.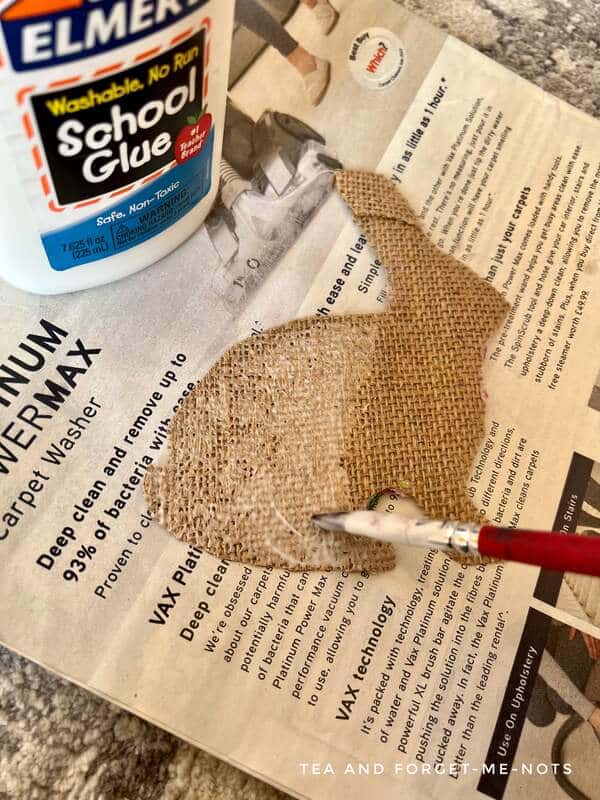 This created more structure and kept the flags straighter.
This also helped to seal the edges of the burlap. As it can sometimes fray.
Finished Simple Easter Garland
As far as DIY garlands go, this one is so pretty. The brown of the burlap and the colourful flowers are a lovely mixture of rustic and floral.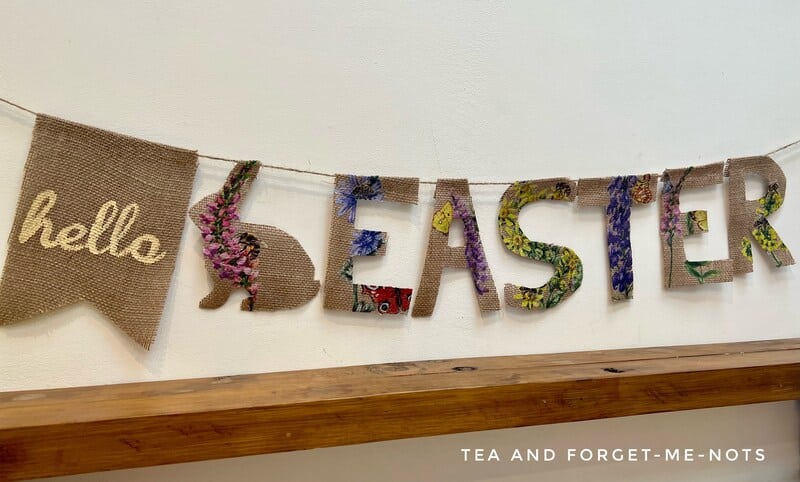 If you changed the word, it could also easily be a Spring garland. You could use artificial flowers or stencils of cherry blossoms, for example.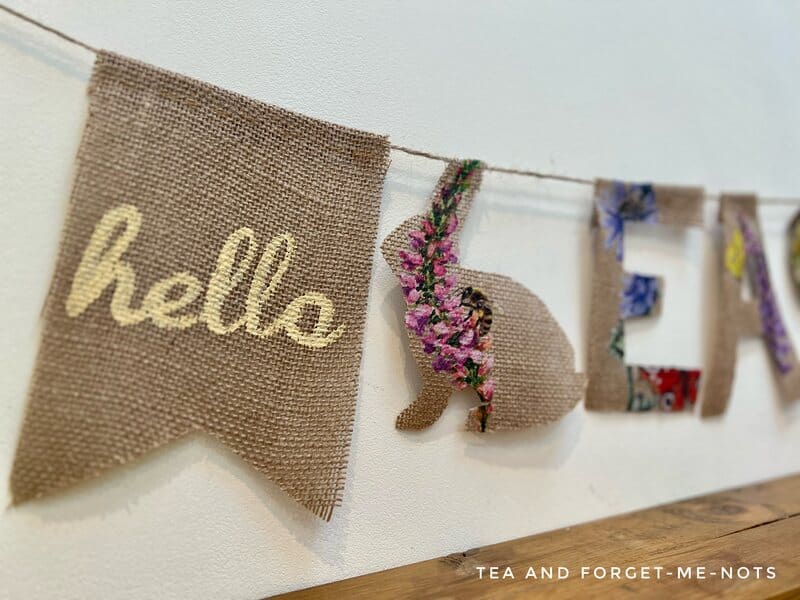 More Cute Handmade Easter Garland Ideas
There are lots of great ideas for how you could make this more child-like too.
An easy way would be to add pom poms in between each letter. You could use a pom pom maker or ready-made craft supplies.
You could create a fun easter decoration of a DIY Easter egg garland. Using an egg shape instead of letters. If you use paint chips, you wouldn't even need to paint.
Easter crafts typically lend themselves to the cute bunnies, chicks and plastic eggs kind of decor.
But it's so much fun to create something suitable for an adult living room space. This DIY Easter garland would also work on a front door to welcome guests to your home.
It's a lovely Easter decor idea and a fun craft to make.
For more decor ideas, check out the YouTube channel.
Pin it for later – DIY Easter Garland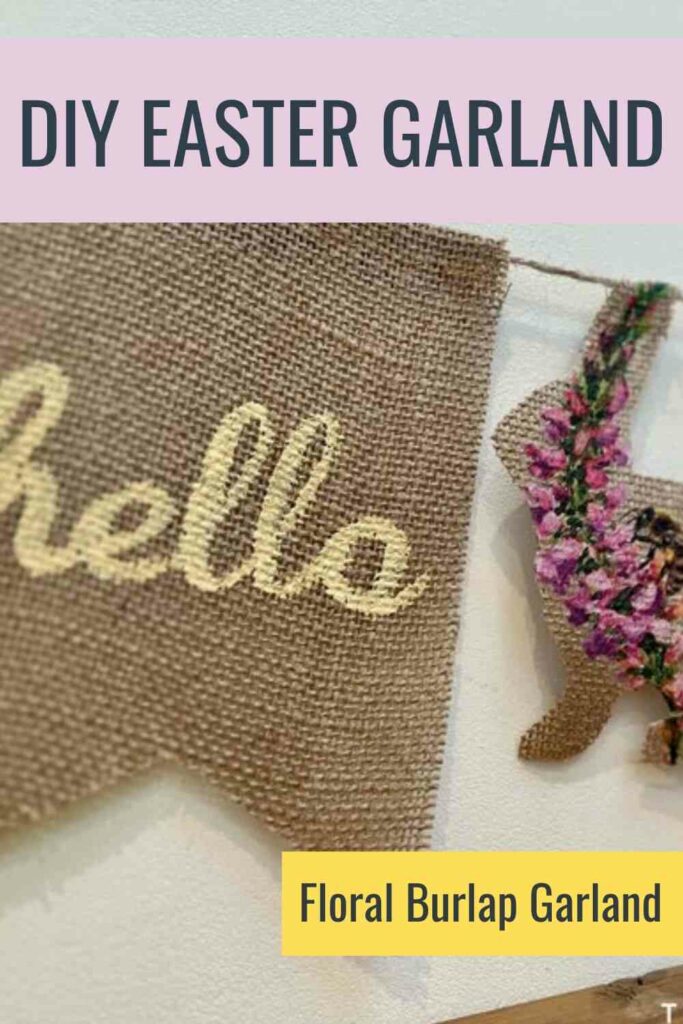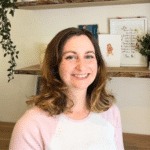 Hi there! I'm Rachel Bowyer, a passionate DIY enthusiast with a knack for transforming the old into something beautifully new. With a deep love for furniture painting, refinishing, and the art of crafting. I've been documenting my DIY projects and restoration journey since 2018. I specialise in techniques like decoupage, stencilling, and decor transfers. Join me as we explore the world of creativity and home improvement, one project at a time.