How To Make a DIY Candy Cane Wreath For Christmas
Crafting your own delightful DIY Candy Cane Wreath for Christmas is a fantastic way to give your home holiday spirit! Who wouldn't be thrilled to come home to a sweet candy cane wreath adorning their front door?
Whether you're a seasoned crafter or just getting started, this easy craft is bound to bring joy to your holiday season. Plus, I'll be sharing some awesome tips and tricks to make the process even more enjoyable.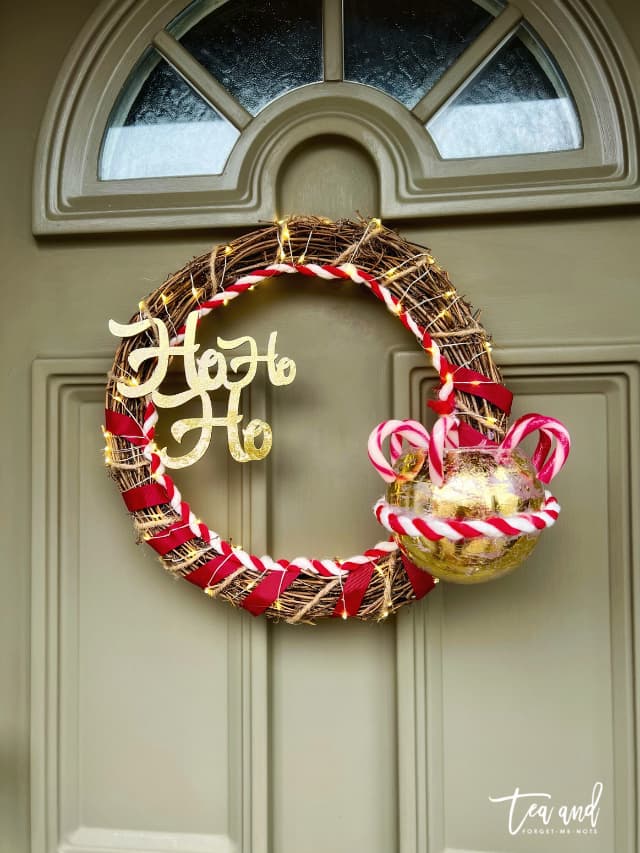 Now, the fun part – crafting your Christmas decorations wreath! If you're like me and have a treasure trove of craft supplies, you're in luck. This wreath is a perfect opportunity to let your creativity run wild and explore different designs.
You'll need a wreath base, red and white ribbons, and of course, some candy canes to bring it all together.
And if you don't have a big section of craft supplies to hand for your own version of an awesome candy cane wreath? Check out your local Pound Shop or Dollar Tree for affordable holiday decor.
Thank you to Dixie Belle Paint for sponsoring this post.
How to Make a DIY Candy Cane Wreath Step by Step
Materials you'll need
Step by Step Instructions
Choose the Wreath Base
Whether you prefer a classic circle wreath like mine or a candy cane wreath form, the choice is yours. Personally, I lean towards the traditional round wreath, but if you opt for a candy cane form, focus on accentuating it with red and white ribbons.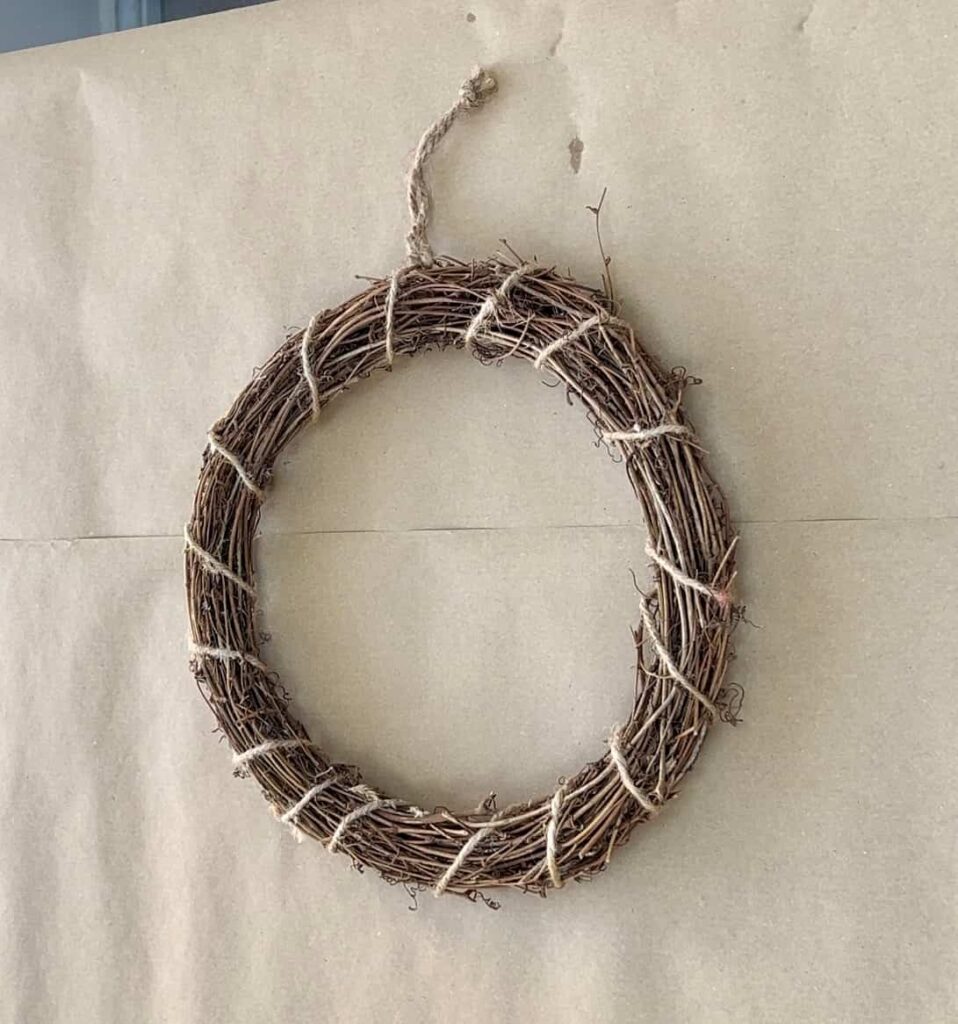 Other than the shape, consider the material. Whether it's a wire wreath form, a repurposed pool noodle, or a wire frame. This easy craft welcomes creativity, so feel free to use what you have on hand.
Dixie Shine Makeover
Firstly, give your decorative elements – like this wooden 'ho ho ho' lettering and the plastic candy cane holder – a Dixie Shine makeover for that extra festive sparkle.
Grab some Dixie Shine in gold, silver, copper, or red. Apply a coat of Stick With Me glue, let it get tacky, and then apply the foil.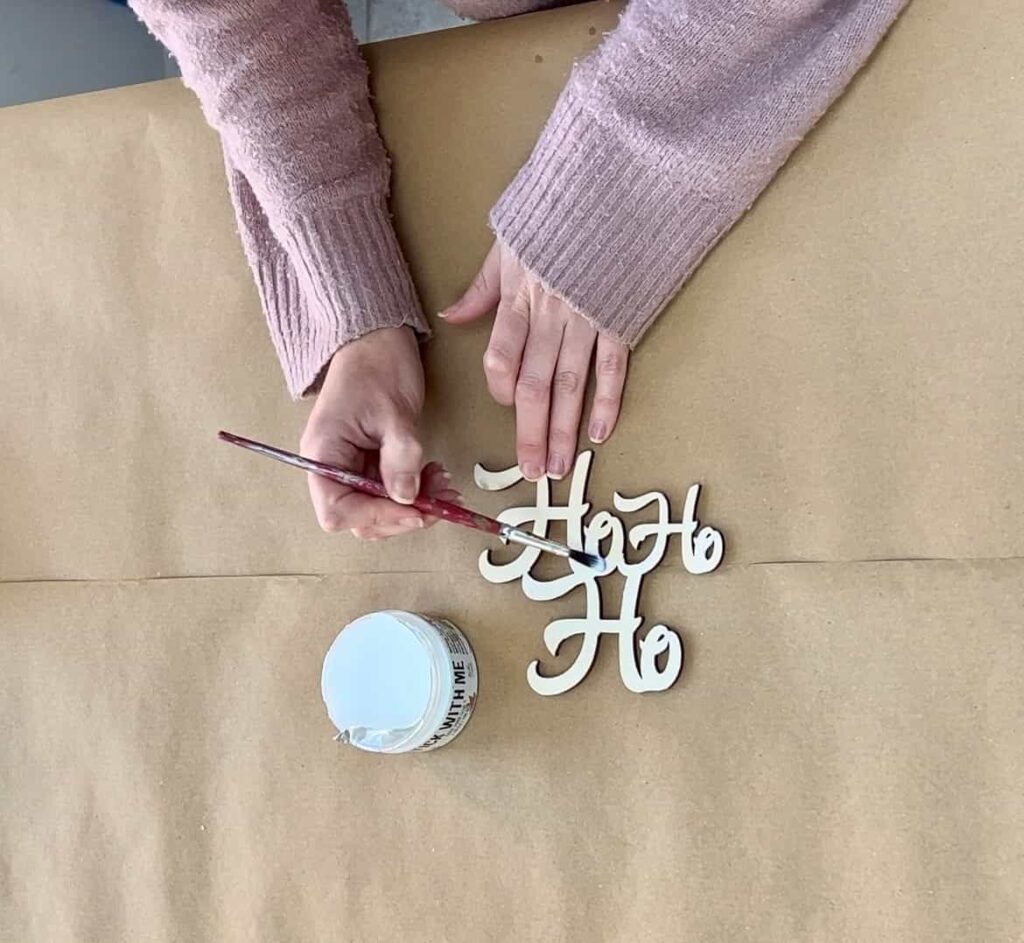 With Dixie Shine, the metallic side faces up. Simply rub the foil, and voila – your decorations are ready to shine.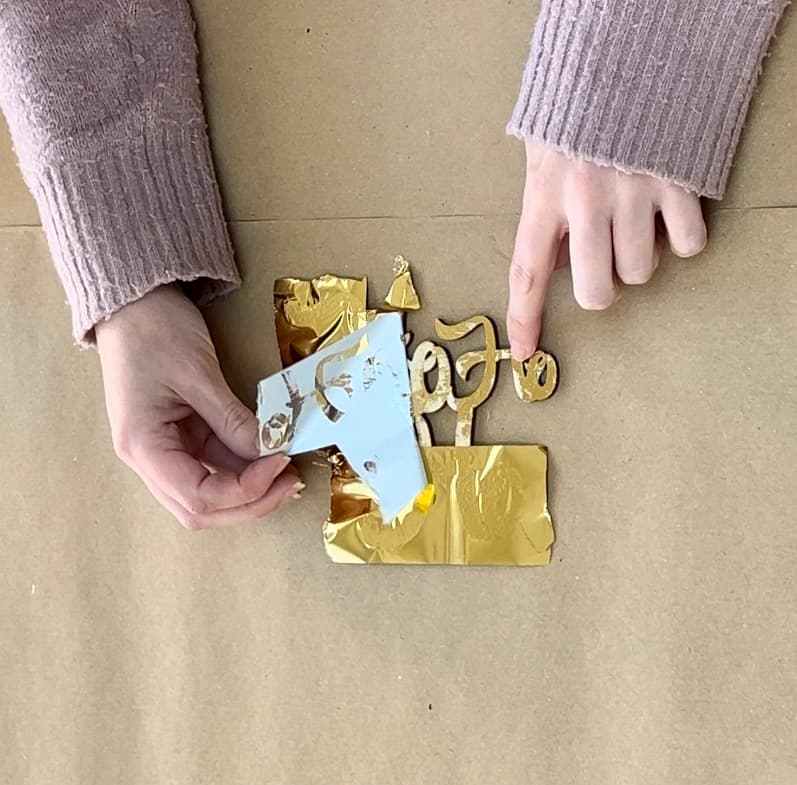 You can go for a solid finish by using a burnishing pad to rub the foil. Or if, like me, you prefer an imperfect look, use your fingers.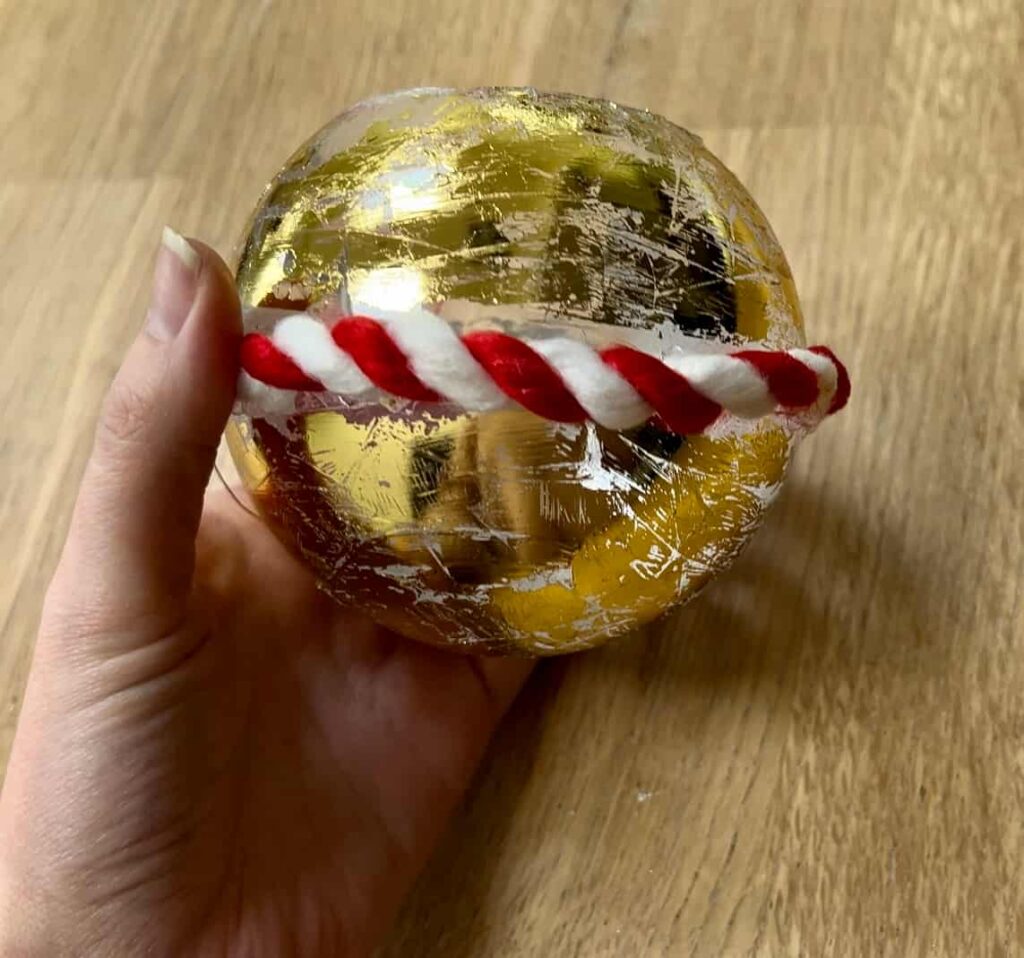 Wrap a Red Ribbon
Now, let's add some red and white ribbons to the wreath. The perfect colour combination for a festive touch.
Using different patterns and textures helps build an interesting and layered candy cane wreath. Secure the piece of ribbon in small sections with a hot glue gun, making sure the ends don't finish on the front side of the wreath.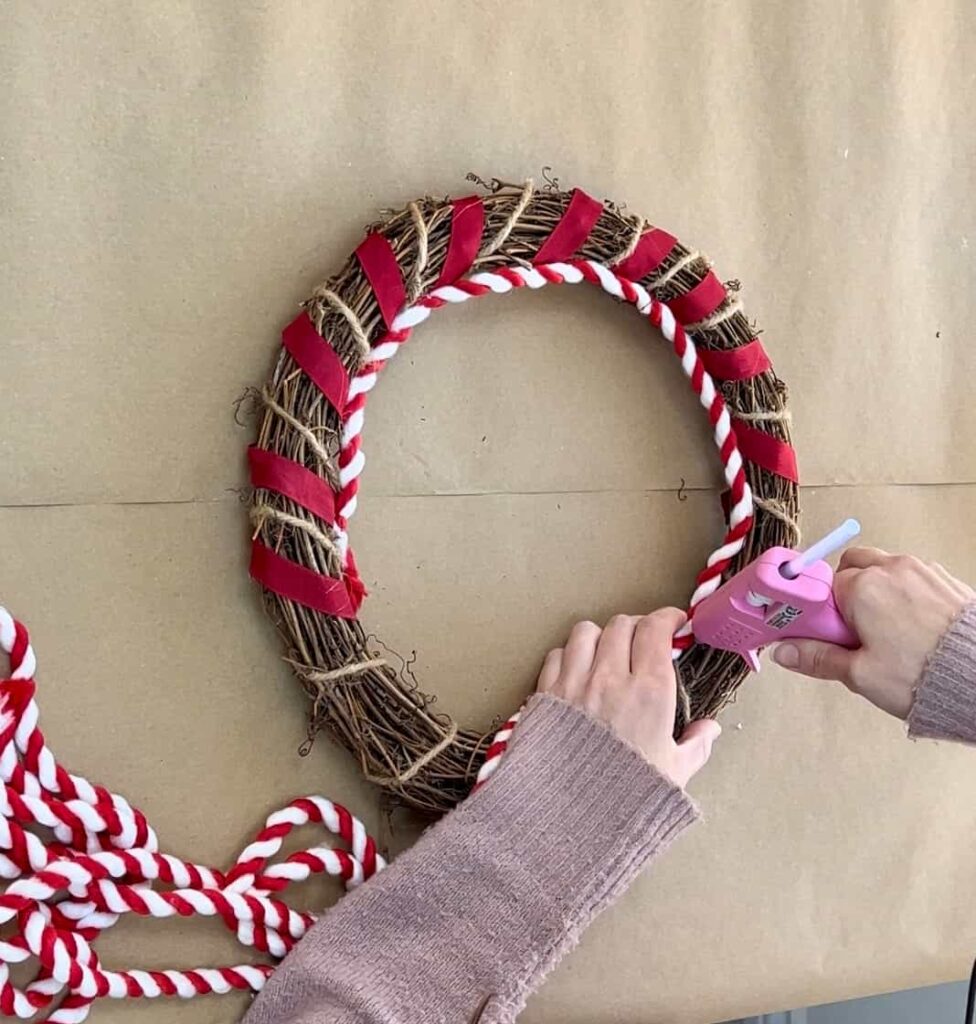 If your ribbon falls short of covering the entire wreath, don't worry! A little bit of asymmetry can be stunning.
Fairy Lights Illumination
Then time for a twinkling finish – fairy lights! Add them strategically by weaving them into the base after it is complete to ensure they don't get hidden beneath the decorations.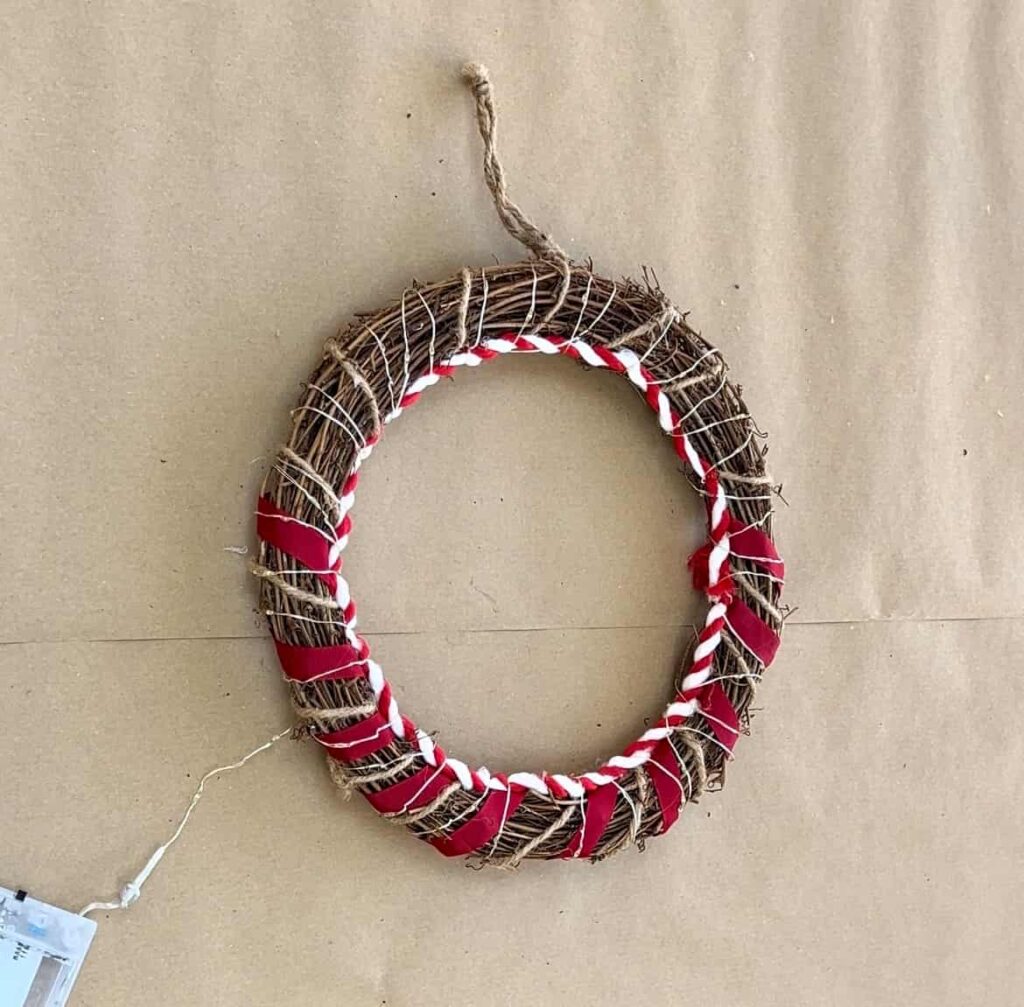 For battery-powered lights, camouflage is key. Plan your design so the battery pack is disguised at the back of the wreath, letting the focus remain on the decorative elements.
Balance the Decorative Elements
Now, onto the 'ho ho ho' lettering and the candy cane holder – strategically placed opposite each other for visual balance.
To secure the candy cane cup, use hot glue and floral wire, then attach it to the wreath at the back. Conceal the wire with more decorative ribbon, or for a rustic touch, consider burlap ribbon.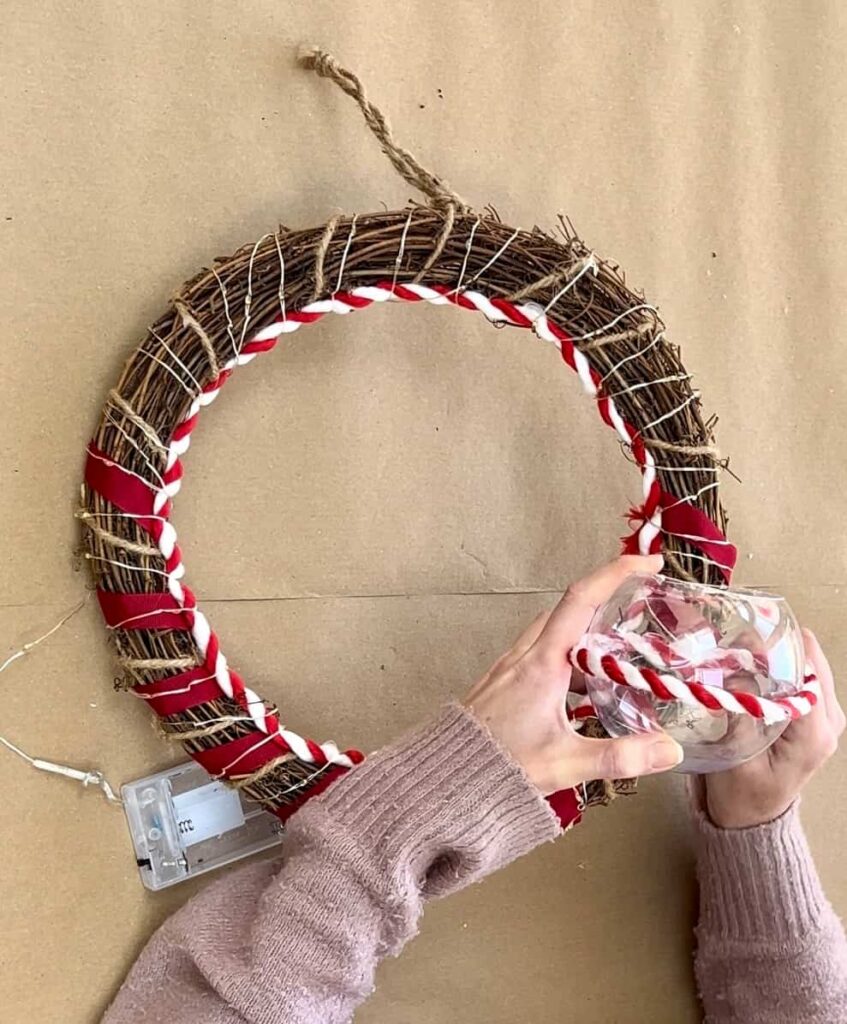 Then add real or faux candy canes to the cup, and your adorable candy cane wreath is complete.
Feel free to mix and match different sizes of candy canes for added visual interest.
Candy Cane Christmas Wreath
And there you have it – a charming and simple DIY candy cane wreath that's perfect for a porch setting like mine. If your front door is exposed to the elements, consider using faux candy canes for durability.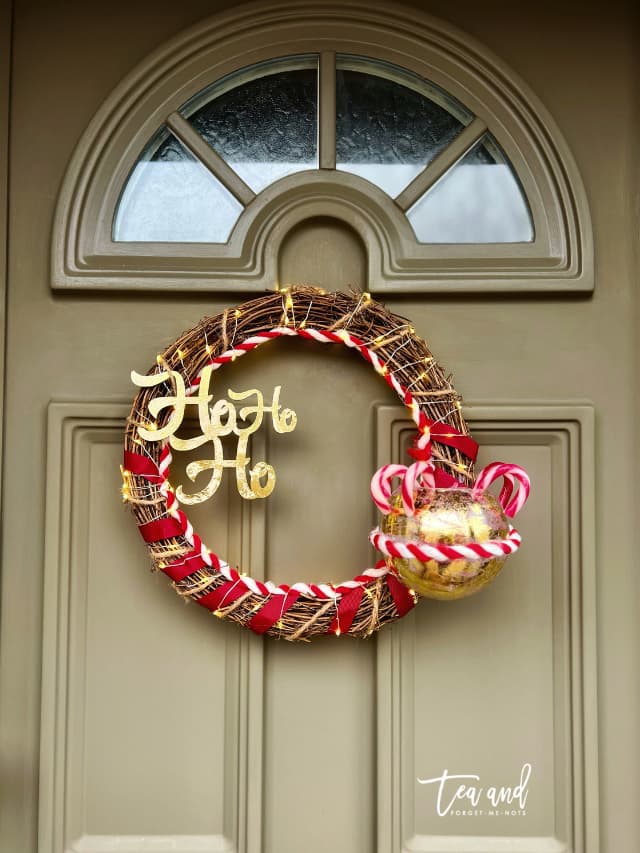 There are a few ways you can hang this on your front door. Either with command hooks, wire over the top of the door or with a wreath hanger.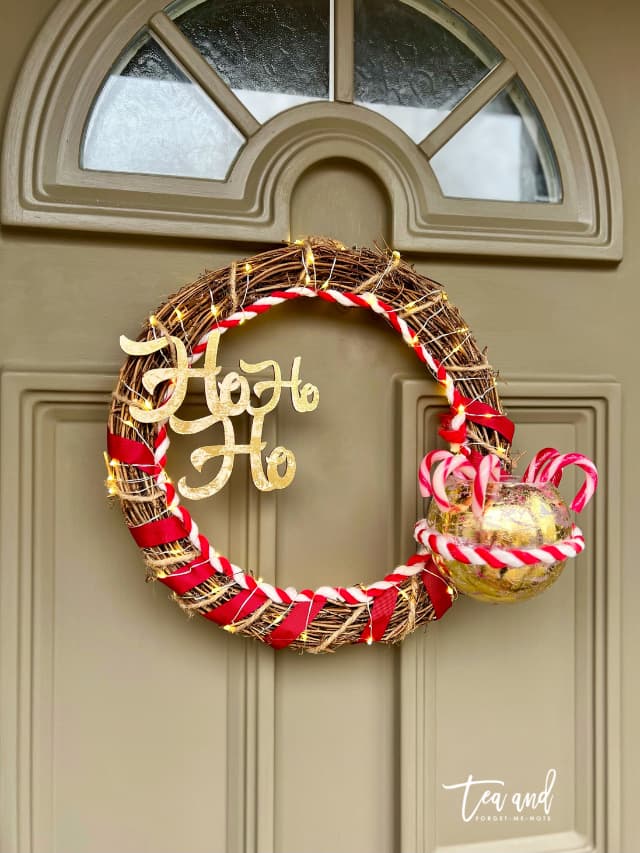 Happy crafting and wishing you a wonderful Christmas time and holiday season!
P.S: Don't forget to download the free guide on turning your old furniture into works of art.
Answers to your questions about making a candy cane wreath
Q: Do you need to seal Dixie Shine?
A: It's a good idea to seal Dixie Shine with a Clear Coat. This both protects it and removes any leftover stickiness from the glue.
Q: What colours does Dixie Shine come in?
A: Dixie Shine is available in gold, silver, copper and red.
If you loved this project, you'll love these projects too:
A CANDY CANE WREATH?
I love seeing what you do. Please mention @teaandforgetmenots and share your creations with me!
Pin It For Later – DIY Candy Cane Wreath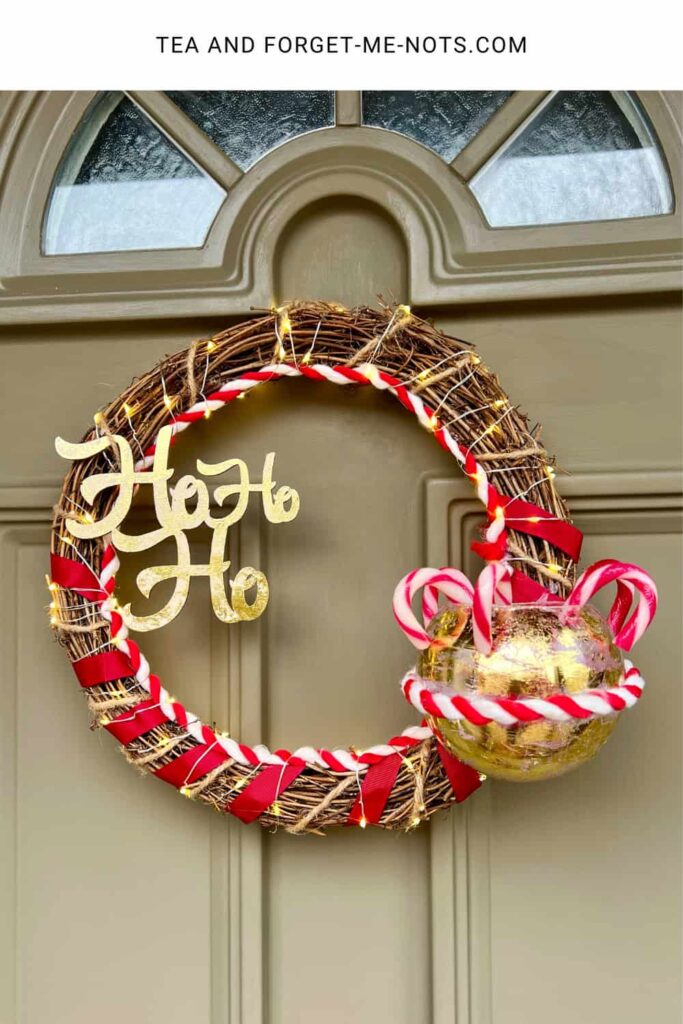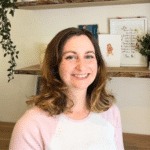 Hi there! I'm Rachel Bowyer, a passionate DIY enthusiast with a knack for transforming the old into something beautifully new. With a deep love for furniture painting, refinishing, and the art of crafting. I've been documenting my DIY projects and restoration journey since 2018. I specialise in techniques like decoupage, stencilling, and decor transfers. Join me as we explore the world of creativity and home improvement, one project at a time.