How To Paint MDF Furniture to Make It Look Nice
Can you paint MDF furniture to look nice? MDF is a budget-friendly option but not very pretty. You need to know the right products to use.
However, a lick of paint and some decoration goes a long way to help make medium-density fiberboard (MDF) look nice.
But there are a few things you need to think about when painting MDF boards. MDF isn't solid wood and has to be treated right. Otherwise, there's a good chance that it won't last and will be a waste of time and effort.
This post includes gifted products and affiliate links so you can easily find the products I use myself and recommend to friends. If you purchase these products, I may earn a small commission at no extra cost to you.
How To Paint MDF Furniture to Make It Look Nice
I got this chest for free on Freecycle.
It was really heavy due to the MDF and solid wood trim. So much so, that the rope handles didn't completely convince me that they wouldn't break at some point.
Here are 5 other places to find free furniture!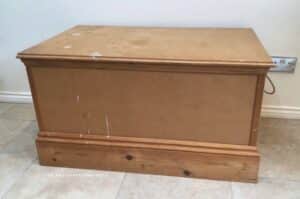 It was a handmade gift for someone's mum, based on a message written under the lid. So, it had a nice story behind it and clearly love had gone into making it.
But I suppose because it was big, heavy and not the prettiest, it was eventually given away.
How to Paint MDF Furniture to Make it Look Nice Video
Should you sand MDF before painting?
If you don't need to smooth the surface, that's ideal. Wipe it over with a cloth.
Unless something is really dirty, you shouldn't wash MDF. The best way to prep the surface if it's uneven is to lightly sand it and then remove the dust.
For the first step, I used a sandpaper called R.A.D pad by SurfPrep, in the fine grit. Which is approximately 220-grit sandpaper.
They're a good idea as they have foam backing.
I find this style comfortable to use and it moulds well around different shapes, like the wooden trim.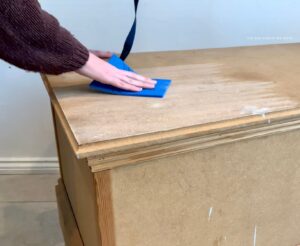 Then I used a sticky tack cloth to wipe the dust off the surface of the MDF, for a smooth start.
Make sure you're wearing protective gear such as a dust mask and goggles for this step.
The chest was in good condition but I still found a few spots to make the most of some wood filler. In particular, I filled in the small gaps between where the baseboards met. I also covered the small nail holes which attached the trim.
It gives better results for a smoother finish with a solid work area to paint on.
Does MDF need to be primed?
As MDF is basically wood fibres glued together, water damage is a risk so it needs to be primed.
Priming has two purposes, to create a barrier between the MDF and the paint so that it doesn't cause the wood fibres to swell and create bubbles.
This needs to be a non-water-based primer. Which means a solvent-based primer (also known as an oil-based primer).
And secondly, primer is good for lower-quality wooden surfaces. This is because they're generally more absorbent. This means that it takes more paint to get good coverage.
The first coat of primer was important to stop the MDF from swelling and to avoid using more paint than necessary.
What type of paint is the best for MDF furniture?
As long as you have primed with non-water-based paint, you can use any paint for MDF. I get the best results with mineral paint for a smooth surface.
I wanted a rich colour for the chest and chose the dark navy, Deep Sea.
Here's one of my most-pinned navy blue makeovers.
The MDF areas needed three coats. The real wood trim only needed a second coat.
I tend to paint with a combination of brush and roller. I did the trim with a synthetic brush and the large surface with a roller. Using both at the same time gives me the best smooth finish across the entire surface.
I line my paint tray with foil to make for a fast clean-up after each day's painting projects.
I also went back with a small detail brush to get into the tiny corners.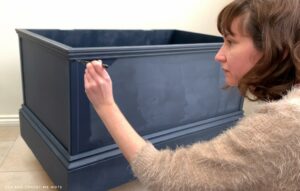 Should you seal MDF before painting?
I seal all of my projects, even if they have a built-in top-coat in the paint. And it was particularly important for this project, to protect the MDF as much as possible.
I did two full applications of Dixie Belle's Clear Coat in Satin. I chose Satin because I prefer the slightly matte look, but the glossier the sealer, generally the more protection it offers. It always gives great results.
If you're interested in the gloss top-coat, this is how it looks on these colourful tables.
This top coat added a lovely sheen to the paint which worked well with my extra decorative elements.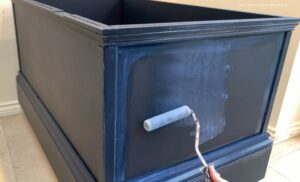 Want to know 23 great DIY tools? Get the list!
Make MDF look nice
While I loved the colour of the chest, it was basically a big blue box. So, I decided to add some bling to give it the perfect finish. I chose the stencil, Lotus Bloom. Which has a mix of floral and Princess Jasmine vibes.
I often use stencil spray but used Frog Tape only this time, which worked perfectly fine.
Although, I did forget my tape measure so if you watch the YouTube video you'll see my back-to-basics method of finding the centre of the chest!
To complement the navy, I used Gemstone Mousse in Gold for the stencil colour. I was expecting the mousse to have an airy texture so was surprised to see that it was a thick liquid.
If you're a fan of golden glamour, check out this popular green side table.
As always, I used sponge dabbers with the bare minimum of paint, to dab the stencil into place.
Using a stencil with a repeating pattern, you might need several applications to cover a piece. Fortunately, as the layer of the mousse needed to be so minimal, so as not to bleed out of the edges of the stencil, it dried very quickly.
I was able to place the stencil on top of the end flower to match the pattern and continue adding the two extra flowers, almost straight away.
In addition to the stencil, I added these bronze corner protectors. I've been waiting to use these on a project for two years and this is the first piece they looked right on.
Because the bronze wasn't a perfect match for the gold, I lightly painted over them. But I kept some of the original colour to add dimension.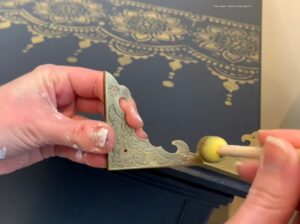 Solid handles for the heavy MDF project
MDF is heavy. So if you have a piece of furniture that is primarily MDF, it will need heavy-duty handles too. Assuming that you need to pick it up like this chest rather handles for MDF cabinets, for example.
The original rope handles did the job but no longer matched the more glamorous look that I was aiming for. I bought these cast iron handles in a set of two and they were reassuringly heavy themselves.
To put less strain on the handles, another great way would be to use wheels or casters.
To attach them, I used my trusty Frog Tape to mark on the back where the screw holes would go. I then put the tape on the chest and used a spirit level to make sure that it was lined up correctly.
That meant that I could drill my holes over the pencil marks, knowing that the handles would be straight.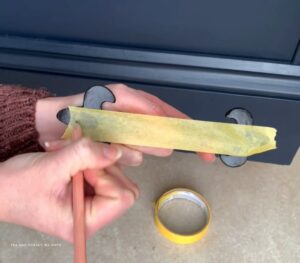 Unfortunately, the handles didn't come with screws. So, I used my own screws but they were silver, rather than black.
To make sure they didn't stand out I wanted to paint them black to match.
This was the first project that I've used Slick Stick on. Which is a product to use on shiny surfaces to help paint stick to them. I've since used it on a laminate dressing table and I'm sold, the product mattifies so well.
So after covering the screw heads with Slick Stick, I used my darkest black, Anchor, to paint over them. They now blend in perfectly.
So, does MDF look good painted?
I'll let you be the judge. But I think the transformation is like night and day… Or maybe day and night.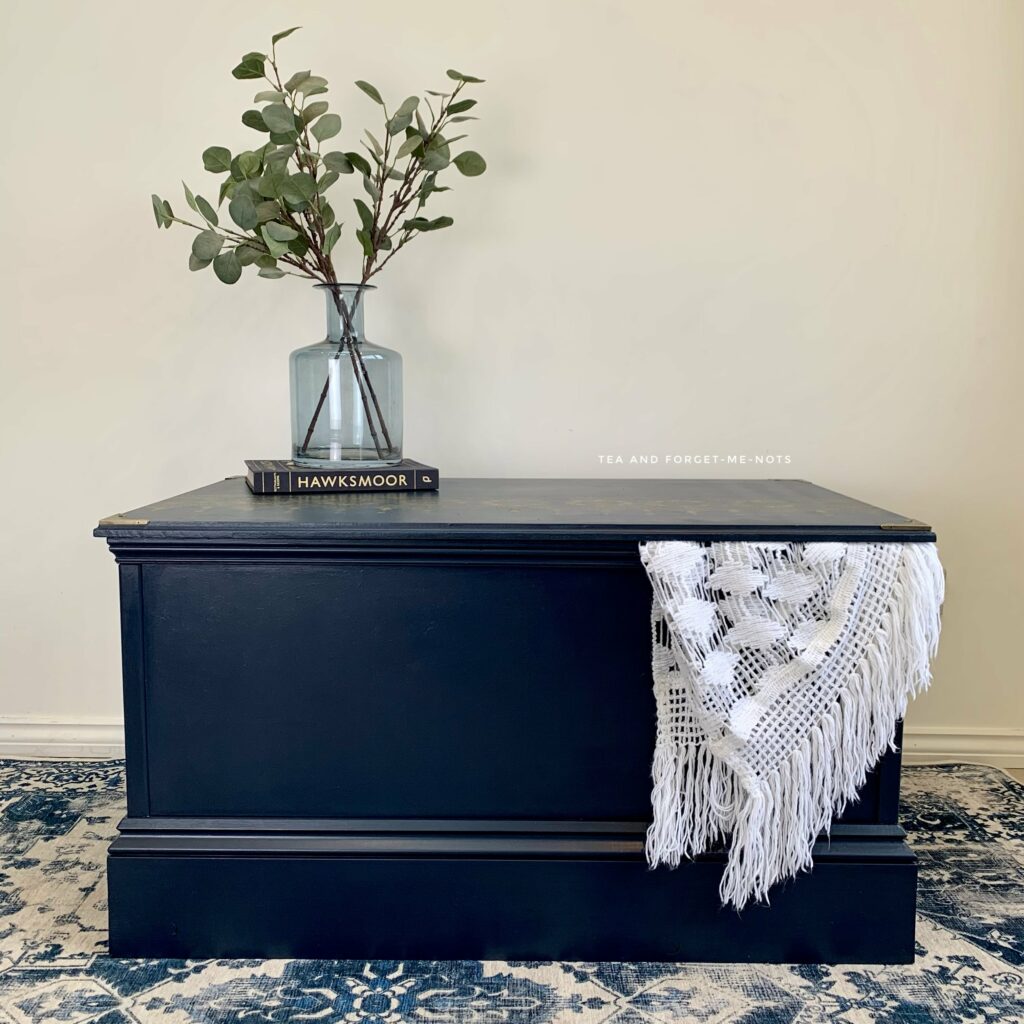 So, can you paint MDF furniture to look nice?
Absolutely. You just have to think about your paint products. You can achieve a smooth paint finish with the right paint types.
Is it worth it? That depends on the quality that you start with. You can't make a silk purse out of a sow's ear, as they say. But you can go a long way to making it a really pretty piece.
Thanks for taking the time to follow this project from start to finish.
I hope it gave you some ideas on how to keep more furniture out of the landfill. Budget materials that are in good condition can still be pretty.
There's extra time behind the scenes in the YouTube video if you'd like to check that out too.
If you liked this post, you might also enjoy this bookshelf with a raised stencil…
FAQs
What is MDF?
MDF is an engineered wood product. Made up of small wood fibers from hard and soft woods. Which are bound together under high pressure.
Can you paint medium density fiberboard with latex paint?
Latex paint (emulsion in the UK) is a water-based paint. Therefore you can paint MDF with it once it has a first coat of paint or primer with an oil-based paint.
Can you clean MDF?
Ideally, clean MDF with just a dry cloth. You can use a damp cloth for stubborn areas. But be cautious as the MDF should ideally not come into direct contact with water-based products.
How do you paint the edges of the MDF?
MDF edges will likely be rougher than the surface. To prep it best for paint, you can seal the porous edges with drywall compound first. Alternatively, you can use PVA wood glue (white glue).
This extra step is the best thing to do to get a uniform finish before painting.
Pin it for later – How to paint MDF furniture to make it look nice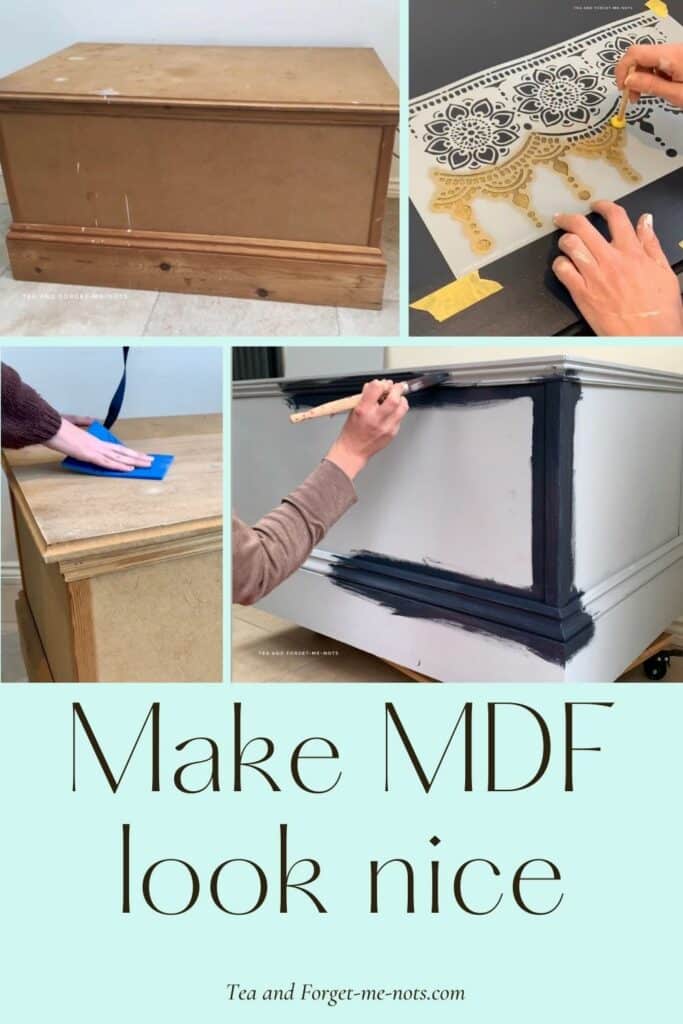 Like a quirky design? How about this cabinet with a faux metal look? It's very cool! Or alternatively here's how I revamped a half moon table with black paint.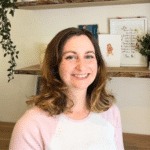 Rachel started painting furniture in 2018. She created this site to share her favourite transformations and the many tips she has learned along the way.