Love the trend but not the price? Here's how to create a cool industrial DIY IKEA mirror without the price tag.
The inspiration
I've been watching The Sorry Girls and they inspired me to create their trendy industrial-style mirror with IKEA Lots mirrors. I don't have a need for an 10 foot mirror but I do have a dark lounge that could do with some more light. I made my version with IKEA mirrors, a flower transfer, chalk paint and black wax.
This is the first mirror I've completely made from scratch and was pretty simple. I'm really happy with how it turned out.
Hokus Pokus makes some amazing transfers, and I've been dying to try them on something. The one I used for this is called Marvelous Gardens.
This post may include affiliate links so you can easily find the products I love and use myself. If you purchase these products, I may earn a small commission at no extra cost to you.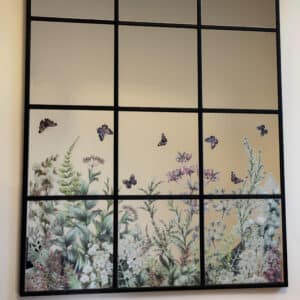 My cat Pixel, my su-purr-visor, if you will, closely watched the process and inspected the work. I think she enjoys the power she has over me by threatening to scratch a mirror at any opportunity. Cat treats were needed to keep everyone calm.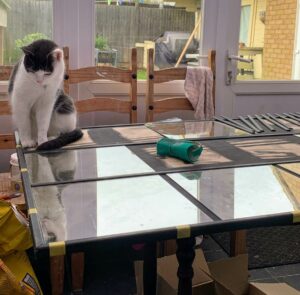 The supplies
As well as the transfer, I used 15 Ikea Lots mirrors, wood trim, chalk paint, and wax. I also found a Z bar to securely attach the mirror to the wall due to the previously mentioned furry friend who would probably attempt to climb on it. 
The transfers will stick to the first thing they touch, whether that be a mirror, carpet, or cat (don't worry, it wasn't the cat). I borrowed a spare pair of hands to help line it up and avoid it sticking in the wrong places.
Fortunately for the person at the DIY shop who carried the MDF for me, I couldn't make the mirror any bigger due to the size of my car.
I painted behind where the mirrors would sit on the MDF board in the charcoal grey, to avoid any of brown board showing through if they weren't perfectly in line. And they weren't. Know your strengths, mine aren't measurements.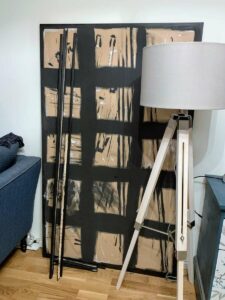 I wouldn't normally wax something as plain as the wooden trim but it gave the wood a much richer colour and really made it shine.
With a bit of pre-planning, I screwed the Z bar in from the front before the mirrors were attached. I didn't fancy a drill coming into close contact with a complete grid of mirrors. I didn't expect to win that fight if it did.
Assembly
Now, how best to assemble it? From the middle or an edge? If my measurements were slightly off then what would be the easiest to fix?
I started in a top corner and even so the measurements did end up being slightly out. What's a couple of millimeters between friends or mirrors? Something, at least. So with a little sanding and rejigging the mirrors and trim pieced together.
So, the moment of truth.
Picking the complete mirror up for the first time not knowing if the glue had done its job.
The cat's watching me, and I don't want a smashed mirror all over the floor.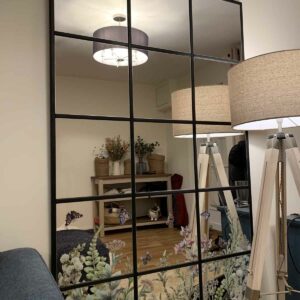 Fortunately, all went well! It held together perfectly. It's a bit farmhouse and a bit industrial and looks great.
But the cat isn't as impressed with the mirror on the wall where she can't sit on it…
---
If you enjoyed this post, you might like to read more here…
Subscribe for weekly DIYs, tips and the 5 tools under £15 that will make your life easier.