Quick and easy update for a half moon table makeover
In need of a half moon table makeover? Here's a quick and easy way to modernise an entryway table to make it a feature of your hallway.
A table of many names. Half moon, demilune, entryway or hallway table. Lots of names for a small table which fits against a wall in a narrow area.
I'm excited to share today's post with you as it's a collaboration with Sara, from Birdz of a Feather. Sara also had a table so we challenged each other to see how we could update them. Check out her makeover at the end!
This post includes gifted products and affiliate links so you can easily find the products I use myself and recommend to friends. If you purchase these products, I may earn a small commission at no extra cost to you.
---
Quick and easy update for a half moon table makeover
This half moon, console table was bought for me by family. They know to look out for pieces for me. They found this one in a charity shop for £10.
This table was in great condition. It had a few little dents in the top but was otherwise just a little unloved.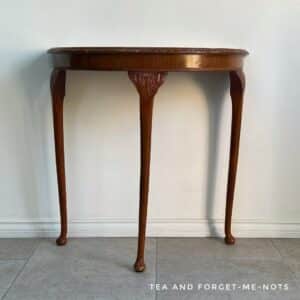 My issue was how shiny it was. Its original finishing coat had that slick, super shiny finish. And as it was mine to play with, the shiny surface had to go.
However, I liked the wood pattern on the top. It was veneer rather than solid wood. But the vibrancy of the pattern appealed to me.
Not something that I wanted to cover with paint.
Paint a Half Moon Table Video
Sometimes you do need to paint over damage, this is how it turns out…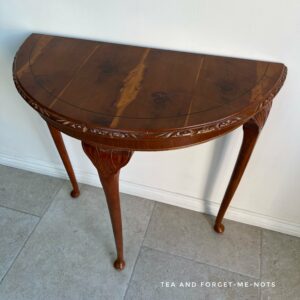 Veneer doesn't have to mean a piece is of low quality. It is often used as an efficient way to add a more impressive surface over a cheaper wood.
The legs didn't have the same charm. I thought that the engraved legs would look great painted, with some definition added.
How to prep to paint a table
So onto the prep.
I removed 6 plastic hooks that were on the underside of the table. Presumably, it had been a cable tidy for a corded phone.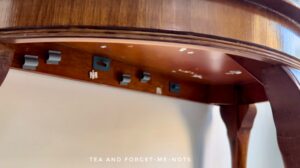 Then I started by washing the piece with White Lightning. Which is a TSP-based cleaner.
I don't always clean before sanding. It depends on the level of sanding I'm going to do.
It's recommended to clean first so that when sanding you don't push any dirt into the grains in the wood.
The piece seemed pretty clean which isn't always the case. Then I rinsed it with some clean water.
This is one of those times when cleaning was absolutely necessary. Gross!
So, time to make some mess.
I used my Festool sander and 180 grit sandpaper to take the shine off the tabletop.
The great thing about the sander is that it has a dust extractor attachment. So it makes barely any mess.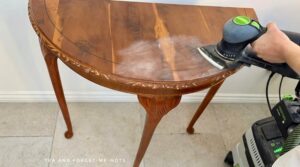 It's easy to sand a hole through the veneer. It is just a thin sheet of wood. And if you make a hole in it, then the easiest option is often to paint it.
As I was being gentle with the electric sander, I hand-sanded any areas where the finish was stubborn.
I hand-sanded the rest of the table too. The shine wasn't as obvious elsewhere, so the surface only needed scuffing up.
It's also much better to sand legs by hand, as it wraps around the shape easily.
How do you paint an entryway table?
While I knew I was going to keep the top as wood. I didn't know exactly what colour I wanted the legs to be.
The wood top was red-toned. So I considered green to contrast nicely.
Black and white would probably have worked too. But I felt like I could be more adventurous. It's easier to be bold on smaller pieces.
After swatching some options, I chose the green, Kudzu. Which is chalk paint. My friend, Tammy, used it on a potting bench recently and I have wanted to use it since then.
Although I often see Kudzu used more for a shabby, distressed look. We'll see if I regret the choice!
My other favourite was Malachite, an emerald green clay paint. I decided to start with the lighter colour. Then if I didn't like it, it was easier to go darker after.
I knew as soon as I started painting that I loved the colour. Fresh and bright.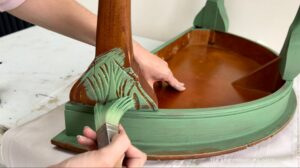 I only needed two coats of Kudzu for perfect coverage. Fortunately, I was painting on a warm day, so it was a fast process too.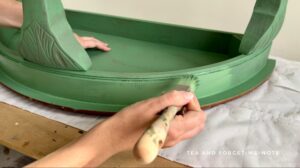 I had several different brushes on the go at once. I used a Zibra square brush for the bottom of the tabletop. Then a round synthetic brush for the legs. Also, I had two artist brushes for the engraved parts and the details.
I'm fortunate that I have built up a great collection of brushes over the years. It makes things a lot easier when working with something fit for purpose.
To seal the paint, I did two coats of Satin Clear Coat. Satin gives a medium level of protection (gloss the most, and matt the least).
An entryway table is the sort of place that might have bags knocked against it. So, medium protection should be perfectly fine.
To seal the wood top, I used hemp seed oil. Which usually doesn't change the original colour of the wood too much. As I liked the colour and pattern already, hemp seed oil was a good choice.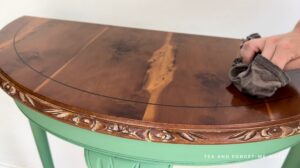 You need to leave hemp seed oil for 24 hours and then wipe off any excess left on the top of the wood. Or then recoat for extra protection.
How to make your hallway table more beautiful
Onto those engravings…
Normally I would think about white or black wax to enhance engraved details. But those didn't feel right as the piece wasn't edgy or rustic. It was more formal and elegant than that.
So I chose my beloved gold. I've done a few green and gold options and they're always popular.
Here's a similar look, where I was assisted by my cat!
I swatched a few gold options and chose one I haven't used before. It's called Gold Digger in the moonshine metallics range.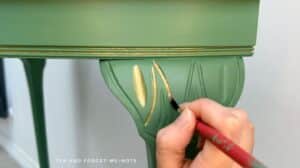 This is where artist brushes shine! I made sure to take the table off of the furniture wheels for this. It's really helpful to have a steady hand.
The first coat left a lovely shimmer. I did two coats for a more opaque look.
I love how this table came together. It's nice to leave exposed wood when it suits it. And it's especially popular at the moment to have combined wood and painted pieces.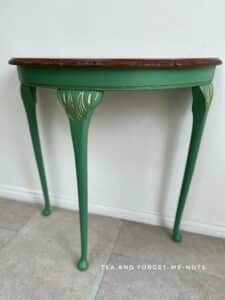 The green paint makes the wood top pop even more.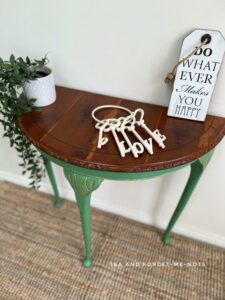 I think the original table would have been overlooked. Piled with keys and the mail. This version feels like a hello, welcome to a fun house!
I hope it lives up to my high expectations!
Thank you for taking the time to read my half moon table makeover. If you enjoyed this, you might also like this paint and wood combo for small spaces.
---
Don't forget to check our Sara's makeover on her blog or YouTube video. She handpaints something stunning!
Pin it for later – Quick and easy half moon table makeover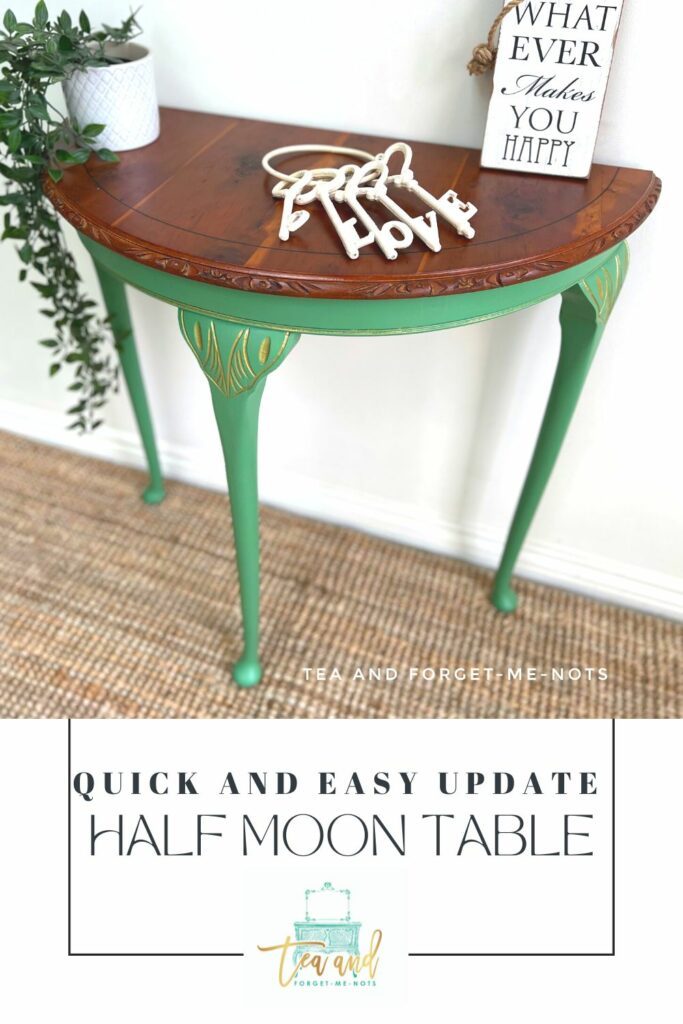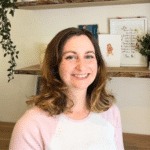 Hi there! I'm Rachel Bowyer, a passionate DIY enthusiast with a knack for transforming the old into something beautifully new. With a deep love for furniture painting, refinishing, and the art of crafting. I've been documenting my DIY projects and restoration journey since 2018. I specialise in techniques like decoupage, stencilling, and decor transfers. Join me as we explore the world of creativity and home improvement, one project at a time.