New look for a space-saving table and chairs
Have a space-saving table and chairs that needs a new look? Here's a hideaway table and chairs that gets a modern makeover.
I got this table and set of stools for free from a neighbour having a garage sale. They're a nice quirky set as the stools fold up under the table for storage.
Check out how to find free furniture near you!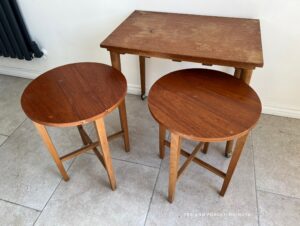 Thank you to Dixie Belle for sponsoring this post.
This post includes gifted products and affiliate links so you can easily find the products I use myself and recommend to friends. If you purchase these products, I may earn a small commission at no extra cost to you.
Table and chairs designed for a small space
Funnily enough, this set actually should have had four stools with it. Someone had already taken two of the stools and left the others. Apparently, they hadn't realised that the stools were part of a bigger set.
To be fair, when the stools are folded out, I wouldn't have guessed that they belonged with the table either. But it's a great idea. A good space-saving solution is to have little stools stored away underneath the table.
I love that the table has wheels. Somehow that makes it more fun! It's much more convenient with wheels to store it when not being used. Also, when not needed as stools, I think that they could be perfect little plant stands.
Paint Table and Chairs for Small Space Video
One of the first things I did was remove the two end pieces of wood which would have held the additional two stools. With them taken off, you wouldn't know that it started as a larger set.
New look for a table and chairs designed for a small space
The set in general was in decent condition. But the tabletop was a little worn where it had probably been used quite a bit.
The set had veneer on it so I had to be careful when sanding as to not make a hole in it. If I had made a hole in it then I would have had to paint it all, rather than stain it which was the plan.
The veneer was chipped on some of the edges so I first peeled that off with a carbide scraper. I could have used wood filler to cover the chipped areas but removing it completely gave me a blank canvas to start from.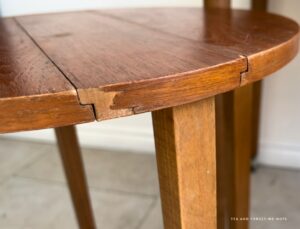 Unusually for me, I decided to sand before cleaning this time. I knew I was going to sand it back to raw wood so it seemed silly to clean wood that I would then remove.
I used 120 and then 180 grit sandpaper to take the original varnish off of the table. It's clear when you need to sand further if there's a grey tinge to the wood.
This is the before and after (well, after and before) of sanding. I prefer the lighter look a lot more, it's fresher and more modern.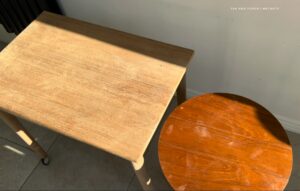 After sanding, I finally cleaned the pieces with White Lightning. Then I gave it a rinse with clean water. The water was initially very dirty but that was mostly sanding dust.
Painting hideaway table and chairs
I painted the stool flaps and legs with the charcoal/black colour Black Sands. I needed two coats for perfect coverage. It made a lovely contrast to the natural wood.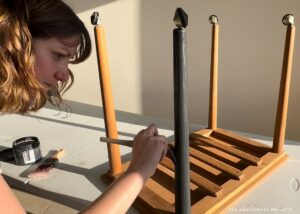 I used a round synthetic brush which works well for legs and spindles. And a flat angled brush for the tops of the stool.
I finished my 16oz pot of Black Sands on this project. The rest of it was used on this black cabinet makeover, if you want to have a good idea of how far 16oz stretches.
Want to know 23 great DIY tools? Get the list!
Applying stain to the table and chairs
Au Naturel is a water-based stain from Dixie Belle. This was my first time using Voodoo Gel Stain. I'm a fan of water-based products as it's just so easy to clean up after. So, this was the perfect set to try it out on.
It comes in a squeezy bottle. I squeezed it onto the tabletop and used a foam brush to apply it.
Normally you wipe off the excess after a few minutes to get a translucent look. I tried this but preferred it when it was more opaque. So as it was water-based, I sprayed it with water to remove it and applied another coat. This I just left and didn't wipe off.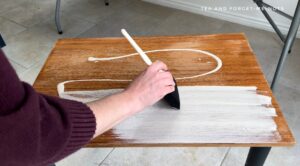 It was a really simple process and worked well.
Also, here's a project where I used a beautiful dark cappuccino stain on a bookshelf.
As the stools collapse, the mechanism where they fold down naturally rubs against each other. I thought that it might easily wear away if I used paint, in an area which is designed to be a tight fit. Stain is more forgiving as it doesn't add extra thickness as paint does.
So, I also stained this area and the central panel of the stools, which made it more interesting.
I gave the paint and stain 24 hours to dry before adding the top coat. So, to not detract from the look, I used Clear Coat in Flat which dries invisible.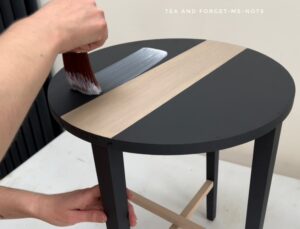 I did two coats of the sealer which should be plenty of protection for an occasional table.
New look for a table and chairs
I'm really happy with the final result. I think they look modern and more of a statement now.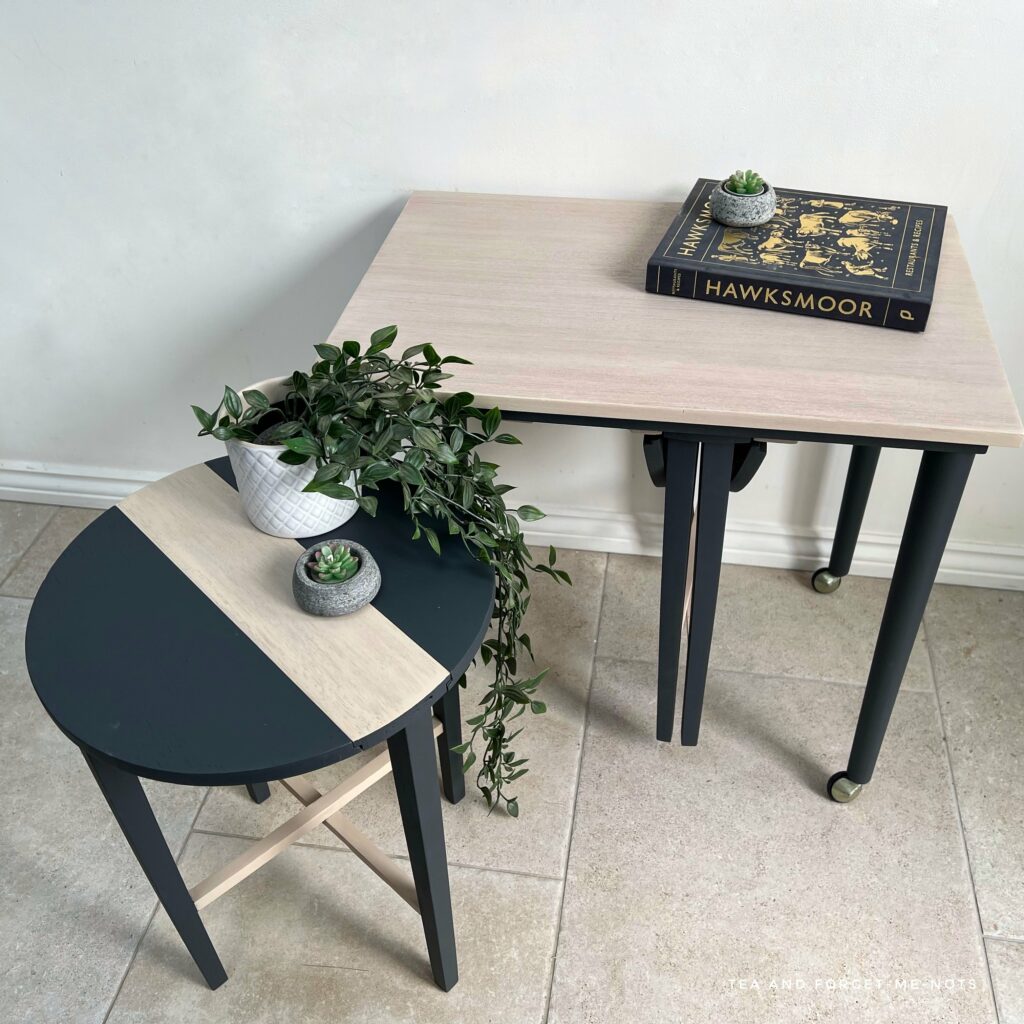 I went bold on the contrasting colours because they're small pieces of furniture so not too overpowering. As a side table or coffee table, they have a bit of character without being too dramatic.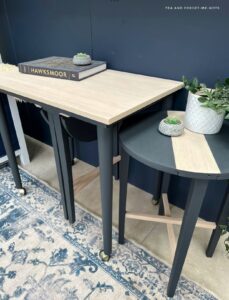 It tucks away nicely and is perfect in a small area. You can bring it out to eat on or use it as an occasional table. The stools can be plant stands or used as side tables. I love how versatile the whole set is.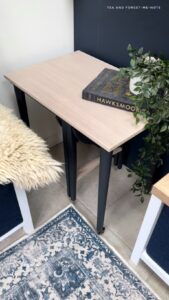 I hope you enjoyed this space-saving table and chairs makeover. If you did, you might also like this one…
Do you like watching video transformations too? Please check out my YouTube channel. Your support makes a huge difference to smaller channels like mine.
Pin it for later – new look for a space-saving table and chairs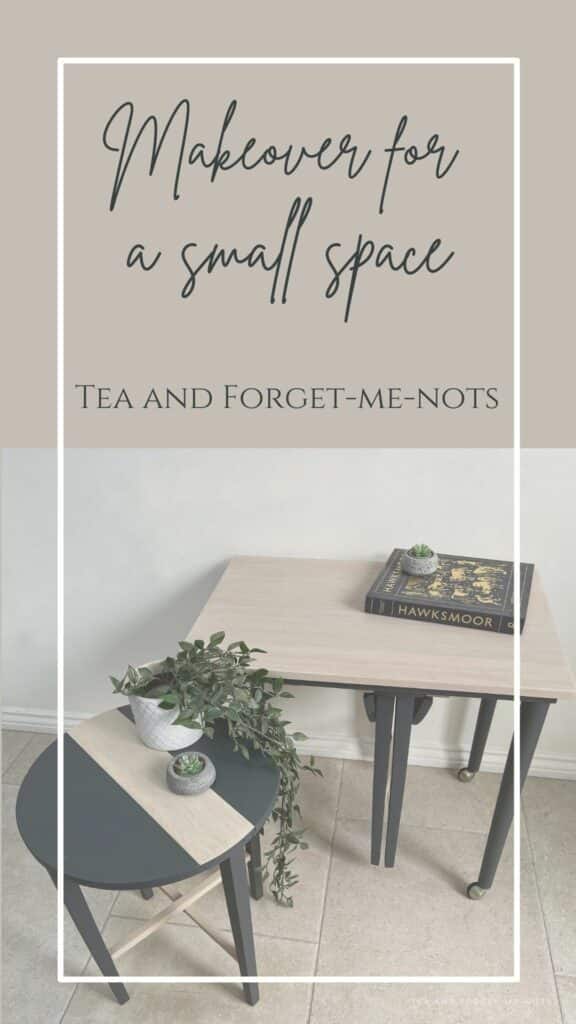 Space-saving table and chairs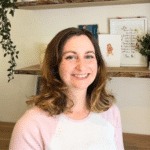 Rachel started painting furniture in 2018. She created this site to share her favourite transformations and the many tips she has learned along the way.