How to add patterns to home decor for an original look
Want to add patterns to home decor without buying new pieces? All you need is your current decor and a stencil you like.
Patterned decor can be expensive because by its nature, it's more unique. So, updating things you already own is a great way for a fresh look. And when it's time for another change, you can try a different stencil.
It's much cheaper and more original than buying new decor as your taste changes.
Dixie Belle has just released three new stencils which are perfect for this job. Let's test one out!
This post includes gifted products and affiliate links so you can easily find the products I use myself and recommend to friends. If you purchase these products, I may earn a small commission at no extra cost to you.
Thanks to Dixie Belle for sponsoring this post.
How to add patterns to home decor for an original look
I found this jewellery holder at a charity shop for £3. The original price was £18, which seemed a lot.
There was no damage other than some chipped paint around the edges. The piece was nice enough and a good foundation to build a pretty design.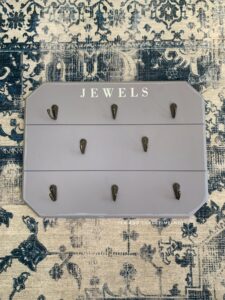 How do you stencil furniture?
I removed all of the hardware which is where I noticed that a screw was missing. More bizarrely, it didn't even have a hole for it. Possibly the piece was a product reject and that was how it ended up at a charity shop.
I started by giving the piece a quick clean with White Lightning. This was particularly important for the indentations where dust had settled.
I then scuff sanded it with fine-grit sandpaper, just to give the paint some texture to grab on to.
Dixie Belle has recently released 10 new colours in their Silk range. I often use Silk so was excited to try out their new colours.
Here's my 16-second sneak peek video at 5 of the colours!
For this project, I chose the colour I was most excited about, which was a pink called Desert Rose.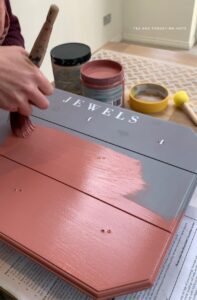 I didn't need to prime as Silk has a built-in primer. So, I got straight to the fun bit.
I applied the paint using a 1-inch flat synthetic brush. It needed two coats for full coverage. I love the colour. Desert Rose feels like a grown-up pink.
But as it's a jewellery holder and will be displaying pretty things, I wanted to jazz it up a little more.
Can you buy stencils for painting?
Along with the new Silk colours, Dixie Belle has also released three new stencils. I chose the Basket Weave stencil which is a Mylar Stencil.
To see one of their most popular stencils, here's how I used it to upcycle MDF.
I kept the stencil in place with Frog Tape. Dixie Belle's other line of stencils is Silkscreen Stencils. These come with an adhesive backing so are useful if you don't have something like Frog Tape to hand.
Then I used the creamy white paint, Endless Shore, for the contrasting colour.
I used Endless Shore recently on this bumblebee dressing table. It was a commission piece where they wanted a matte cream finish.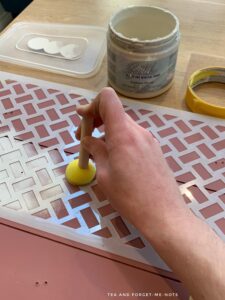 How do you keep paint from bleeding under stencils?
I've mentioned how I stencil accurately lots of times. Using a very little amount of paint on a sponge dabber is the most reliable method.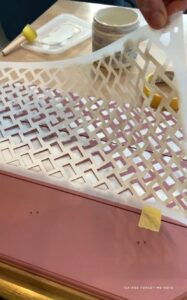 Here are the other important tips.
I moved the stencil a few times to cover the whole piece with the pattern. I moved it without waiting because I used so little paint that each section dried quickly.
By lightly dabbing on paint with a sponge, it built texture within the stencilled area. This gave it more dimension. Alternatively, a couple of coats would have created a solid block of colour for a different look.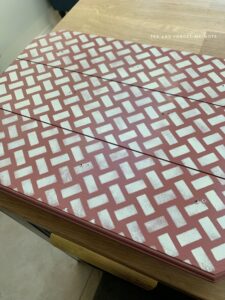 To finish it off, I sealed it with Clear Coat in Satin. I chose Satin because I thought the slight shimmer would suit it as a jewellery holder.
Then I reattached the hooks and added a new hole for the missing screw. I didn't change the colour of the hooks as I liked the dark against the bright background.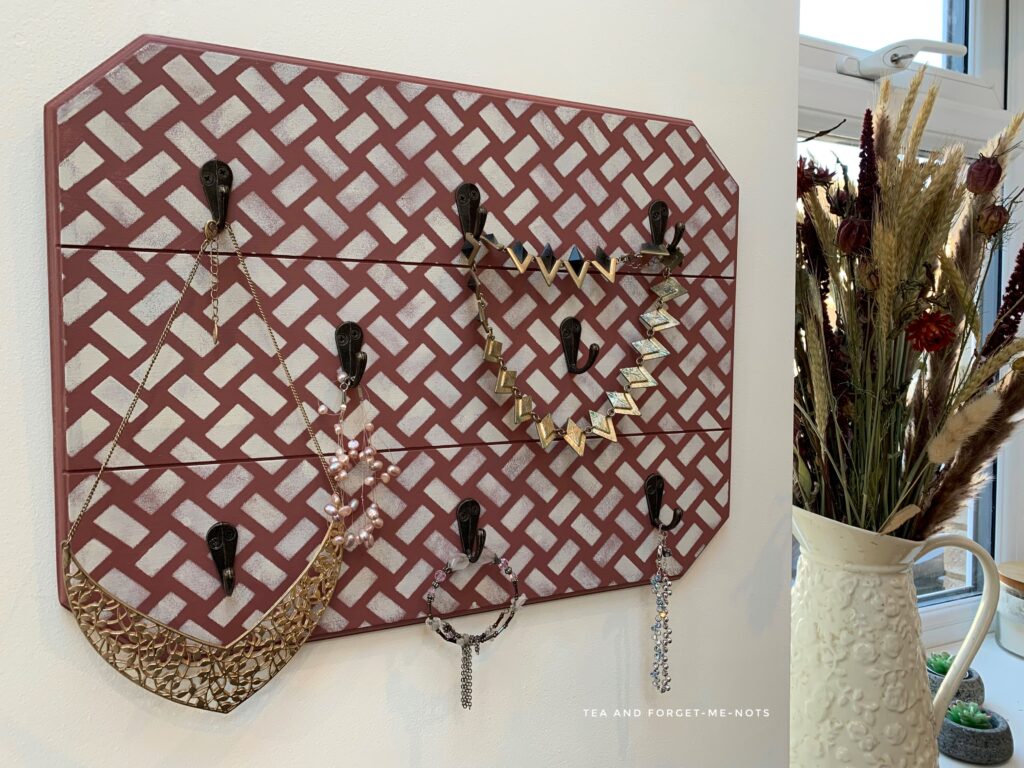 It's a lot fresher looking now. More of a statement than the original purple, which was looking a little sad.
Want to know 23 great DIY tools? Get the list!
Add patterns to home decor – making a set
This mirror has been waiting for inspiration to hit me for over a year. It cost £1.50 from a charity shop and was in perfect condition.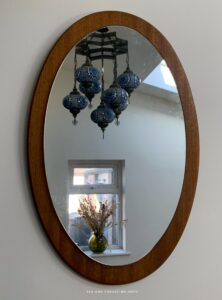 I prepped it in the same way as the jewellery holder, with White Lightning and by scuff sanding it.
Can you stencil raw wood?
Yes, you can stencil raw wood. Stencilled paint sticks to raw wood just as well as a painted piece as long as it's clean and sanded.
Normally I recommend doing a base coat of the painted colour to help with bleeding edges. But with raw wood or natural coloured piece, there isn't this paint barrier. So, you can use a coat of sealer as a base coat before the colour.
I chose to paint the mirror and not use a stencil because I wanted to create a set. Pieces that fit together but don't have to match.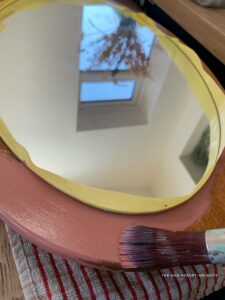 Adding paint to the set
For the mirror, I used all of the same products as the jewellery holder. It's much quicker to use the same products to prep and paint when working on more than one piece at a time.
And in this case, I wanted to use the same products to get the same colour and finish.
I added Frog Tape around the edge of the mirror before painting to make the clean up slightly easier. But if it ever does get messy, this is how to remove paint on a mirror easily.
I did two coats of Desert Rose, sealed it with Clear Coat, removed the tape and was done. Such as quick and pretty update to two pieces.
The finished home decor set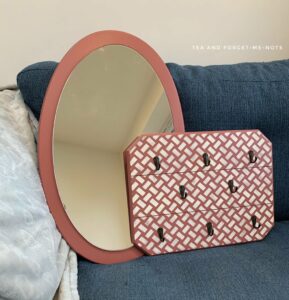 You can see these two are a set based on the colour, so they don't need to be identical.
They would be perfect next to a dressing table. An affordable way to add a splash of colour and pattern.
Would you use a stencil to add pattern to home decor? I love them for their originality and how easy it is to mix and match pieces.
There are two other stencils in the new release. I gave a sneak peek of those over on Instagram. I'll share those when the right projects come along.
If you liked this post you might also enjoy these stencil projects…
Pin it for later – add patterns to home decor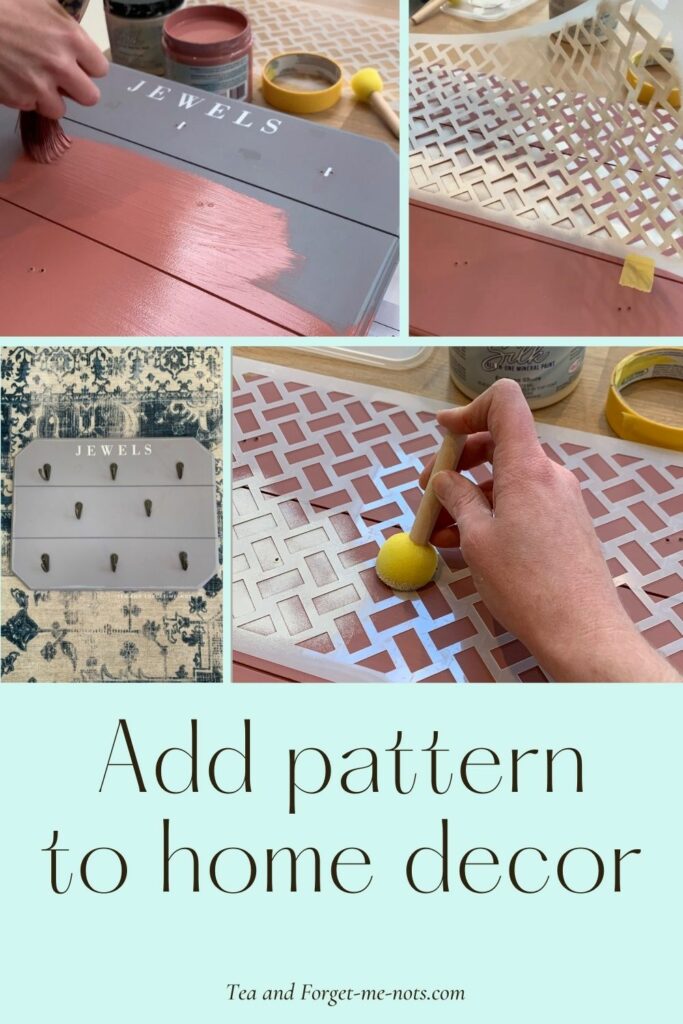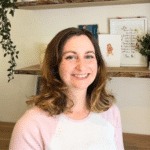 Rachel started painting furniture in 2018. She created this site to share her favourite transformations and the many tips she has learned along the way.