How to decorate glass bottles with paint for home decor (part 2)
Have glass bottles that you want to reuse or repurpose? Here's how to decorate glass bottles with paint to make beautiful home decor.
Empty glass bottles and glass jars have so much potential as DIY projects.
So here are projects 5-7. A great way to try glass bottle painting in a creative way.
Check out projects 1-4 in part 1!
This post includes gifted products and affiliate links so you can easily find the products I use myself and recommend to friends. If you purchase these products, I may earn a small commission at no extra cost to you.
How to decorate glass bottles with paint for home decor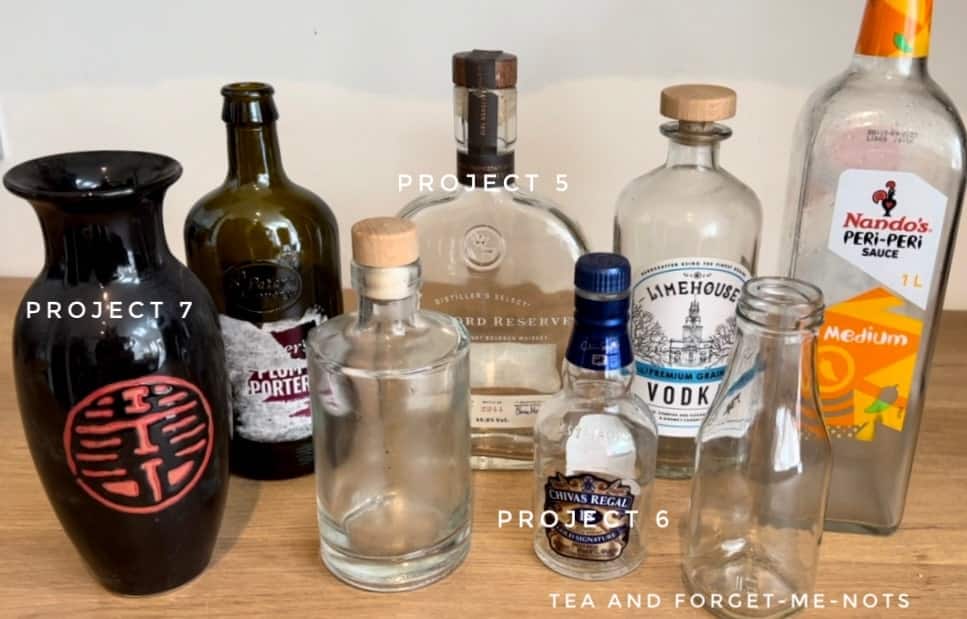 Paint an old whisky bottle
Project 5
My favourite part of this bottle is the brand logo that's embossed on the glass. It gives it a little bit of dimension.
But my plan is to add a lot more dimension!
I explained the preparation steps thoroughly in part 1. But I started by cleaning all of the bottles and removing their labels.
The first thing I did to the outside of the bottle was apply one coat of Slick Stick. If you don't have glass paints, this is the product you need. It makes any shiny surface suitable for applying chalk paint or another type of paint on top of it.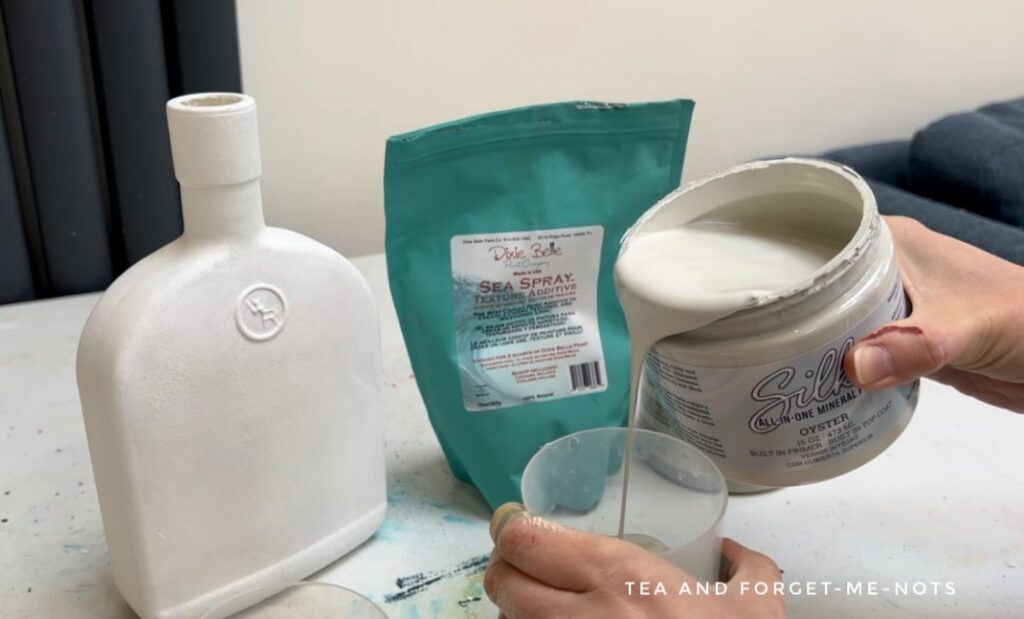 Basically, it's the most important step to make the glass bottle DIY last.
Here's how I used it when painting my fridge!
Paint Glass Bottles Video
Applying texture to a glass bottle
On to the fun part. The texture!
I wanted to add some rough texture. I used Sea Spray which is a texture additive that you stir into the paint. This gives you a thick rough surface.
You don't need latex gloves when using Sea Spray. But it is recommended that you use a mask and eye protection because it's a powder.
Check out how great it looks on this pirate chest!
The shape of this bottle is very much man-made. My design idea was to look more rustic and natural looking for contrast.
For the base colour, I used a mixture of the colours Oyster and Baja Gray.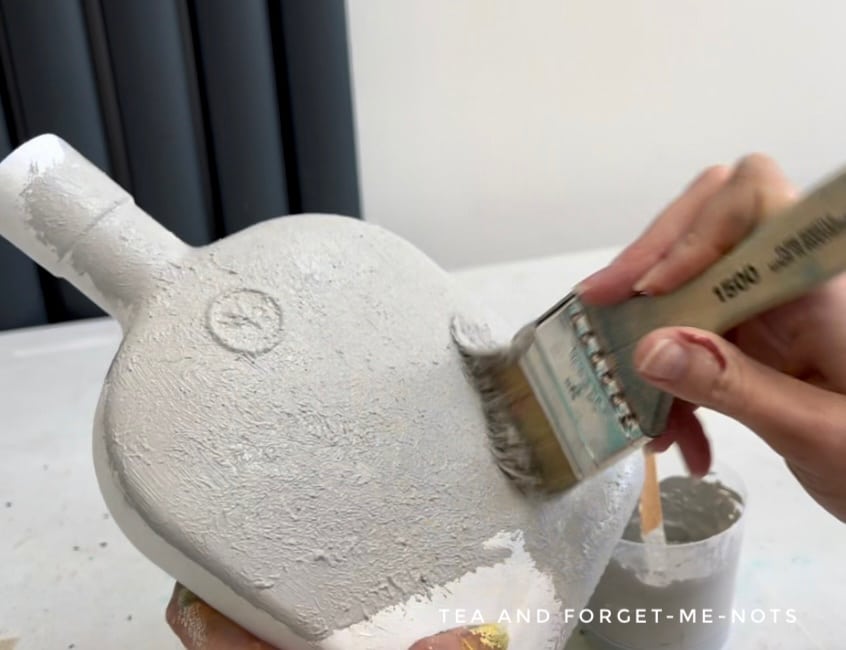 Oyster is a light grey to white paint. And Baja Gray is a light grey. Additionally, they are both Silk Mineral Paints so have a built-in top coat.
I mixed in just a little bit of the Sea Spray to give it that thick base coat. It's starting to look like rough concrete!
Onto the second coat. I focused more on the lighter paint colour to create highlights. I added more of the Sea Spray to really roughen up the surface.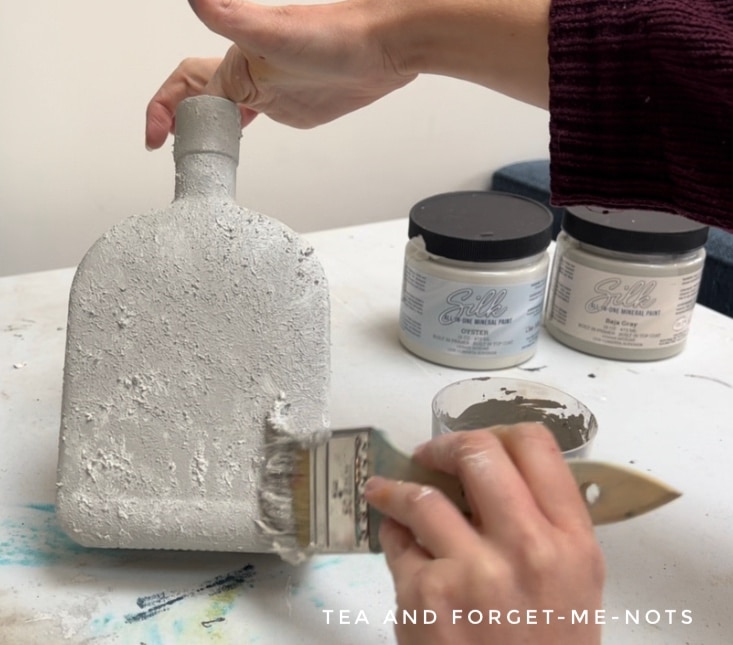 Then to seal it, I used wax in Grunge Gray. This also made it look dirtier and more interesting.
For the final step, I added a bit of shimmer for decorative purposes.
I used some more wax in Sparkling Gold. This created a few highlights in just the right place. As though it is catching the light in the autumn sun.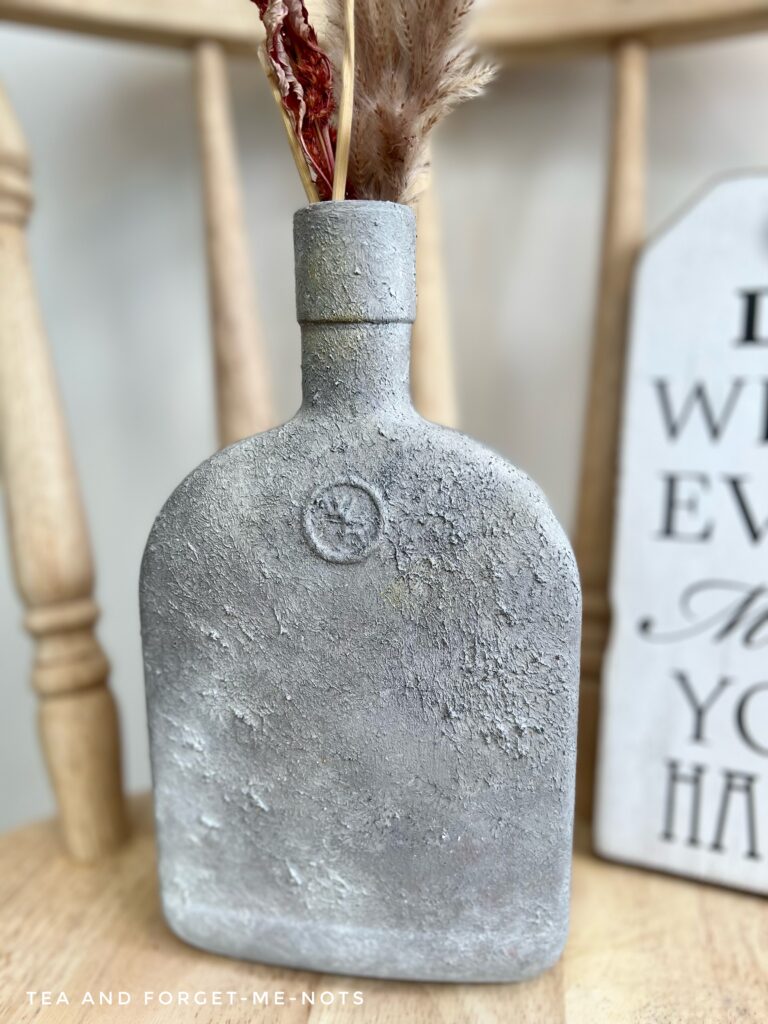 Without a bottle cutter, the bottle neck is quite narrow. It could work well as candle holders, as you often see with old wine bottles.
The easiest way to do bottle art on old bottles
Project 6
So on to the smallest bottle of the collection. This is another whisky bottle.
This is my first time using Fleur Paint. Which is a paint that you can put directly onto the glass without needing a product like a Slick Stick.
This kind of paint even works well on plastic bottles which has a lot of potential for fun future projects. That's the nice thing about trying different paints is that they have different uses. You can easily create a variety of glass bottle crafts.
Indeed you'll see that, I did have a coat of Slick Stick on this clear bottle. That's because I prepped the bottles before I chose the types of paints I was going to use.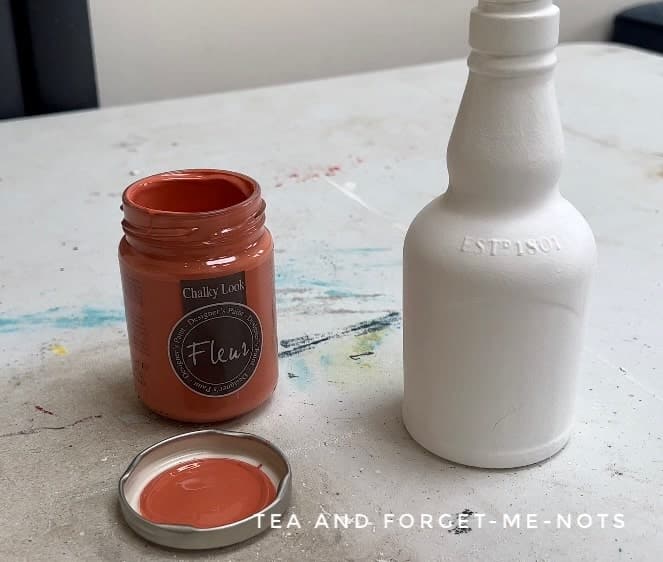 This paint colour is called Marmalade.
I did this one in a slightly different style. This one was going to get a messy, unique design.
Painting a whisky bottle
I used a small artist's brush to apply the paint. The great thing about an artist's brush is that it has a fine tip. Which is perfect for detailed designs.
I painted in the same direction but left the brush strokes visible on the entire bottle. Including the neck of the inside of the bottle.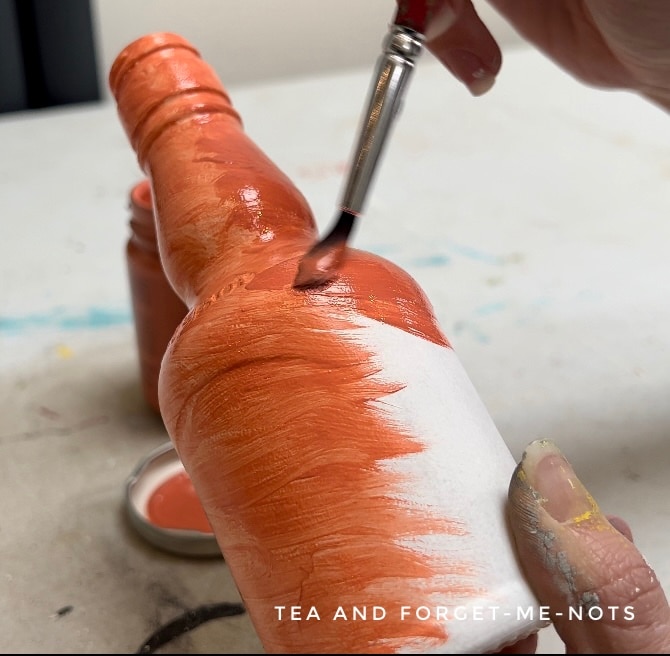 If I had done a second coat it would have made it more of an opaque look. But I liked that you could see some of the lighter white underneath. It shows the different ways how just one colour can look.
Then the fantastic idea that gave this impact!
As this is autumn-themed decor, I wanted the orange slightly more subtle. Therefore, I added brown wax.
I dabbed it on with a tissue and wiped it off. It gave it a bit more of an aged look. The mix of orange and brown really captures those leafy autumnal colours.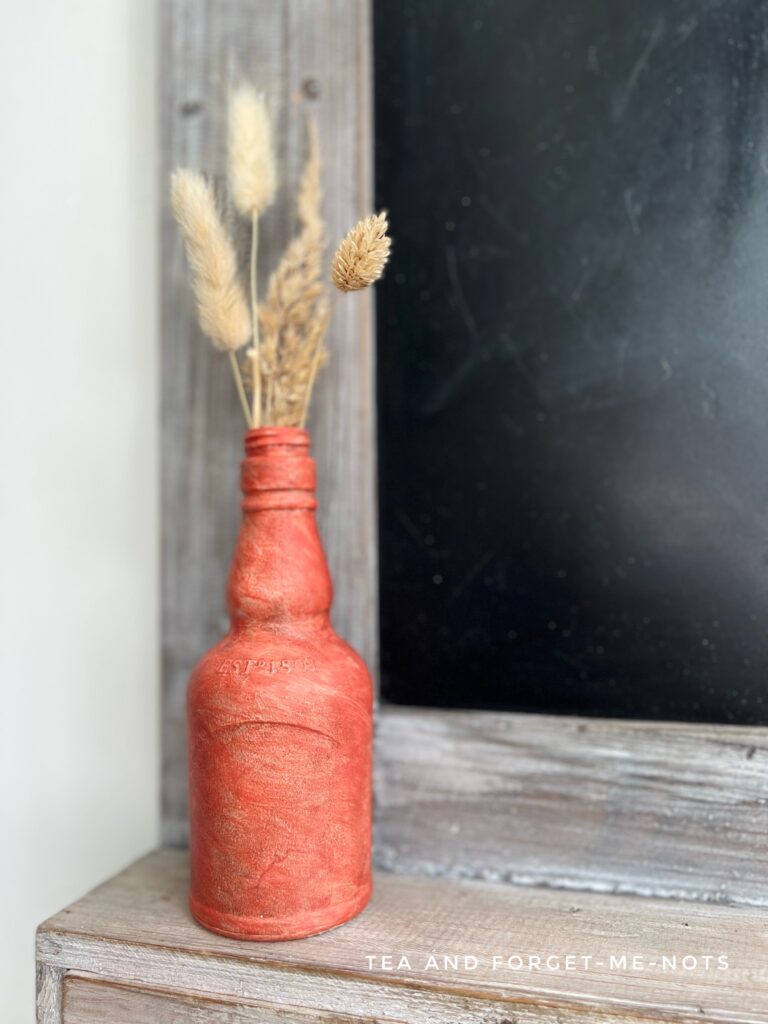 I wasn't expecting to love this as much as I do. It is one of my surprise favourites.
In addition, it's a simple design but quite beautiful. It almost looks like bricks to me. There's a lot of depth to it considering how quick it was to do.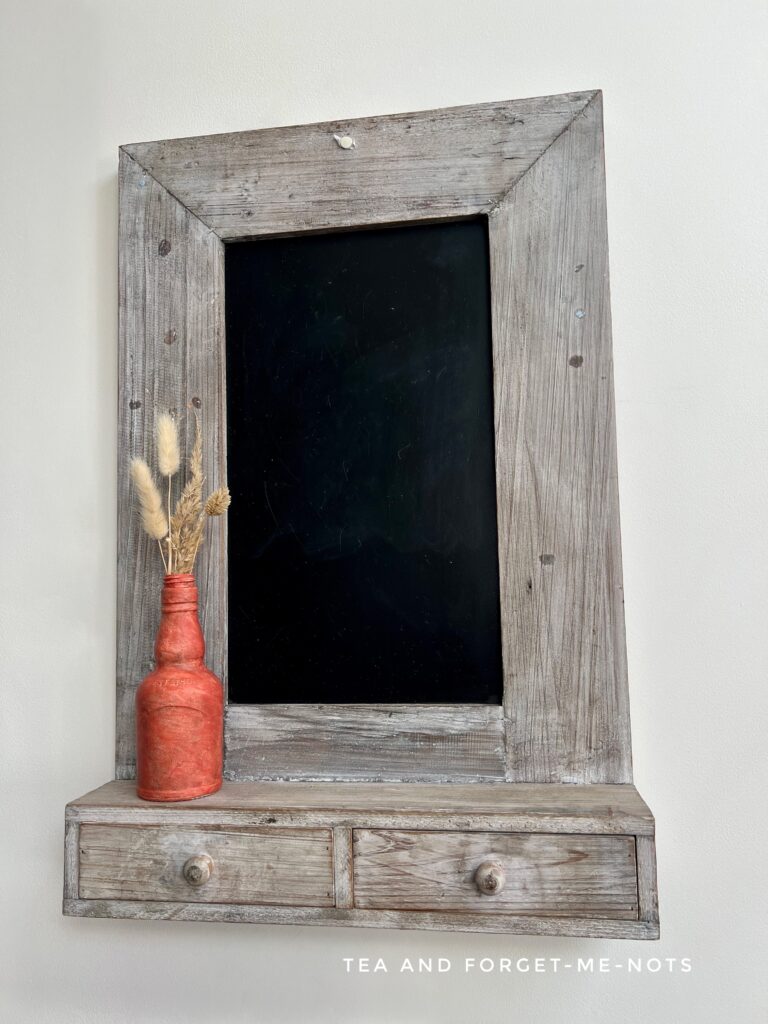 A modern look for flower vases
Project 7
So for the last project, a bonus one. Obviously not a glass bottle but a ceramic vase.
I actually did have a 7th glass bottle (which were beer bottles). But the best part is that I loved the empty bottles just as they were, after removing the stickers. So it didn't need a more detailed tutorial.
I actually don't know where I got the vase from. I have a vague memory that it was left by the previous people in my house. It had black paint and a red Chinese symbol on it.
Holding the bottle upside down, I applied a coat of Slick Stick.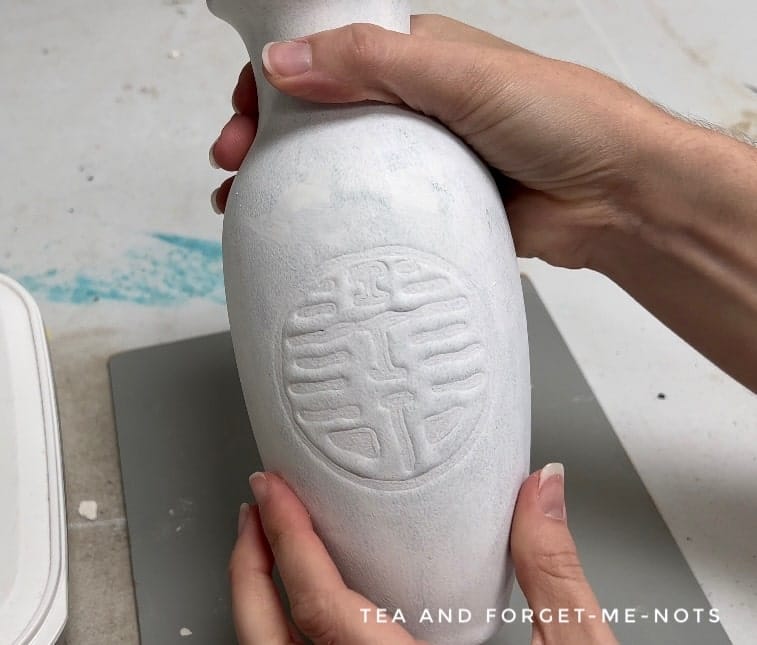 Importantly, because the symbol was raised, it was a good idea to use even more texture to cover it up.
So I got some Dixie Mud in White. Which is something you can use for raised stencils or as a wood filler.
Here's one of my most popular gold stencil designs.
I used a lollipop stick to slather it on over the intricate design. Not in any particular neat pattern, just quite rough and organic.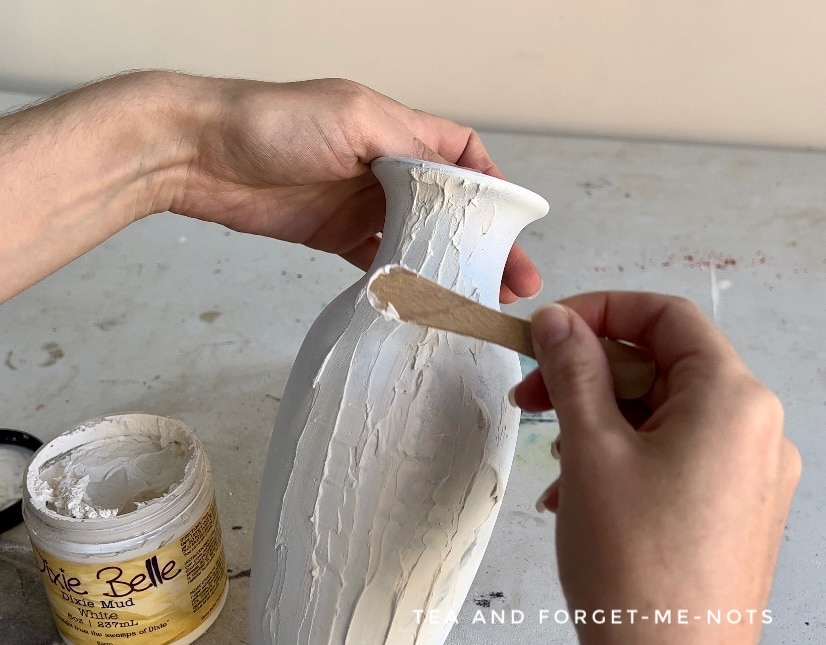 I almost would have stopped there and called it finished.
But there was a variation in colour between the vase base and the thicker texture. To even it out, I did one coat of Endless Shore. Which is a creamy white Silk paint.
And as it was a Silk paint with a built-in top coat. I didn't do any additional sealer.
By evening out the tone across the piece, it helped the texture take centre stage.
So here's a textured, neutral vase which will make bright autumnal flowers look even more beautiful.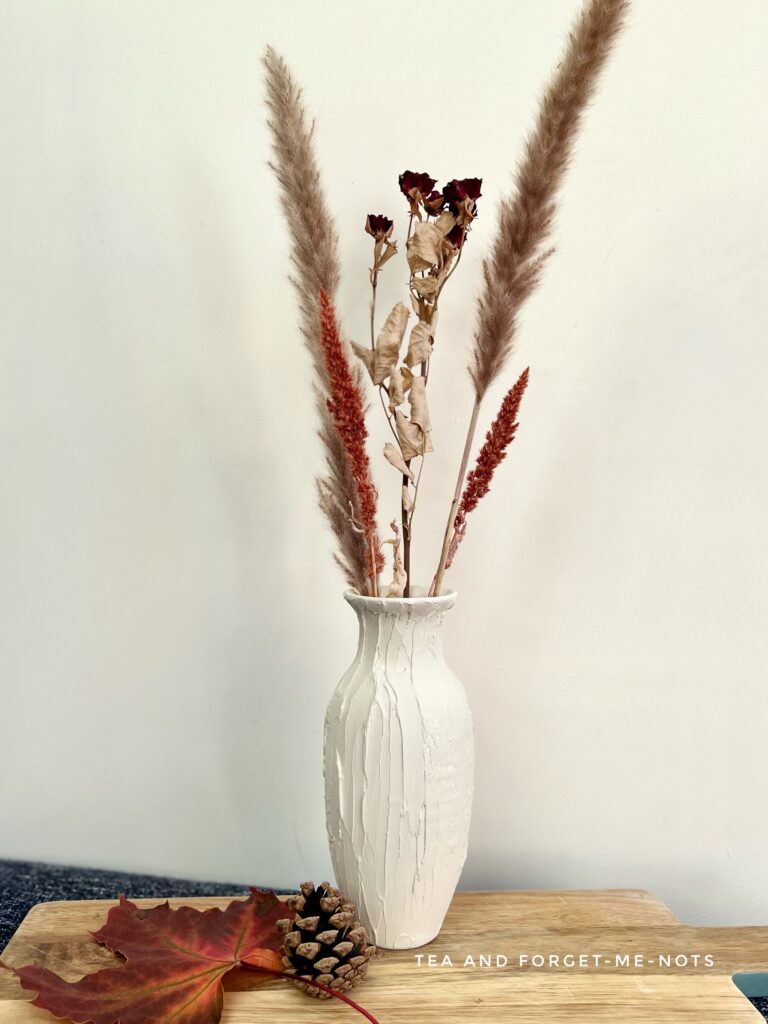 ---
Use your painting skills to create decorative pieces
I hope you enjoyed seeing what impact a little bit of paint can have. So, whether you want an easy project for special events or Christmas decorations, it's simple to create your own art pieces.
The good news is that I have 7 great vases to share. The bad news is that part 1 was too long so I had to divide it into two.
Check out part 1 for the rest of the ideas on how to decorate glass bottles with paint. They're all budget-friendly autumn craft projects, using different techniques.
Also, you can see them all come to life in one YouTube video!
Which of these was your favourite way to repurpose old glass bottles?
This post is part of a YouTube hop with several other creators. Finally, want to see even more Autumn Decor inspiration? Check out the playlist!
Pin it for later – how to decorate glass bottles with paint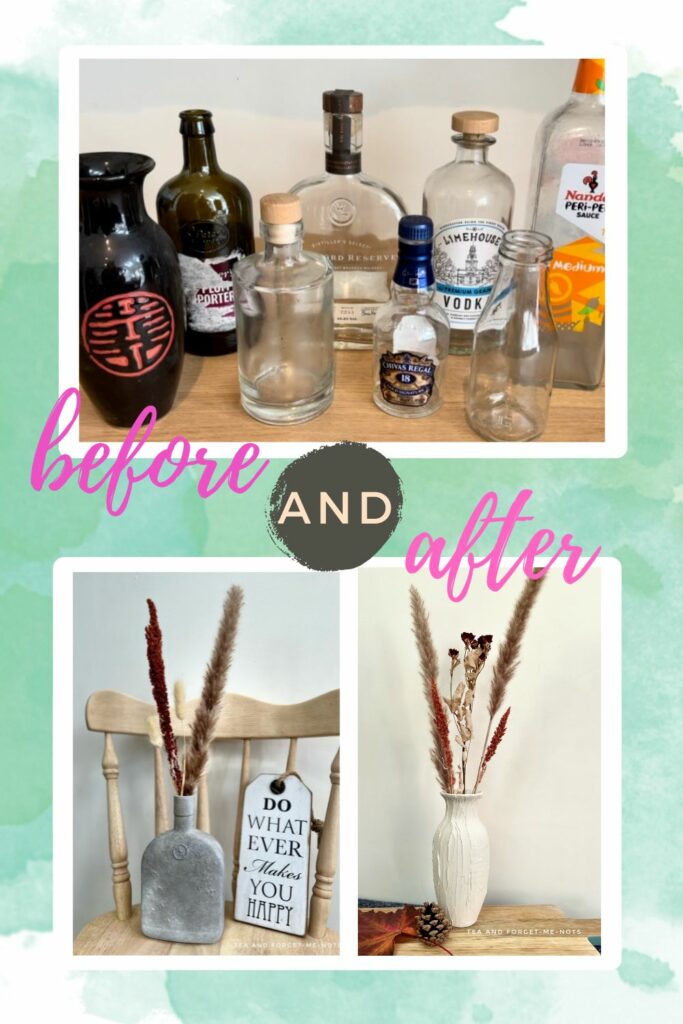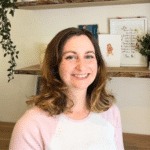 Rachel started painting furniture in 2018. She created this site to share her favourite transformations and the many tips she has learned along the way.