Fathers Day Sign Ideas as DIY Gift Ideas for Dad
DIY Signs as Gift Ideas for Dad on Father's Day
​What thoughtful gift can you give your dad on Father's Day? A DIY sign. Make something personal with these Fathers Day sign ideas.
The best Father's Day gifts are always the ones made with love.
For the dad, or father figure, who has everything, how about a DIY sign? Something personal to show them what they mean to you. Or simply to tell them that they're the best dad.
Here are some ideas for unique gifts that you can make yourself. Some are simply signs. Others go a step further with a functional element too.
But all of them would make a great gift.
---
DIY Fathers Day Sign Ideas
The perfect gift is the one that tells the dad in your life that you understand them. Whether their passions are fishing, DIY, beer, golf…
That's the great thing about a DIY. You can personalise it to make it right for your family member.
Tool Rack Sign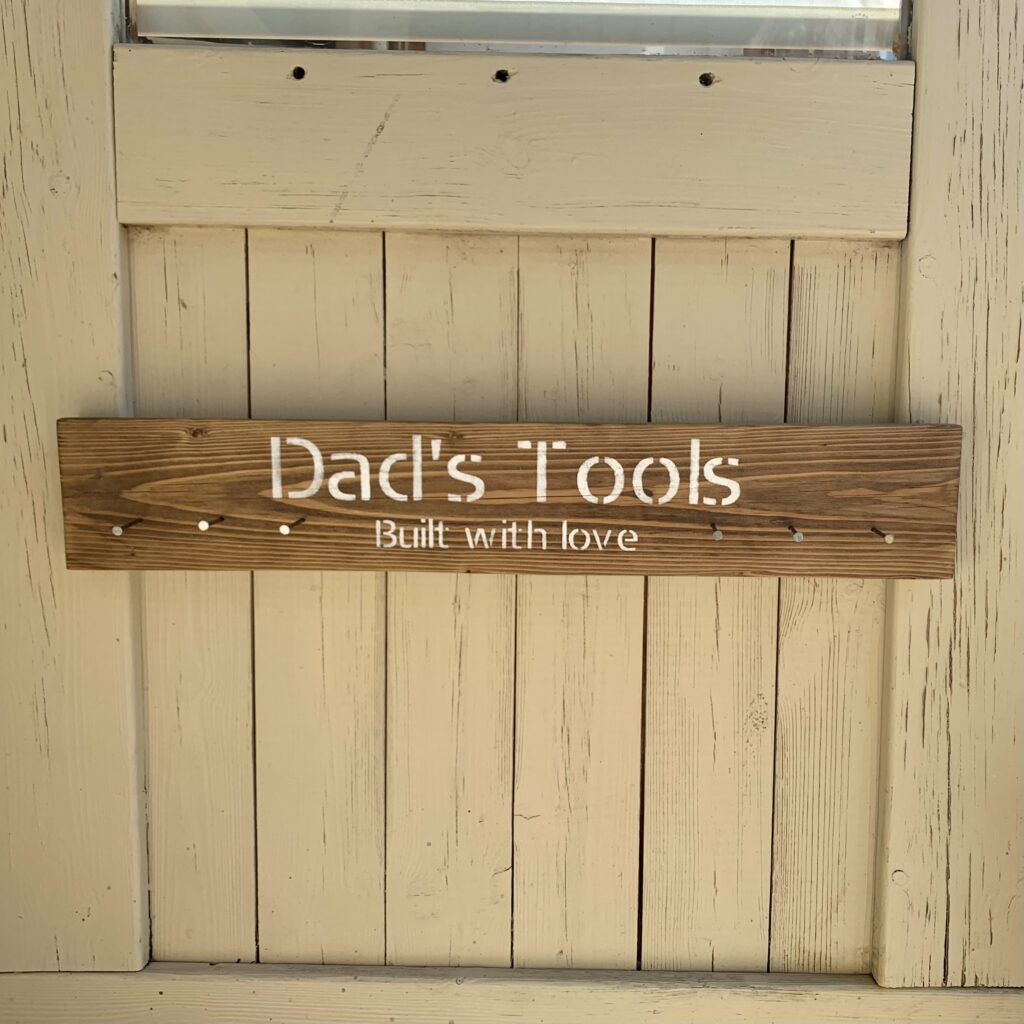 The first wooden sign idea is a multi-purpose one. It combines a message with a tool rack.
What better way to make sure that Fathers Day signs are used often? By being useful.
This tool rack was made with scrap wood, wood stain, a stencil and nails.
The best part is that there are also variations. The message could say 'Built with Love' for the DIYer. Or 'Grown with Love' for the Gardening fan. Or simply 'Made with Love'.
Whatever kind of dad you have, this is one of those thoughtful and practical gifts.
Personalised Framed Sign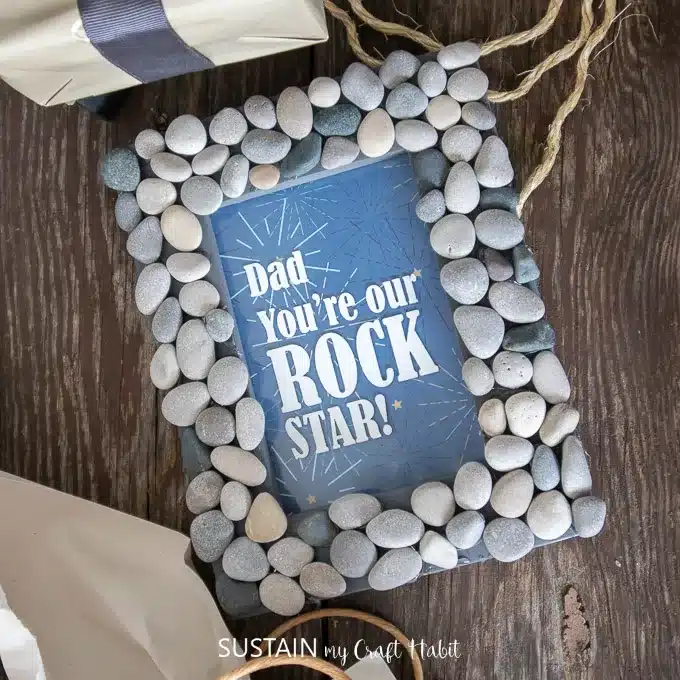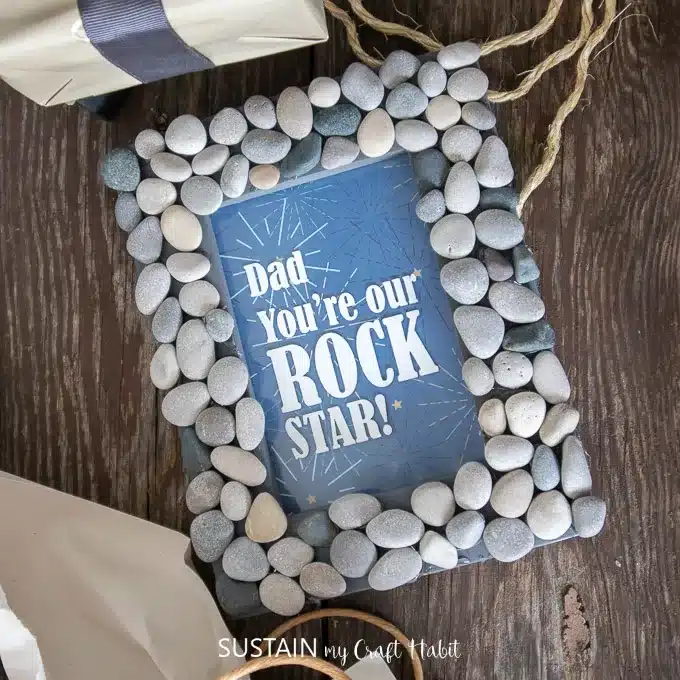 What would a homemade Fathers Day gift be without a pun?
​Certainly most of the dads I know love a good dad joke.
How about this easy DIY project with rocks? A simple family sign to call your dad your rock, or rock star.
This is a good idea for a dad with a desk. You can add the words by themselves or over a family photo.
Simply glue the rocks to the photo frame or to a box of photo books. Then add a meaningful message.
It doesn't have to be rocks. It could be hand-cut stars saying 'you're a star'. Or images of outdoor adventures with the words 'world's best guide' for outdoorsy dads.
It's also suitable as fun crafts for children or the whole family to make.
Bottle Opener with Sign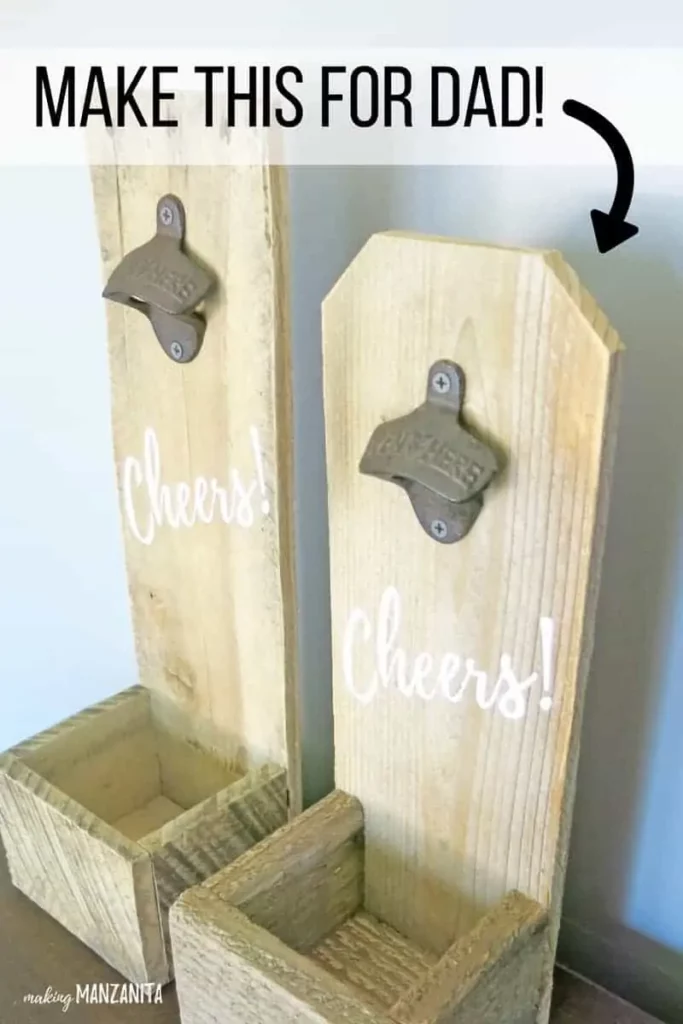 Another great option is a sign that becomes a bottle opener.
This DIY project looks like it takes a lot of time but it doesn't. In under 30 minutes, you can create a useful tool that works to make both a happy Father's Day and beyond.
Follow the easy steps to make the wooden stand in this project. What makes this even more thoughtful is the hand-painted or custom decal that you add to it.
You can say 'Cheers' to go with the drink theme. Or 'You're Neat' or 'Wish You Were Beer'.
The perfect way to end a long day. With a thoughtful reminder of a handmade gift and a refreshing drink.
Framed Personalised Sign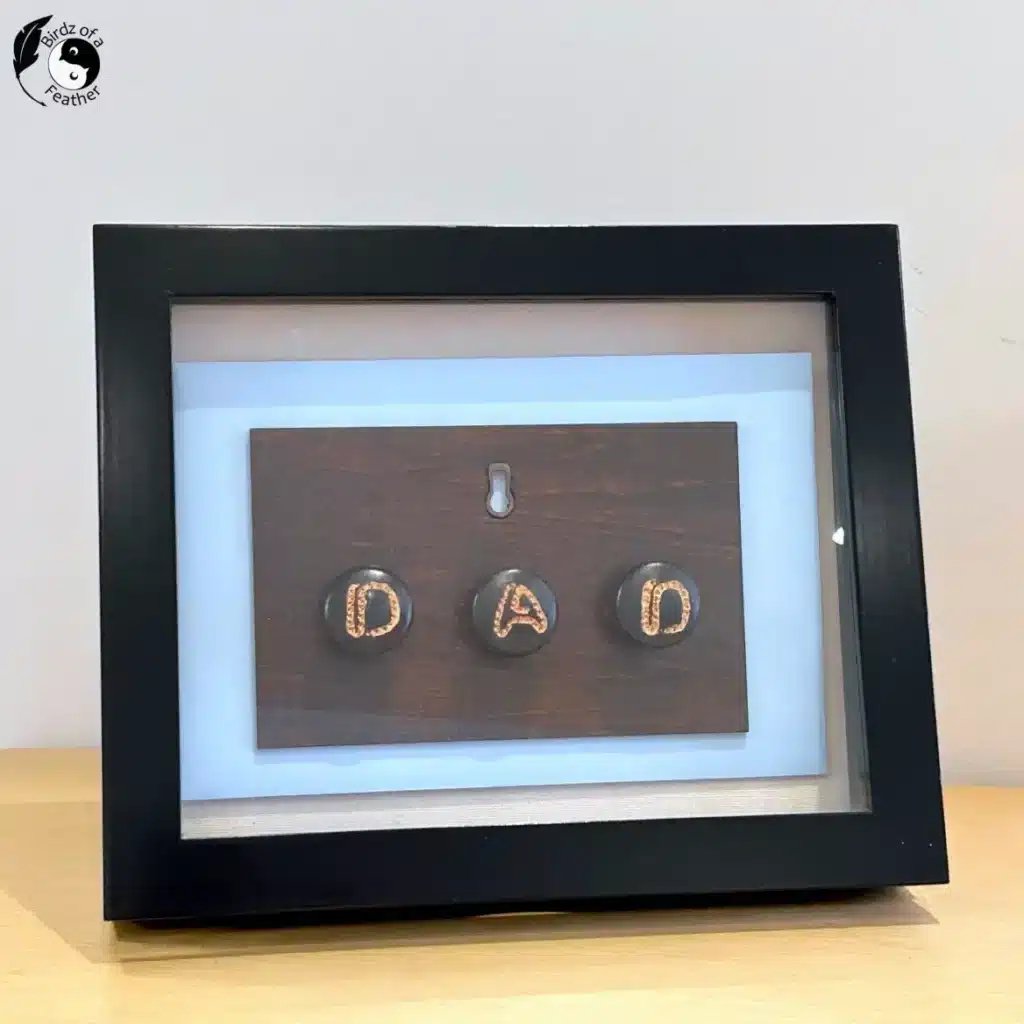 What about a homemade gift based on a family tradition?
This personalised sign was born from the idea that making the envelope for a Father's Day card can be special too.
This DIY gift idea is about repurposing items in a unique way. In this case, drawer pulls and a keyhole.
The drawer pulls spell out the word 'dad' but they could say anything that makes it personal.
The letters were hand drilled but can easily be painted or use stickers.
As this sign is 3D, it was displayed in a shadow box. A great way to keep a thoughtful gift for a long time.
SGV Files for DIY Signs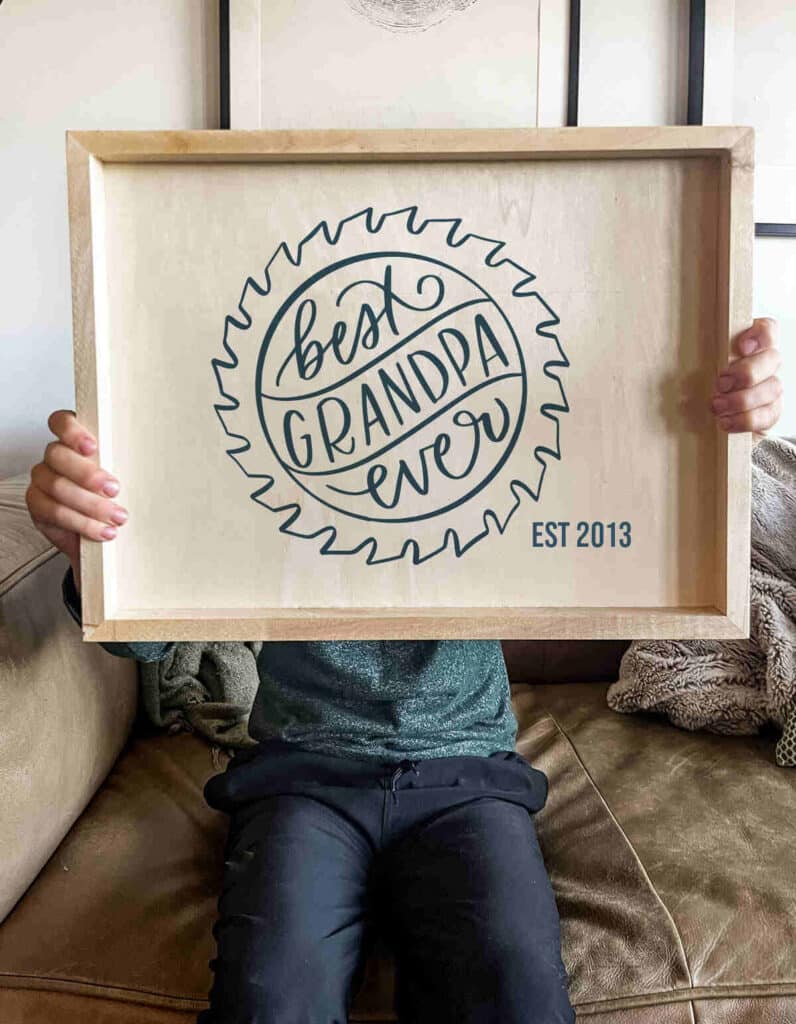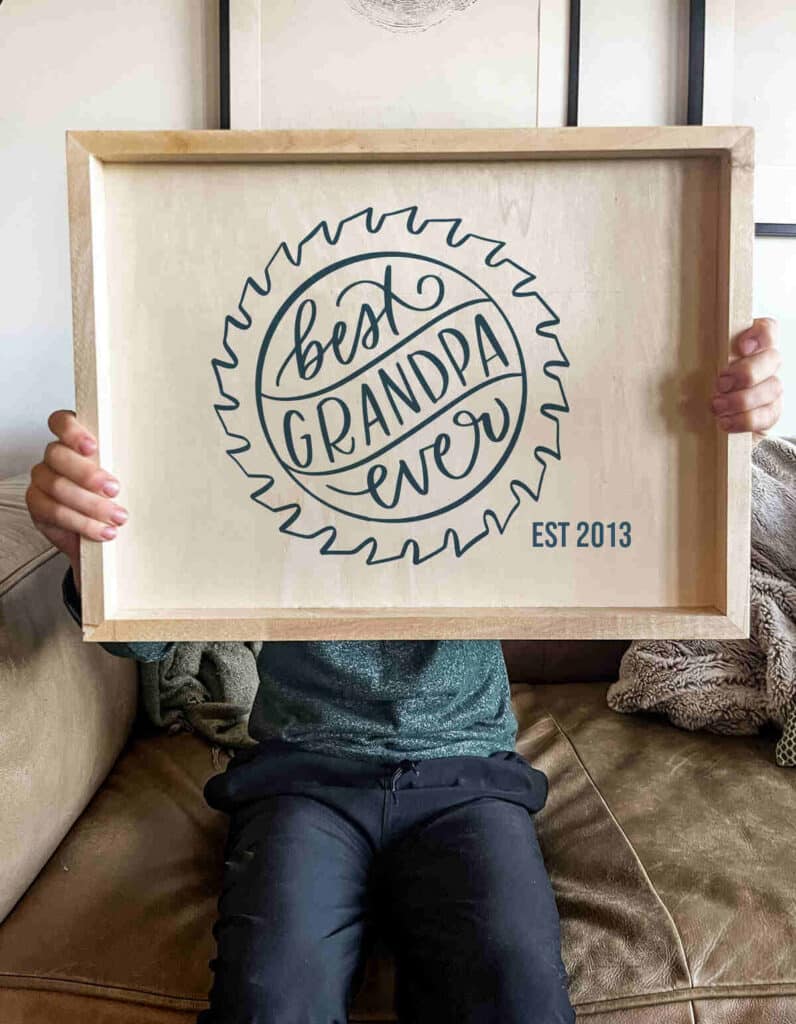 Then how about a wooden sign that a dad can hang in their office? Or even as yard signs if you seal the wood for outdoor use.
The great thing about printable files is the flexibility of what you can use them on.
Want to create a Father's Day card? Easy.
A vinyl decal for wood? Fine.
Iron-on for the apron of a backyard BBQ fan? Done.
The thoughtful part is what you use it on. What would your dad like to use?
With a ready-made file, you can print and iron it onto a shirt for the ideal gift for a special man.
Don't have nifty gadgets like a Cricut to cut out decals or stencils? Try acrylic paint.
Fathers Day Sign Ideas
You don't have to be extremely creative to make the best gifts.
And the best dads will love the effort you've put in.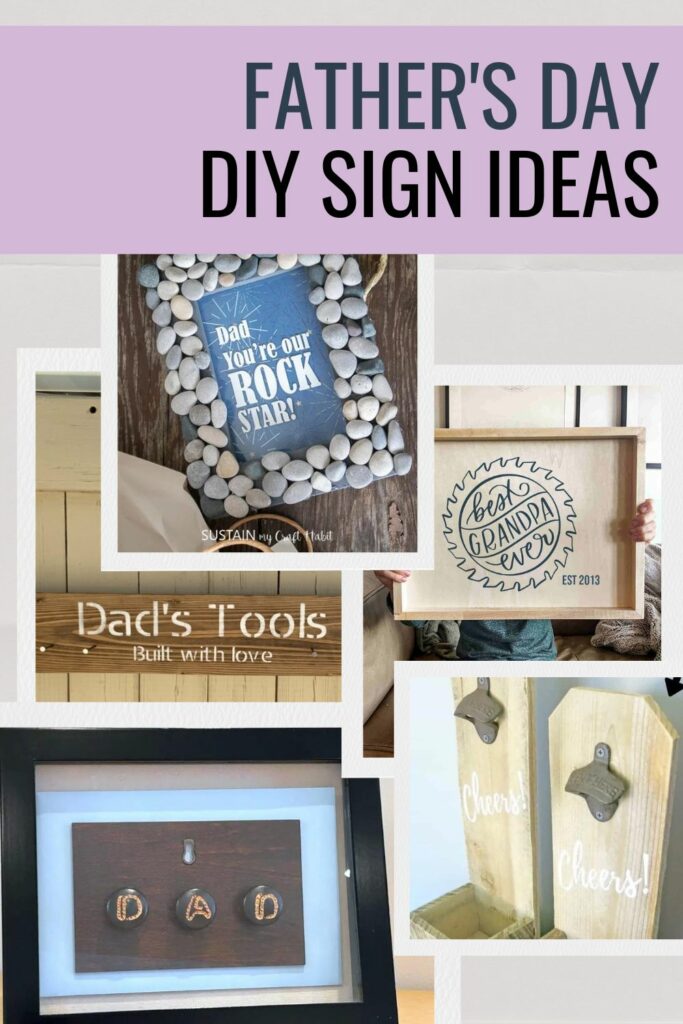 Find this post helpful?
Pin it on Pinterest for later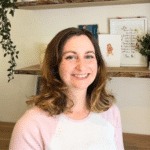 Rachel started painting furniture in 2018. She created this site to share her favourite transformations and the many tips she has learned along the way.