Small Front Porch Ideas On a Budget | Painted Makeovers
A front porch makeover can be an inexpensive way to boost your home's curb appeal. Try some of these small front porch ideas on a budget.

These are some simple ways to upgrade the small space such as a personalised, welcome mat and a fresh coat of paint.

With small front porches, you have to be more creative. You can't fill them with throw pillows and wicker furniture. The great ideas are the ones that make a huge impact without taking away space or functionality.

When you think about what on a budget means. It means what is the most affordable way of achieving your end result.

I used paint I already had to update this small porch. The only non-essential that I bought was a new door knocker. Even that is something that you could find at a flea market for a bargain.
This post includes gifted products and affiliate links so you can easily find the products I use myself and recommend to friends. If you purchase these products, I may earn a small commission at no extra cost to you.
I also bought replacement wood for the door sill. Which is the curved wood at the bottom of the door. An essential replacement as it has rotted.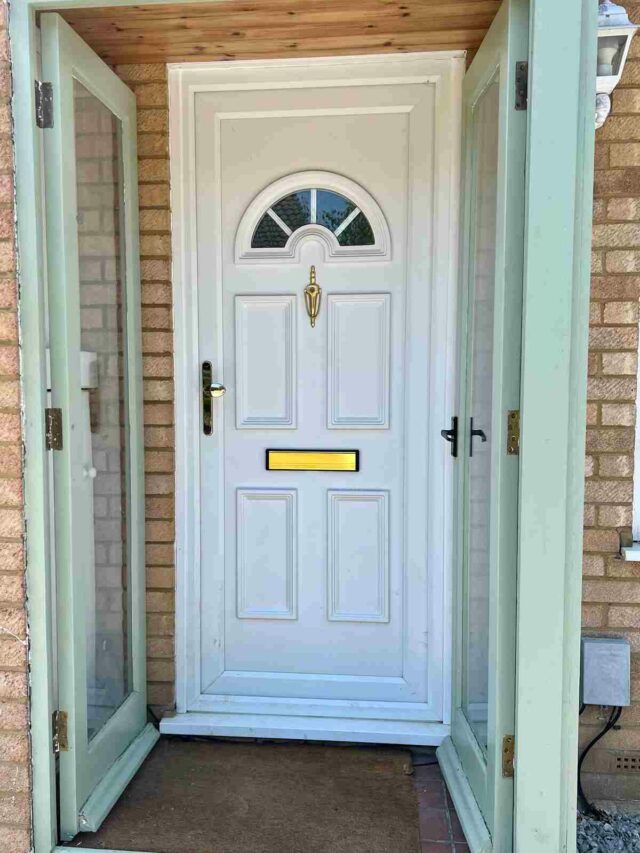 Sometimes the first thing you need to do to your space is fix them before you can make them pretty.
Other than that, these updates are budget-friendly ideas for how you can create a great front porch area.
Small Front Porch Ideas On a Budget
Personalise Your Doormat
Small porches are easy to ignore because they don't have much use, however, that doesn't mean they don't need to have any character.
One of the simplest small front porch ideas is to upgrade your doormat.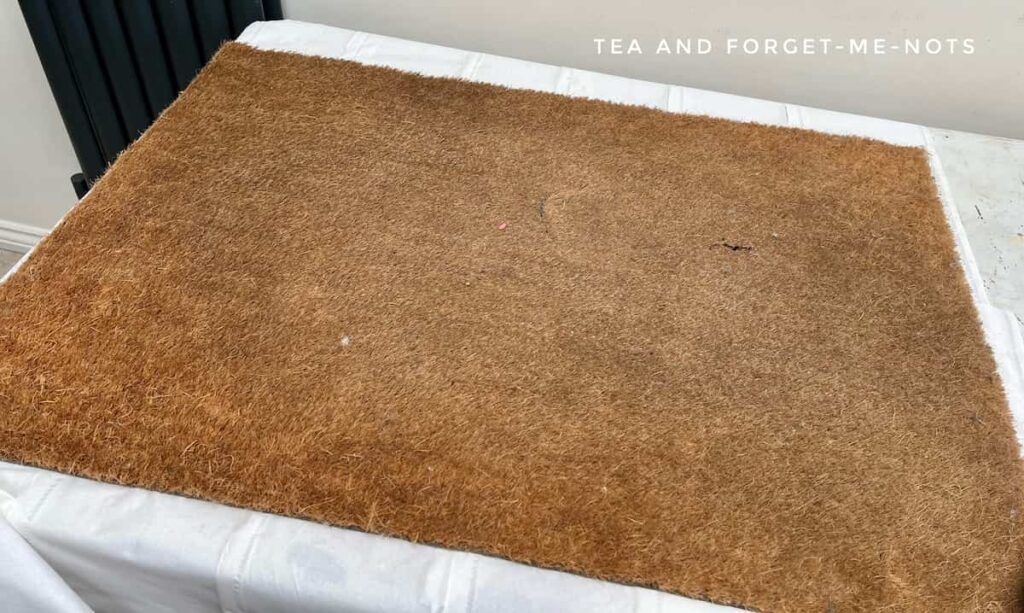 Why is it such a good one?
Because it doesn't cost much money as most people already have a doormat. So you don't have to add anything to the budget to buy one. And you can update it easily either with a stencil or by freehand.
I turned my doormat into a nature-inspired welcome sign. I used ready-made mylar stencils but you can cut them out yourself with card.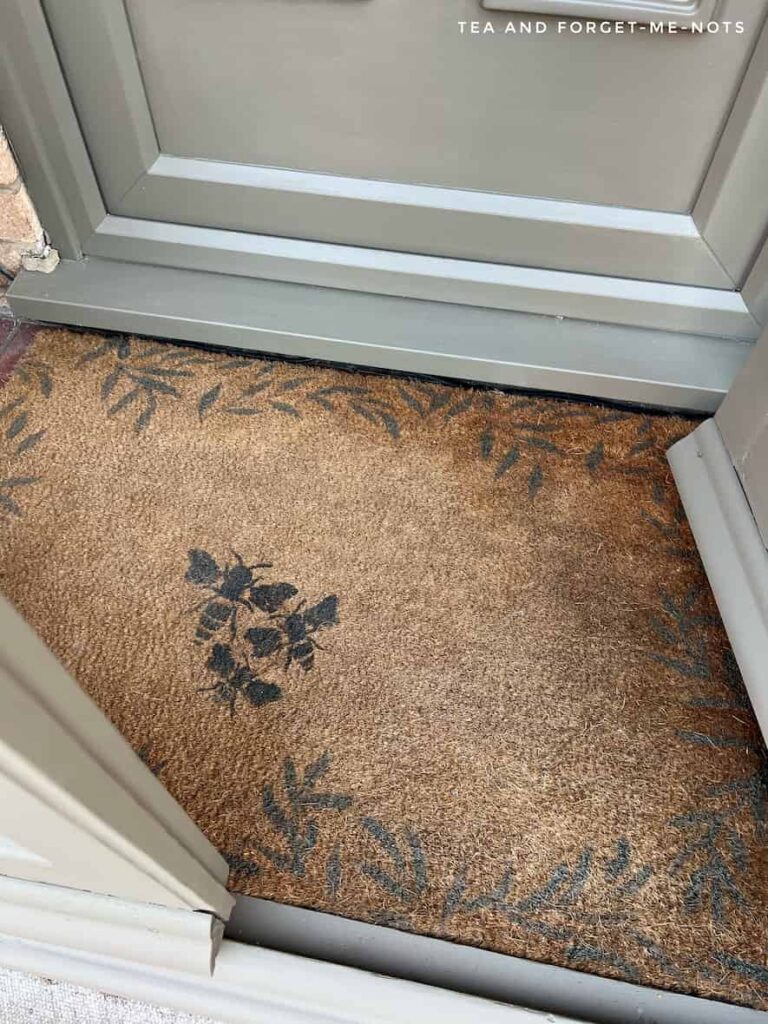 It's a great place to add a welcome message or show off your personality when welcoming people to your home.
Here's how I created my personalised doormat.
---
Paint Your Front Door to Upgrade Your Small Porch
Your front door is one of the easiest ways to have a big impact on your porch space. Painting it with a fresh coat of paint can give instant curb appeal. Especially if the door isn't in the best condition.
The most important thing when painting a plastic door is to use Slick Stick. That's the product that will make paint stick properly to a shiny surface. Ideal when you don't necessarily want to sand a plastic surface.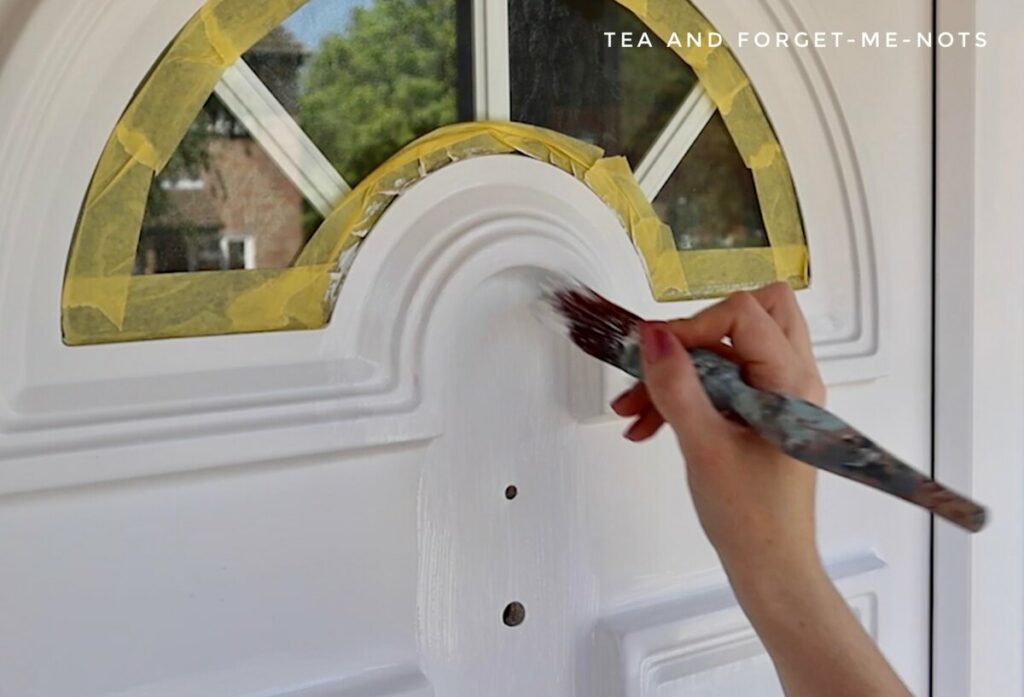 And the best part is that painting a door in a covered porch means that you don't need the same sealer as for exteriors. For this front door area, I sealed it with an interior clear coat.
The focal point of the door is the unusual door knocker. Finding an original door knocker is a simple update.
This, combined with the nature-inspired green paint creates a cohesive feel for the area.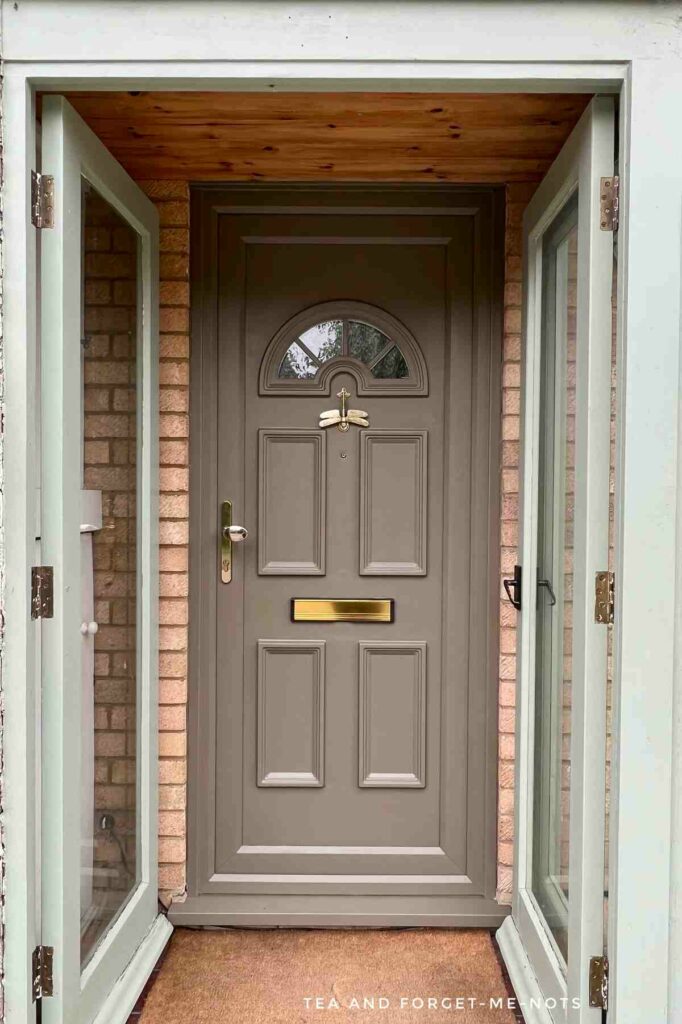 Here are the steps to paint your front door.
---
How to Paint a Porch
To tie it all together and create a welcoming front porch, I used the same paint colour for the outer porch area.
Reusing the paint you already have is another good idea to save money. I used the green Hampton Olive to make this whole porch area one consistent colour.
Make sure you paint exterior surfaces on a dry day. Ideally when the sun is not shining directly on the area. That stops the paint from drying too quickly which can leave streaks.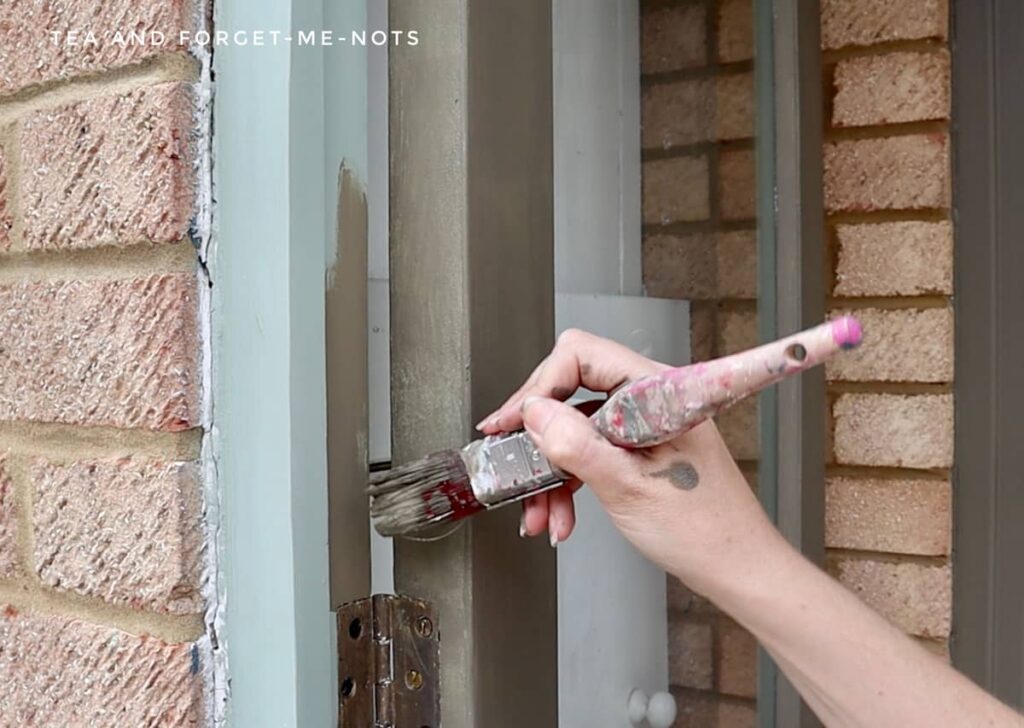 ---
Make Repairs Before Painting
The door sill on the bottom of the porch doors was no longer in good condition. If you have the same situation you can either replace the wood or fill them in with epoxy or wood filler.
If you have significant damage, it's easier and probably more cost effective, to remove them.
Fixing damage is a great way to ensure a durable makeover. This helps avoid doing further fixes in the near future.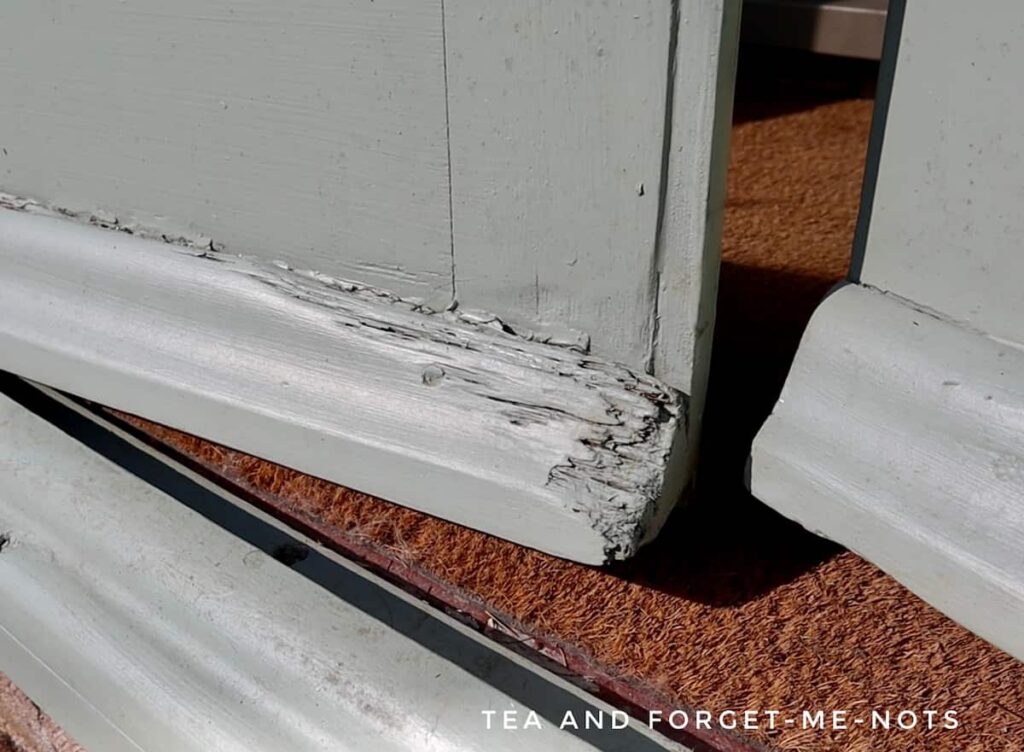 The first thing to do is measure and cut the wood pieces to size. It's important to do this when the doors are closed as there will be some overlap of the door and the frame.
To attach the replacement door sill, you can apply strong wood glue and clamp it into place. Then drill pilot holes before screwing them securely into the door.
If you have gaps or nail holes, you can use wood filler to smooth them out. You'll want to use an exterior-appropriate wood filler so that it can withstand the elements.
Once the wood filler is dry, you can paint over it to blend it in.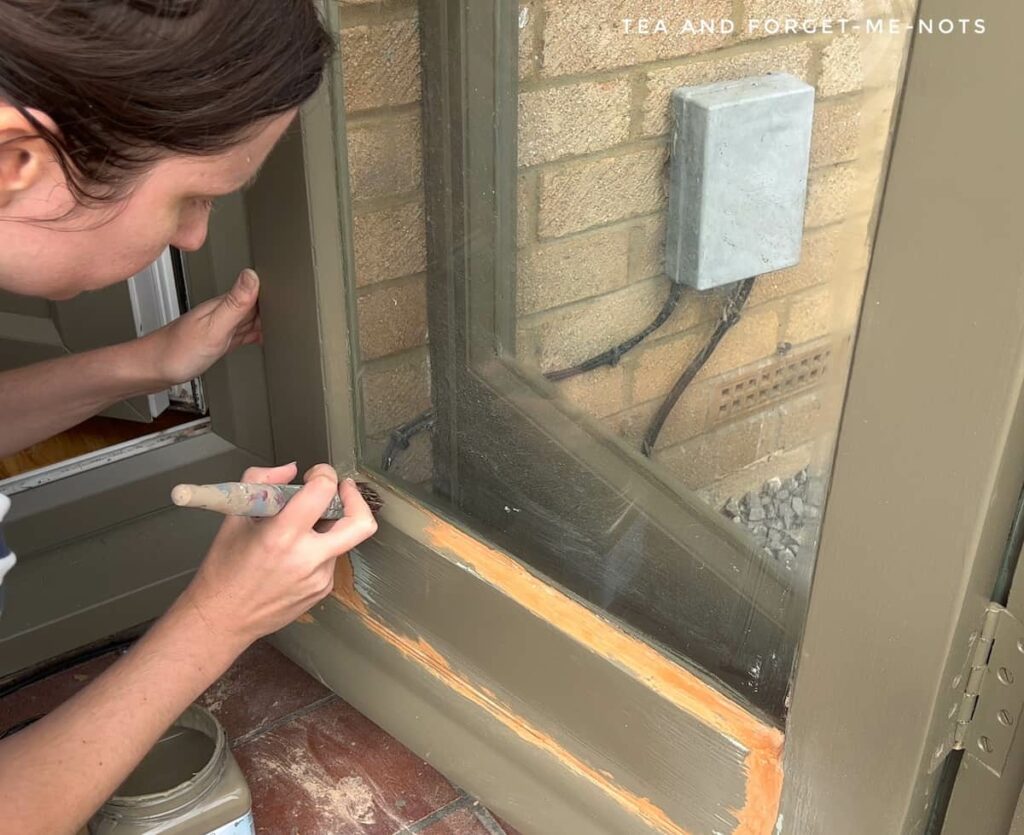 ---
How To Seal Exterior Porch Paint
Hampton Olive has a built-in sealer in it. But it is not suitable for exterior use by itself.
To use this mineral paint outdoors, such as in this porch space, you need to seal it. Gator Hide is a durable exterior topcoat as it is water-repellent.
Using a sealer like this gives you the flexibility to use paint you already have. You don't need to buy exterior-only paint as long as you topcoat it with the right products.
To apply the Gator Hide, I used a brush and roller combination. Firstly, brushing it on and then smoothing it out with a roller.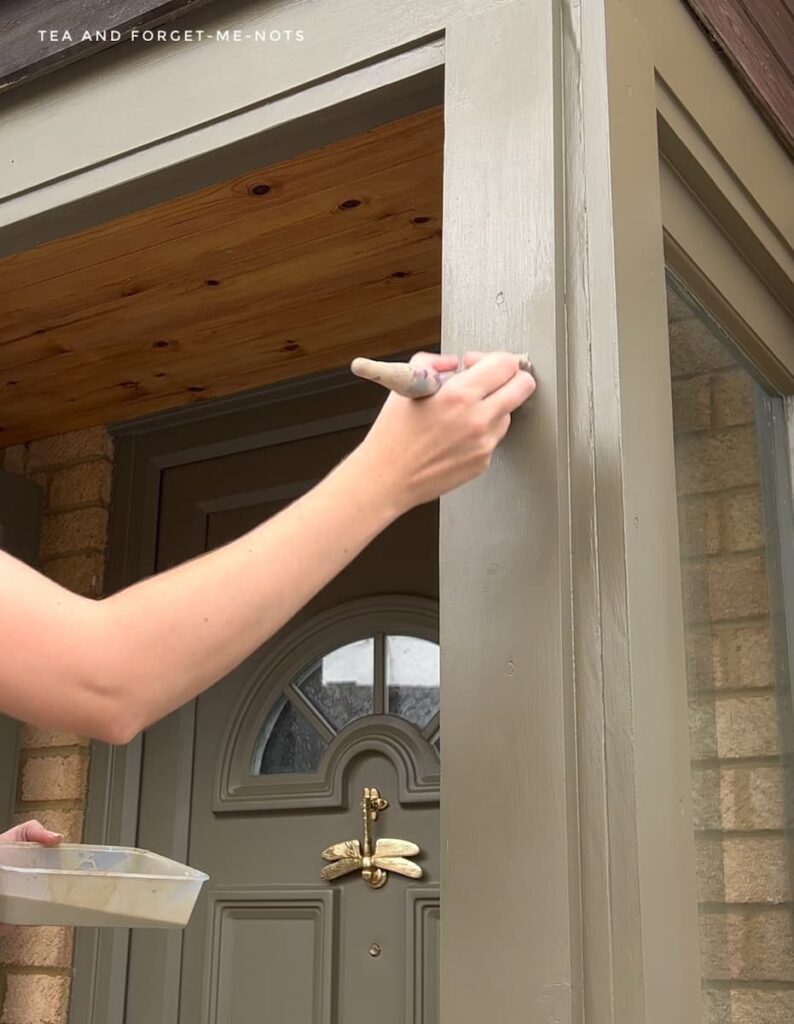 Gator Hide can be tricky to use without getting streaks. Some of the best ways to use this successfully is to:
Use very thin coats
Apply it with a blue sponge or roller
Tint it with the colour of your paint
Make sure you apply this when you have good light, so you can see where you have applied it. This is the best way of ensuring even and consistent coverage.
You should do 2 or 3 coats of Gator Hide for the most durable results.
---
How to Remove Paint on Porch Glass Doors
Have you unintentionally got paint on the glass of your porch doors? Or don't want to buy painter's tape to protect the glass before painting?
​Save your budget and use acetone to remove any paint on the glass.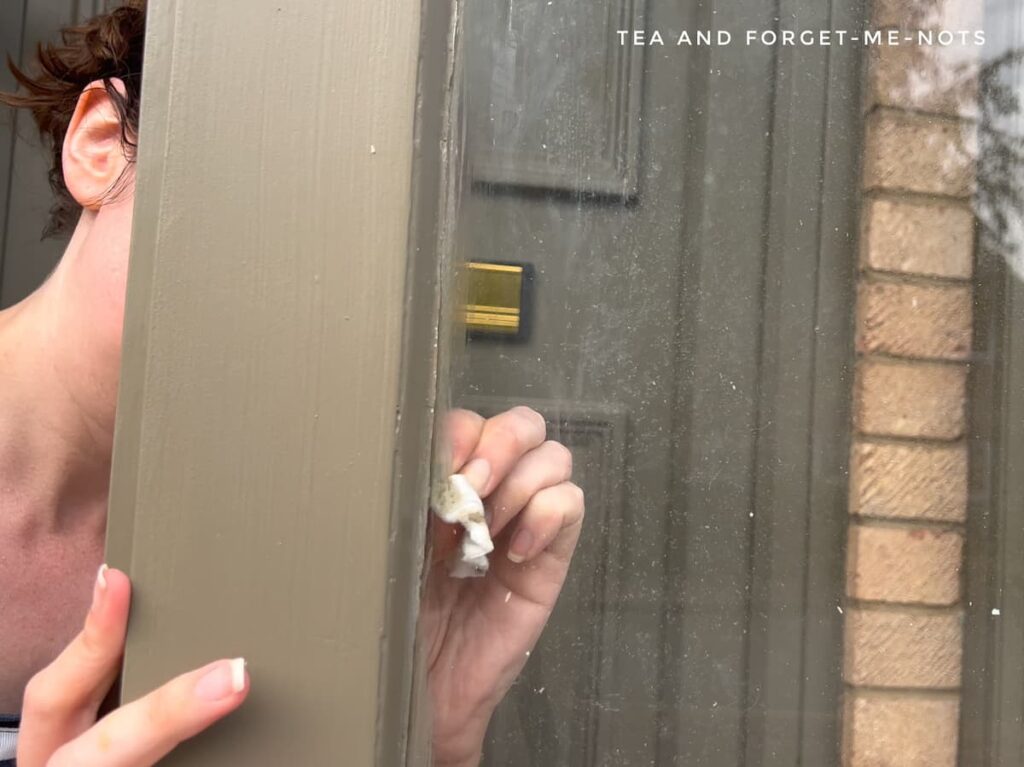 You can use a cotton pad to wipe away the majority of the paint.
---
Strip or Repaint Porch Door Handles
If you have painted door handles that you no longer like, you can easily remove existing paint with acetone.
Someone had previously painted these with spray paint and they did not hold up well.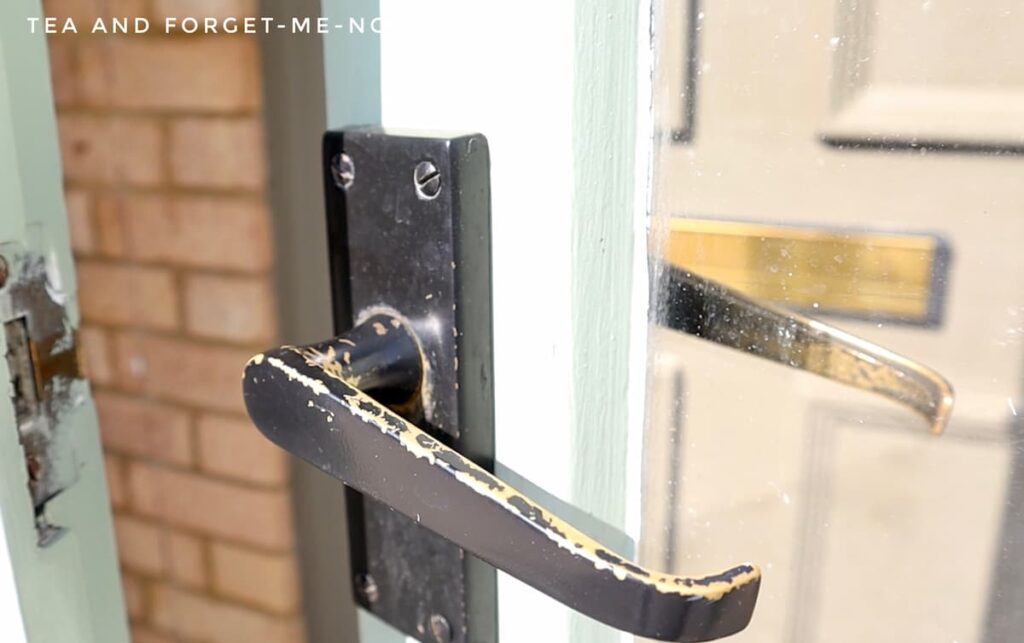 For this, I used nail polish remover. A great addition to my craft supplies.
Simply leave the handles in the acetone for a few minutes. Then the paint should bubble up and easily wipe off.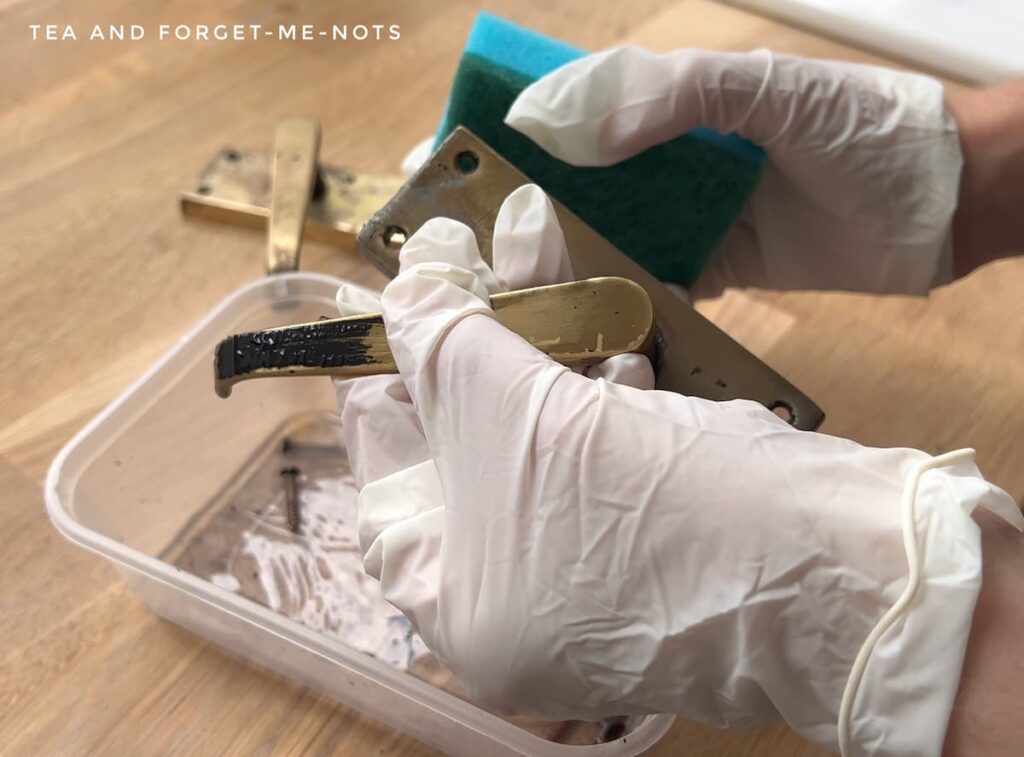 If you don't have painted handles but your handles are tarnished, you can also refresh them.
To clean the door handles, I used Barkeeper's Friend. This did a great job of removing the tarnishing.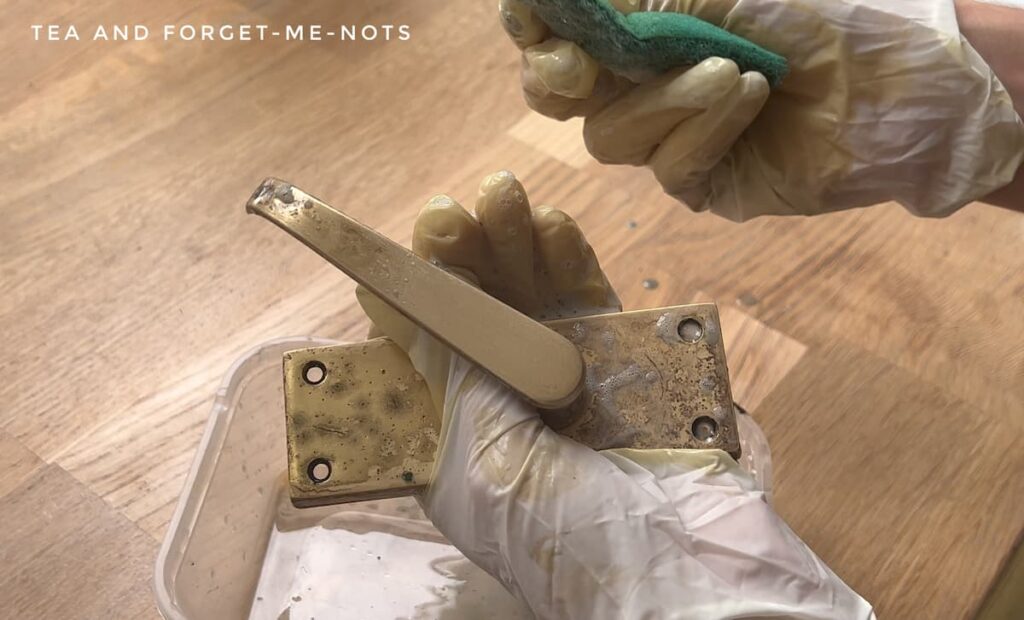 Then you can choose to repaint the door handles. Gold was a great choice for this porch as it tied in with the dragonfly door knocker.
---
Small Porch Ideas on a Budget
Painting porch doors is an easy way to transform a porch area.
A fresh coat of paint makes a huge difference in transforming the look of a small space. But the most important thing is to seal the paint with a durable topcoat for a long-lasting result.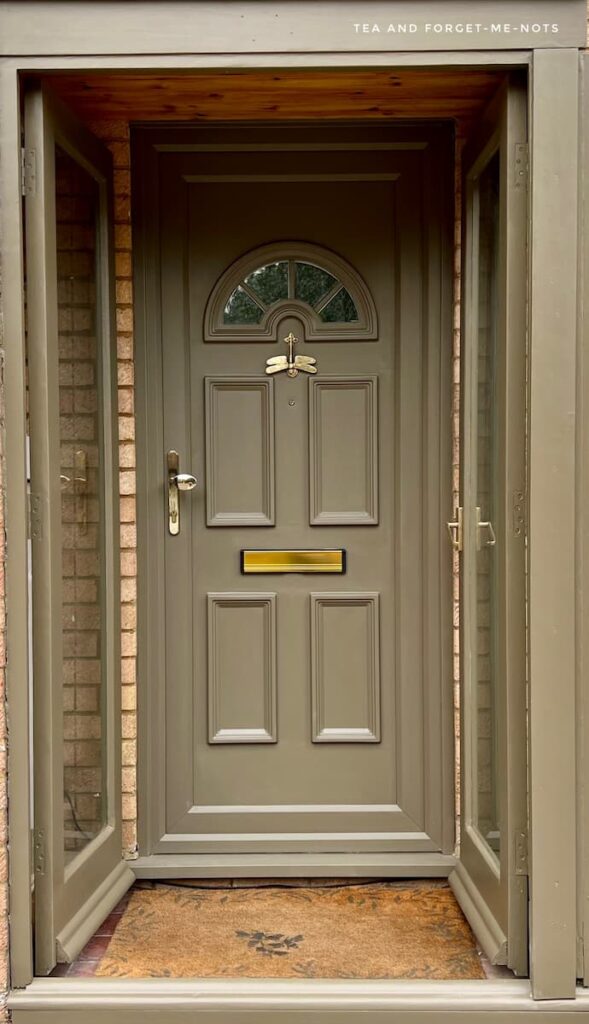 When working with a narrow space, you need to think about the things that won't take away from the functionality of the space.
In this area, if the doors are open, there's no room for furniture on the floor or hanging decor. But you could add a picture to the cupboard or a decorative wreath to the front door.
If you have more flexibility, you could create an inviting atmosphere by adding small decor pieces. Such as a hanging plant.
Using real plants makes the most of the height of your vertical space. You could also add a cosy feeling by adding string lights to the porch ceiling.
How can you make that budget-friendly? The easiest way is to shop your home for things you already have and love. That way they mean more, already suit your personal style and create a fresh look.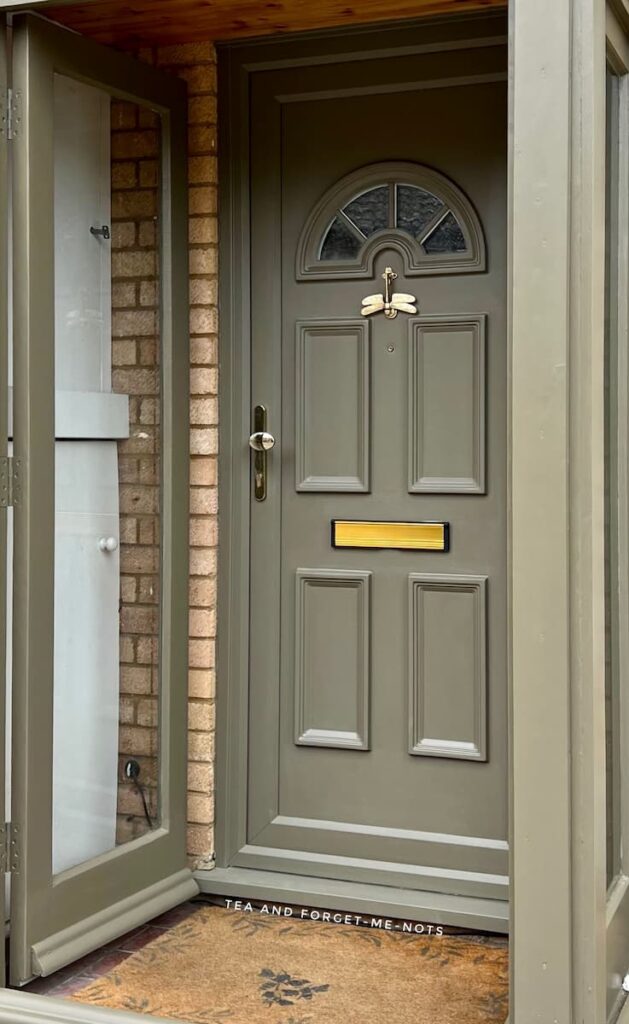 With a compact porch like this, there's limited space for outdoor furniture or real plants. But if you have a green thumb, you can use plants and a little creativity to bring the outside in to make a beautiful front porch.
You could also add a flower bed and potted plants around the outside of the porch area, to boost your home's curb appeal.
The porch makeover doesn't have to stop before getting to the outdoor space that frames it.
Want to see the transformations come to life? Check out my YouTube Channel.
My Favourite Supplies
Here are some of the supplies that I used when making this project!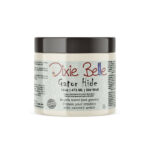 Gator Hide
A durable top coat to protect paint on exterior surfaces.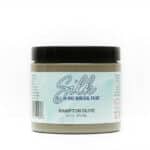 Hampton Olive
A beautiful, earthy green paint with built-in primer and sealer.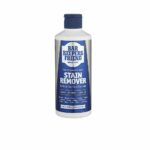 Barkeeper's Friend
A versatile cleaning product, great for removing tarnishing.
If you loved this project, you'll love these projects too:
Did you paint your porch?
I love seeing what you do. Please mention @teaandforgetmenots and share your creations with me!
Pin it for later – Small Front Porch Ideas On a Budget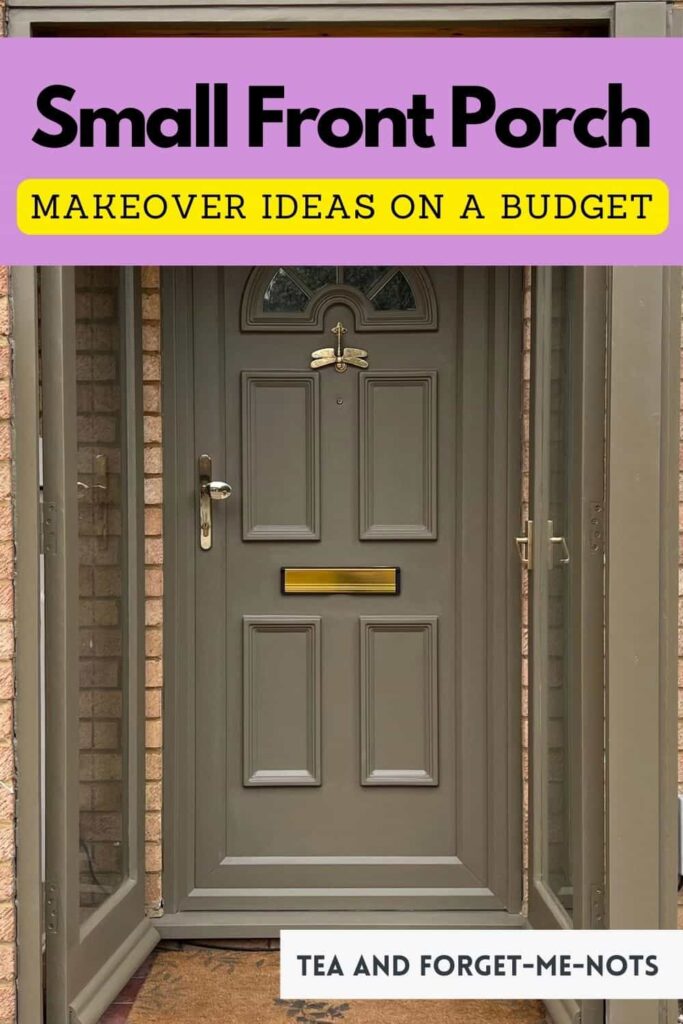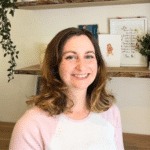 Rachel started painting furniture in 2018. She created this site to share her favourite transformations and the many tips she has learned along the way.