How to upcycle a pine chest of drawers
Here's how to paint and upcycle a pine chest of drawers rather than adding it to landfill when it no longer fits your style. When it's time for a new look, painting is a great way to upcycle it.
A pine chest of drawers is a popular piece of furniture. They're solid, sturdier than MDF but not as expensive as hardwoods. A good mid-budget option, that's often worth saving and upcycling rather than adding to landfill.
This post may include affiliate links so you can easily find the products I love and use myself. If you purchase these products, I may earn a small commission at no extra cost to you.
How to upcycle a pine chest of drawers
I bought this from Facebook for £40. Which if you've been around for a while, you'll know is about £40 more expensive than I often spend!
But I knew it was great quality and actually the biggest piece I have done to date. (Although I have bigger ones on my to-do list now!).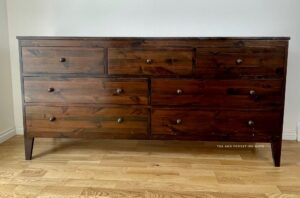 Having said it was great quality, and it was, I did get a little over-enthusiastic with the wood filler on the various dings and scratches.
I find it really satisfying to use wood filler, clearly. This probably makes it look far worse than it was but it was fun to do.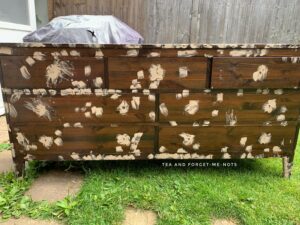 I actually started this project in July, as that's where I found this photo on my camera reel. It's now November… but with a big kitchen renovation taking place during that time, here we are.
A quick tip when painting drawers is to label where they came from. Sometimes a drawer only fits well in the original place.
Check out my other tips here!
Fortunately, someone had already done that and both the back of each drawer and the drawer stop were labelled.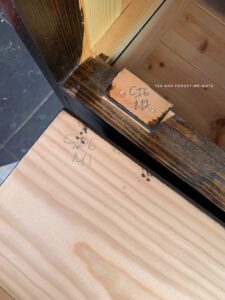 Back to the natural pine
I initially planned to sand off only the varnish but once I chose my colour, which was light, I decided to sand back to the raw wood.
This took hours and hours to get it looking even but it was worth the effort.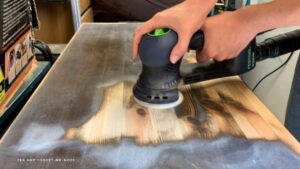 There were lots of knots in the pine which risk showing through the paint if not covered properly. But my go-to shellac-based primer which is best for this was nearly finished. I just had enough to only go over the knots with this primer.
So, I then did two full coats of the water-based primer on top. Primer is important on raw wood as it means less paint will soak into the wood and will use less paint in the long run.
I also sanded lightly between coats to get a nice smooth surface.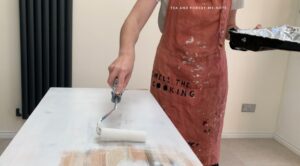 Seven drawers
One frame
Two (+ knot coverage) coats of primer
Three coats of paint
Two coats of sealer…
No wonder this took four months! Phew!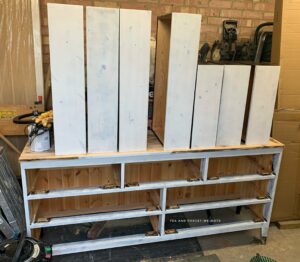 A coat (or three) of paint
The paint I chose was the beautiful Goddess Ashwagandha by Fusion Mineral Paint. It reminds me of the classic by Farrow and Ball, Elephant's Breath.
It's a greige colour and therefore neutral rather than cold, which I find grey can often be.
If you're a fan of Fusion, check out my other projects using it.
I like to use a roller for large surfaces as it's easier to avoid brushstrokes. I recommend these rollers by Staalmeester. They are really soft and clean well.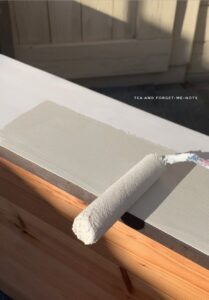 My house quickly gets overrun with drawers when it's in the various stages of painting and drying. Keeping them in the frame is helpful although it does mean painting the frame at a separate time so it doesn't all stick to each other.
You might also just spot my painter's pyramids which I use to keep the piece off of the floor while painting the legs. Such a brilliant tool.
Do you have any of my recommended tools to make upcycling easier?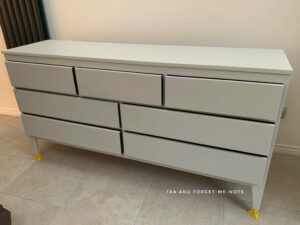 Want to know 23 great DIY tools? Get the list!
Sealed for durability
I used Polyvine's Wax Finish Varnish to seal the piece. I did two coats over everything and a third on the top of the frame which will get the most use.
Polyvine does a variety of finishes and despite it looking quite shiny here, it dries flat and invisible.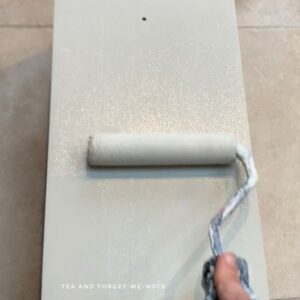 I often use Painter's Tape for clean lines on pieces but I find that there's invariably a bit of paint that gets into places it shouldn't.
180 grit sandpaper is good to gently sand the excess paint off and get back to nice clean edges.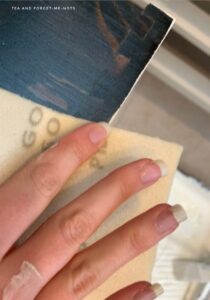 I didn't want to paint the inside of the drawers to let the raw wood be a nice contrast. To give it a bit of a freshen up, I used Dixie Belle's Big Mama's Butta on it. It's a wax that revives wood grain.
It also helps with musty smells (this flavour was Orange Grove which is lovely) but my piece didn't smell, fortunately.
I also waxed the frame where the drawers slide, to help it from potentially sticking. Fortunately, it hasn't been a problem but sometimes the additional layers of paint can make the drawers a snug fit so they need the extra lubrication.
These drawers, however, were quite the challenge to get them to glide smoothly again!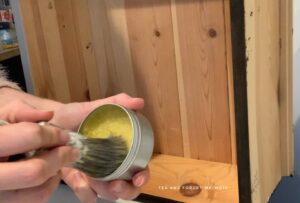 The hardware
Just how pretty are these knobs?
I chose these handles as part of a mini haul from TK Maxx months ago. They're silvery gold and I thought complemented the piece whilst having a pop of sparkle too.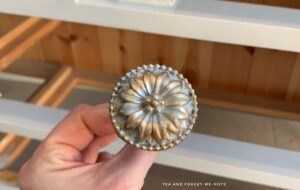 They didn't come with snappable screws, unfortunately. So I had to buy bolt cutters and a file to cut them down to a good size that didn't stick out into the drawer too much.
Still, I'll forgive them for being beautiful.
The result
And here it is. Many hours, coats and shuffling around later.
I'm really pleased with how it turned out.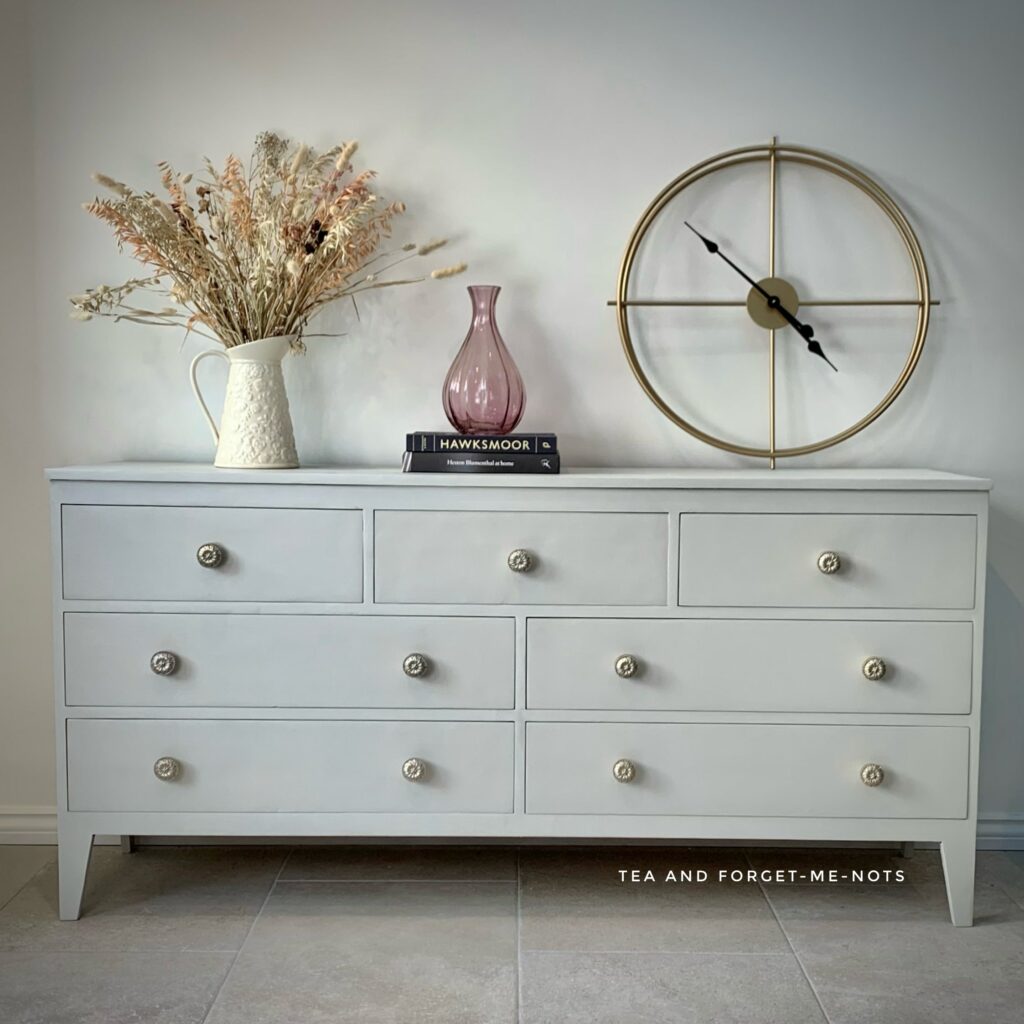 You can see the texture of the wood still, so it maintains some of its original character.
The varnished version was fine, nice and classic. But I love this grey update. It's neutral with a bit of glam.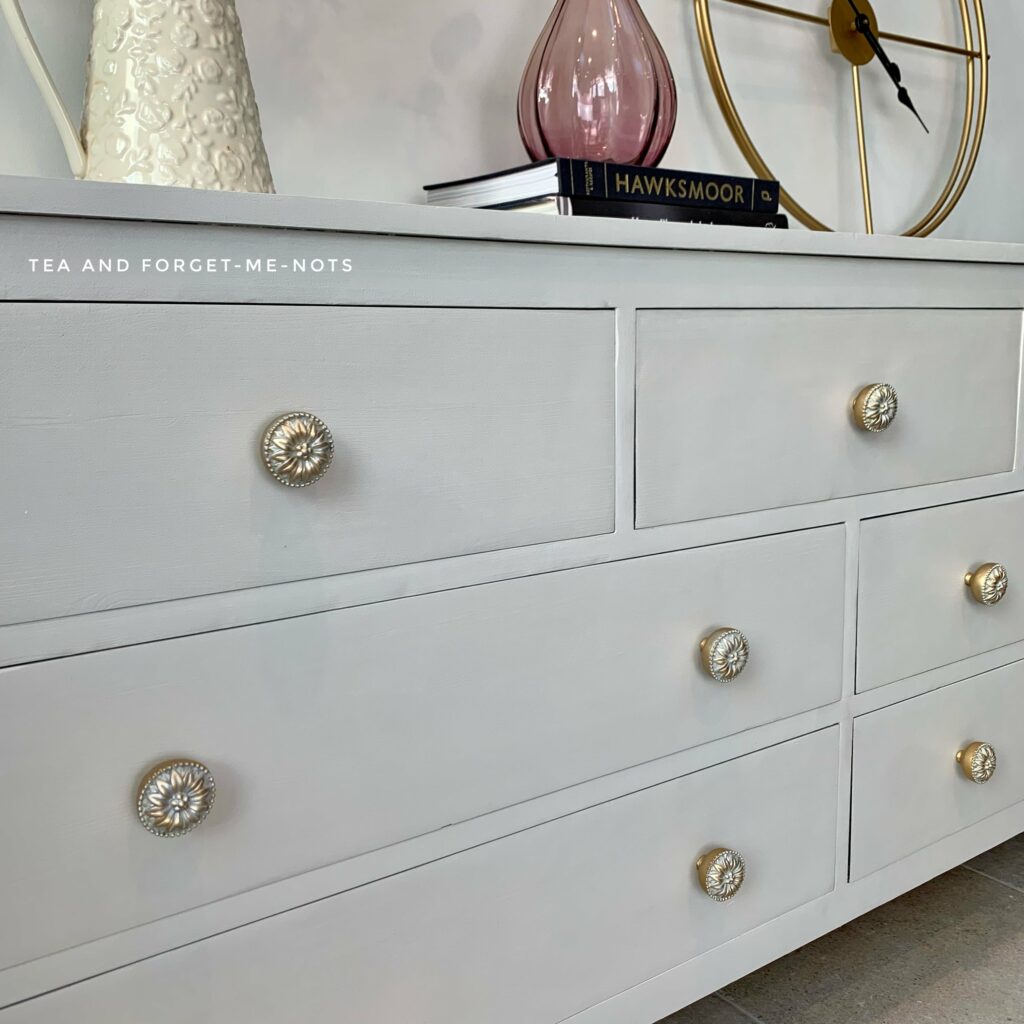 What do you think? Would you upcycle a pine chest of drawers? Or choose a more contrasting handle? Please let me know in the comments, I love hearing your opinions.
If you liked this post, you might also enjoy this pink chest of drawers transformation.
More about upcycling and refinishing furniture.
Pin it for later – upcycle a pine chest of drawers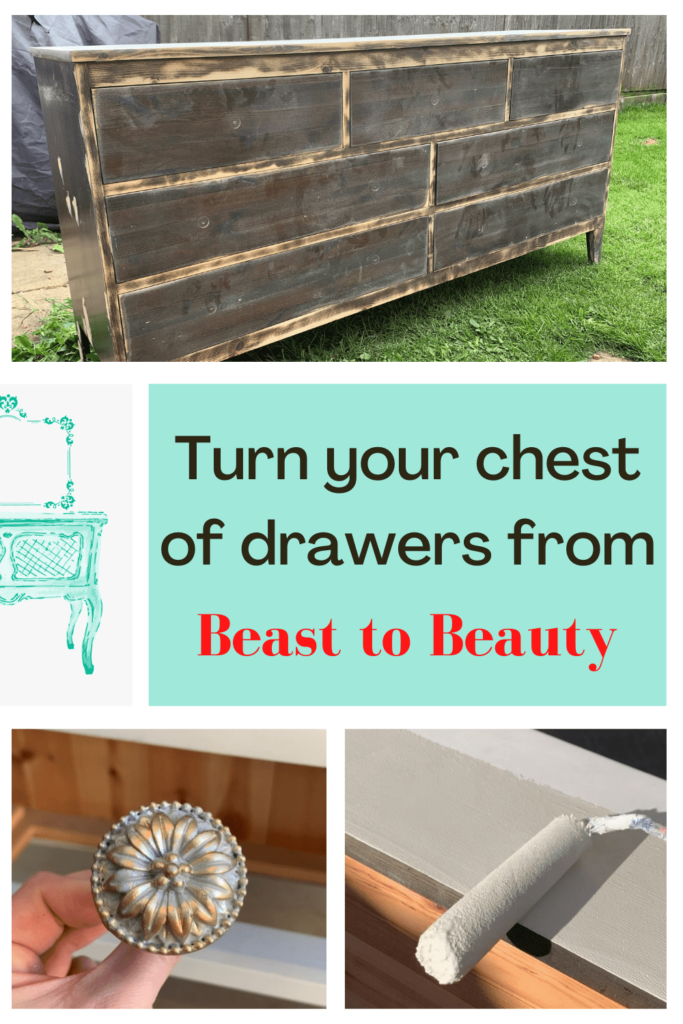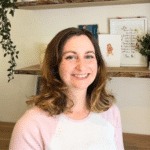 Hi there! I'm Rachel Bowyer, a passionate DIY enthusiast with a knack for transforming the old into something beautifully new. With a deep love for furniture painting, refinishing, and the art of crafting. I've been documenting my DIY projects and restoration journey since 2018. I specialise in techniques like decoupage, stencilling, and decor transfers. Join me as we explore the world of creativity and home improvement, one project at a time.