Paint Faux Leather Furniture in 4 Easy Steps
Bored or the faux leather look or want a project to upcycle? Here's how to paint faux leather furniture in 4 easy steps.
Here's how I took a plain, dark brown faux leather mirror and turned it into pretty, textured home decor.
Thanks to Dixie Belle Paint for sponsoring this post.

This post includes gifted products and affiliate links so you can easily find the products I use myself and recommend to friends. If you purchase these products, I may earn a small commission at no extra cost to you.
So, yes! You can paint faux leather.
However, it is important to use the right type of paint. You also need to use a sealer to protect the paint from fading and cracking.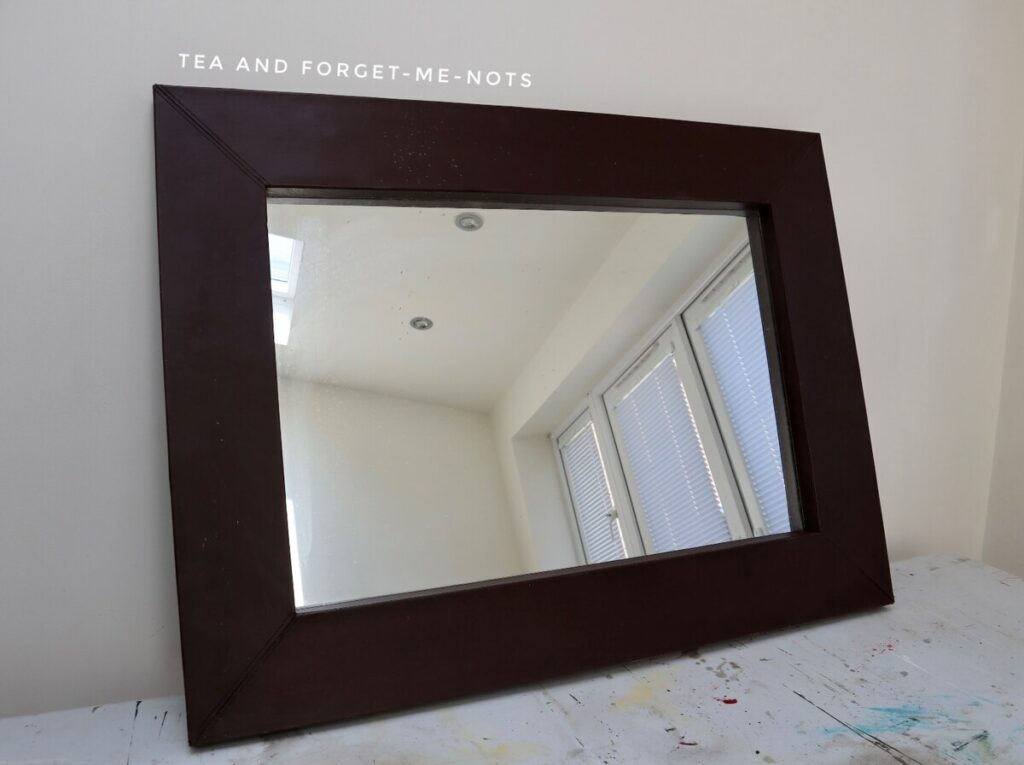 Prefer a video tutorials instead of step-by-step instructions? I've got you covered with a comprehensive video tutorial that guides you through the process of painting faux leather.
How to Paint Faux Leather Furniture Step by Step
Materials Needed
Step by Step Instructions
Step 1: How to Clean Faux Leather
It's important to clean faux leather before painting to ensure good adhesion to the surface.
You can do this with warm soapy water and a clean cloth. It's a good idea to use a dish soap such as Dawn or Fairy for a thorough cleaning.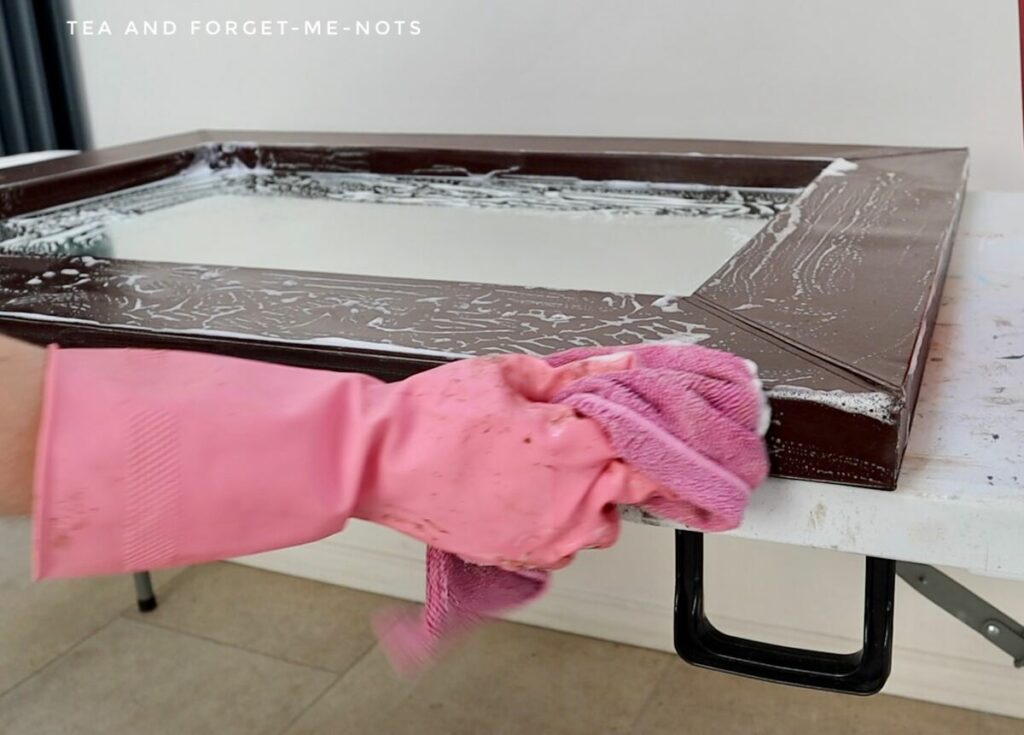 Then you need to use clean water to remove the soap suds. Finally, you can wipe off any excess moisture with a clean rag or leave it to air dry.
It's important that the faux leather is completely dry before moving on to the next step.
This is the time to do any repairs to the furniture, if needed.
The backing of the mirror was slightly detached. To fix this, I used E6000 glue and clamped it flat. It's helpful to use a filler piece of wood to protect the front side of the soft leather from getting dented.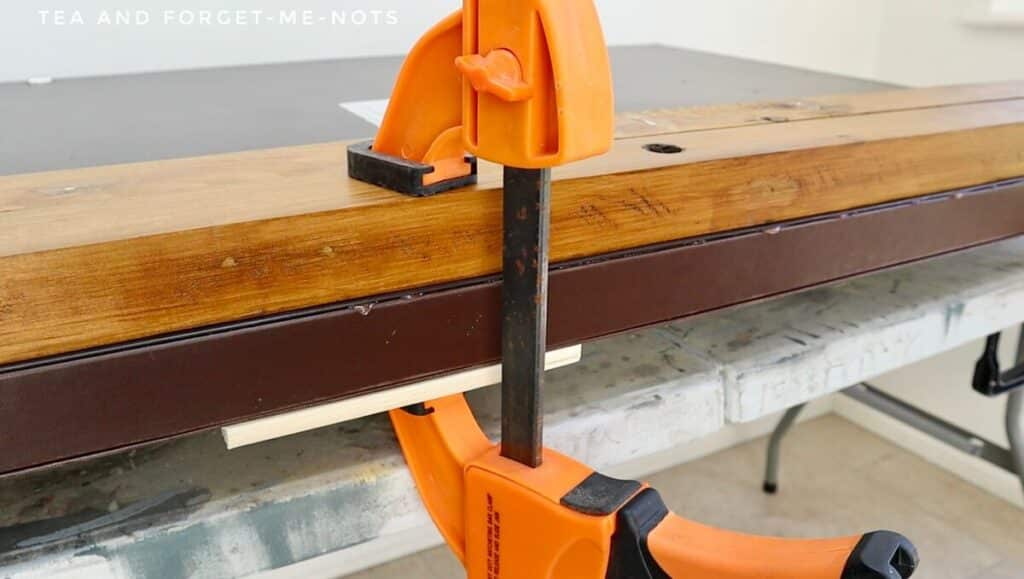 ---
Step 2: Prep Faux Leather Furniture for Painting
With any furniture that's difficult to sand, it's important to use a product to help the paint adhere to the surface. For this, you could use Slick Stick, which is an adhesion primer.
It's a product to use when you can't sand something. I've used it for painting fridges, laminate IKEA furniture and glass bottles.
Slick Stick creates a barrier between the artificial leather and the paint. This helps if you don't want to use acrylic-based paint, which also works when painting imitation leather.
You apply two thin coats of Slick Stick across the entire surface, a few hours apart. Then leave it 24 hours before applying the paint top coat.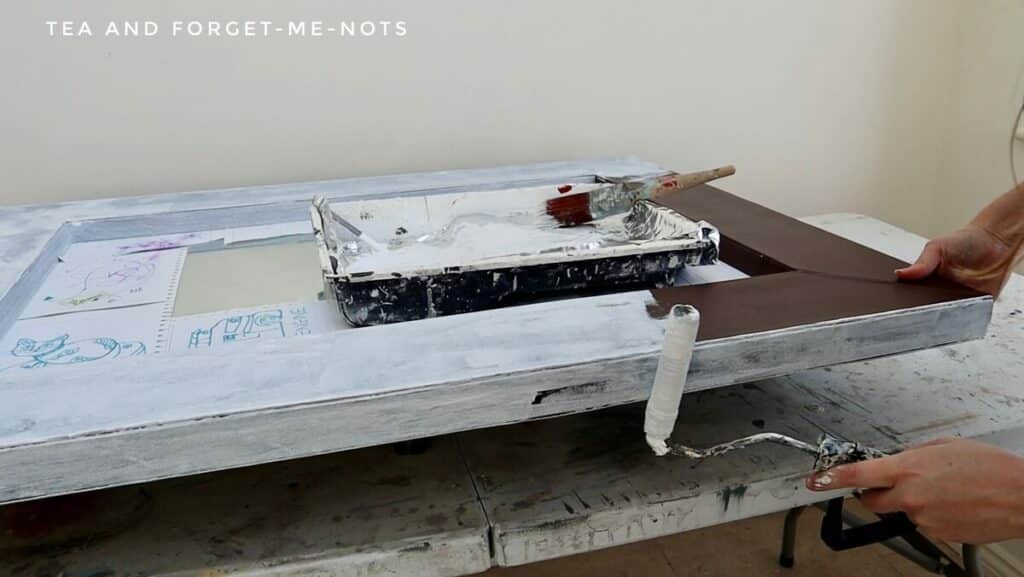 This also builds up the base colour over the brown leather look, giving the chalk paint an easier job later.
Instead of using a paint product like Slick Stick, you can lightly sand the faux leather. By sanding the faux leather with a fine-grit sandpaper you create a rough surface for the paint to adhere to.
I didn't sand because I didn't want to ruin the surface. The paint could be removed in the future and then the faux leather would look in poor condition underneath.
---
Step 3: Apply Chalk Paint to Faux Leather
To start, I did a first coat of paint in the warm white, Drop Cloth. It's important to do thin layers of paint to avoid brush strokes and for it to adhere well.
I chose Drop Cloth as the base colour for the mirror to help transition the mirror from a dark brown to a light colour.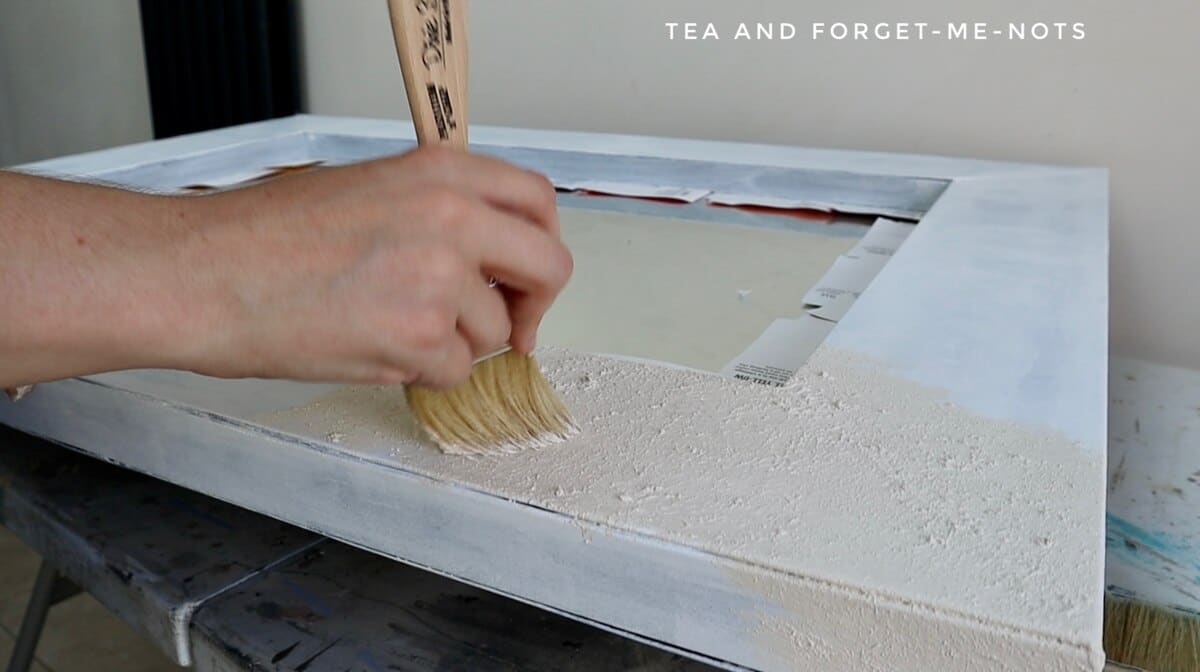 Chalk paint is an easy paint to work with because it is so simple to clean up. It's water-based so you simply wash the excess paint off the brush or roller in the sink. For efficiency, I recommend lining a roller tray with foil to avoid washing that each time too.
A roller tray is helpful even when you aren't using a roller. By decanting the paint into the tray, you avoid regularly dipping a brush into the paint pot and getting it more crusted up.
I did the additional step of adding Sea Spray to the chalk paint. Sea Spray is a texture additive to create a rough, gritty surface of the paint. This isn't necessary but a great way to hide details you don't like.
And I wanted to disguise the stitching in the corners of the fabric.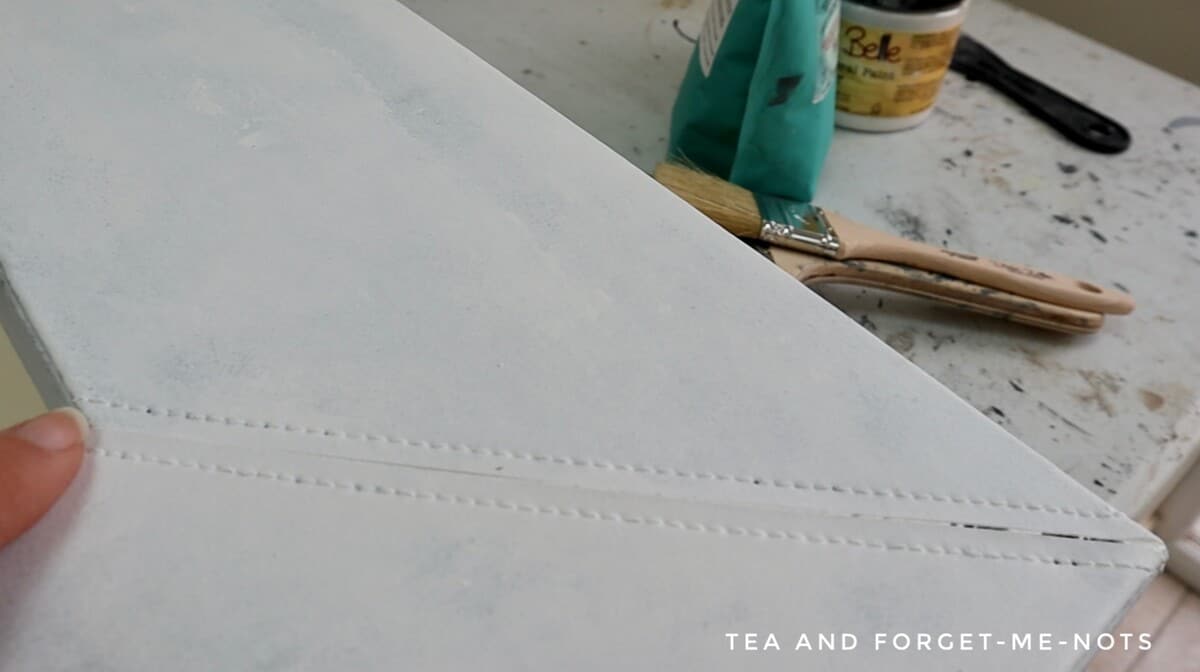 To use Sea Spray, simply mix in a scoop of it to chalk paint. I decanted it into a takeaway container so that it didn't go in all of the pot of paint. It's best to add small amounts of the mixture slowly until you get the thickness and consistency you're looking for.
You can use a chip brush, or rougher brush, to apply the Sea Spray. While it cleans up easily, the dabbing motion of applying it can be harsh on the brush bristles.
I left the first coat of chalk paint to dry overnight before going to the next step.
You could stop here after a second coat of chalk paint and your faux leather surface would be good to go. But I wanted to create a natural, rocky texture.
So next I applied a true black chalk paint, Caviar. This is where the base coat of Drop Cloth proved itself to be a great first step.
The black chalk paint instantly highlighted the dimensions built up with the Sea Spray. I used a mister bottle to spread out a little paint so that the thickness varied. Some places were dark black, others were lighter grey.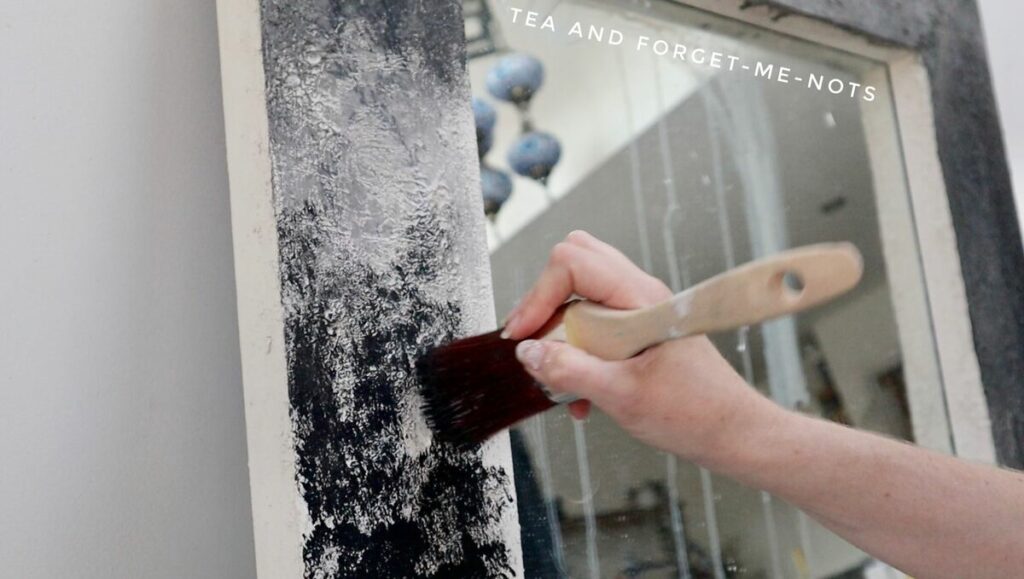 I then dabbed off any excess on the painted surface with a paper towel. This particularly took away the paint on the tops of the rocky parts which helped show off the texture.
---
Step 4: How to Seal Painted Faux Leather
Once the paint is dry, you need to apply a clear sealer to protect it from wear and tear. You can seal chalk paint with either a clear coat or wax.
I used two coats of Clear Coat in Flat. The flat has a matte finish. I chose matte to give the best look of the stone-like, surface.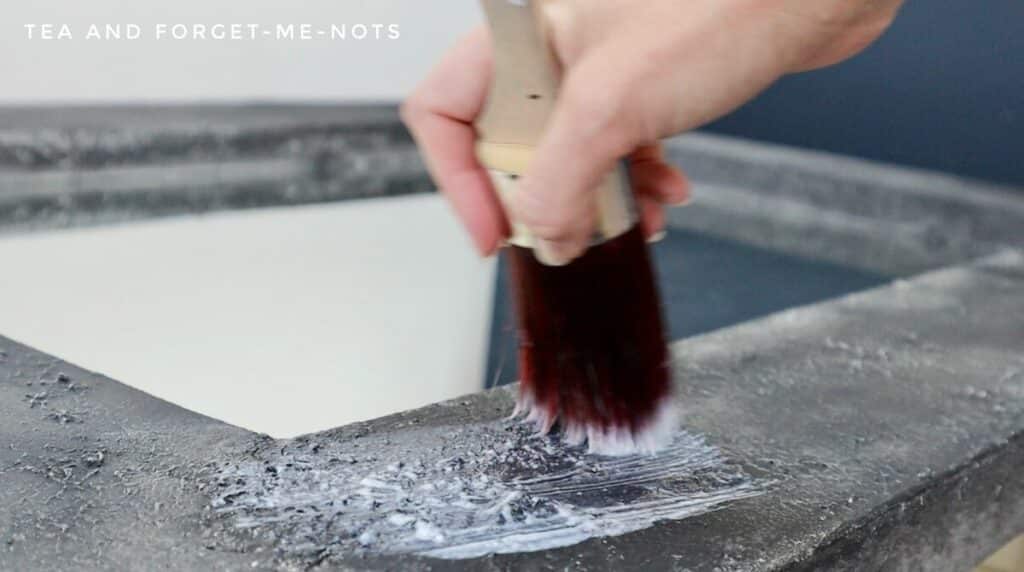 Fortunately, a mirror is not in a heavy traffic area. Once it is installed on a wall then it will be touched only minimally.
And while it's not essential to seal chalk paint, it's good practice to improve its durability and longevity.
One of the best reasons for upcycling or refinishing something is to extend its life. Keep it out of the landfill and enjoy it for another phase of your changing style preferences.
This means that sealing your faux leather furniture or decor will give you the best results for that.
Painted Faux Leather Mirror
This is where the right paint shines. The combination of colours and texture looks rocky and volcanic. Much more interesting and quirky than the plain brown leather that it started as.
Of course, you can keep the basic look and a fresh coat of paint will make a great difference too. But this was such an inexpensive way to create a fun new look.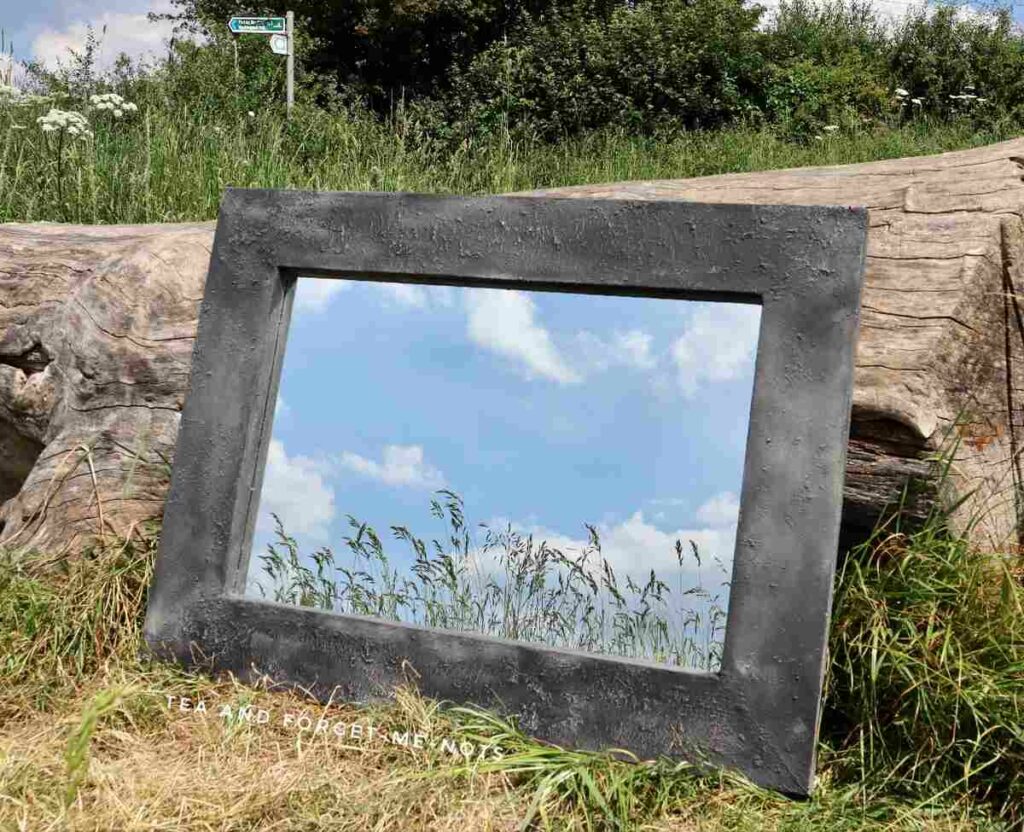 A gloss sealer is the most durable finish for clear coats. So if you want the piece of furniture to last well for a long time, that's a good idea.
But if you don't like the glossy look? You can do a gloss coat and then a matte or satin coat on top. The result will look matte but with the durability of the gloss coat beneath.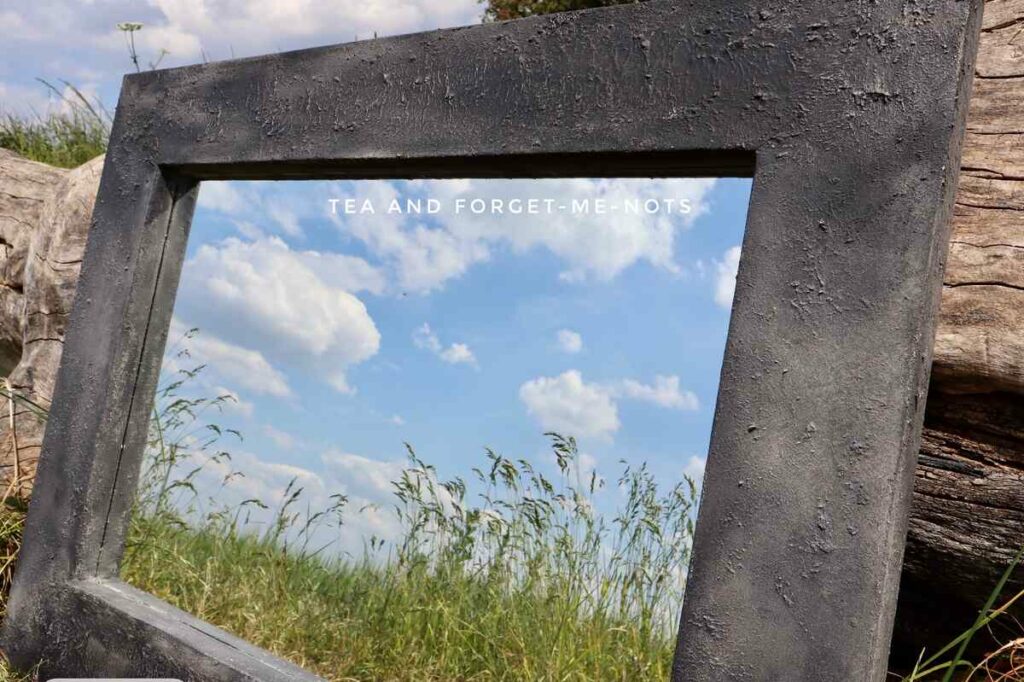 If you are looking for a way to update the look of your leather furniture, painting it with chalk paint is a great option. With a little effort, you can transform your furniture into a stylish and unique piece.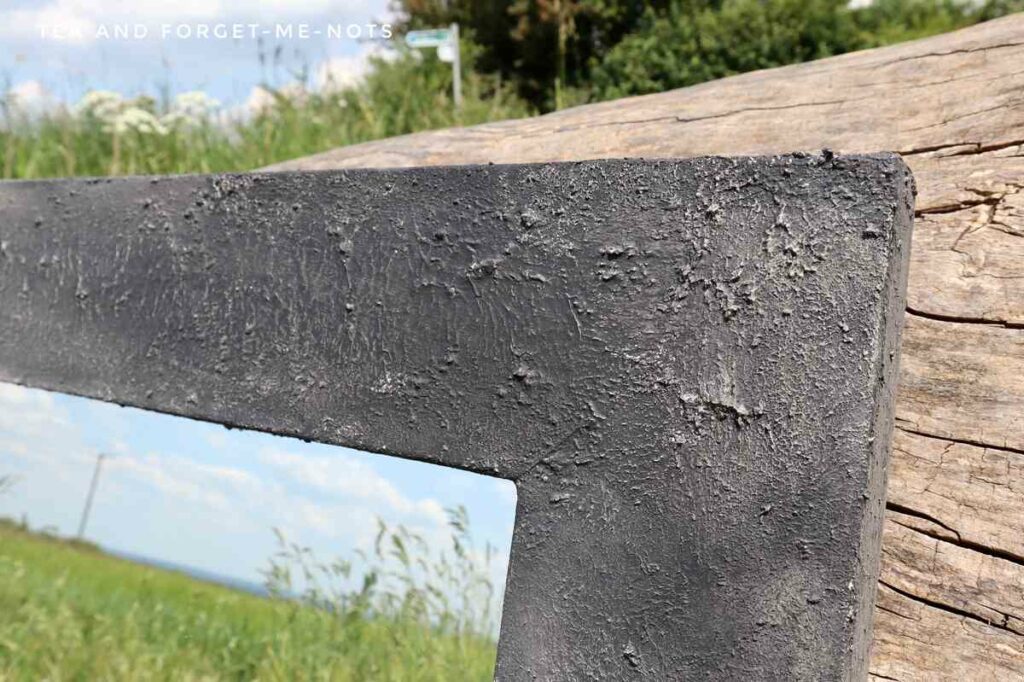 If you aren't convinced by your colour choice before you start, test it out. You can do a sample on the back of your piece or even on a small area of a faux leather wallet or cheap fake leather items that you don't need.
But also the finish you use will make a difference to the result. Want to go darker? You could seal it with a dark wax. There are various methods to ensure that you achieve the result you want.
How to Paint Faux Leather Furniture Instruction Video
You can find more video tutorials on my Youtube Channel
---
My favourite supplies
Here are some of the supplies that I used when making this project!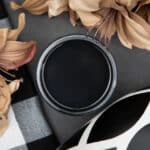 Caviar
A dark, true black chalk paint with an elegant feel.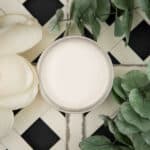 drop cloth
One of the most popular warm white chalk paints.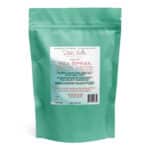 sea spray
A texture additive that gives a lot of dimension and character to your projects.
Answers to questions about painting faux leather
how do you seal a faux leather chair or leather sofa?
Wax is a good choice for sealing synthetic leather or real leather furniture. Wax provides a water-resistant barrier that protects the paint from fading and cracking.
Did you make a similar project?
I love to see what you create! Please mention @teaandforgetmenots so I can see your creations.
Pin it for later – How To Paint Faux Leather Furniture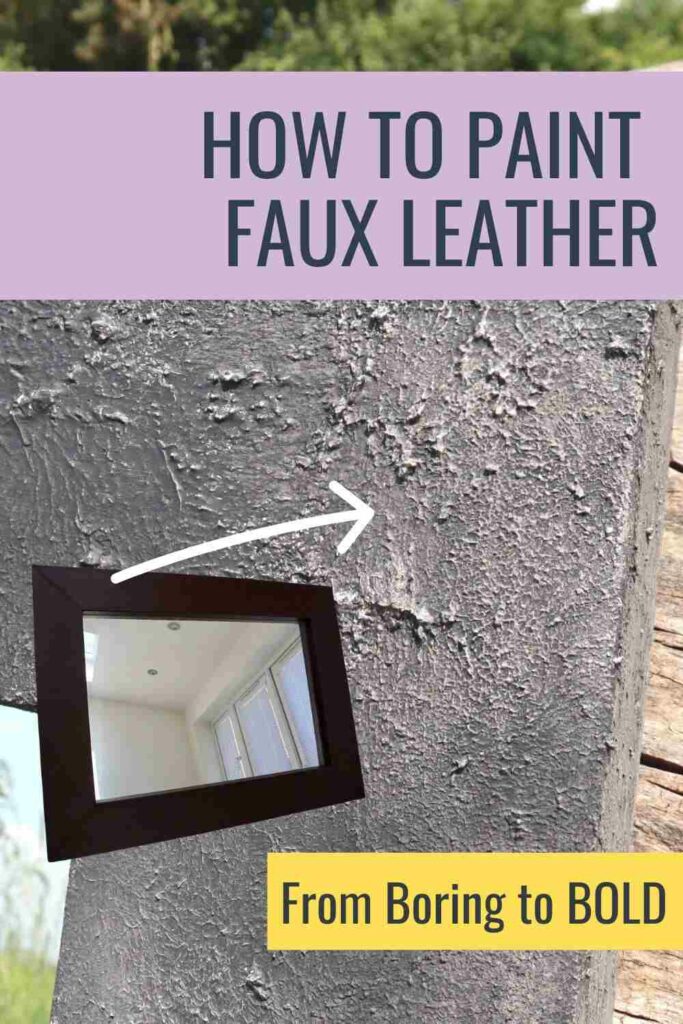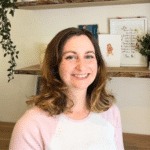 Hi there! I'm Rachel Bowyer, a passionate DIY enthusiast with a knack for transforming the old into something beautifully new. With a deep love for furniture painting, refinishing, and the art of crafting. I've been documenting my DIY projects and restoration journey since 2018. I specialise in techniques like decoupage, stencilling, and decor transfers. Join me as we explore the world of creativity and home improvement, one project at a time.