Best Paint For Toddlers To Paint Pumpkins (Review)
It can be so much fun painting pumpkins with a toddler. Here's a comparison of three top washable paints for toddlers to paint pumpkins.
Young kids love painting and making a mess. If you have the right paint and preparation, it doesn't have to be difficult. Painting pumpkins is a great activity to let toddlers take part in Halloween crafts.
It's a toddler activity that they can enjoy safely while older kids carve pumpkins.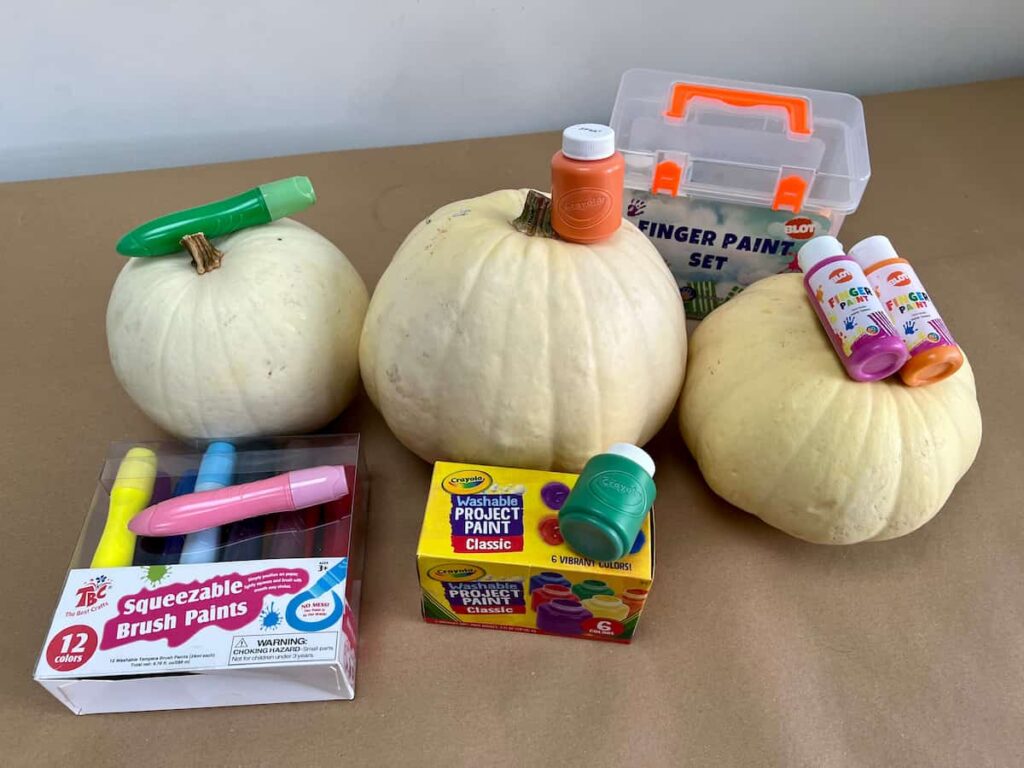 You can paint either real pumpkins or fake pumpkins. The important thing is to have the right supplies for them to be easy to clean up. Choosing safe and suitable paints will make the experience a lot more fun for everyone involved.
Fueling Brains Academy has so many reasons why painting is a beneficial exercise for children 'to develop both mentally and physically'. What's not to love?
---
This post tests three popular child-friendly, washable, non-toxic paints. They'll be compared on:
Price
How easy they are to wash out (of both skin and clothes)
Paint coverage
Then we'll round up their pros and cons to see which is the best paint to paint pumpkins for your family.
The three toddler-friendly paints being tested are Crayola Washable Paint Classic, TBC The Best Crafts Squeezable Paints, and BLOT Finger Paint Set.
They're all aged for three-year-olds and up.
I tested these paints on white pumpkins to give the most accurate results on vibrancy and coverage. And the best part? You don't need a water jar for any of these sets.
Price – $8.99 / £5.50
Colours – 6
Size – 59ml each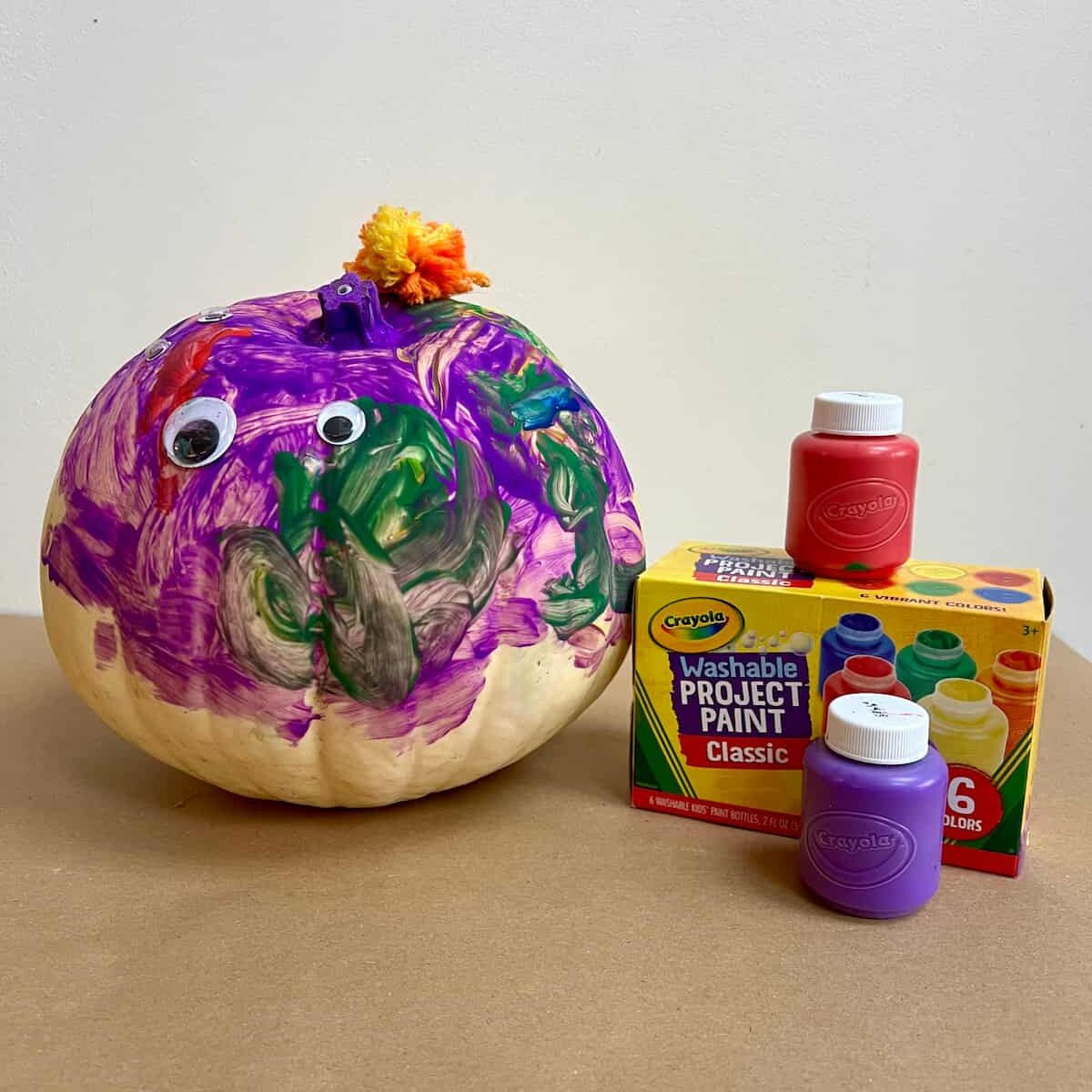 Includes 6 colours: red, yellow, blue, green, purple, and orange.
The design of this paint container is a screw-top bottle. If your child is likely to use far too much paint with having an open bottle, it may help to portion some out on a paper plate first.
Paint Coverage
The coverage of two coats of paint is decent for the most vibrantly painted pumpkin. The Crayola paint was applied with a paintbrush and even the yellow is a good, strong colour.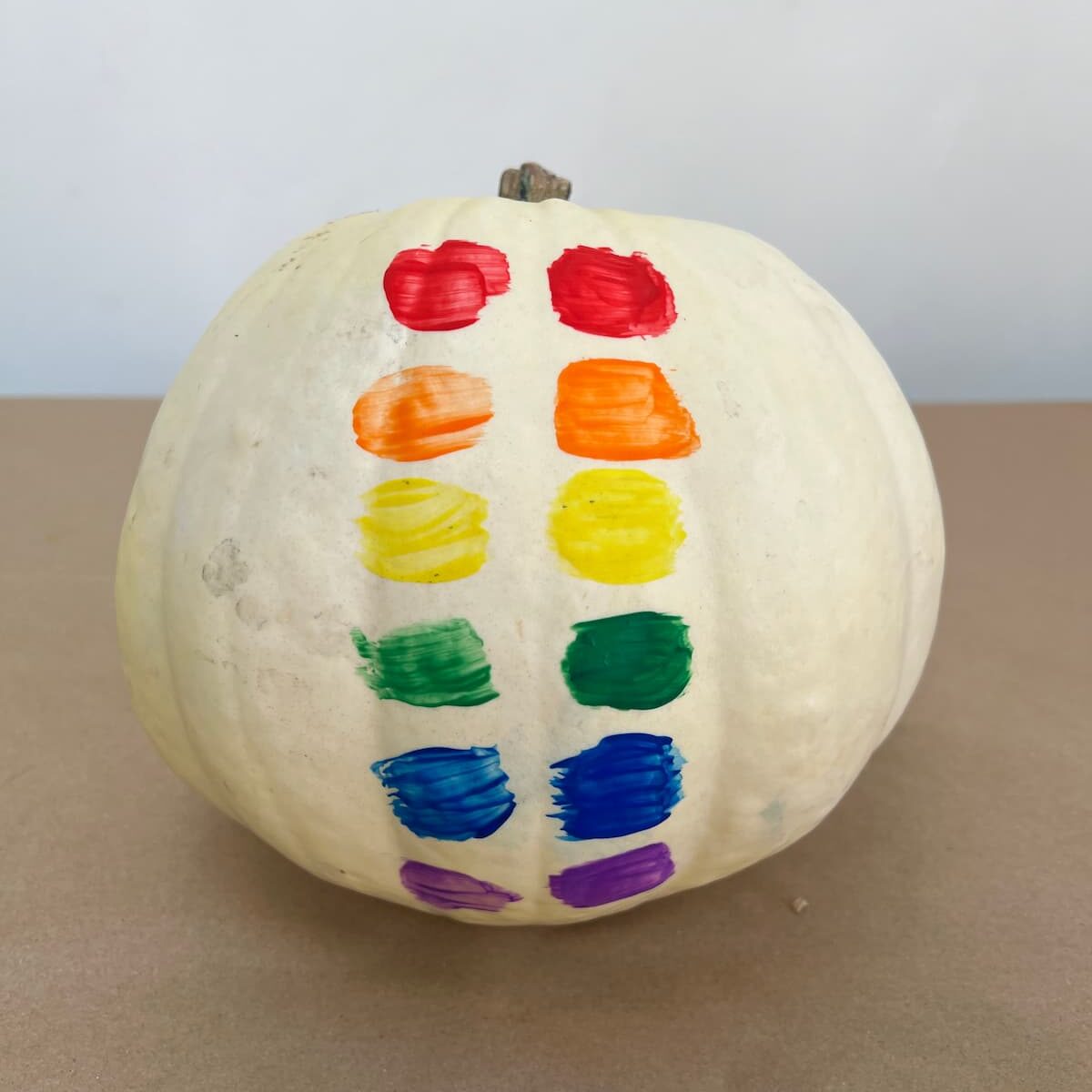 It's fair to consider all of these paint sets based on just one coat of paint. Because a toddler's attention span when painting pumpkins might not be enough to paint a second coat.
However, you could split the pumpkin painting over two sessions to allow for this.
The Washable Test
Crayola is the only set that states that it washes out of most clothing. The other sets don't make any claims about washing out of clothes.
I tested each colour with one thin application of paint on a cotton cloth. These were tested on a daily wash cycle at 30°C/86°F.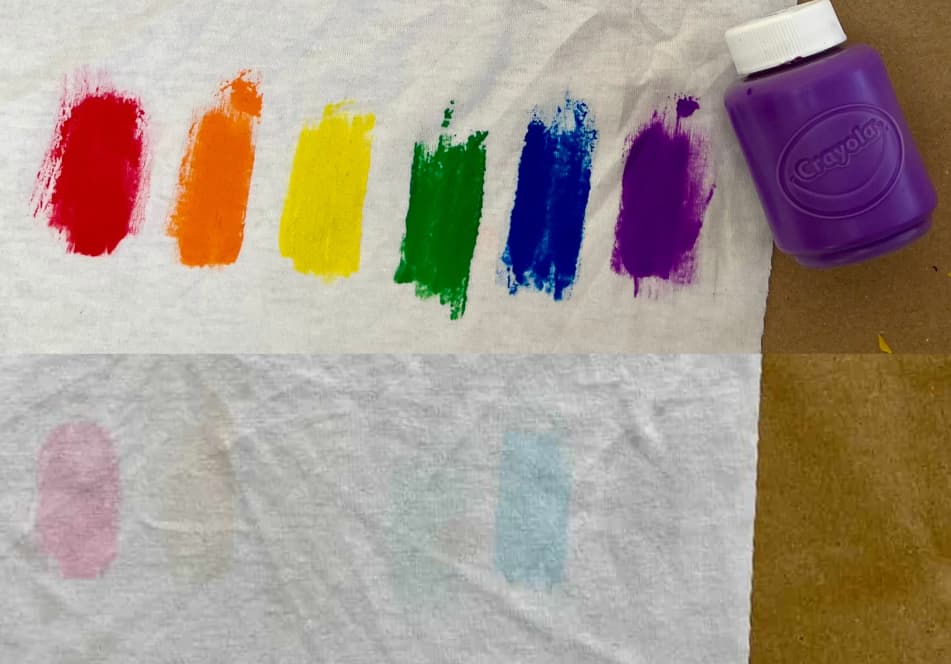 While none of the paints perfectly washed out the paint, Crayola had only two out of the six colours left really visible.
The packaging states that multiple washes may be necessary. After washing the cotton twice, the results remained the same.
The paints washed off of hands very easily.
Pros: Cheap set, vibrant colours and washes out of clothes relatively well.
Price – $15.99 / £12.99
Colours – 12
Size – 24ml each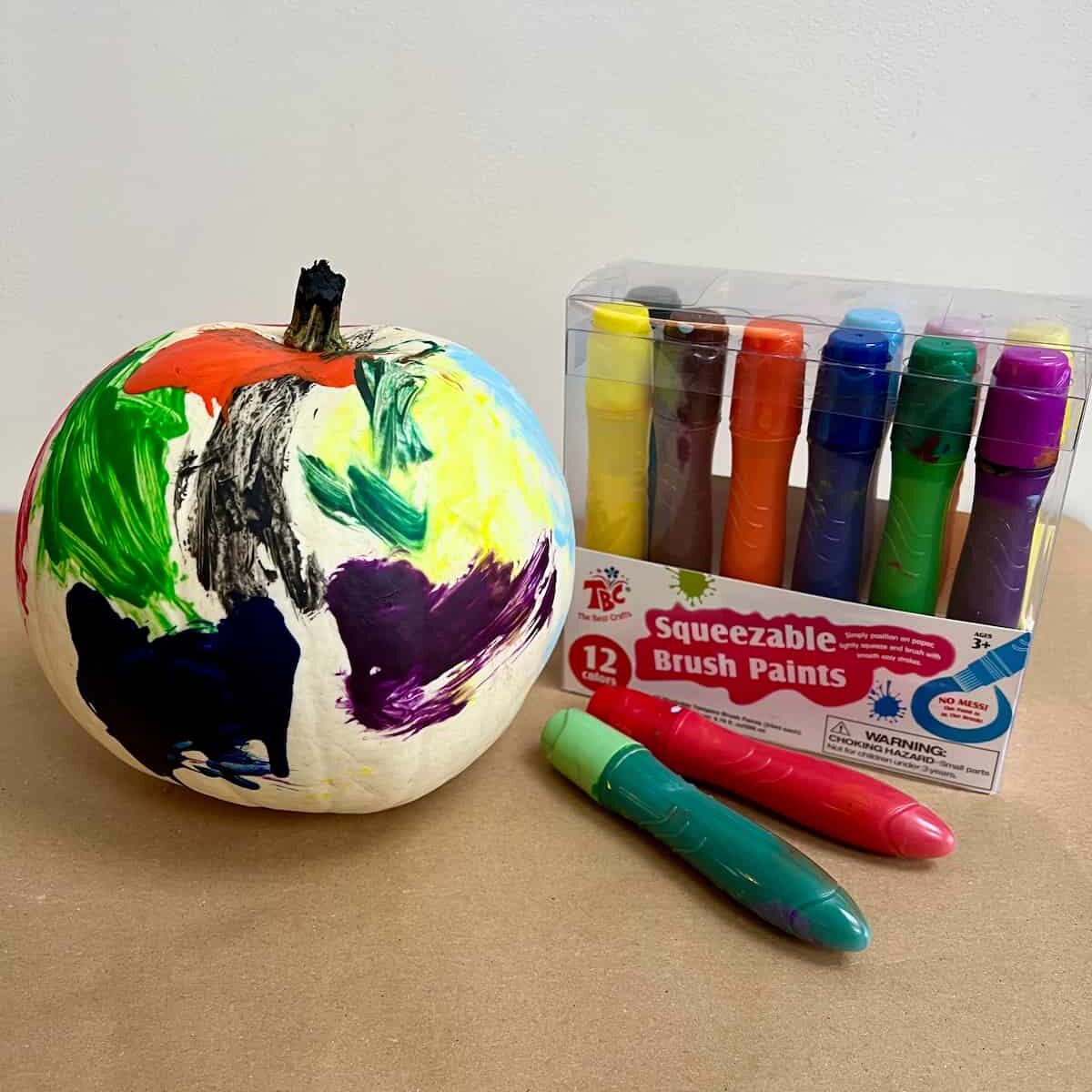 This washable paint set is tempera paint.
It includes 12 colours: red, yellow, blue, green, brown, black, orange, purple, pastel pink, pastel green, pastel blue and neon yellow.
The packaging shows a white paint in the set, however, this was replaced with a neon yellow.
Unlike normal paint pots, the brush is stored within the paint. This is helpful as it avoids needing extra paint brushes.
The first time you use these paint pens, you need to squeeze the paint out onto the bristles. The bristles are like thick plastic.
You can also buy refillable kits, so can reuse them.
Paint Coverage
The paint coverage with these squeezable paints was the best. It was excellent with just one coat, unlike the other paint options.
However, that is because when squeezing the tube, a good amount of paint comes out. This gives good coverage, however also uses a lot of paint. The downside of this is that it can also be quite thick and therefore cause a paint drip.
If your toddler likes precise painting, the quantity of paint that comes out might be too much.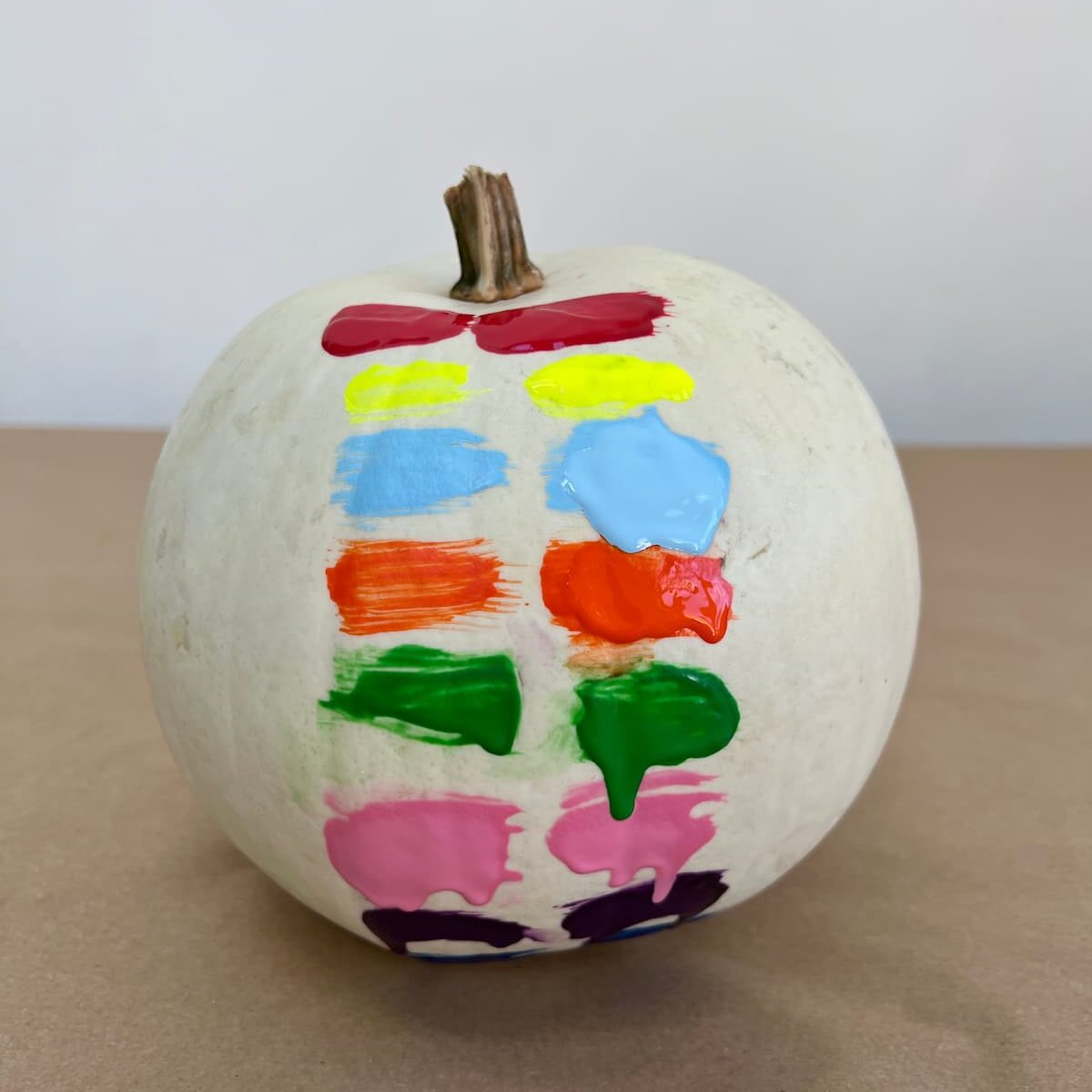 If you don't squeeze the tube and use what is already on the brush, the coverage is less, although still the best.
The Washable Test
The squeezable paints performed averagely in the washable test on cotton.
About half of the 12 colours were still very visible after going through the washing cycle. With blue, green and purple being the most prominent.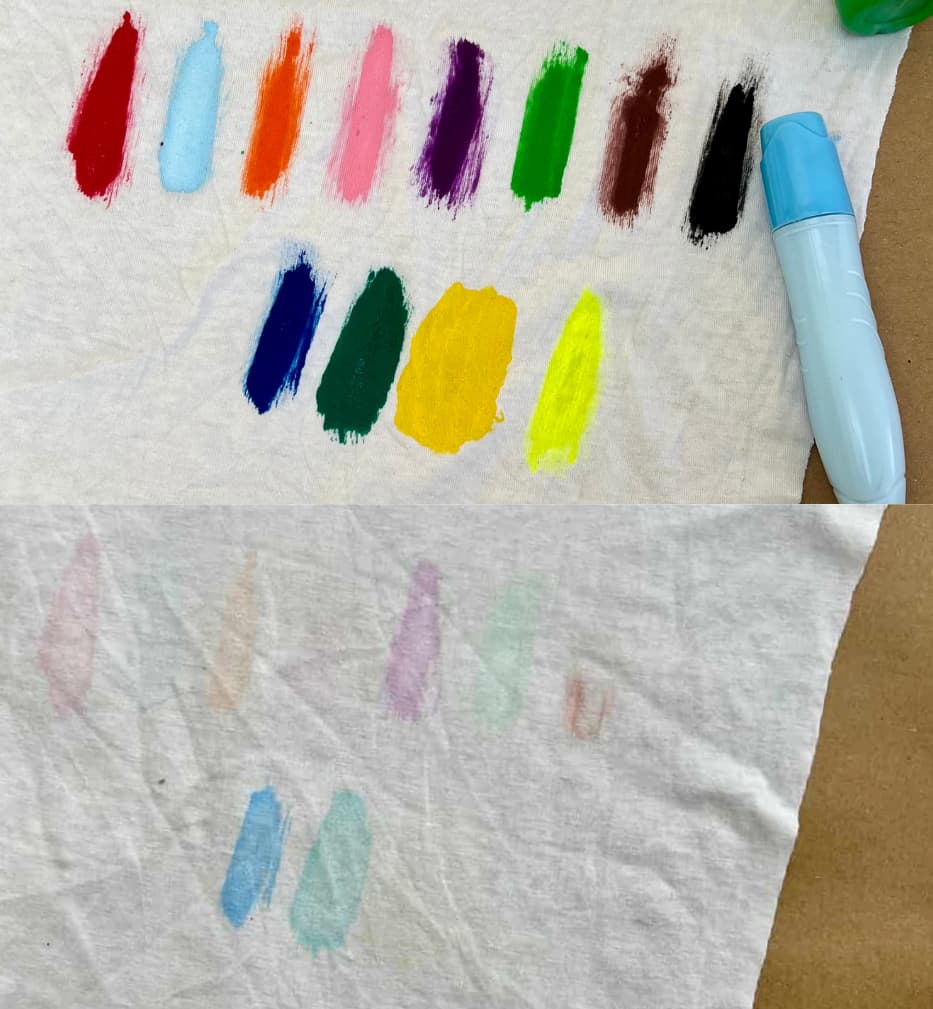 The paint washed off of the skin very easily.
Pros: Excellent coverage. Good variety of colours. Convenient design.
Cons: The brush in the yellow paint detached, so couldn't be used. The paint may get used very quickly as it comes out heavily.
Price – $15.99/ £10.13*
Colours – 10
Size – 36ml each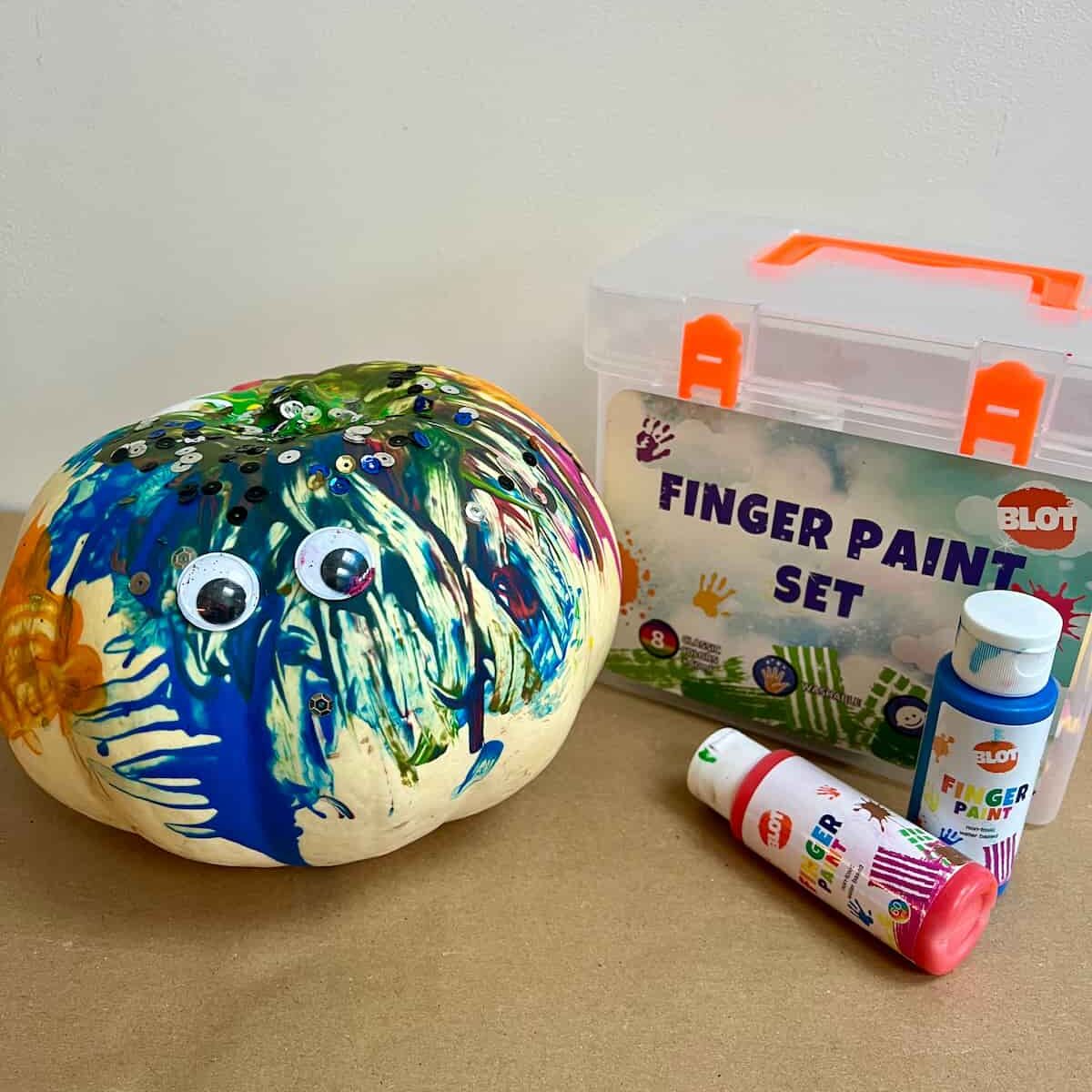 This set is designed for finger painting. It includes 10 colours: white, yellow, orange, red, blue, green, pink, purple, brown and black paint.
Finger paints are a good choice for younger children who don't have the fine motor skills to use brushes yet. So, helpful for kids of all ages with different skill levels.
Paint Coverage
The coverage of the BLOT paints was the least impressive for one coat. However, other than the white paint, the other colours were all decent after two coats of paint.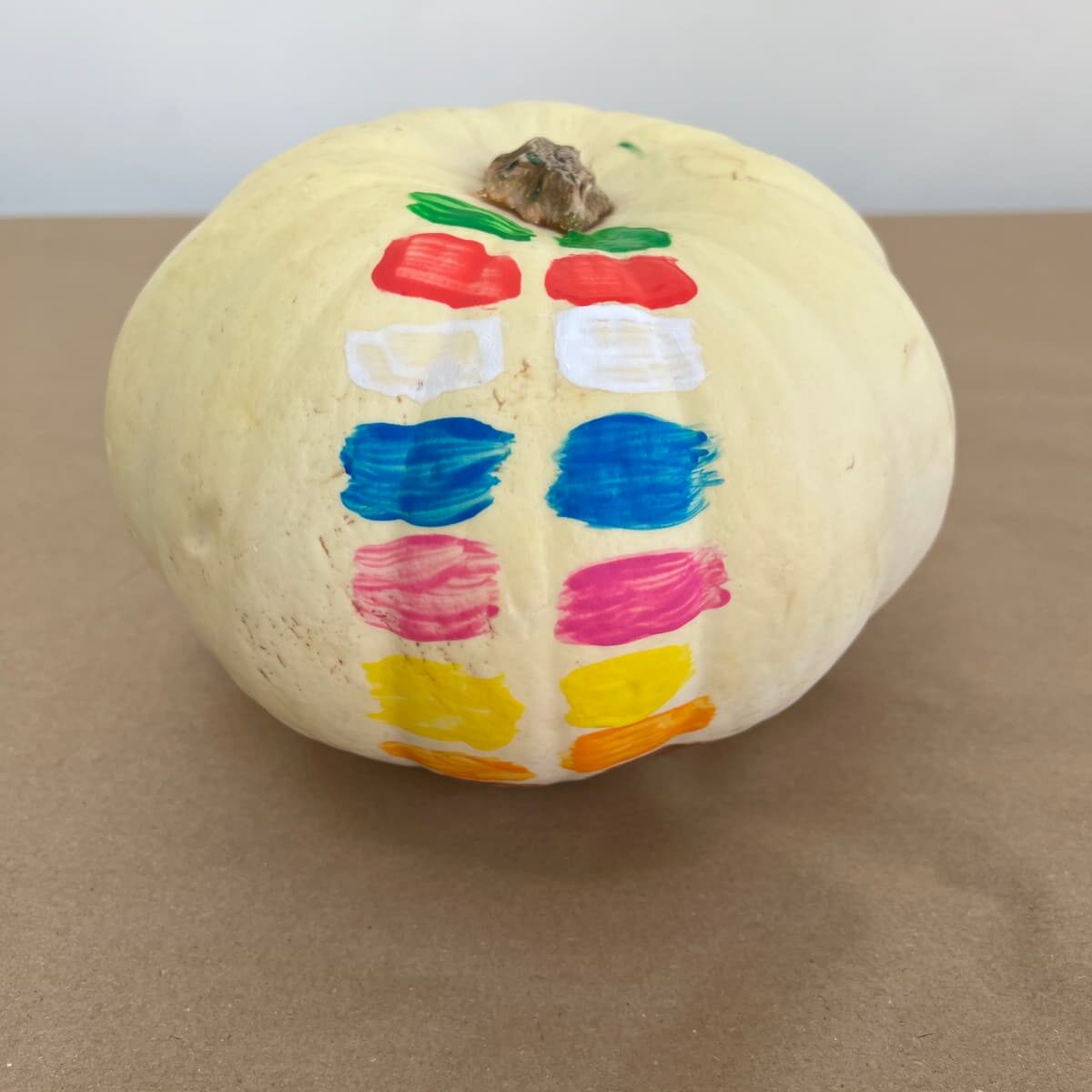 The Washable Test
The BLOT paints did the worst on the washable test, by a long way. Even the white paint was still slightly visible after the wash. And the other colours were more visible than the worst-performing paints from the other two sets.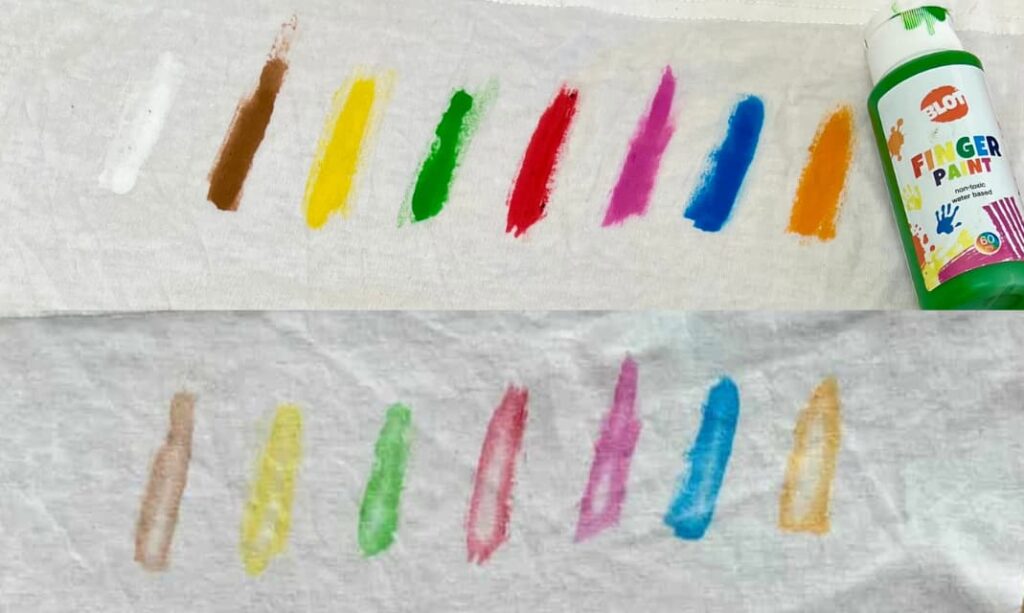 Based on this, I believe that the washable claim is based purely on washing off of skin. Which it did very easily.
*The set with a carry case that I have costs $24.99 / £15.19. It contains 8 paint colours of 60ml each and additional extras such as sponges and rollers. I have listed the paint-only set in the review as that is what is being compared with the other sets.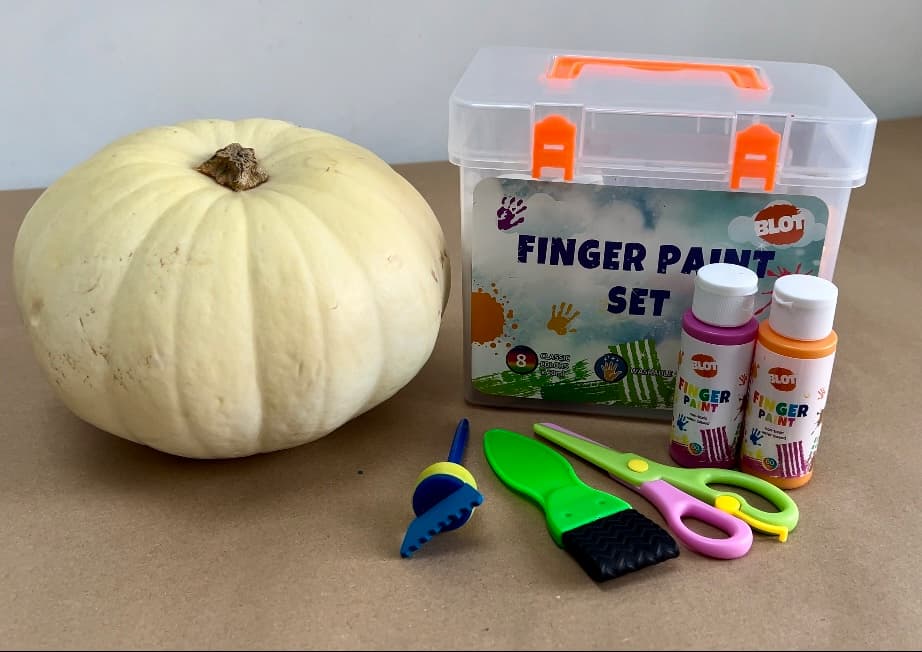 Pros: Good for children at the finger painting stage.
Cons: Easily stains clothes. Quite weak coverage with just one coat of paint.
Which Is The Best Paint For Toddlers To Paint Pumpkins?
The set of paint you prefer for your toddler to paint pumpkins will depend on your family's priorities.
If washing out of clothes is a concern, then Crayola is the best choice to rescue those clothes. It's also the cheapest. And while it has the fewest colours, it has the largest container size of all of the sets.
The TBC set is good for not needing extra brushes. It keeps the mess lower as the paint stays within the tube and not on extra paint brushes. It has the most colours, so gives more variety. It's also good for little hands that can't yet hold thin brushes.
For children who are at the finger painting stage, the BLOT set is an easy way to do this. However, by putting Crayola on a paper plate, you might get better results overall.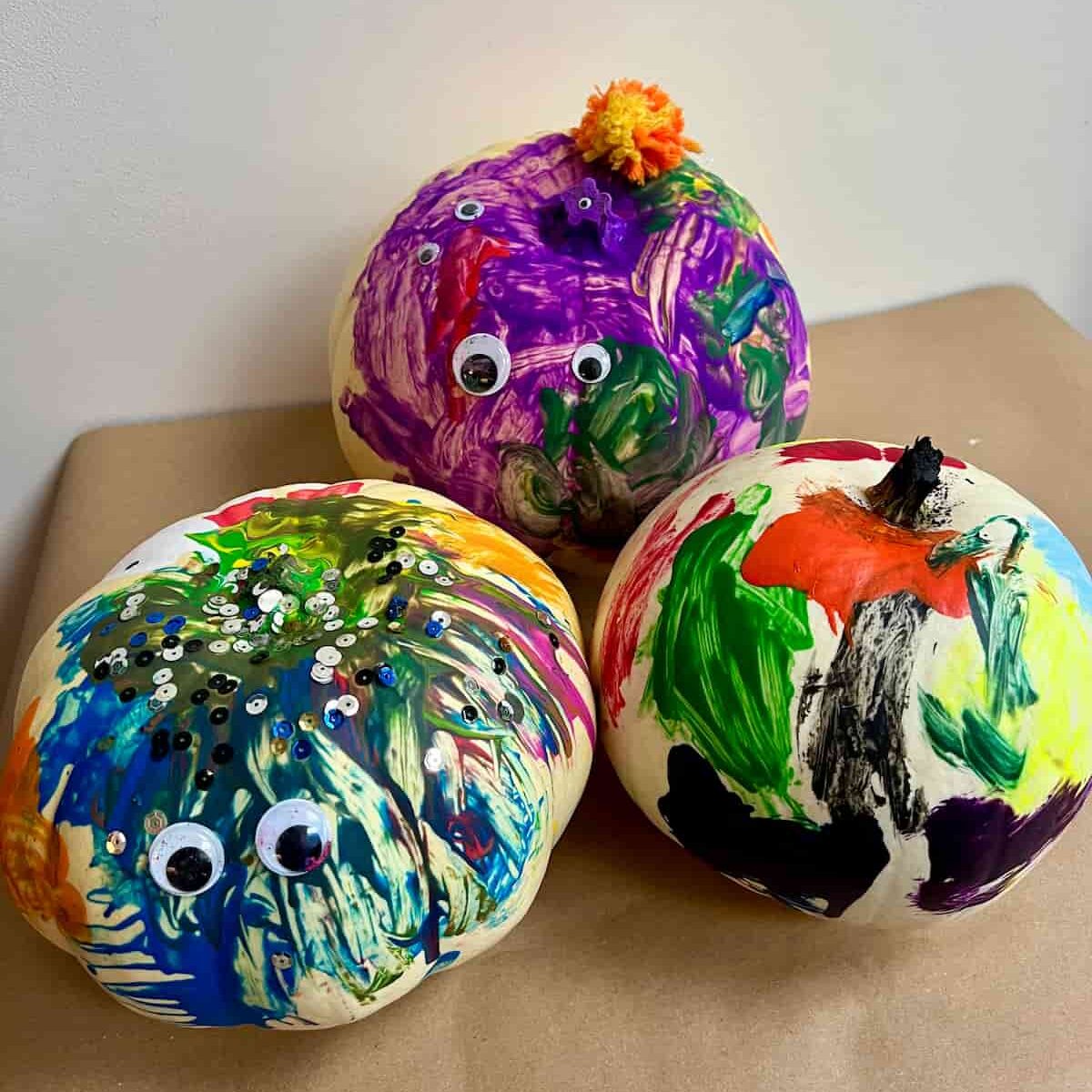 Quick Tips for a Successful Toddler Pumpkin Painting Session
Painting pumpkins with toddlers is a fun and reasonably low-mess painting activity.
A great alternative is if you choose mini pumpkins, as it's a small area to work on. So is more likely to maintain the attention span of younger children.
Similarly, don't think that you have to paint the whole pumpkin. You can add funny faces or hair to the top of the pumpkin with just basic steps and still have fun.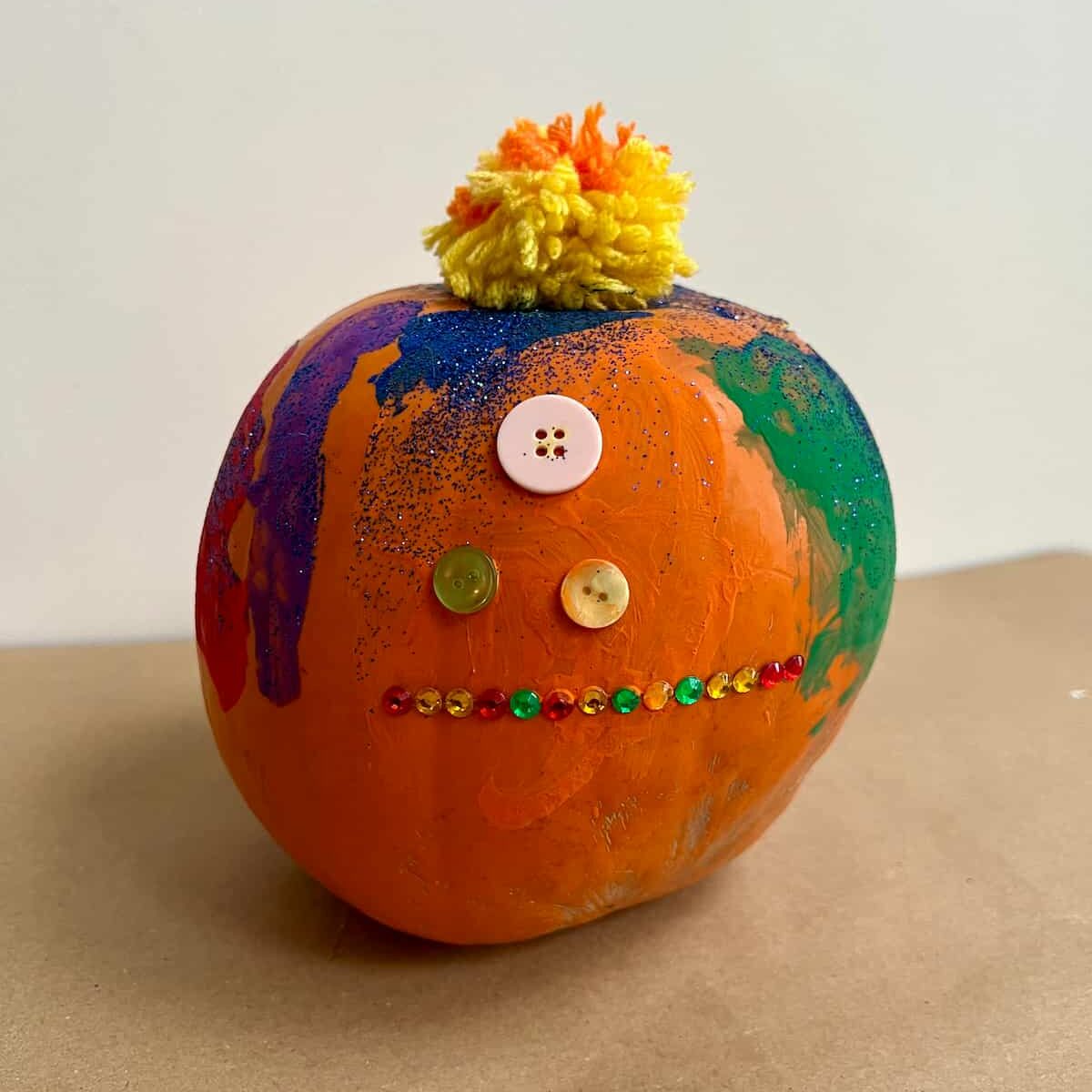 Preparing the workspace
It's a good idea to put a plastic sheet or drop cloth down to protect the surface from paint spills. Even with washable paint, it makes for an easier cleanup.
Also, wearing a painting apron helps protect clothes. Particularly as we've found that 2/3 of these washable paints, do not come out of clothes easily.
---
Easy Pumpkin Painting Ideas
And if you don't want to let your children loose on paint? A great way is to paint the pumpkin yourself and let them decorate it. It might be just as much fun for them with your toddler being in charge and telling you how to paint it!
For extra fun ideas, you can add pom poms, googly eyes and glitter to add more character to the little pumpkins.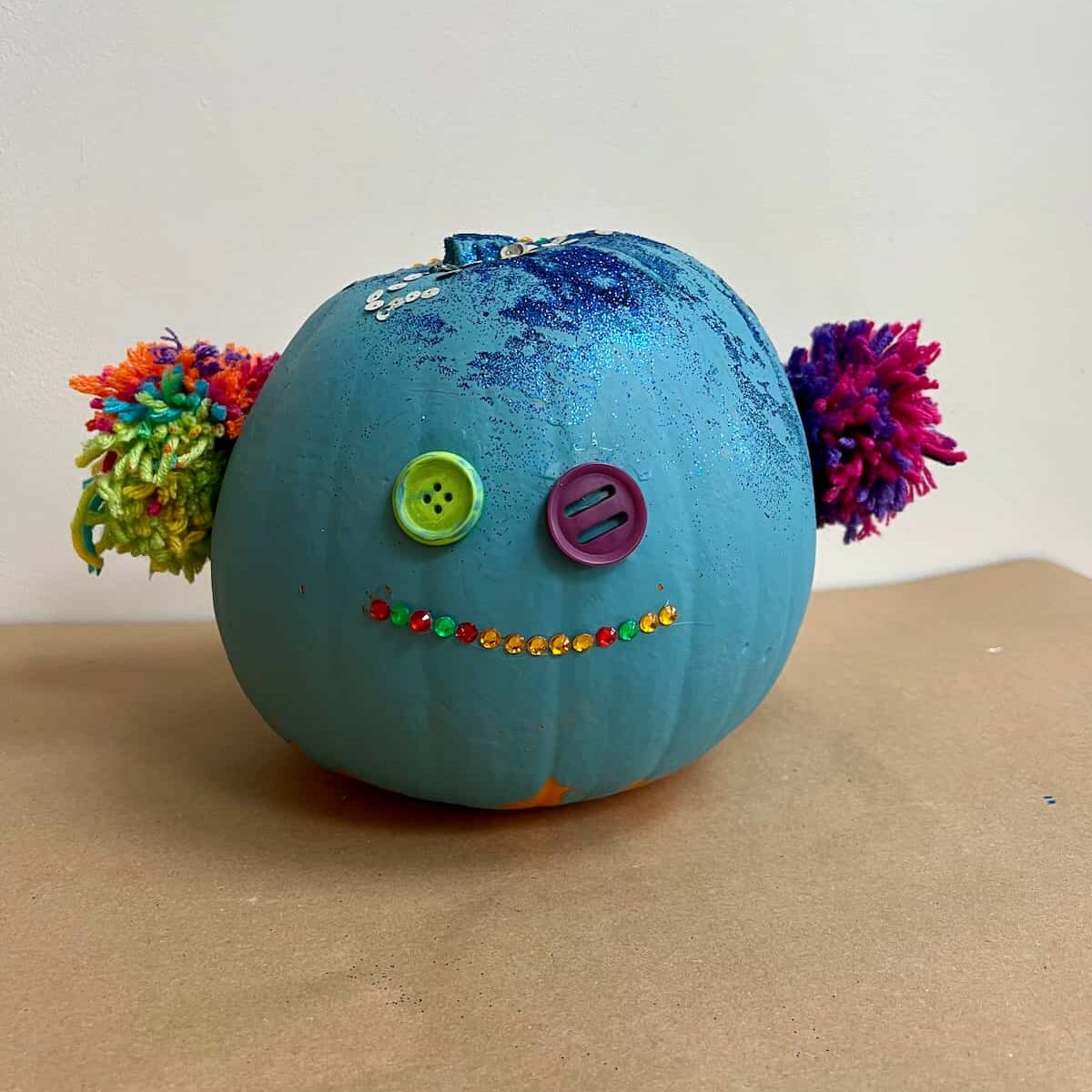 Just ensure that you always supervise little kids while using any decorative supplies, as well as the paint. Both for their safety and to limit the mess.
It's a great activity for the whole family to get involved with pumpkin crafts.
If you loved this information, you'll love these posts too:
Did you paint pumpkins with washable kids paint?
I love seeing what you do. Please mention @teaandforgetmenots and share your creations with me!
Pin It For Later – Best Paint For Toddlers To Paint Pumpkins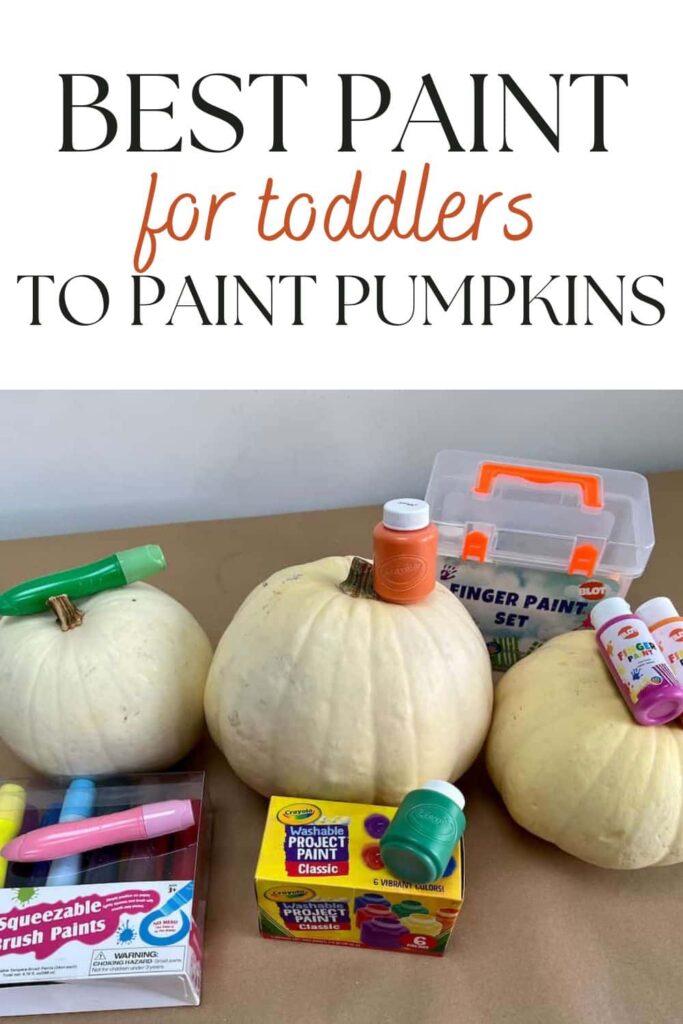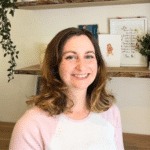 Hi there! I'm Rachel Bowyer, a passionate DIY enthusiast with a knack for transforming the old into something beautifully new. With a deep love for furniture painting, refinishing, and the art of crafting. I've been documenting my DIY projects and restoration journey since 2018. I specialise in techniques like decoupage, stencilling, and decor transfers. Join me as we explore the world of creativity and home improvement, one project at a time.