7 Christmas ladder decoration ideas for the festive season
Have an old wooden ladder as decor in your home? Here are 7 Christmas ladder decoration ideas for the festive season.
Recently, I created this coat rack with an old ladder. It's the perfect location next to my front door to give a festive feel as you walk in.
Some of the decorations for this vintage ladder are homemade DIY projects. Others are ornaments and decor that I've collected over the years.
Usually, a decorative ladder is shown with it upright. But my rustic ladder is mounted horizontally. So I need a few different, creative ways to display items.
There are no classic blanket ladder ideas here. Firstly, because it is attached to the wall and it wouldn't work.
But if you saw the original post then you know that I have a blanket box underneath the ladder. So extra blankets and cosiness are in a storage space close by.
7 Christmas ladder decoration ideas
Ladder 1 – Red Theme
Red is probably considered the colour of Christmas. It's such a rich, bright colour. And packs a punch when coupled with green and gold.
I chose a symmetrical placement of the home decor. This works nicely as there are 6 evenly-spaced rungs.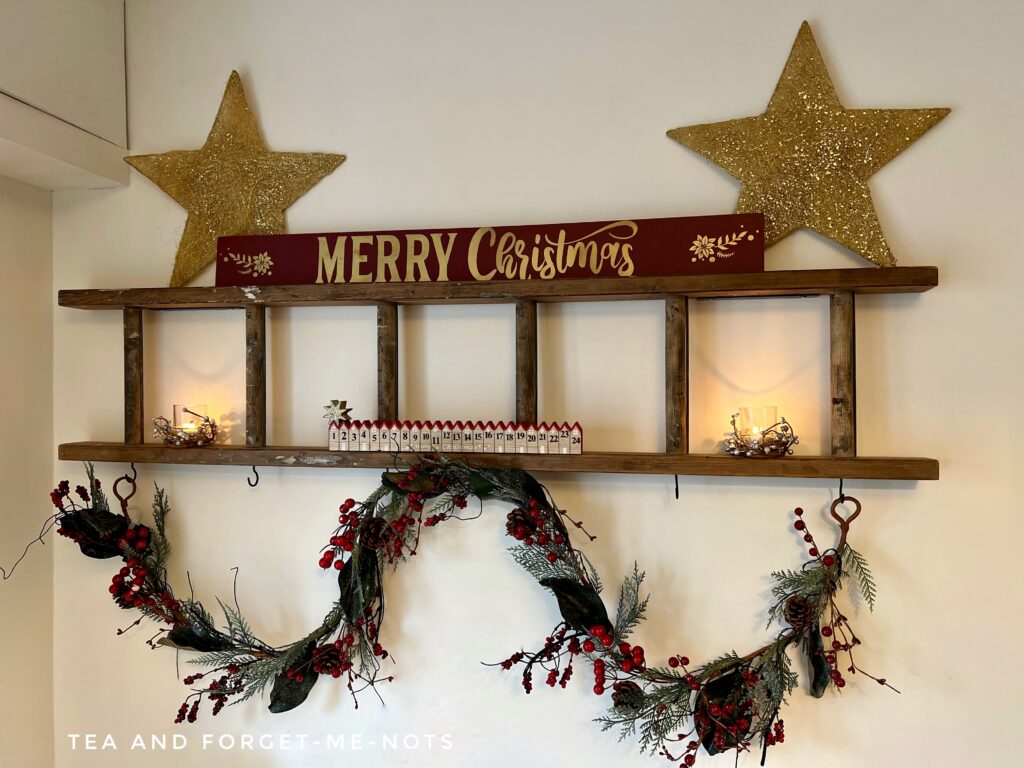 It draws your eye to the centre of the wooden ladder. Where the garland rises up.
The 'Merry Christmas' sign was homemade from scrap wood. In fact, it was part of the old frames of a bed. I painted it in the colour, Cranberry. And created a Cricut stencil for the gold wording.
I then accented the sides with shiny candleholders and sparkly stars.
For this design, I like that it has been left as an ordinary ladder. You can still see the wood ladder underneath the decorative items.
That's what helps make Christmas ladders a holiday decor feature. They're unusual.
In fact with the location of the stars and garland, it almost looks like a face. A happy welcome to my home!
Ladder 2 – Gold Theme
And the perfect place for a village of tiny snowy houses? On coat hooks, naturally. These string lights are houses that have lights in, so sparkle in the dark and look so festive.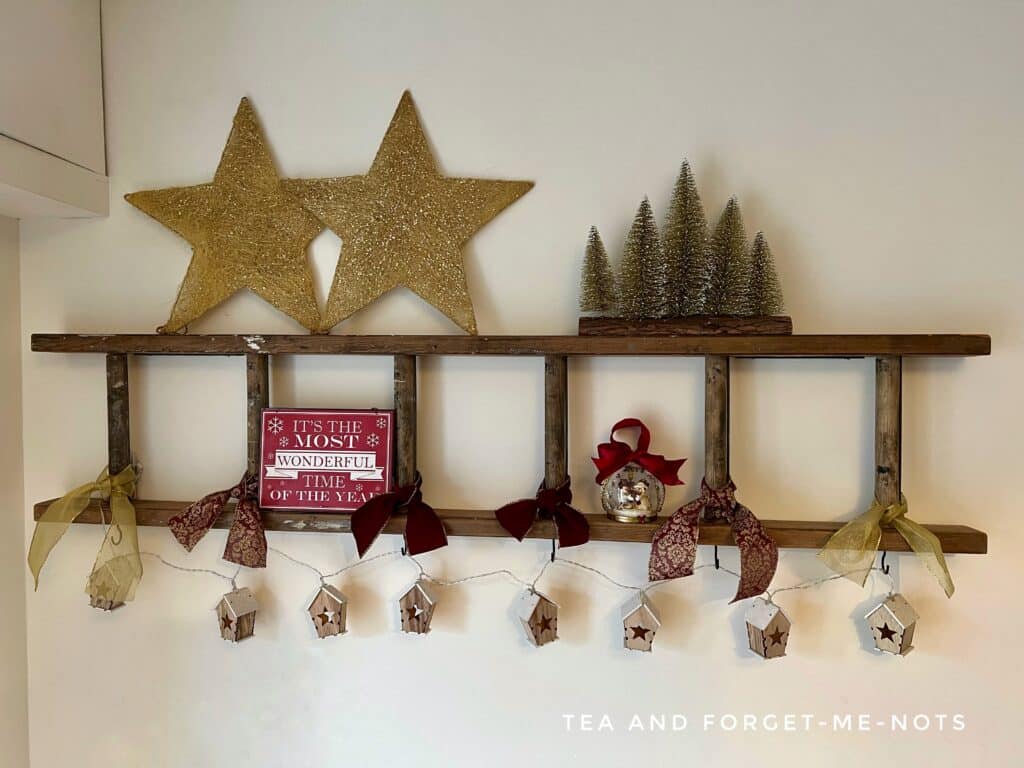 For the ladder rungs, I tied a ribbon around the bottom of each one. Ribbons coloured gold, red and gold and velvety red.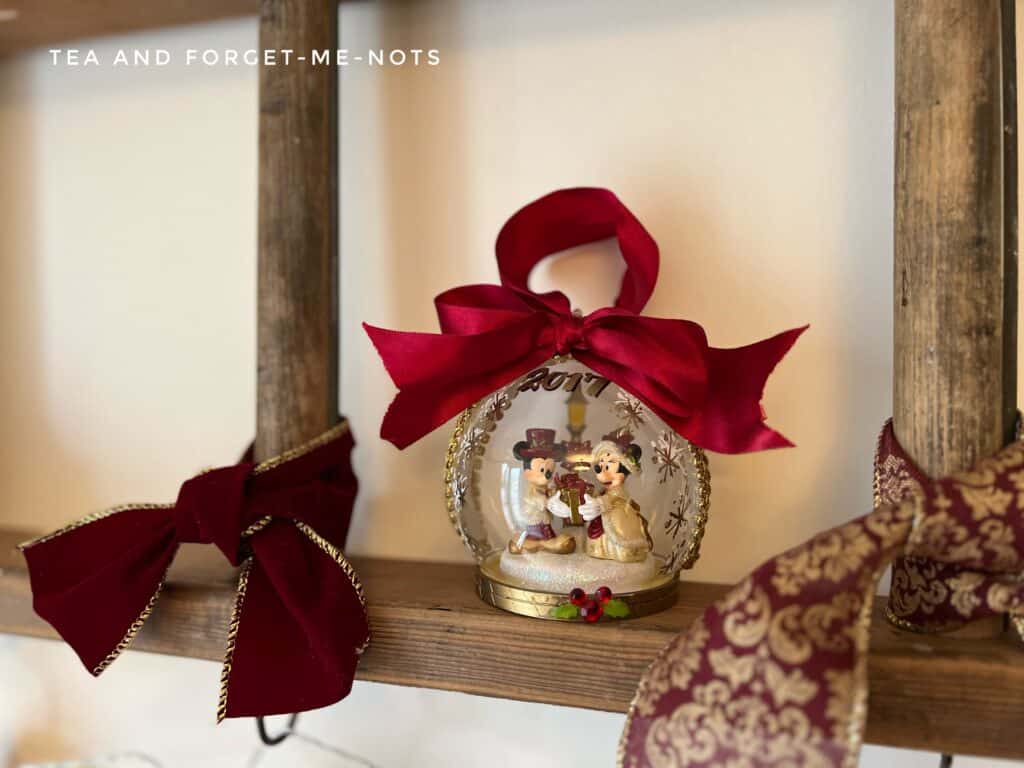 This gold and red bauble is one of my most special Christmas ornaments. I try to buy one from any holiday I go on. So my tree is filled with special memories of adventures over the years.
The gold bottle brush trees at the top are the perfect choice for a rustic and glam mix. The natural wood suits the rustic ladder. And the gold elevates it to glitzy Christmas ornaments.
Ladder 3 – Minimalist Theme
For the minimalist theme, I'm just using a few pieces. This is minimalist for Christmas at least!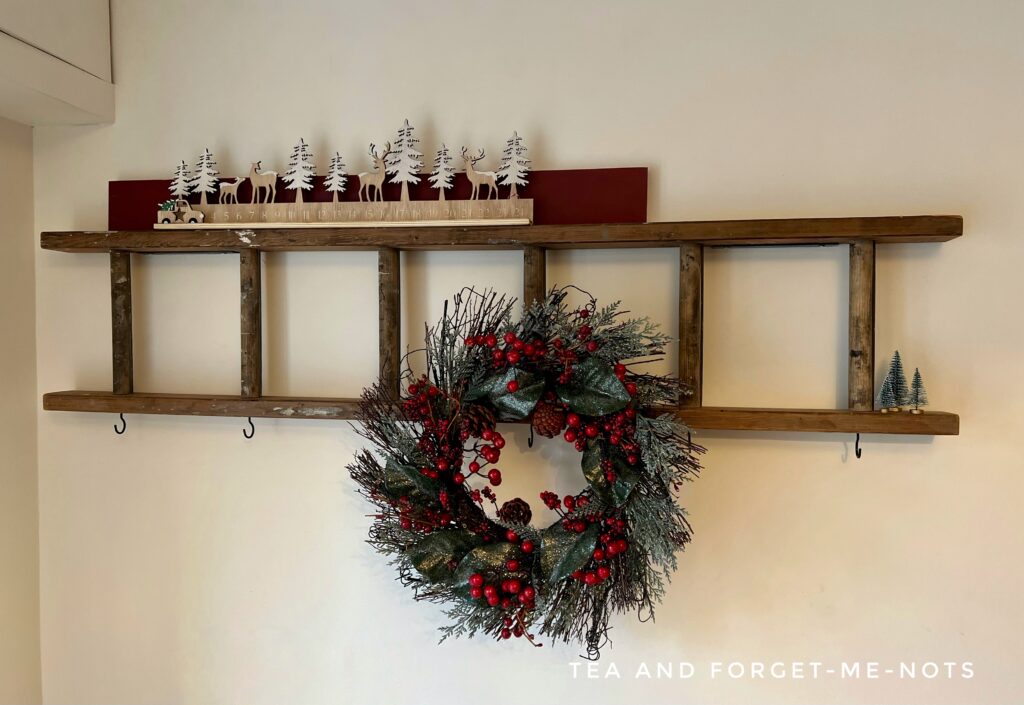 The focus is the wreath with red berries, pine cones and sparkly leaves. What I like most about it is the contrast in shape to the rectangular ladder. If it was a small wreath it might look lost, but it draws the eye here.
Along the top is a lovely advent calendar. With trees, deer and a car that moves along a track to count the days.
But it is a rustic decoration in natural wood tones and white paint. So, it doesn't stand out well against the light-coloured wall.
So I used a 'Merry Christmas' wood sign from the red theme as a background. This helps the shapes stand out and adds some contrast.
Then as a little extra touch, a tiny tree (or three) at the end of the ladder. These bottle brush trees are a great option to have mini Christmas trees in a small space.
Ladder 4 – Advent Calendar Theme
You've already seen a couple of my reusable advent calendars in this Christmas decorating. But what if the focal point of the small ladder was the advent calendar itself?
And the best part? You can make it whatever advent calendar you like.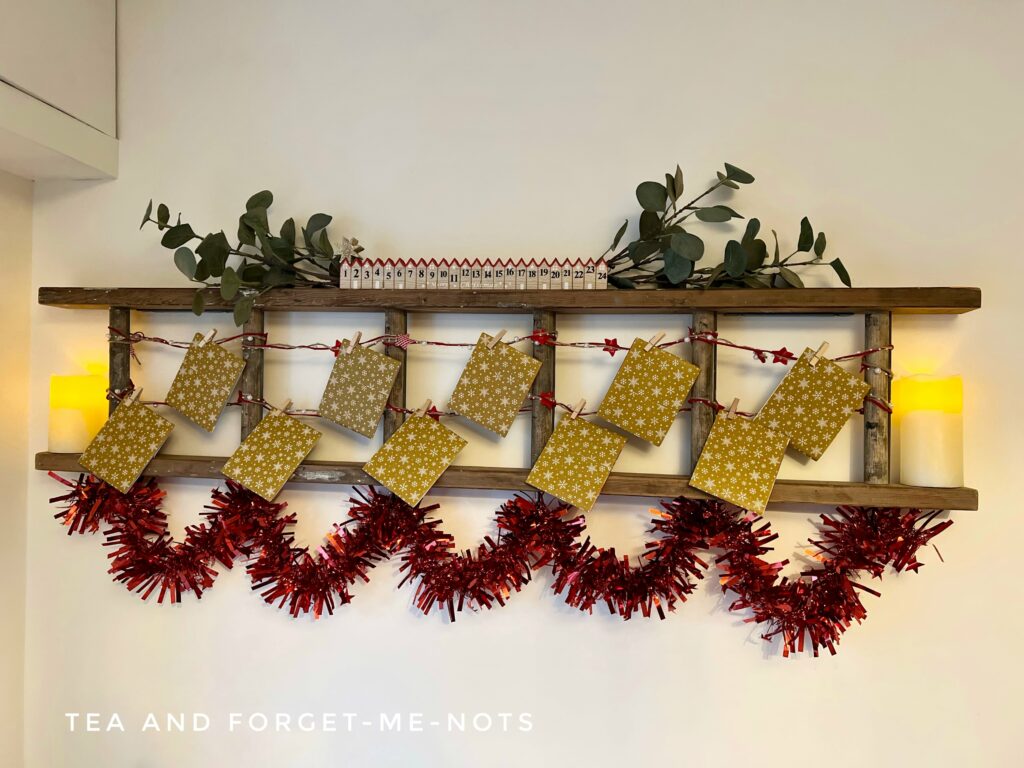 The first step is to make a place to hang your advent ideas. For this, I used some red and white ribbon and twine. I wound it around the rungs to create rows to hang things from.
I added some tiny clothes pegs and attached these festive Disney books. But this design means that you can come up with unique ways to share an advent that's special to you.
You could write a note or memory on each numbered peg. Or a small gift like lip balm or nail polish.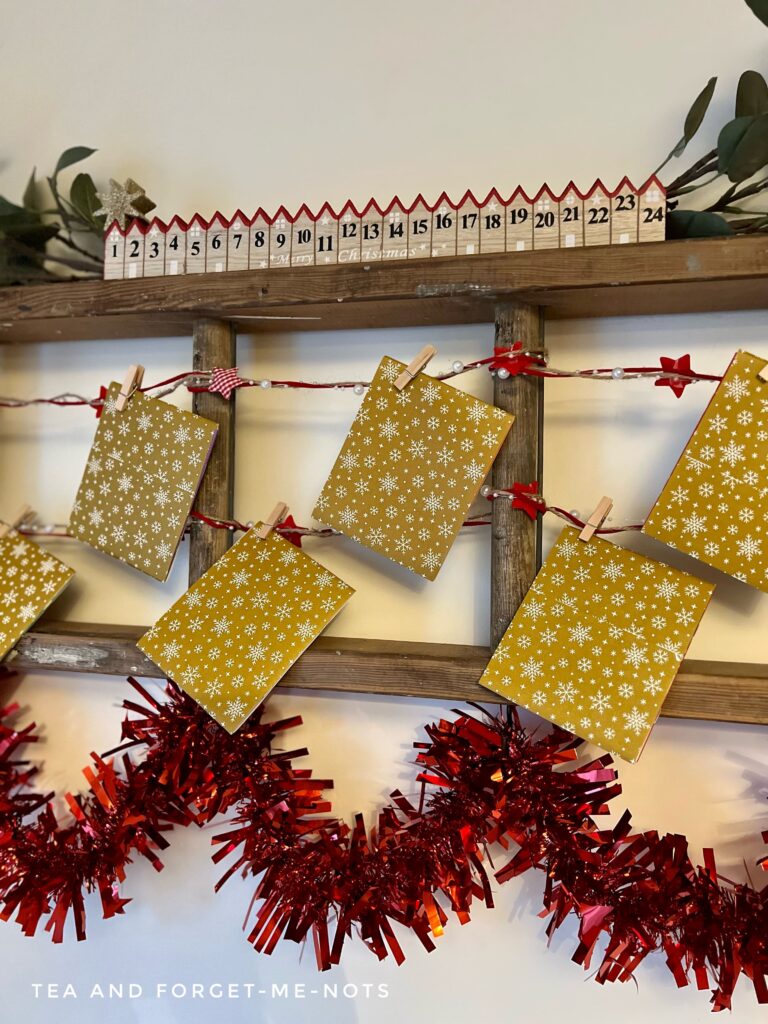 It's extra special because you'll see it every time you walk in and out of the house and can get excited about what's to come.
Ladder 5 – Winter Warmers Theme
It's a practical idea to have scarves, hats, and gloves near the door. And in this case, they're wrapped up cosily in a rustic Christmas tree trough. That I decorated here.
It's also a great way to reduce the likelihood of losing odd gloves by having a home for them.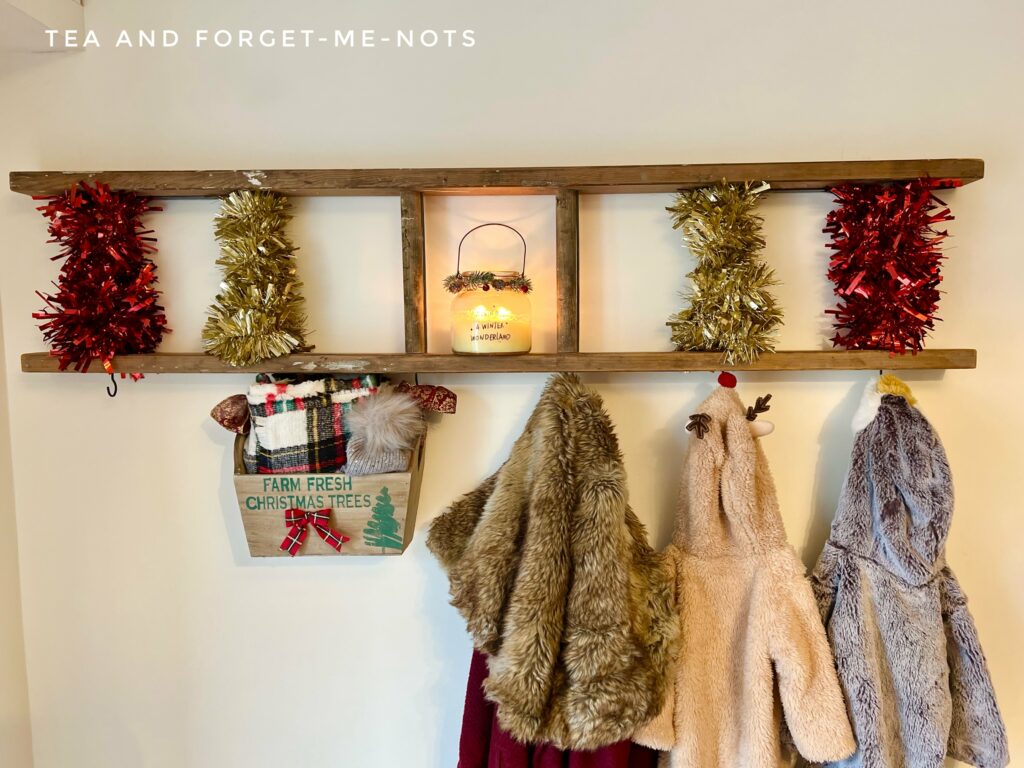 For an extra touch of warmth, I added a winter wonderland-themed candle to the middle rung. In the evening, it's effective at adding low light to a room.
This is a simple way to maintain the functionality of a coat rack and getting-ready area.
Ladder 6 – Children's Theme
So much of the spirit of Christmas is about children and the joy that they experience. A great idea is taking beloved toys and giving them a festive twist.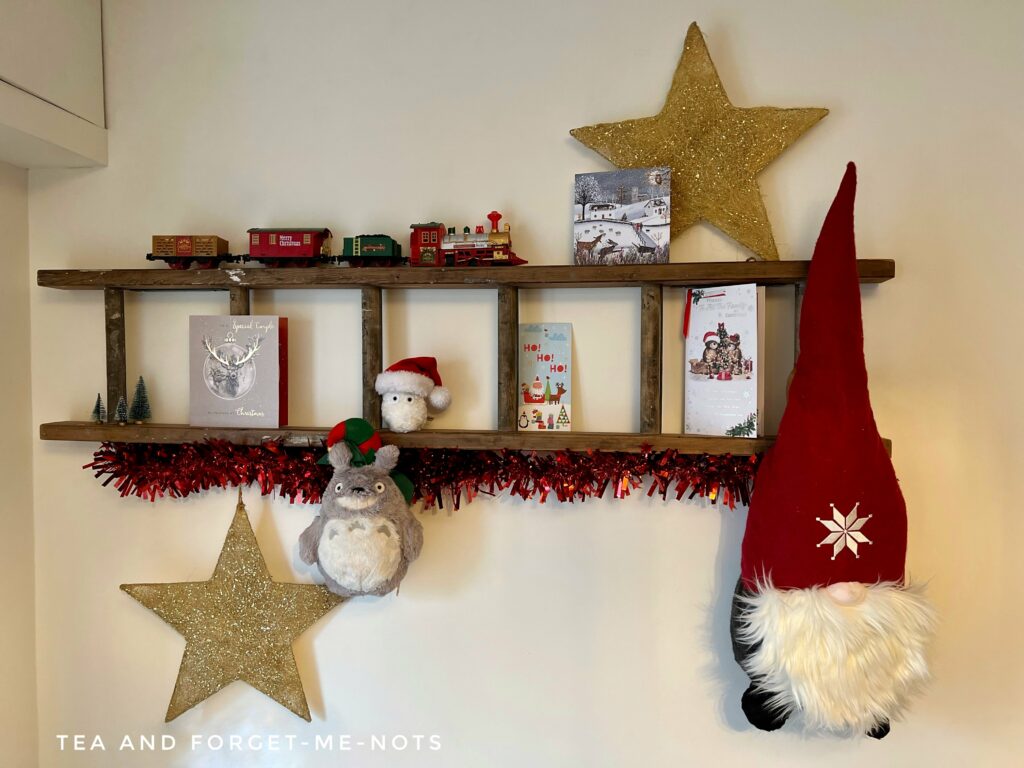 You don't have to go to the additional cost of buying Christmas-themed animals. The best way to give your favourite toys a festive makeover is with small, budget-friendly accessories.
And isn't that funnier for the children too?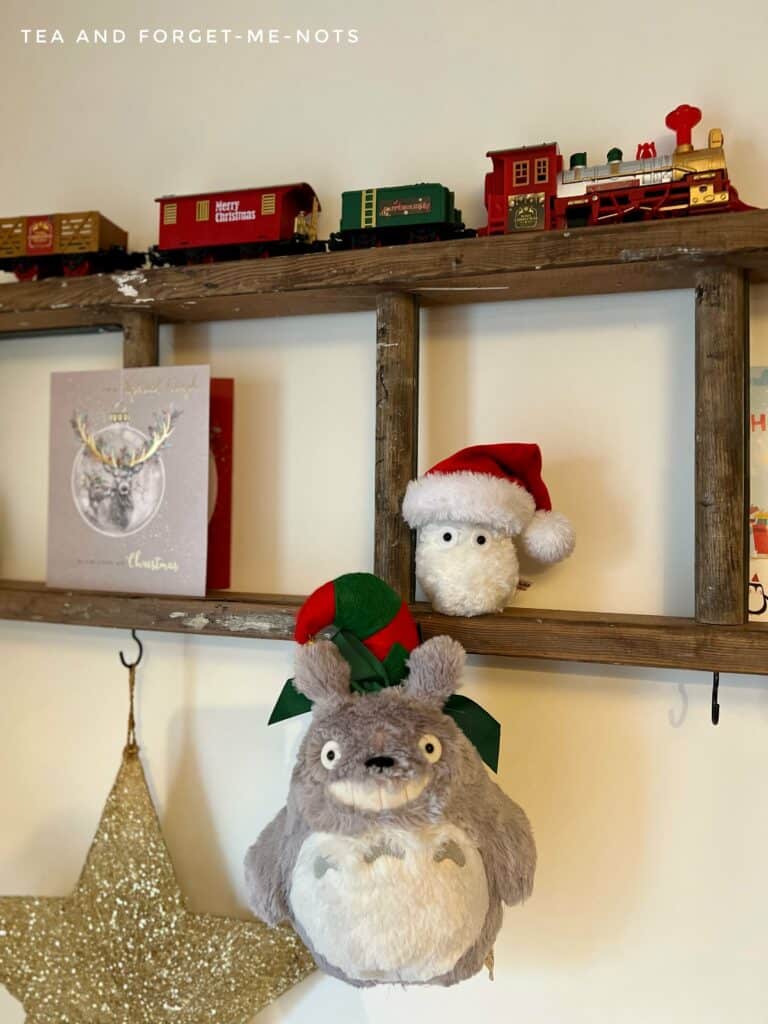 I've also dressed this with special Christmas cards. Ones to add to the collection as the season goes on. It's so nice to have them on display for Christmas time amongst their favourite things.
Ladder 7 – Stocking Theme
What do coats and stockings have in common? Needing somewhere to hang!
This ladder already has coat hooks so is a great place to hang stockings. Especially if you don't have the space for them to be on display elsewhere.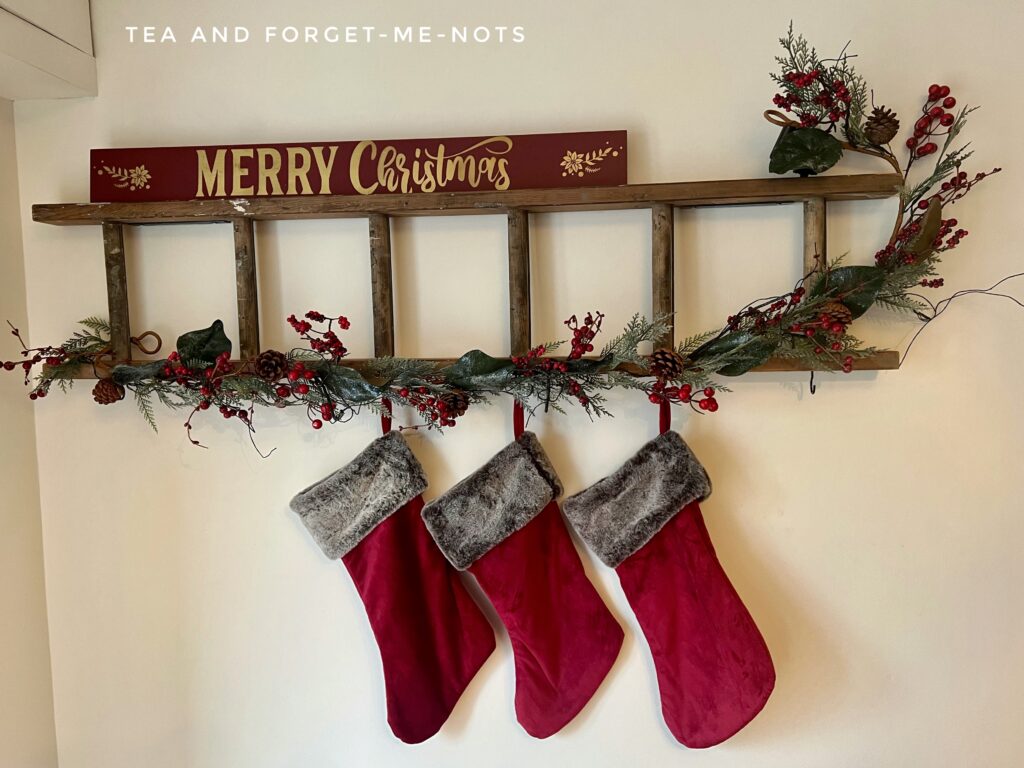 I paired these red, fluffy stockings with the matching colours of the berry garland.
A simple but classic final result.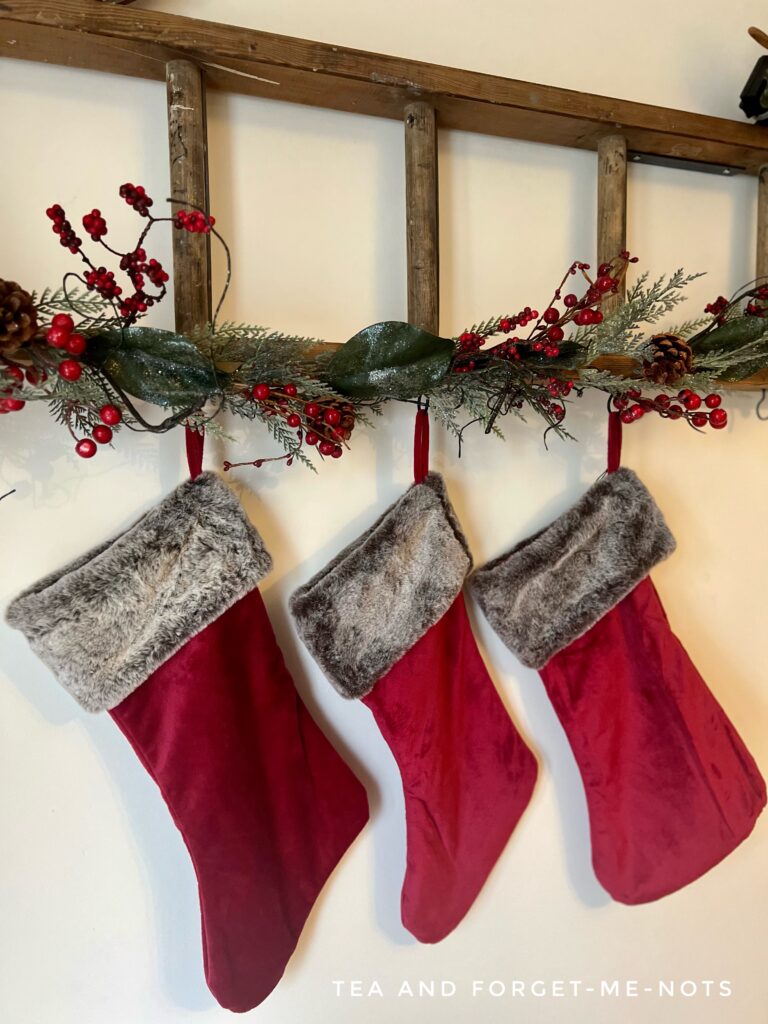 Which of these ideas did you like the most?
I'm torn because so many of the pieces are special to me. But the fluffy stockings have such a cosy feel, that might be my winner this year.
In need of a holiday gift for someone? See if my gift guide for creative people inspires you!
Pin it for later – Christmas ladder decoration ideas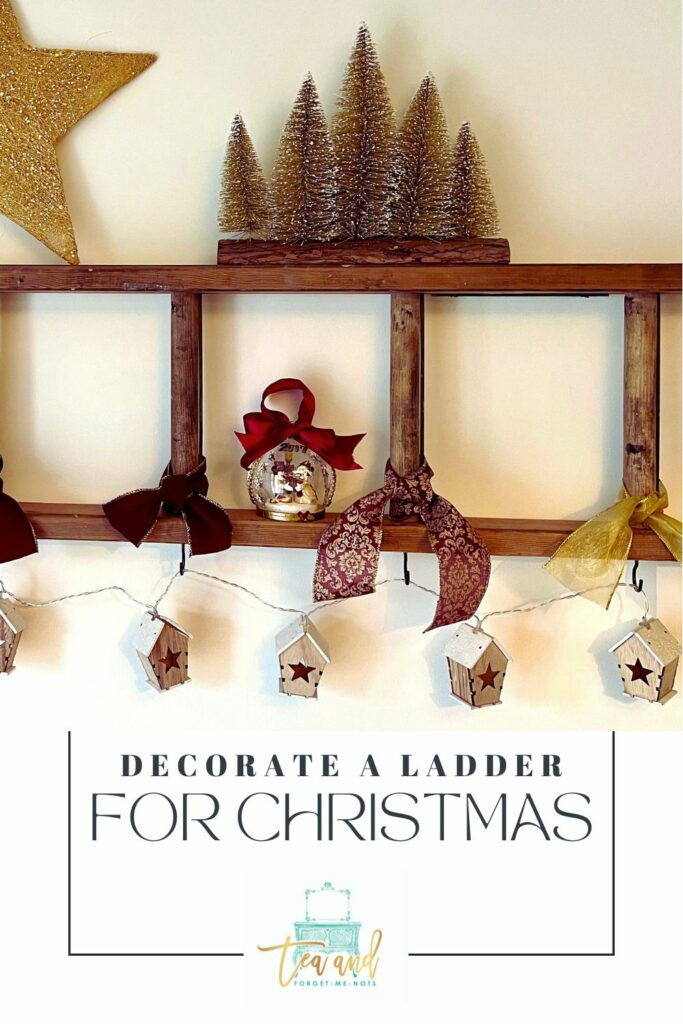 If you loved these ideas, you'll love these projects too: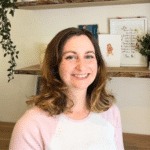 Hi there! I'm Rachel Bowyer, a passionate DIY enthusiast with a knack for transforming the old into something beautifully new. With a deep love for furniture painting, refinishing, and the art of crafting. I've been documenting my DIY projects and restoration journey since 2018. I specialise in techniques like decoupage, stencilling, and decor transfers. Join me as we explore the world of creativity and home improvement, one project at a time.